On an island just off the coast of Sandakan, something magical happens each evening. For the lucky few present, one of nature's great events unfolds under the soft glow of the moon. On Turtle Island, Borneo (more accurately known as Selingan Island), mother turtles emerge from the waters and lay their eggs on the beach.
Quite rightly, this incredible experience is sensitively managed by the authorities, and visitor numbers are restricted to ensure the turtles are left as undisturbed as possible. This means pre-planning is essential, trips need to be booked in advance, especially in the peak tourist season.
In this post, you'll find all the information you need on how to get to Selingan Island resort, what to expect when you're there, and what to bring to ensure you get the best out of one of nature's most precious events.
A visit to Selingan Turtle Island is an absolute must if you're visiting Borneo with kids.
Your comprehensive guide to travelling Borneo with kids. Focusing on Sabah, we share advice on safety and getting around, top tips for your visit, and detail a 12 day itinerary.
How to get to Selingan Island
You may hear people talking about Turtle Islands, Turtle Islands National Park, and Selingan Island interchangeably. There are a number of small islands in the Sulu Sea which are known as Turtle Islands. Within this sits Turtle Islands National Park, of which Selingan Island is the only one which you are allowed to visit.
As visitor numbers are strictly controlled, the only way in or out is on a Selingan Island tour, which needs to be pre-arranged. The waters around here are strongly policed and there is no option of simply hiring your own boat at the dock; you won't get very far but you will get into trouble.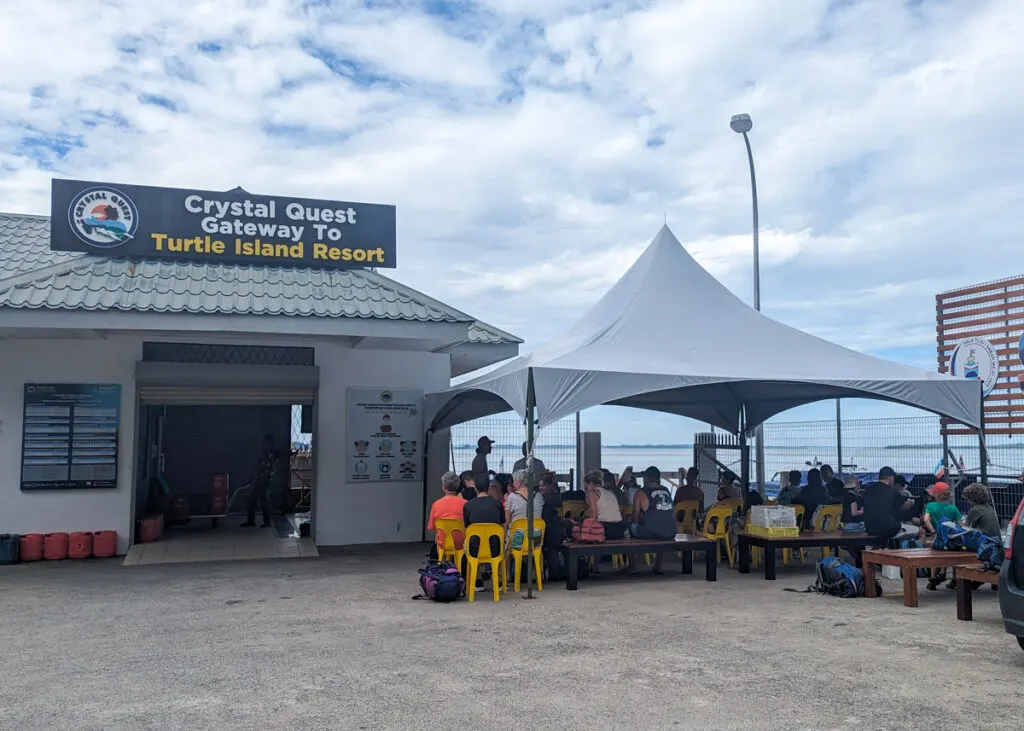 How to book your Borneo turtle island tour
The vast majority of people visiting Turtle Island will to stay overnight, for the simple reason that the main event happens after dark and there is no way back to the mainland until the next morning.
The only Selingan Island resort is operated by a company called Crystal Quest. They are the only chalet operator on the island, so your options are limited to them anyway.
The good news is that they're a very professional, well-organised company (although it perhaps gets a little too-well organised once you get to the island, but more on that later).
One very welcome recent addition to travelling in Southeast Asia is the ubiquity of WhatsApp as a method of communicating and booking trips. We initially contacted Crystal Quest via WhatsApp and they were quick to respond with information, prices, and availability (for some reason they never responded to our emails and we found other travellers we met on Selingan Island found the same).
Once we were booked in, we just had to pay the balance at the jetty on the morning of the trip via credit card, which was quick and straightforward.
The tour we chose cost MYR500 per adult and MYR300 per child, for one night. There was also an additional conservation fee payable on the island which was MYR60/30 for adult/child. Included in the price is:
Return boat transfer to Selingan Island
Twin room for one night
All meals (lunch, dinner and breakfast)
Additional cost for snorkel set (quite expensive at MYR35 each)
What to expect on the tour
Crystal Quest ask you to meet at the main jetty in Sandakan (click here for Google Map point) at 9:30am, in time for payment and registration (bring passports) before the planned 10am departure. This was all handled very smoothly and we began boarding the boats pretty much on time.
The speedboat ride is a fantastic start to the trip; it seats about 8 passengers and jets off into the wide expanse of ocean, leaving the Sandakan skyline behind you. Depending on the time of year, there will be upwards of five or six other speedboats in your group, but it's nicely spaced out and doesn't feel like you're racing off in a group.
The journey takes about 35 minutes, after passing some floating villages, you're out in the open water until Turtle Islands National Park, and Selingan Island in particular, swim into view.
Arriving to Selingan Island
Crystal Quest have your arrival procedure down to perfection, almost too much perhaps. Once you step off the boat and grab your bags, you'll be ushered up the beach to the reception area where someone will check you in, give you a very rapid outline of the itinerary and hand over your keys.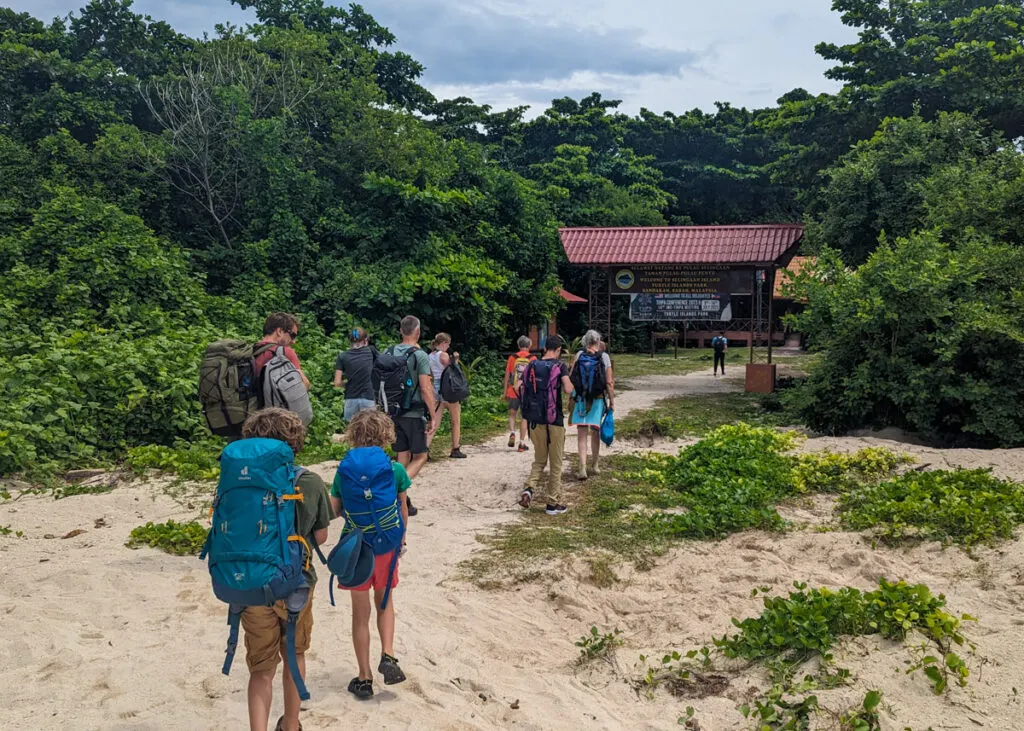 One slight criticism (and this isn't uncommon in Borneo) but guests who'd employed guides were given priority and got their keys first etc. The guides and staff all know each other so, if you travelled guide-less like us, you might be last to get your key. There are worse places to have to wait though and the welcome juice drink helps!
Your Selingan Island accommodation
The chalets are cleverly situated away from the beach and reception area, in clusters of four which share a common seating area and long balcony. We weren't sure what to expect as we were on a remote, tropical island but they are surprisingly well-appointed with most of the mod-cons you'd find in a city including air-con, en-suite bathroom, toiletries, and comfy beds.
The rooms were very clean and a welcome retreat from the heat with the air-conditioning. Although if truth be told, you won't be spending a great deal of time in your room.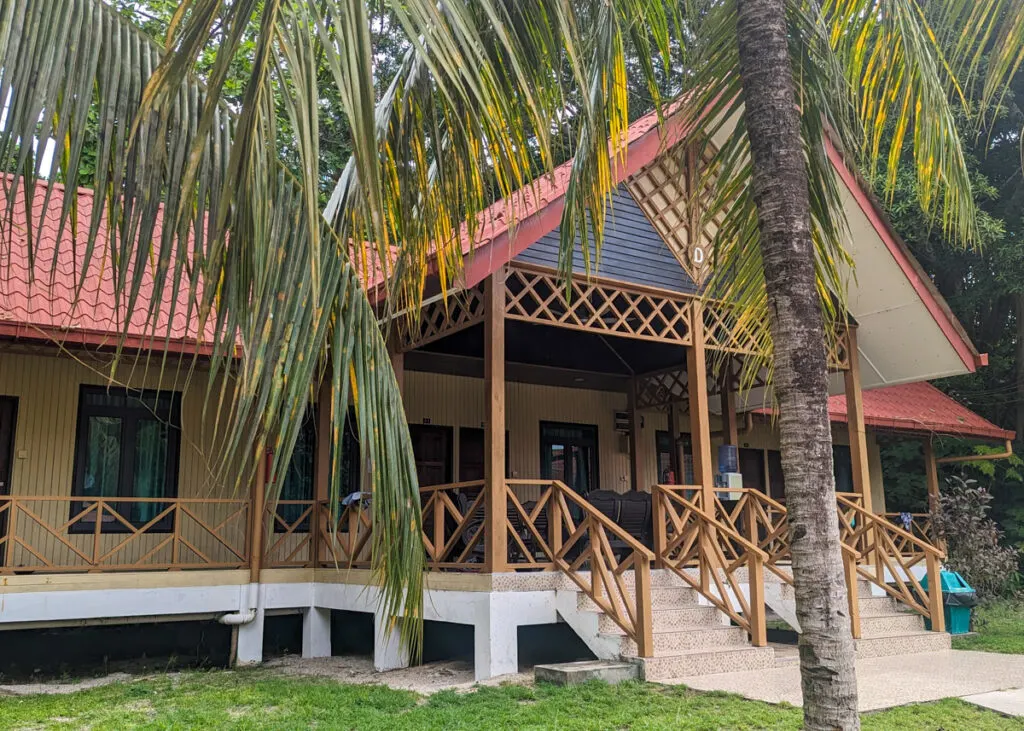 Snorkelling and beach time
Once you've checked into your room, you'll have a hour or two before lunch is served in the main dining room. The main activity in the afternoon is relaxing on the beach and snorkelling. If you're quick, you can fit in a quick beach session before lunch, otherwise relax in your room until you've eaten and then prepare for a sensational snorkelling session.
Try to head over to the right-hand side of the beach, a current will bring you over that way regardless. As with all snorkelling, it can be hit-and-miss but there are some staggeringly beautiful mini-reefs about 30 metres out from shore which kept us entertained and transfixed for a few hours.
The beach is glorious as well, although it can feel slightly crowded in parts. We found that it got noticeably quieter as the day wore on, we were almost the last to leave as sunset approached.
Sunset on Selingan Island
A small track from the snorkelling beach leads you past the reception area and onto what we called 'Sunset Beach'. We were lucky to catch it on a clear(ish) evening but in any weather, it's the best spot to watch the day end, made even more special by knowing what you are about to witness in a few hours.
It's quite a wide stretch of beach so we easily found a patch of sand to call our own and watch the sun slowly disappear under the horizon. Do make sure you leave in plenty of time though as the turtles could begin their approach at any moment and the last thing you'd want to do is disturb them.
Seeing the turtles
Any nature-viewing experience is a question of patience, whether that's on an African safari or trying to spot elusive Orangutans on a Kinabatangan River tour. And it really was the case on Selingan Island, not helped by the mother of all thunderstorms which delayed the arrival of the mother turtles until close to midnight.
Crystal Tours make no secret of the fact that you need to wait until the turtles are ready; but of course, there is no other option. We'd hoped to see them from around 8pm onwards but, as the rain hammered down onto the tin roof, murmurs swept around the dining room suggesting tonight might not be the night. It was a disappointment, but we filled the time with board games and speaking to the other guests.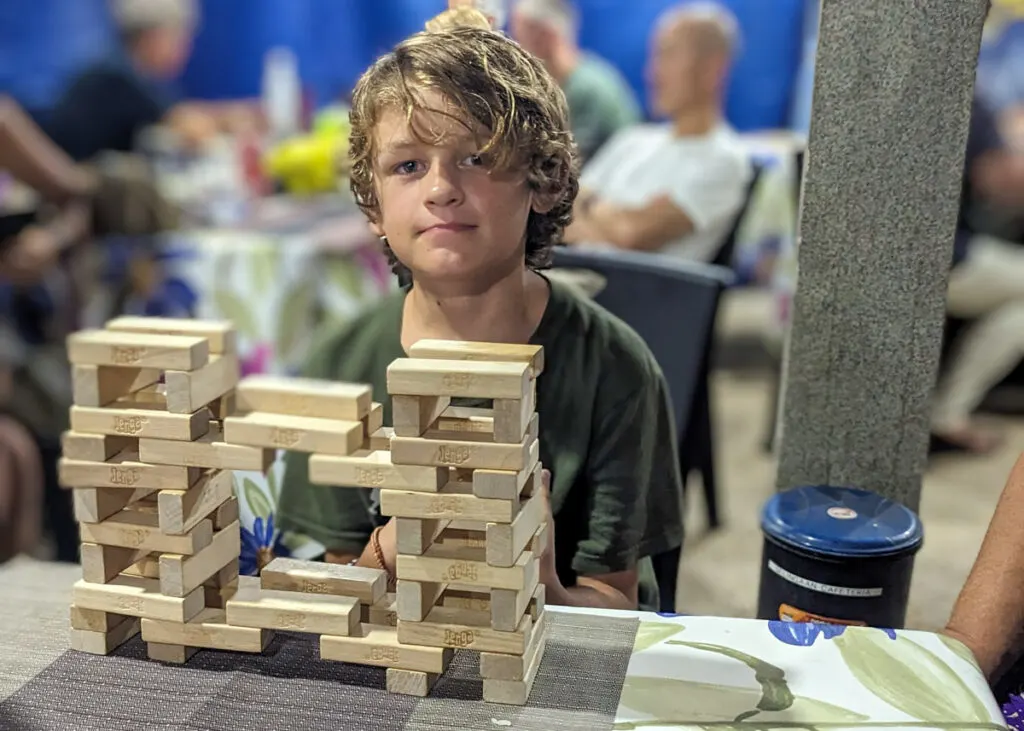 As midnight approached and people began to drift away, a sudden movement near the door heralded the arrival of the tour guides. A mother turtle had appeared on the beach and we were quickly split into groups. We all donned our jackets, found umbrellas, and headed off towards the beach. Every effort is taken to avoid disturbing the mothers so we kept lights off and tip-toed behind our guide, before we all stopped and waited.
A mother was on the sand several metres in front of us, the guide careful to give her as much space as possible. This was a tricky time of the tour to be with young kids as everyone was desperate for a view and some ignored the request to alternate so everyone could get their chance at the front. This is a common issue with nature viewings, the juxtaposition of natural events and group tours not always mixing well.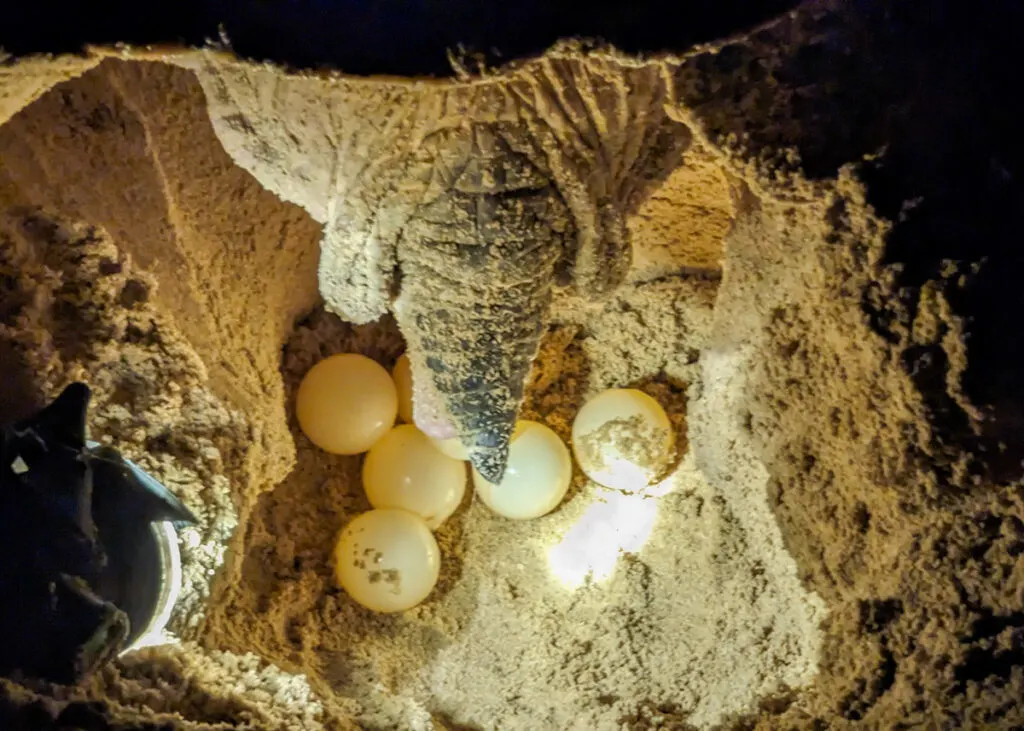 The numbers were managed well but it did feel like a minor scrum to get a view, but eventually the boys got a turn at the front on their hands and knees, getting a perfect view. I think this situation was exacerbated by the long delay we'd had in seeing the turtles; people were more desperate, and the guides were perhaps conscious it was our last chance of the evening.
In spite of that, it was an incredible experience. Every effort was made to give the mother turtles as much space as they needed, the lighting was a lot more subtle than it might appear in our photos.
After seeing the mothers, we were led over to the nesting area and shown how the freshly laid eggs were transferred to predator-proof nests, buried at a safe depth, and labelled, giving them the greatest chance of survival.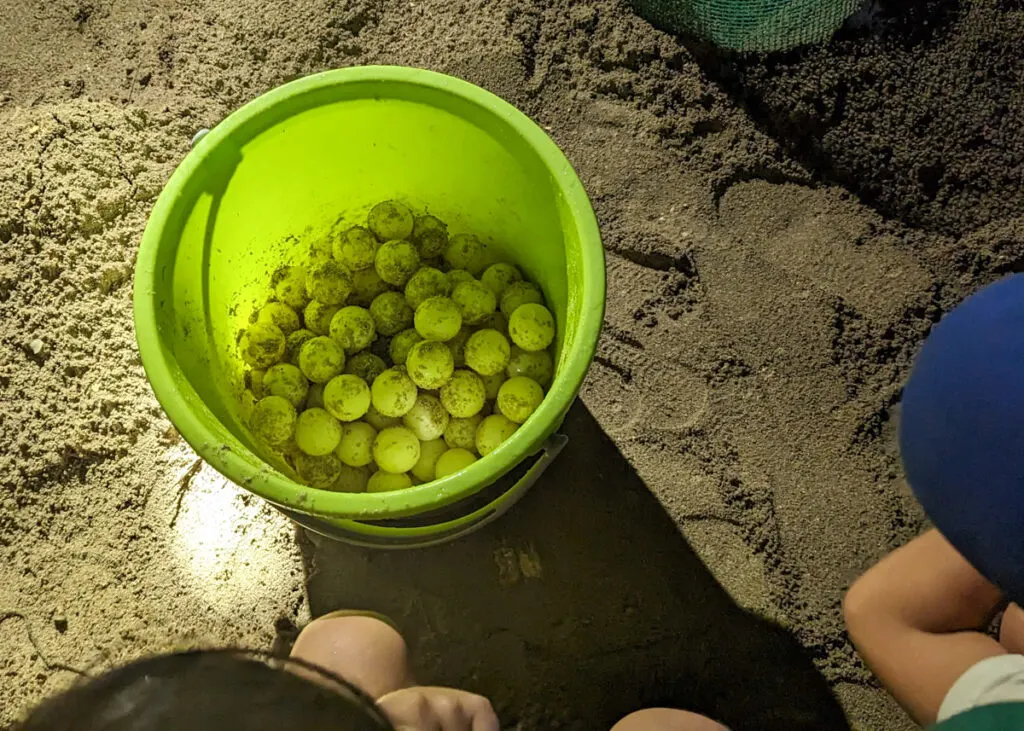 It was fascinating to see the early lifecycle of the turtles, from laying eggs, nesting, and then finally where the babies have broken free from their shells and are ready to be released into the ocean on the first stage of their independent lives. We gathered as a group on the beach, coincidentally on the exact spot we'd witnessed sunset, and watched as the baby turtles scurried into the water.
Leaving Selingan Island
After the excitement of the previous evening (it was close to 1am before we got back to the room), the 6am alarm call to get packed, check-out and have breakfast wasn't especially welcome. We somehow made it to breakfast before dumping our bags in the speedboat for the return journey to Sandakan.
The process was nice and straightforward, check-out was just a case of handing over the keys, and the boats were patiently waiting for us at the beach.
As mentioned above, Crystal Tours have the whole operation planned to perfection, and we were soon back on the water, sad to be leaving Selingan Island resort for the final time.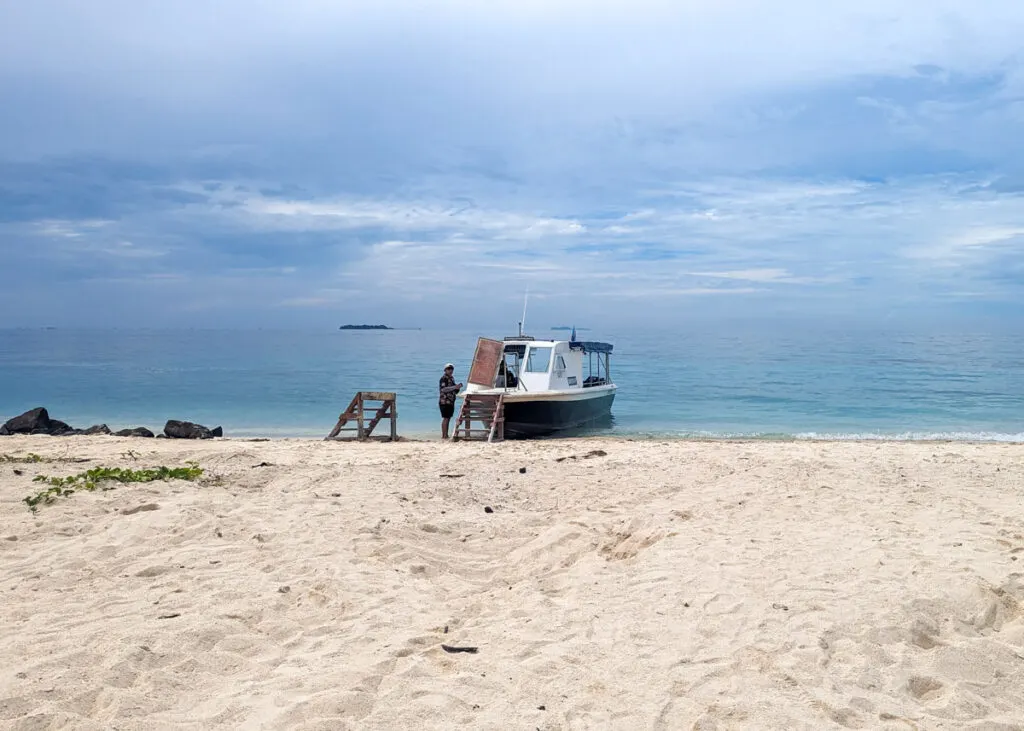 Eating on Selingan Island
Your tour includes lunch and dinner on day one, with breakfast provided on day two before you depart.
The food is served as a buffet and is fine without being too memorable. It's the same style as we've found in so many other places and it must be hard to serve exciting food to this many people on a remote island. If you've been on a tour like this before you'll know what to expect from the buffet: steamed rice, meat stew, steamed vegetables, grilled fish, and a desert.
The food was hearty and quite tasty without there being too much variety and not much choice for vegetarians or vegans. Anyone with dietary requirements was asked to raise their hand on day one but it wasn't particularly well organised, and the alternatives offered were quite basic.
Free tea, coffee, and water was available, plus a small shop selling (expensive) cans of soft drinks and beers if you needed.
Is the Turtle Island Borneo tour worth it?
Whilst not the cheapest tour we've ever done, it was a resounding success for our family with the true highlight being the midnight turtle experience, although the snorkelling came a close second.
The bottom line is, there is no other way of visiting and experiencing Turtle Islands without taking the tour so you don't really have any other options. We felt it was good value for money, remember that things like the speedboat ride would have been expensive if you'd booked separately in Sandakan as an activity.
You'll never forget those precious moments viewing the turtles and that on its own makes the trip worthwhile.
Best time to visit Selingan Island
The best time to visit the turtles on Selingan Island is when the sea conditions are calmer, which is typically July to October (also coinciding with the peak season in the rest of Borneo). Although as we found, this is no guarantee of good weather!
Is Selingan Island safe to visit?
We had a completely safe visit, as do many thousands of other visitors throughout the year.
However, there is a very strong caveat you need to consider, and you should always do your own research before travelling; there are many better resources than this page to get the most up-to-date information.
Turtle Islands National Park sits in the Sulu Sea, which is an area where terrorist groups have been known to operate. There is a large (but quite subtle) police and military presence, including on Selingan Island itself. A great deal of time and effort is spent by the Malaysian government in keeping the area safe but you should do your own research and weigh up any risks.
For reference, the islands off the coast of Sandakan are currently designated by the UK FCDO as 'Advise against all but essential travel' which may affect your travel insurance whilst in the area.
It goes without saying that safety is the number one priority, but we never once felt at risk or threatened during our stay.
How to keep supporting the turtles
If you want to help the turtles even further after your visit, consider the option of sponsoring a turtle nest. For MYR100 you'll get your name above the nest, a certificate and t-shirt. It's a fun way to help out and you'll be emailed updates when your nest hatches.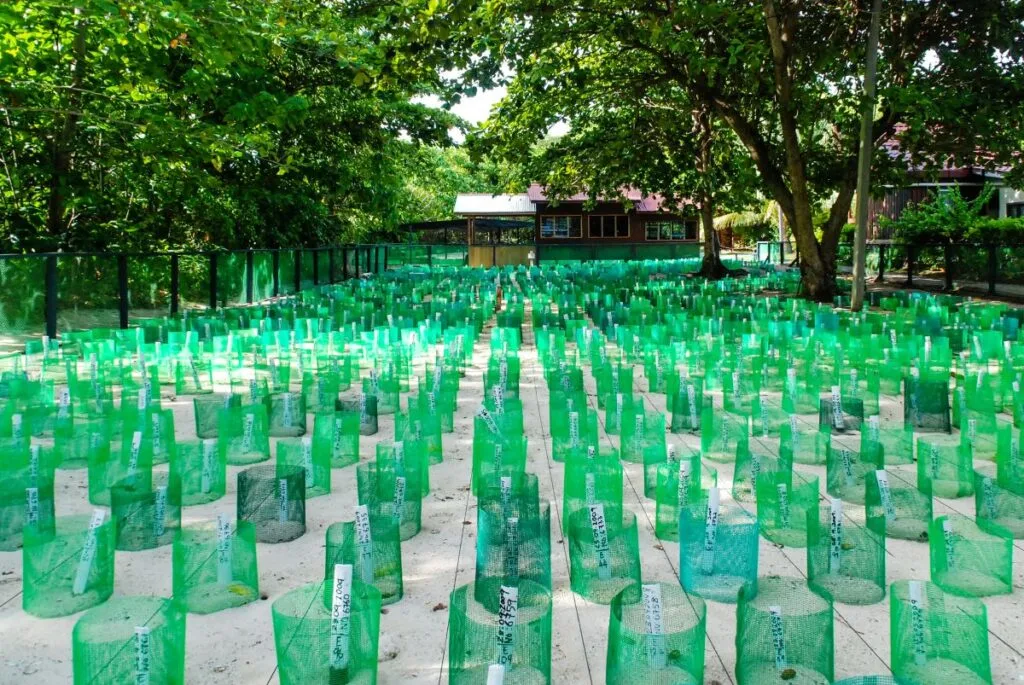 Final thoughts on visiting Selingan Island
It's an incredibly vivid and jam-packed 20 hours, a trip that is sure to stay in your memory for a long time. If observing turtles is on your bucket-list, this is a great place to do it, and the only option in this part of Borneo.
The tour is well organised and good value, although it can get busy at times and you'll probably never feel like you're on your own truly unique natural experience. All of that is forgotten though when the mothers appear and the magical moment happens.
Don't forget the beach and snorkelling is part of the trip as well, an afternoon relaxing on a tropical island is amazing in itself and not something to be missed.
Keep your fingers crossed for good weather and stay patient; it's all worth the wait.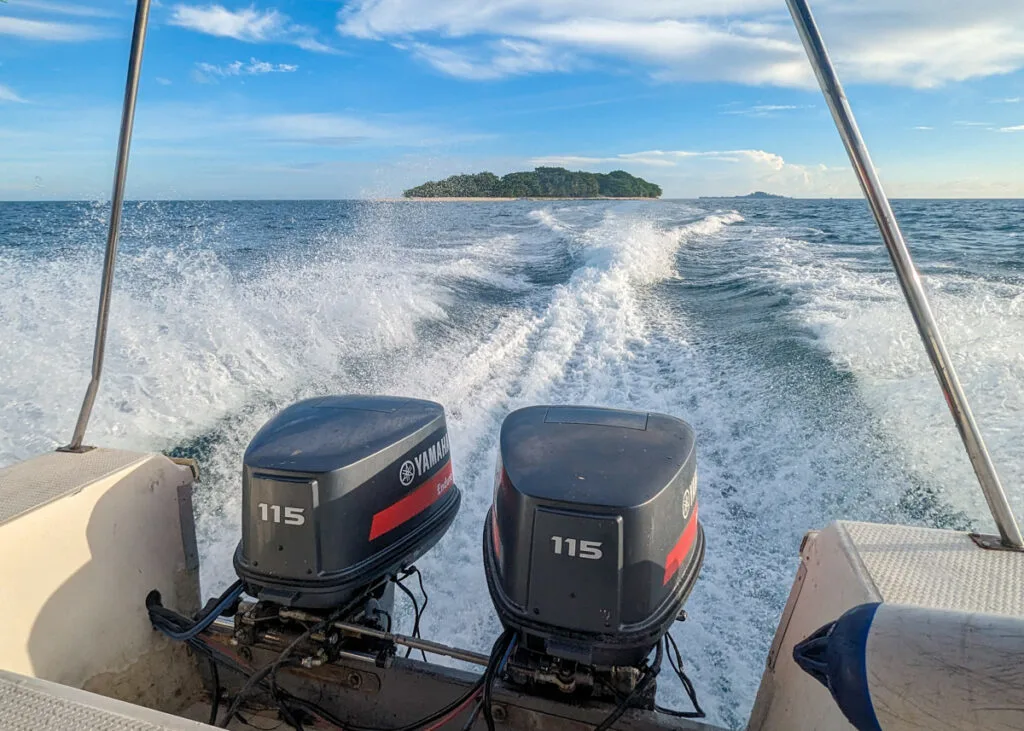 ---
You may also like to read:
Exploring the Kinabatangan River with kids
Sepilok Orangutan Rehabilitation Centre, Borneo: tips for your visit
How to get from Kota Kinabalu to Sandakan