Here we chat about the various way to get between Kota Kinabalu and Sandakan, including bus, car, and flight.
It's well known that the state of Sabah in Borneo is home to some of earth's most spectacular natural experiences and all visitors want to tick off as many of them as possible. Whether it's island hopping in Kota Kinabalu, visiting our close cousins at the Sepilok Orangutan Rehabilitation Centre or taking a once-in-a-lifetime trip on the Kinabatangan River with kids, you're never short of things to do.
The only problem? How to fit it all in, especially when the sights are split between the capital (Kota Kinabalu) and the eastern city of Sandakan. And whilst it's sadly no longer the case that Orangutans can swing from tree to tree across the whole of the island, there is still a huge patch of rainforest to negotiate.
So if you're currently staring at a map and wondering how to get from Kota Kinabalu to Sandakan, check out this guide for all the options.
Check out these guides:
Kota Kinabalu with kids
Sandakan with kids
Your comprehensive guide to travelling Borneo with kids. Focusing on Sabah, we share advice on safety and getting around, top tips for your visit, and detail a 12 day itinerary.
The cheapest way to get from Kota Kinabalu to Sandakan
If you're looking for the cheapest way to travel, and aren't too worried about speed, book one of several buses plying the route each day. The journey time is 7.5 hours. Try to get an early departure if possible from KK so you arrive at Sandakan before it gets too late.
The buses are comfortable, with reclining seats, footrests, and air-conditioning. We didn't come across any with on-board toilets but there were well-planned rest stops along the way for you to take care of business, and also pick up some drinks and snacks.
The bus we took (TungMa) was a cool double-decker bus which afforded great views from the upper-deck, although luggage had to be stored on the floor near our seats. It's more common for bags to be stowed under the bus, but, as the buses also tend to transport cargo between towns, don't always rely on finding lots of space for your backpacks.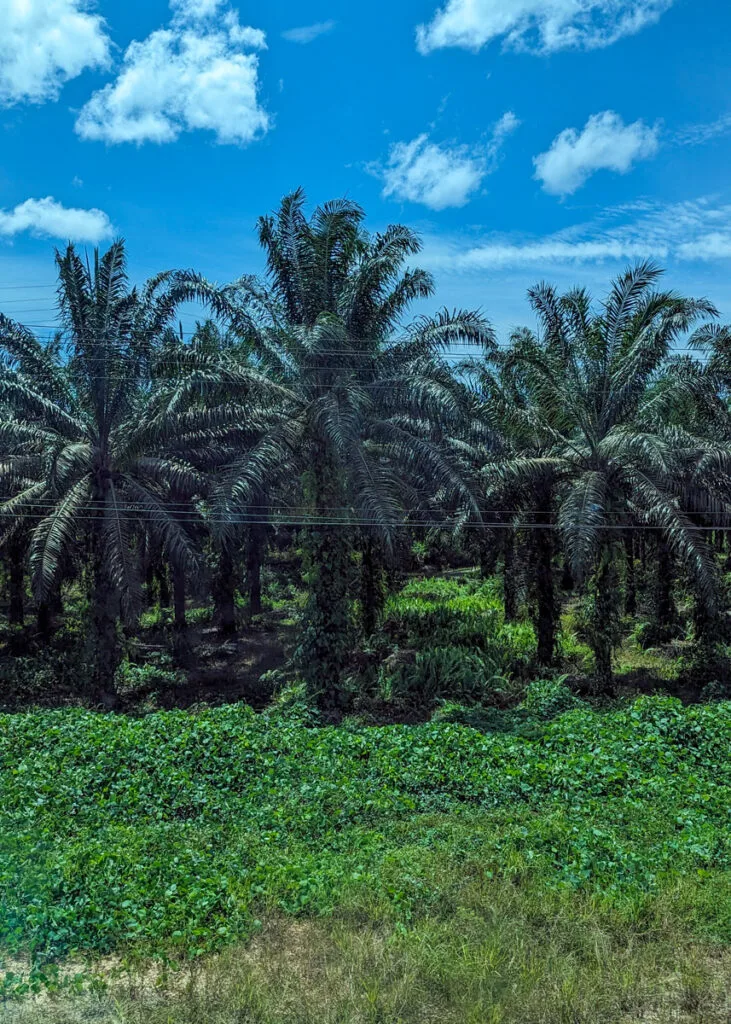 How to book the bus from Kota Kinabalu to Sandakan
There are several online websites available to book with, we've had good experiences with Easybook and find the website easy to use and it's (usually) happy to accept international credit cards, plus several other payment options if you have a Malaysian bank account or access to 'easy pay' methods, like GrabPay.
The Easybook site also let you select seats whilst booking which is a huge plus point for us as a family, giving you extra piece of mind that you'll be sitting together. You can also get an idea of availability, very handy when travelling during busy periods.
On the subject of choosing seats, keep in mind that the road between Kota Kinabalu and Sandakan is very windy in places so, if anyone in your group suffers from motion-sickness, consider booking seats right at the front of the bus as it'll give you a better view of the road and help alleviate the symptoms. In any case, a couple of sick bags might not be the worst idea.
The fare is MYR43 (same price for adults and children). When you book with Easybook, they'll add a nominal booking fee to the overall cost, approximately MYR5 per ticket. Kids under two don't technically require a ticket but would need to sit on an adult's lap; depending on your budget, it might be worth paying for their seat anyway and using the extra space for bags, toys, etc.
Buses leave from Inanam bus station in Kota Kinabalu which is 9km from city centre. Factor this into your planned departure time as it can take up to an hour to reach in a taxi.
When you reach Sandakan you'll be dropped off at the main bus terminal 4km north of town. A Grab taxi should only be MYR10 into the city centre.
Break up the journey at Poring Hot Springs
Whilst the bus is a good option and will get you between Kota Kinabalu and Sandakan in one hop, it can feel like quite a long day, especially if you're not great on windy roads. One suggested option is to break the journey up at Poring Hot Springs, the relaxing resort located near the town of Ranau.
All of the Kota Kinabalu to Sandakan buses stop in Ranau and it's about one-third of the way along the route (approx 3 hours from KK, and 4.5 from Sandakan).
One slight annoyance is that buses can't be booked if you are starting from Ranau itself, which makes the booking process a bit more involved than it should be. The reason being that part fares aren't sold on this route, so if you want to depart from Ranau, you'll need to pay the same fare as if you did the whole route (MYR43) between KK and Sandakan. If you are departing from Ranau and heading to Sandakan, you'll need to book a ticket from KK to Sandakan and then contact the bus company to let them know you'll actually be boarding in Ranau, otherwise they'll assume you're a no-show.
Don't worry though, it sounds more complicated than it is, and the bus companies are used to travellers taking this approach. When the bus pulled into Ranau, the driver already knew who we were and showed us to our empty seats with no problems.
Once you've arrived in Ranau, arrange onward travel with your Poring accommodation for the final leg.
Poring Hot Springs is a fantastic place to stay for a day or two, check out our guide to Poring Hot Springs and be sure to try the Poring canopy walk if you're looking for an extra adrenaline rush.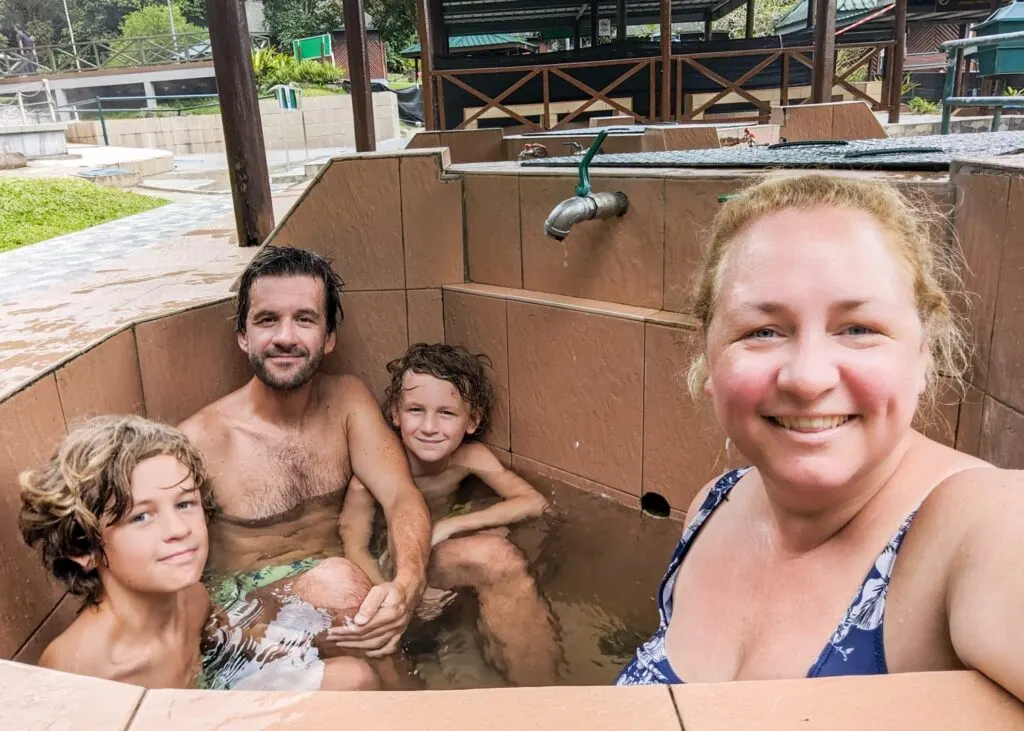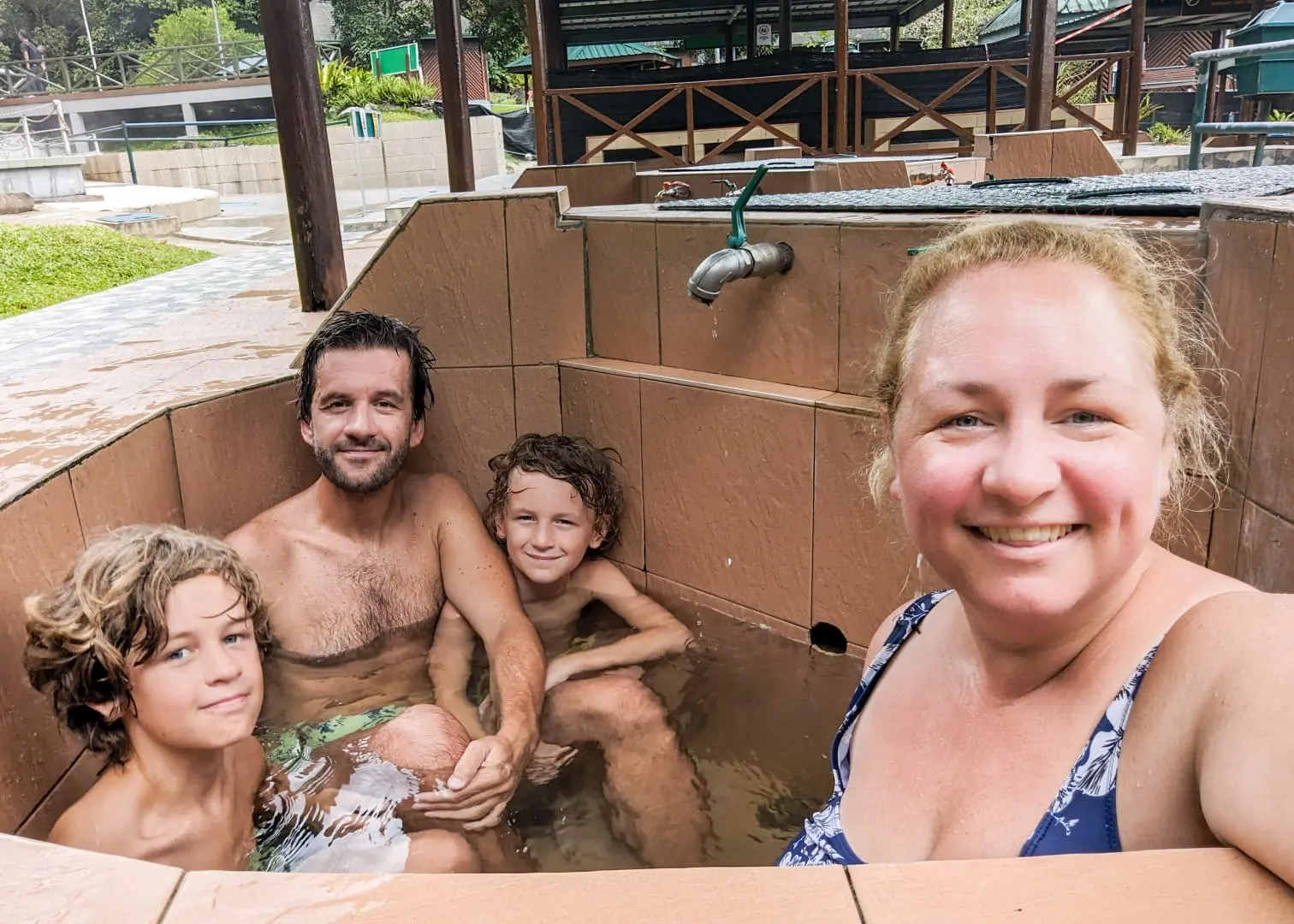 Can you get a Grab from Kota Kinabalu to Sandakan?
You can't get a Grab all the way to Sandakan from Kota Kinabalu, as it's too far for the app to register. However, you can technically get a Grab between KK and Ranau, to then be within reach of Poring Hot Springs if you're stopping off for a couple of nights.
We tried to take one between KK and Ranau but that's a whole other story involving broken down cars, mountain roads in the rain, and flagging down passing minibuses. It wasn't a huge success but we were just unlucky on that occasion.
The advantage of taking a Grab is that you are more in control of departure times and rest stops, and you avoid having to make your way to relatively distant bus terminals to start/end your journey.
Despite our Grab breaking down less than halfway along the journey we still ended up paying the MYR220 to get from Kota Kinabalu to Ranau as we booked it on our bank card and there was an autopayment. And despite contesting this payment numerous times, we have never received any sort of refund from Grab.
However, even if you did take this approach, you will still then need to take a bus from Ranau to Sandakan.
How about hiring a car?
If you don't fancy the long bus journey, you could look into car hire. It gives you ultimate flexibility and allows you to choose your own pace of travel.
The most difficult aspect for going from Kota Kinabalu to Sandakan is the one-way journey; most rental companies either don't offer this as an option, or will levy a large surcharge to facilitate it. It's worth calling some companies directly as they occasionally have vehicles in KK which need to go back to Sandakan, or vice versa.
Ideally, you'd be doing a tour of Sabah and could deliver the car back to KK or Sandakan where you collected it from. Car hire will cost you about MYR180 per day, but remember to factor in additional costs such as insurance, child car seats, and fuel.
Fly between Kota Kinabalu to Sandakan
If time really is of the essence, you can take to the skies and fly between Kota Kinabalu and Sandakan. Whilst it's a shame to skip so much of the island and a stop at Poring Hot Springs (plus the environmental impact), there's no doubt it's a quick and surprisingly cheap option.
Flights start from around MYR60 per person (the budget airlines don't tend to offer child discounts unless the kids are very young). The three main airline on the route are AirAsia, Firefly and Malaysian Airlines, with AirAsia offering the most frequent service (up to 5 or 6 departures per day). The flying time is only 45 minutes!
Do keep in mind there will be extra fees if you are carrying luggage which doesn't fit into the strict size restrictions, and you'll need to pay to get out to the airports, although in Sandakan and (particularly) KK, the airports are handily located for the city.
Getting from Sandakan to Kota Kinabalu
The exact same information applies to get from Sandakan to Kota Kinabalu, just read in reverse. Most travellers seem to arrive into KK first (perhaps due to the slightly better international connections), so you may find the transport quieter going from Sandakan to Kota Kinabalu.
Final thoughts on getting from Kota Kinabalu to Sandakan
It's not that many decades ago when there was no road into Sandakan at all, and the only way in was via the sea! Over the years, the road network has dramatically improved in Sabah, and the journey from Kota Kinabalu is now full paved, if a little hilly and bendy.
It's a beautiful drive, especially the first section before the palm olive plantations take over the landscape. Whilst the journey can be long, in our opinion, it's a key part of any Sabah trip and beats flying, even if the plane will save you a huge amount of time.
Do try and break the journey up at Poring Hot Springs (and also make time for Poring canopy walk) if your itinerary allows. It's a fun place and breaks the overall trip into two more manageable days.
---
You may also like to read:
Poring Hot Springs, Borneo: your ultimate guide
Island hopping Kota Kinabalu
Kinabatangan River with kids