This is your ultimate, up-to-date guide on island hopping in Kota Kinabalu, including how to arrange a tour or go independently, expected prices, best islands to visit, what to bring with you, and much more.
As soon as you arrive in Kota Kinabalu, you're aware of the South China Sea, stretching hundreds of miles into the deep blue distance. It's the canvas for a thousand KK views but you'll also notice something else glistening in the foreground, a cluster of small islands almost within touching distance of the city.
These five islands (Gaya, Manukan, Mamutik, Sapi, and Sulug) form the Tunku Abdul Rahman National Park, a tropical KK island hopping paradise, where you can swim, snorkel, sunbathe, and even parasail or banana boat around, or just relax surrounded by nature.
If you're planning a Borneo island hopping adventure, the Kota Kinabalu islands are an easily accessible option. Indeed it's perhaps the most popular of Kota Kinabalu day trips and a must if visiting Kota Kinabalu with kids. However, as we discuss later, it's perhaps not the best place to go island hopping in Sabah.
Disclaimer: This post contains affiliate links. If you click to purchase, it is at no additional cost to you, and I receive a small commission.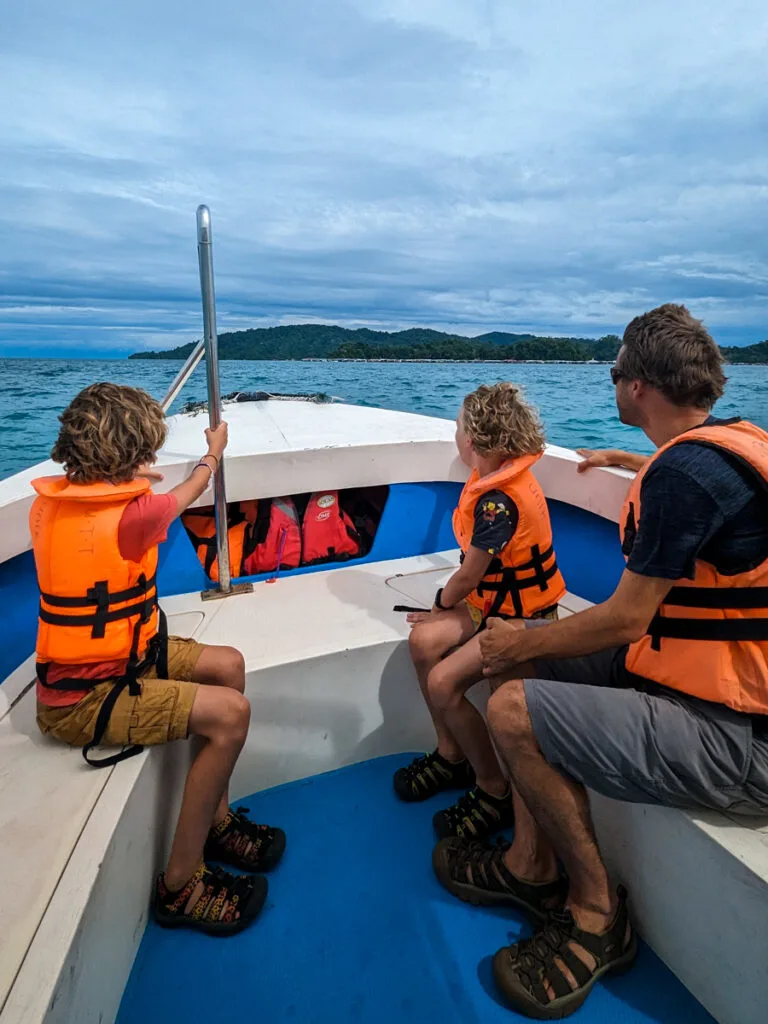 Island hopping Kota Kinabalu map
The below map shows the Kota Kinabalu islands that make up Tunku Abdul Rahman Park.
Note that only the Kota Kinabalu islands of Gaya, Manukan, Mamutik, and Sapi are accessible to tourists.
Sulug has no amenities and tourists are not permitted to visit without permission from Sabah Parks.
The main hub to head for to start your adventures island hopping is Jesselton Point Quay. From here you can choose from a wide range of tour operators, all offering similar tours at similar prices. If you want to travel independently, they can set you up on a private boat, but bear in mind you'll not get the islands to yourself in any case.
What is included on a Kota Kinabalu island hopping package?
The standard package will include return boat transfers to one or more of the four islands which make up the national park. When we booked, we were offered a choice of one or more islands, but were guided towards choosing two or three, typically Sapi and Manukan, plus one other.
On top of the standard package, you can choose from several additional paid activities including:
parasailing
snorkelling
banana-boat
kayaking
jet-skiing
Please note that the zipline between Gaya and Sapi islands has been closed since the pandemic, with no sign of it reopening anytime soon.
These Kota Kinabalu island hopping activities can be booked onshore before you depart but we also found the tour guide was happy/eager to take cash payment during the tour, usually for a discount. Keep in mind availability is limited so during busier times, book everything you want to do in advance.
Also, try to bring your own snorkels if you can, the quality of the ones we rented were so poor they were unusable, and once you're out on the islands, you can't do much about it. We ended up holding our breath to look under the water through the googles.
What is the Kota Kinabalu island hopping itinerary
You can choose what time you want to leave but bear in mind this is Malaysia and, during busy times, the departure area has the feeling of an international airport terminal. Groups sit and wait on wooden benches until they are called; it can feel disorganised but someone was always there to help.
We booked for 9am and got on the boat about 9:30am. It might be better to book for an earlier departure if you are keen to get there before the main crowds (we wish we'd done this), but remember you might need to pay your balance and get kitted out in lifejackets first, so don't leave it too late to arrive.
It's about a 15 minute speedboat ride out to the first island (Manukan in our case) and this is a really fun way to start, especially after the crowds at the dock. It's from here you'll get the first sense of the beauty of the islands as they grow larger on horizon. It can feel like the start of a race though, as speedboats zoom off in directions. Try to get a seat at the front for a bump and a thrill!
Once on the island, you'll pay a national park fee and start your first activity, usually snorkelling but you may also be heading off for another activity. Alternatively, try to find a spare patch of sand and relax. Your tour guide should keep you informed as to what you're doing and when; as earlier, it might seem organised chaos but it tended to work out in the end. You may be given their WhatsApp number which is handy to find out where they are or where you need to be.
After a couple of hours, you'll be ushered onto another boat and taken to your next island, from where the same process will repeat itself. Note that lunch isn't provided so either bring something from the mainland (there is a Subway and supermarket opposite Jesselton Quay, as well as lots of little food stalls to grab a takeaway). There are some restaurants on the islands but these tend to be overpriced and variable quality.
In theory, you can specify a departure time up until 5pm but, in reality, you just seemed to be herded onto any available boat. Just try not to be the last ones on the dock, as beautiful as the islands are, you don't want to be left stranded.
Is Kota Kinabalu island hopping worthwhile?
The answer to this depends slightly on the time of year you visit, the weather, and how big the crowds are. We were there in July and it was peak season and extremely busy. As we approached Manukan island, we soon realised the beach was 70% full (it was 10am) and the dock was overcrowded with other visitors waiting for an onward connection.
The snorkelling around Manukan was terrible although admittedly there had been torrential downpours the day before which would have affected both the visibility and amount of rubbish which was being washed up. We lasted about two minutes before giving up and retreating to the beach, finally finding a small patch of sand to call our own, surrounded by other tourists.
The other activities were a mixed success as well. The boys tried an expensive 3 minutes of parasailing but didn't really enjoy it, the operator insisted on dropping them into the water every few seconds and the screams we heard weren't of joy. It was advertised as a 45 minute experience but we soon realised this included boat time and all the other tourists on the boast taking their go; the actual ride felt very short.
We also did a banana boat ride but (and this was our fault), we told the driver we didn't want to be thrown off, but he took this to extremes and pulled us along at walking pace for about five minutes! In the mean time, several passengers on the boat got seasick and we had to cut the ride short and head home. In hindsight, we should've asked for a speedier ride.
The previous day's storm added to the problems because so many people had had tours cancelled and were switched to our day, so it was probably even busier than normal. But, you do need to factor the crowds in, it really didn't feel like a unique nature experience. At least not until the last island, by which time most tourists had left and we got to do some better snorkelling off Sapi Island.
If your visit coincides with a quieter time, when the weather is (and has been) good, it's probably a better experience. We still had a fun day but with the combination of crowds, price, poor visibility, littered water, and occasional rain, Kota Kinabalu island hopping wasn't really a highlight of our 10 weeks backpacking Southeast Asia with kids.
On top of this, some activities (e.g. the zipline between islands) were still closed post-COVID; it was unclear when or if they'd reopen, but keep an eye out if they do as we've heard it's super fun!
How long is a Kota Kinabalu island hopping tour?
The tour lasts a whole day but you can choose your start and end time, within reason.
You need to arrive 30 minutes before the start time to get kitted out and pay any remaining balance. As we've mentioned, the timings of departure, transit, and return aren't set in stone but it's still best to book the times you think you'll need.
How much does it cost to go island hopping in Kota Kinabalu?
The ferry (speedboat) prices are fixed at:
1 island: adult RM35 child RM30
2 islands: adult RM45 child RM40
3 islands: adult RM55 child RM50
4 islands: adult RM65 child RM60
Then the National Park fee for Tunku Abdul Rahman Park is paid on arrival to your first island (card only). This is RM25 per adult per day, RM20 per child (17 and under) per day (click here for up-to-date prices).
We also paid RM10 each for the snorkels which was a waste of money. Try to bring your own or at least check the ones you rent before moving on. If you're snorkelling anywhere else on your trip, and have space, it'll work out cheaper to buy a brand new pair.
All in all, our Kota Kinabalu island hopping day cost RM560 (approximately £95) for our family of four. This included, ferry, national park fees, snorkel hire, parasailing and banana boat ride.
Considering our daily spend during our 10 weeks backpacking Southeast Asia averaged at £110 per day (this included everything from food, accommodation, activities, travel), the island hopping Kota Kinabalu day was pretty pricey. Although this is inline with other tour excursions in Borneo, such as the Kinabatangan River (which was inredible).
What's the best way to book island hopping in Kota Kinabalu?
Head down to Jesselton Point Ferry Terminal to book in person. It's a good idea to do this the the day before you want to visit the islands (before 5pm) to get sorted. Although if rain is forecast, you may want to leave it until the morning of to see if the forecast changes (get down to Jesselton Point between 8am and 9am).
There are four islands to visit and it's a fixed price to visit 1, 2, 3 or 4 islands in one day (island hopping Kota Kinabalu ferry prices are detailed further up in this article). You can then add on activities at an extra cost (which can be negotiated).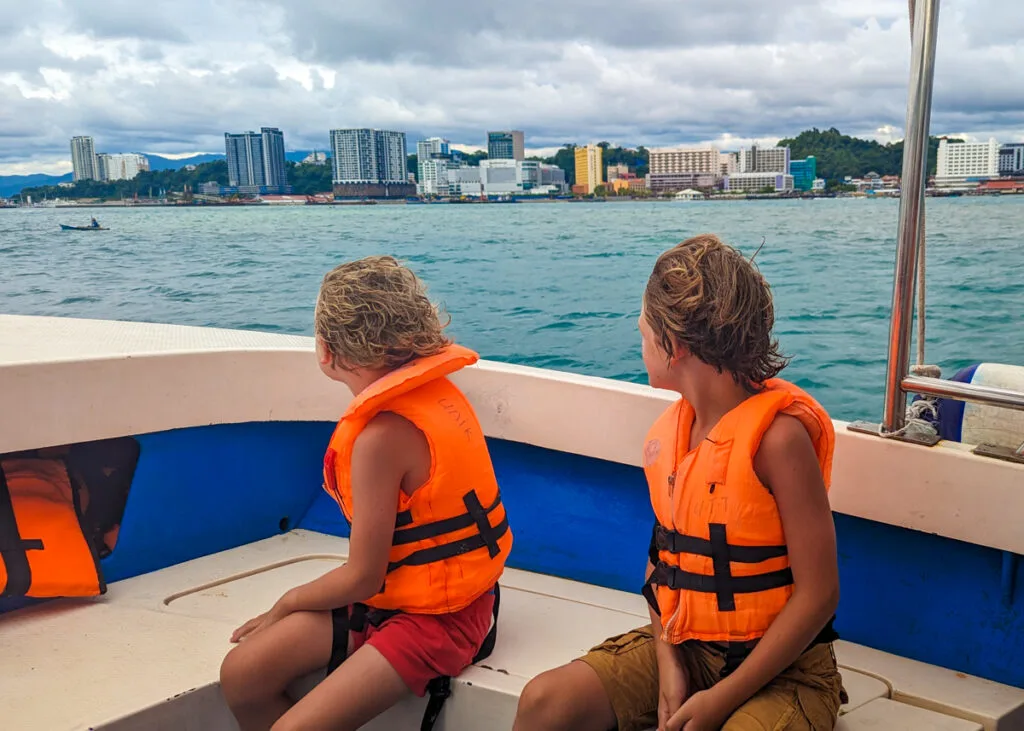 You can also book online, we saw some good offers there but the prices are very similar with the added slight complication of printing out confirmations, trying to make international credit cards work, and never been 100% sure the company still exists; it's probably easier to book in person. Most hotels can book for you as well which is a good middle ground, you will pay a small commission though of course.
Do remember that whoever or however you book, you're all heading to the same islands and once there, you'll have the same experience, regardless of how you booked. Keep this in mind if tempted to book a fully private tour; you'll have more control over timings but it won't be any more private once you hit dry land.
Can you buy food and drinks on the island hopping trip?
There are restaurants on the islands. The food looked to be quite standard for KK if a little more expensive. They were never very busy, mainly because most other tourists took their own food and ate a picnic on the beach. That's what we did and would recommend it.
There are also a couple of small shops (i.e. at Manukan Island) where you can buy ice-creams, drinks, and small snacks.
What should you take island hopping in Kota Kinabalu?
As well as some patience, try to take:
sunscreen
towels
swimwear
snorkels if you own them
change of clothes for the trip back
camera
lunch
card for National Park fee payment
cash if you want to book activities during your KK island hopping adventure
Check out our Southeast Asia packing list for families
Can you stay on the islands?
There are a few pricey hotels and lodges dotted around the various islands. This is a great option if you can afford it as you'll get to experience the islands for a few hours without the crowds. Bliss.
These include:
Final thoughts on Kota Kinabalu island hopping
We had a mixed time island hopping at Kota Kinabalu, partly due to the bad weather from the previous day, and partly due to the sheer number of people sharing the experience. But we knew this in advance, it was Sabah in July and KK island hopping is the one thing everyone seems to tick off when visiting this region.
The tours are well organised if a little hectic; it always feels like it's about to fall apart but then, out of nowhere, our guide would appear, frantically waving us onto the boat. The paid extras didn't work for us and felt like a waste of time and money, although we were to blame for the sedate banana boat ride.
In spite of that, there were some magical moments; the speed boat rides were fun, the snorkelling on Sapi was pretty, and we loved being out on the islands when the crowds parted for a moment. At the end of the day, Kota Kinabalu island hopping is a popular activity in a popular region so, if you know what to expect and embrace the crowds, you can get a lot out of your trip. Plus, when you're back in KK sipping a drink on the waterfront, you can stare out into the distance and say, "we were there".
---
You may also like to read:
Kota Kinabalu with kids
Sepilok Orangutan Rehabilitation Centre, Borneo: tips for your visit
Exploring the Kinabatangan River with kids