The tips and recommendations provided below are from our one week stay in Kota Kinabalu with kids in July 2023.
When you picture Borneo in your head, it's likely you'll see pristine rainforests, wild orangutans, rivers and beaches; nature at its best. But do you also see a modern city, complete with skyscrapers, great dining, museums, night markets, modern hotels?
Kota Kinabulu (KK), the capital of Sabah, usually only features on a Borneo itinerary as the beginning or end point. But this thriving city steeped in history is also worth a few days of your time, either before or after your 'other' Borneo adventure begins. Plus you can also use the city as a base for further explorations, whether it's to the nearby tropical islands that make up Tunku Abdul Rahman Marine Park on a Kota Kinabalu island hopping adventure, or further afield to Poring Hot Springs (3 hours drive) or Kilas River (2 hour drive) to see the proboscis monkeys and fireflies.
Post-pandemic, prices have changed and some sights have closed, including Signal Hill Observation Deck and the zipwire between Gaya and Sapi Island. But you can be assured that this is the most current guide for exploring Kota Kinabalu with kids as we visited in July 2023, and as with all travel guides on this blog, we regularly check for updates.
Disclaimer: This post contains affiliate links. If you click to purchase, it is at no additional cost to you, and I receive a small commission.
Your comprehensive guide to travelling Borneo with kids. Focusing on Sabah, we share advice on safety and getting around, top tips for your visit, and detail a 12 day itinerary.
How long is needed for Kota Kinabalu with kids?
Three days is a good amount of time to see the sights and not feel rushed, and this also allows for extra time if the weather is not on your side. Plus, if you are venturing elsewhere in Sabah, it's likely that this is your one and only chance of modern accommodation with a pool, and a pool is always a good idea when travelling Southeast Asia with kids. So perhaps add on a day or two for some downtime pool days if you can.
Although if you are short on time and really only have a day or two up your sleeve, we wouldn't recommend making a special effort to stay longer. Use those days to explore the jungle and islands of Borneo, especially around Sandakan, as these are the experiences that you've really come for.
How to get around Kota Kinabalu with kids
As with the rest of Malaysia, the best bet is to use a ride-hailing app like Grab. The wait times are usually less then 5 minutes, the fares are pre-set and very reasonable (it only costs £1-2 to get around the city), there is no need to haggle, the driver knows where you are going, and you can even choose to use an overseas credit card for payment.
KK is also quite a small city and most of the sights are near one another, so once you're into the city centre, you can get around on foot quite easily if it's not too hot.
It's a big help to know when booking accommodation that you don't necessarily need to be central, as the Grab app makes getting in and out of the city a breeze. Just make sure you have a local SIM (we use Airalo eSIM – use code JASON6429 for US$3 off your first purchase) so you can get online wherever you are to order your ride.
Check out our guide: How to get from Kota Kinabalu to Sandakan
8 BEST things to do in Kota Kinabalu with kids
This list of things to do in Kota Kinabalu with kids isn't really just for kids, it's for everyone! But, we review places and attractions through the lens of travelling with kids so you can gauge what will work best for your family, especially if you're short on time.
1. Sabah Museum
Click here for location
museum.sabah.gov.my
If you need to escape the heat or perhaps dodge a rainstorm, head over to Sabah Museum to dive into the history of the region. Kids will love learning about the tribal head-hunters, complete with hanging skulls, and seeing the huge whale skeleton in the centre (rather similar to London's Natural History Museum!) There are also musical instruments behind glass, textiles and pottery, background on the political history, and a taxidermy section (which may feel rather odd if you're planning a jungle trip to spot animals).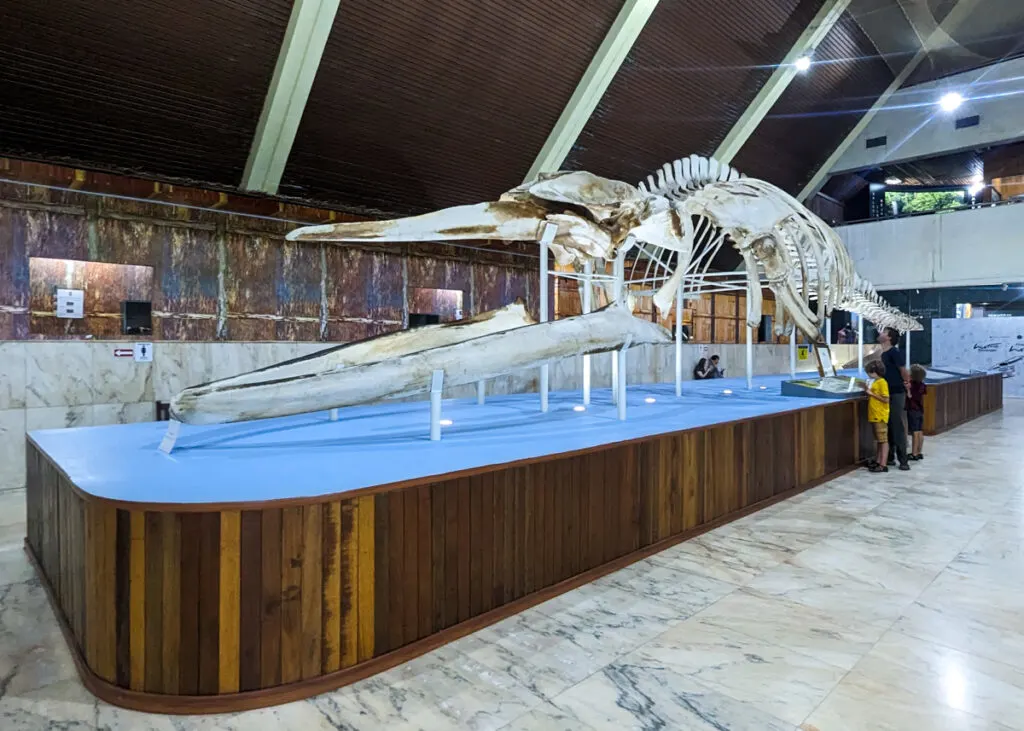 Next door is the Locomotive Gallery where you can walk inside an old train, and opposite is the Heritage Park where you see traditional tribal houses (although this is outside).
Allow 1-2 hours for your visit. Entry is MYR15 per person (no discount for children).
2. Mari Mari Cultural Village
Click here for location
marimariculturalvillage.my
Mari Mari Cultural Village is a good place to go to learn more about the traditions and customs of North East Borneo's five main tribes. Your entry fee includes visiting five different traditional houses, as well as live demonstrations, a cultural performance, and lunch.
However, we felt that the entry fee was a little hefty for a family of four (discounted to MYR380 / £63) for what is essentially a museum with traditional performances (and dare I say, and I hate this word, a little 'touristy'). Although if you do have a spare day up your sleeve in Kota Kinabalu with kids and want to spend the money, we hear that it is actually very good.
3. Night market
Click here for location
Kota Kinabalu's Night Market is held from 5:30pm every night by the waterfront come rain or shine; it's mostly undercover, so don't put off a visit if it's raining. In fact this is one of our favourite things to do in Kota Kinabalu with kids!
It's a fantastic place to pick up local produce if you're in a self-catering apartment (perhaps create a shopping list for the kids) and it's also very much worth stopping for dinner. The variety of Malaysian dishes on the menu is fantastic and very affordable (we spent £10.50 in total for our meal and drinks).
If you fancy a drink after the night market, walk along a bit further to The Waterfront where there is a stretch of tourist bars/restaurants with outdoor dining overlooking the sea. It's a good sundowner spot.
4. Tanjung Aru Beach
Click here for location
Tanjung Aru Beach, immediately south of the city, is a popular place to watch the sunset with food stalls laid out for snacks and dinner. During the evenings it can get very busy with locals.
It's not the cleanest of beaches and the sea doesn't look too inviting, but it's also worth popping down to the beach for a morning or afternoon stroll. Ask your Grab driver to drop you at Tanjung Aru Beach and then take a left to walk along the sand, with the sea on your right. A 1.5km stroll south brings you to Tanjung Aru Beach, from where you can meet the road. If you take a left along the road you will be able to watch planes land along the runway at the airport. Book a Grab to then take you back into the city.
5. Masjid Bandaraya Kota Kinabalu
Click here for location
Also known as, City Mosque, Masjid Bandaraya is a beautiful mosque just north of the city, a short Grab ride away.
Unlike many mosques around the world, tourists are actually allowed inside. However, it is strictly closed to tourists during prayer time. When we visited, we totally forgot it was a Friday (a sacred day of worship in Islam) and our taxi dropped us right outside the mosque. Security guards then strode over waving their arms at us and pointed us off the premises. Don't go on a Friday.
There is also the 'Pink Mosque' (formally known at University Malaysia Sabah Mosque) that is worth a visit, just slightly further away from the city, but in the same direction as City Mosque.
6. Take a speedboat out to the nearby islands
READ: Island hopping in Kota Kinabalu
The islands that you can see from the waterfront of Kota Kinabalu are known collectively as Tunku Abdul Rahman Marine Park and most of them are easily accessible to tourists. In fact, this is really the number one thing to do in Kota Kinabalu with kids.
Whilst you can book a Kota Kinabalu island hopping tour through your accommodation, it's also very easy to arrange independently. Just head down to Jesselton Point Ferry Terminal the day before you want to visit (before 5pm). There are four islands to visit and it's a fixed price to visit 1, 2, 3 or 4 islands in one day.
We opted for 2 islands, which included Manukan and Sapi. When we booked, the timings seemed rigid (we had to book specific times and message on WhatsApp if we wanted to change), but in reality, the day felt like organised chaos with being ushered to various boats at different times and not really having a clue what was going on. We just went with the flow.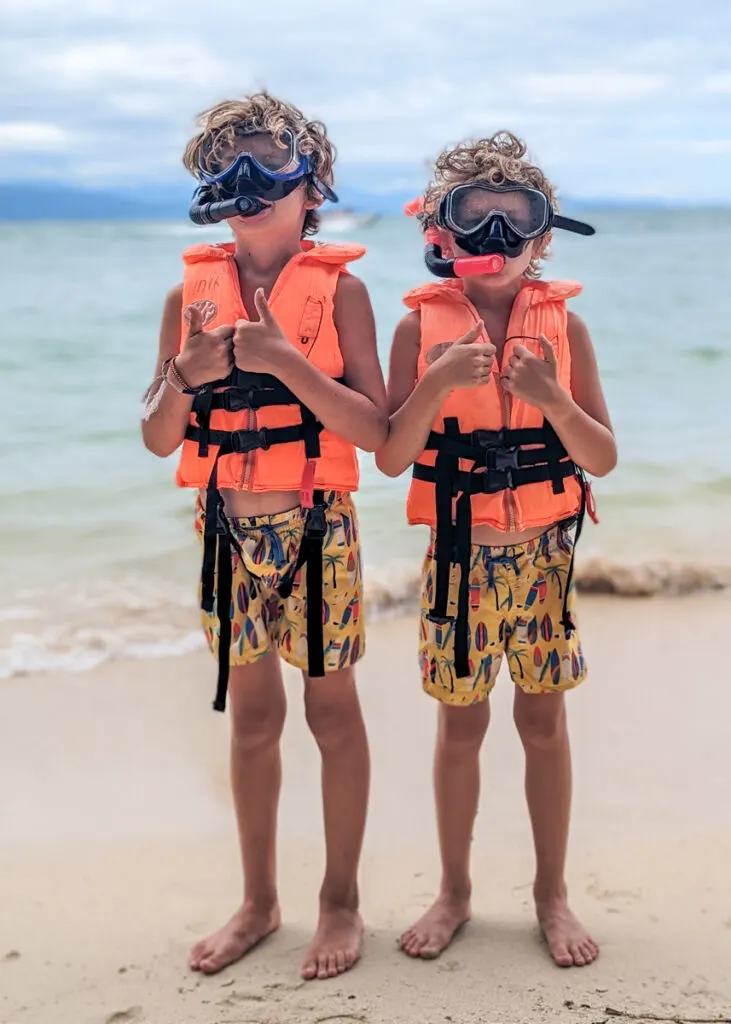 Manukan was a bit of a disappointment in all honesty. We were left to snorkel, but decided against it as the water was awfully murky with rubbish floating around. So instead we booked the boys onto a parasailing trip (super fun), and then a banana boat ride (painfully slow and not at all worth it). Much later we were taken to Sapi and we wished we'd come here first as the snorkelling was better (although we've experienced much better elsewhere in Thailand and Philippines). Nevertheless our snorkels were in bad condition and 3 out of 4 didn't work, so instead we used the goggles to see and held our breath.
Please note that the zipline between Gaya and Sapi islands has been closed since the pandemic, with no sign of it reopening anytime soon.
As far as island hopping in Southeast Asia goes, there are far better places to go. But it was still a fun day out and interesting to see. Altogether it cost us £97 (which included park entry fees, boat transfers, snorkel hire, parasailing for two, banana boat for three). We took a lunch with us. Click here for our full review of this Kota Kinabalu with kids day trip.
7. Watch the latest release at the cinema
Click here for cinema times and listsings
We ended up visiting the cinema on a day of incessant rain (we weren't travelling in the rainy season). We had visited Sabah Museum early that day and when we gave into the fact that the rain wasn't shifting we headed over to the cinema at a mall.
There are three different cinemas in KK. We visited the one at Imago Shopping Mall.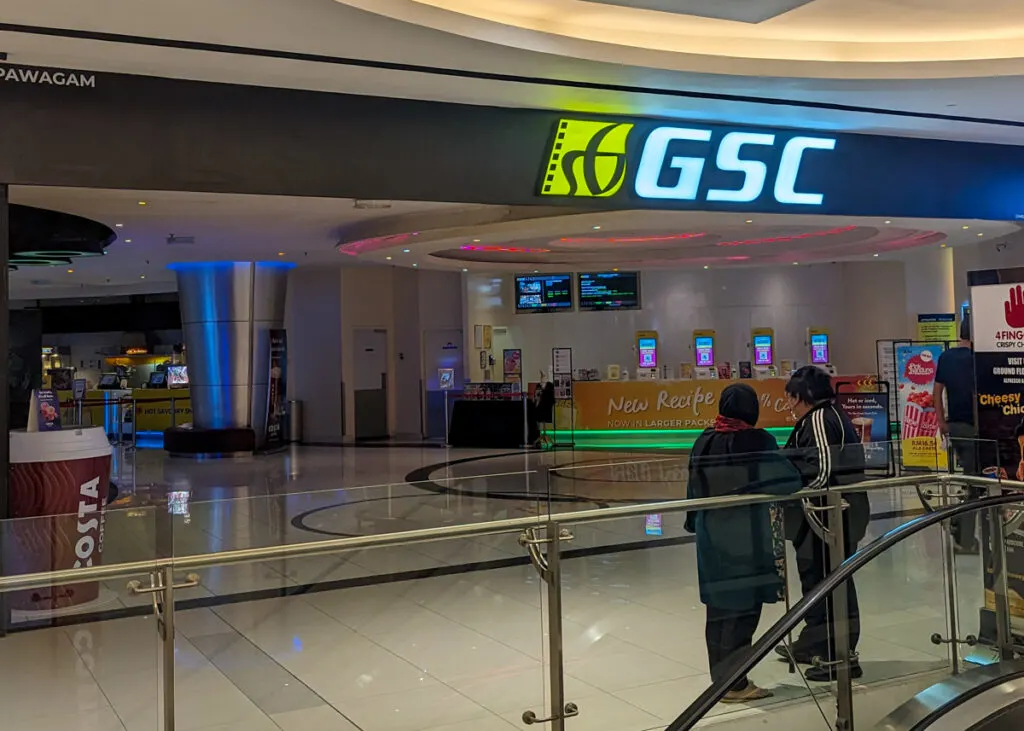 The cinema was actually a really lovely time out from sightseeing and super cheap (about MYR50 for the four of us!) It's also really interesting seeing the modern mall culture of rustic Borneo. We rarely visit the cinema at home as it's so expensive, but £2 each was a bargain!
8. Overnight at Nexus Resort
Click here to check rates and availability
If you're staying in Kota Kinabalu with kids for more than a few days, we really recommend putting aside a day to enjoy some downtime at the 5* Nexus Resort & Spa Karambunai.
Now this isn't a good hotel to base yourselves for exploring all there is to do in Kota Kinabalu as it's 25km north of the city (a 40 minute drive in good traffic). But the three swimming pools and long stretch of sandy beach make it a great place to enjoy a pool day. Plus the sunset view over the sea is one of the best we've ever seen. Do be warned that there are jellyfish in the sea.
There are often excellent deals on booking.com for this resort. We managed to get a free room upgrade and 50% off (£80 on booking.com), and were allowed to check-in at 11am and check out at 2pm (so it felt like two pool days). Although do note that they don't really have family rooms, you will need to share beds with your kids (kids under 12 are free), or pay extra for a bed to be added to your room. For one night, it worked fine for us with one kid on the sofa, and two parents and one kid spread over large-ish twin beds pushed together.
Excursions further afield
If you have the time and money, and don't plan on heading over to Sandakan, there are a couple of worthwhile day trips from Kota Kinabalu to explore the surrounding countryside.
Kilas River Cruise
Take a boat trip along Kilas River, two hours southwest of KK, to spot proboscis monkeys and fireflies. Tours leave at around 2pm in the afternoon to take you to Kilas Jetty. From here you board a longboat to travel along the river in search of the long-nosed proboscis monkeys, long-tailed macaques, and birds such as Kingfishers, darters, and eagles. Please note that wildlife spotting as not guaranteed.
Dinner is usually included back at the jetty, before heading back out again on the boat to look for fireflies. If you're lucky you might even spot nocturnal animals like the flying fox and night bats.
Expect to return to your accommodation 9:30-10pm.
Poring Hot Springs
READ: Poring Hot Springs, Borneo: your essential guide
Poring Hot Springs is a worthwhile stopover between Kota Kinabalu and Sandakan. However, you can treat it as a (rather long) day excursion if you wished; it's a 2hr 45 min drive from Kota Kinabalu to Poring Hot Springs.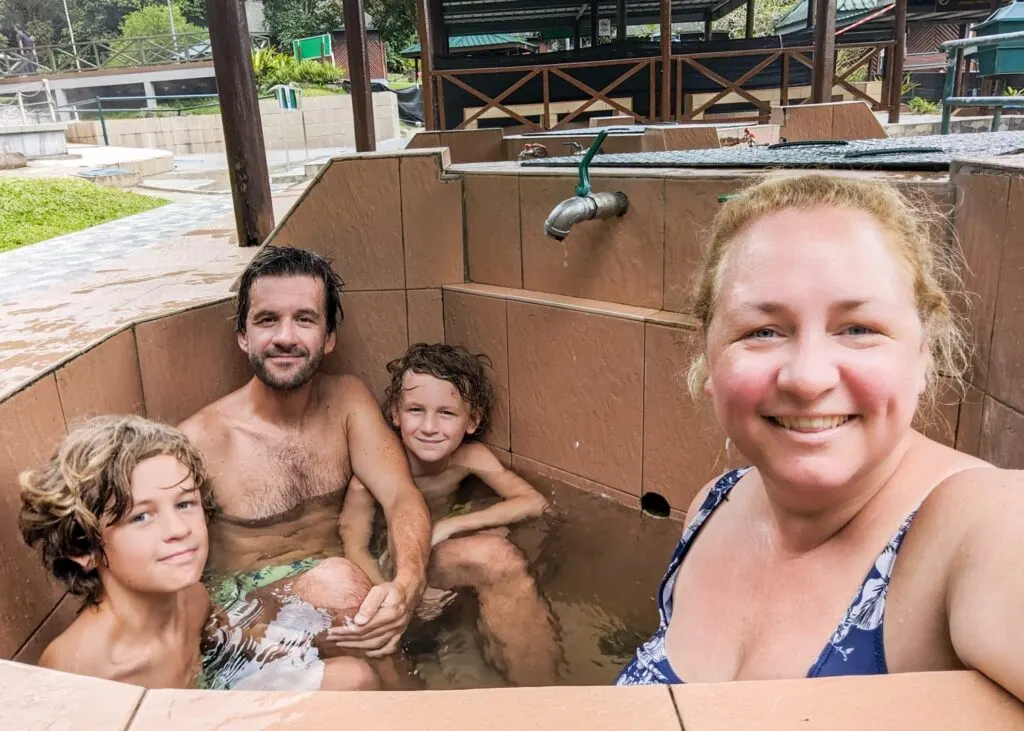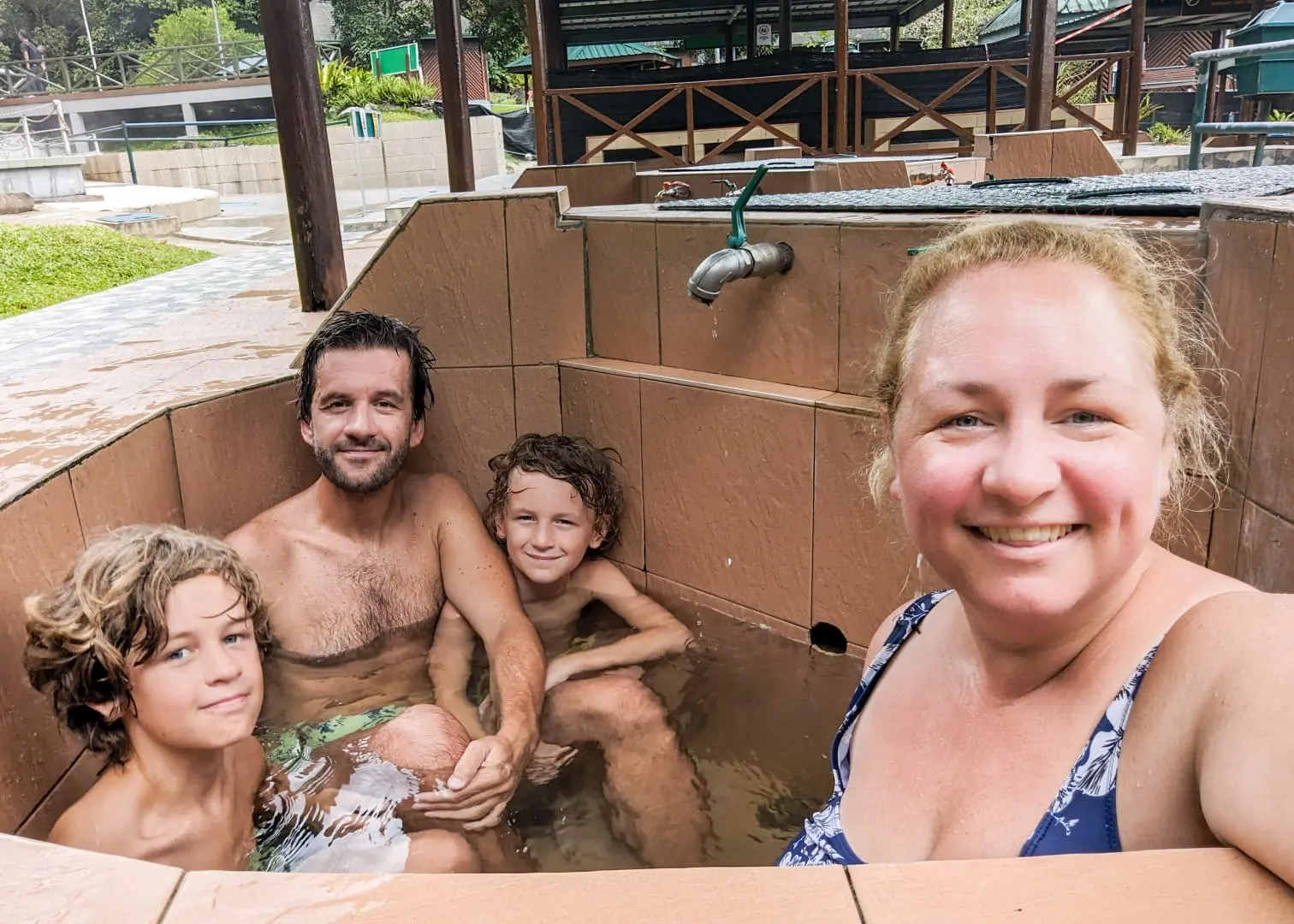 Allow a full day at Poring Hot Springs, as it's not just the baths of hot, sulphurous water to enjoy, there's also a superb Poring canopy walk, a butterfly farm, and a worthwhile walk to a stunning waterfall. The baths themselves cost MYR10 each for three hours (a good 45 mins of that is waiting for the bath to fill with water).
Where to stay in Kota Kinabalu with kids
Click here for our top recommended place to stay in Kota Kinabalu with kids.
If you want to spend the money, many families rave about the Shangri-La Tanjung Aru. This is a 5* beach resort with all the bells and whistles you expect from a Shangri-la and it's in a great location. However, rooms are, of course, pricey and one of the reasons we're able to afford travel so much as a family is that we generally book budget accommodations so our money goes further.
The city offers a range of apartments that are perfect for families travelling on a budget. But whilst we might wish we'd remained blissfully unaware, there are both good and bad places to stay in the city. The first apartment we booked on booking.com looked good online and seemed to be in a good location, but the reality was anything but. There was mould in the bathroom, ants everywhere, stains in the kitchen; we didn't unpack and lasted about 12 hours.
A couple of lessons we learned were (a) try to get an apartment high up with a view (there really are some fantastic places near Jessleton Quay with a view over the ocean) and (b) the area around Sutera Avenue can be hit-and-miss so check carefully before booking.
We stayed for one night at Nexus Resort (see above in our recommended 'things to do in KK with kids'), which is about a 40 minute drive north of the city, and then moved back to Jessleton Quay nearer the city centre for the rest of the stay in an apartment (this was the one).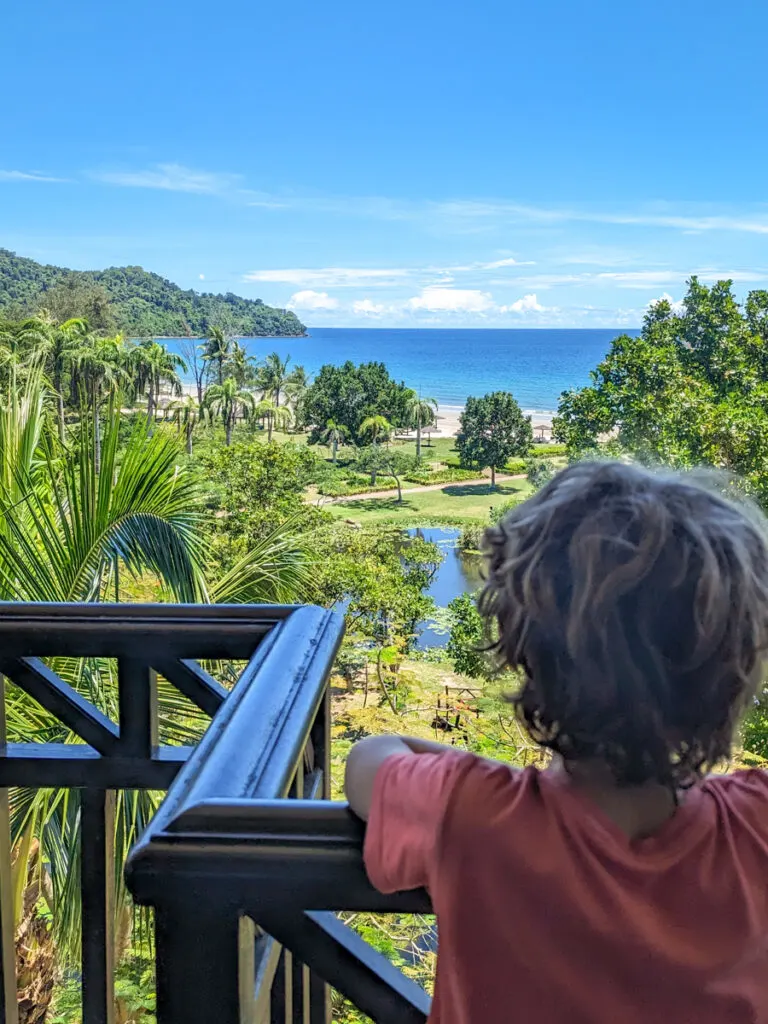 Homesuite Home
Our new place with Homesuite' Home was super-clean, had two bedrooms with twin beds, kitchen, plus an amazing view over the bay. The building also had a gym, outdoor swimming pool, playground, two 24h supermarkets, restaurants, and two launderettes at ground level (we had everyone's clothes laundered in less than 24 hours for just over £5). Plus it was just a two minute walk to Jessleton Quay.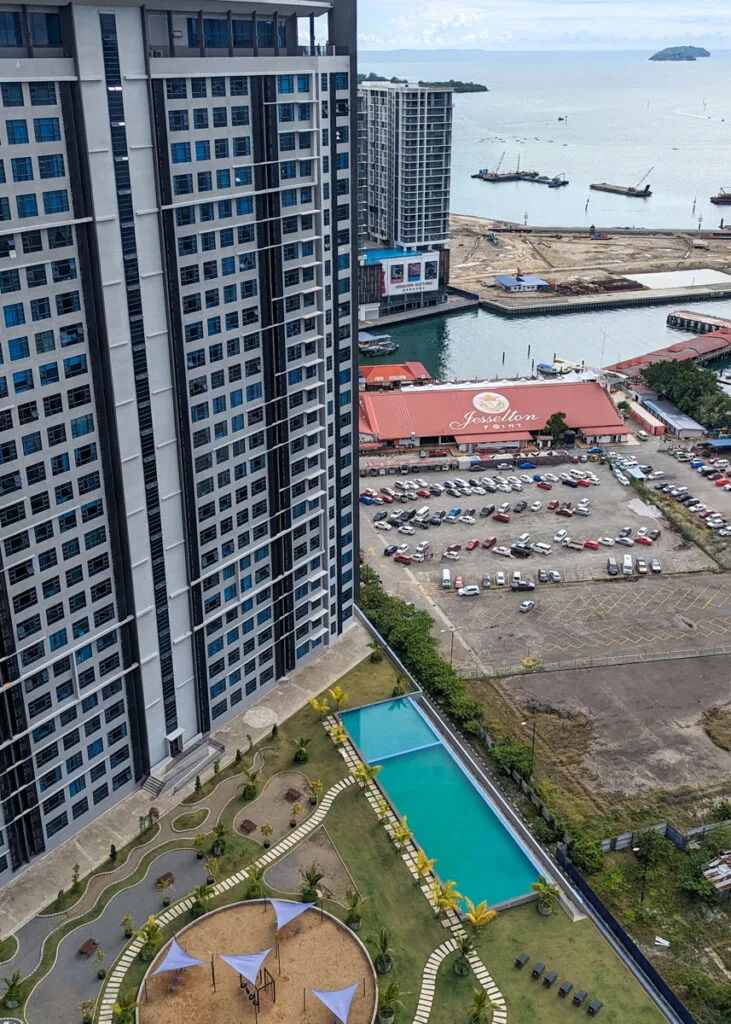 Booking online is difficult anywhere but it seemed to be a particular problem in Kota Kinabalu with misleading photos, copycat adverts, questionable reviews, and a general sense that there were too many similar apartments. In the end, we chose somewhere a bit further out of the city but which had a 9+ rating on booking.com (never a guarantee of success, but a pretty good indicator) and we absolutely loved it!
Final thoughts on visiting Kota Kinabalu with kids
There is so much natural beauty in Borneo that it can be tempting to disregard a city like Kota Kinabalu and head straight out onto the road. Travel and accommodation in Borneo can sometimes be rustic and challenging and you're likely to get more out of your trip if you pause here for a few days and experience the modern-day comforts of this great city, before you continue or complete your Borneo with kids adventure. Plus, there are great natural sights to visit here as well. It's definitely worth pausing for a few days here.
---
You may also like to read:
Visiting Thailand with kids
Visiting Vietnam with kids
Visiting Cambodia with kids