Sometimes, however much you're enjoying your travels around Borneo, it's nice to slow down and experience some luxury. Nexus Resort and Spa Karambunai is the perfect place to unwind for a few days and recharge your travel batteries.
Set on the north-western coast of Sabah, only a 30km drive from the state capital of Kota Kinabalu, this resort offers a spa, golf course, three swimming pools, bars, restaurants and much more, with a golden sweep of sand and the South China Sea, waiting for you in the back garden.
Combined with a few days in Kota Kinabalu with kids, Nexus Resort and Spa is the perfect accompaniment to any Sabah adventure.
This article is in no way affiliated with Nexus Resort & Spa Karambunai. This is our personal review. We paid for the accommodation and meals ourselves.
Disclaimer: This post contains affiliate links. If you click to purchase, it is at no additional cost to you, and I receive a small commission.
Click here to check rates and availability of Nexus Resort & Spa Karambunai
Your comprehensive guide to travelling Borneo with kids. Focusing on Sabah, we share advice on safety and getting around, top tips for your visit, and detail a 12 day itinerary.
Arriving to Nexus Resort & Spa Karambunai
It's only 30km to Nexus Resort from Kota Kinabalu but be warned that, due to roadworks and volume of traffic, the journey can take anywhere up to one and a half hours at peak times. The resort isn't served by public transport so your options are limited to driving your own vehicle (free parking available) or taking a taxi from the city. A Grab taxi is the best option and easily arrangeable from Kota Kinabalu.
Once you turn off the the main road, the sweeping approach to the resort is via private roads and lulls you into a five-star mood. Keep an eye out for the golf course, a destination in its own right and considered one of the best courses on the island of Borneo. If you're a keen golfer, try to book a tee-time at the 18-hole, championship standard course.
You'll be dropped off at the reception area, met by porters with baggage trolleys and a welcome drink. The foyer is splendid, lots of natural woods and natural light with a panoramic view of the sea and beach. Take a moment to stare up at the wooden ceiling whilst you sip your welcome drink, the craftmanship is stunning.
The staff on reception were efficient and friendly, although they (and we'd soon find out, the rest of the resort) seemed very busy and under-staffed. We were first in the queue but a line of other guests soon formed behind us as there were only one or two staff members present.
This theme continued throughout our stay with no-one serving in the bars and poolside restaurant until we found them ourselves. When we asked, the staff said it was a quiet time of year and, as occupancy was low, management had reduced the staff numbers.
Our family room
We originally booked the Ocean Panorama Premier room on booking.com for two adults and two children but when we arrived to the room, the bed configuration was wrong so they offered to move us to another room.
It was at this point that the experience dropped off from five-stars somewhat and became quite poorly organised. We carried our backpacks back down to reception, waited in a queue for fifteen minutes to arrange a new room and headed back upstairs with the keys. Unfortunately, this new room had the correct beds but was of a much lower standard, and was quite poorly maintained with mould and flaking paint.
We rang down to avoid another long queue and were advised someone would come up to the room and show us to another room straightaway. Twenty minutes later we were still waiting and it was another ten minutes until we were finally shown to our lovely new room, overlooking the sea.
This highlighted a few issues the resort seems to be facing; keeping rooms maintained to the advertised standard, and having enough staff on duty. Once we got into the room though it was ideal, but it took a long time to get there.
Make sure you check the room before unpacking, in particular that it's the room you booked.
The beach
As with most of Borneo, you're warned in stark terms about the risk of jellyfish and advised not to enter the sea for a swim, which is a huge shame as it did look very inviting.
The beach itself is incredibly picturesque, the perfect location for sunset if you're there on a clear day. There are a few sun loungers with parasols and, in theory, a beach hut to provide towels but (stop us when you spot a common theme) no-one was on duty in the beach hut so we had to set off in search of towels ourselves.
The pool
We didn't spend a huge amount of time at the beach because the pools at Nexus Resort are a huge highlight and arguably the biggest drawcard to the resort if you're travelling with Borneo with kids. There are three separate pools but all in the same inter-connected complex so parents can pull up a sunbed and watch the action.
The water was a perfect temperature for the boys to splash around in, with a couple of (very) mini slides to play on. You can hire rings/inflatabales from the kiosk (RM10 for the day) and there's also a pool bar which wasn't open during our visit (and looked like it hadn't been for a while).
In theory, you can order snacks and drinks to be served at your sunbed, but you'll need to walk around and find a staff member yourself, they won't come to you.
The restaurants
You're quite spoilt for choice when it comes to dining at Nexus Resort, with the options ranging from in-room dining, pub snacks, all the way to silver-service fine dining.
Breakfast and lunch are served buffet style in the Penyu which is a relaxed affair with views overlooking the pool. Our buffet breakfast was filling and decent quality with a wide-selection of Malaysian and international dishes on offer.
The Sunset Bar and Grill was tempting for an evening meal, with the views overlooking the sea but we instead decided to take the boys to the Darlin Darlin lounge for some bar snacks and pub games. It was lots of fun, in spite of the fact that no staff member was on duty and we had to wander around reception asking for someone to serve drinks!
We just cobbled together a meal from wedges, chicken wings and other small snacks, washed down with some beer (for the adults) and juice (for the kids). You can also play pool and darts, or listen to the very loud music booming from the speakers. It's not the most authentic place in Borneo, but it suited us down to the ground for one evening.
Nexus Resort & Spa Karambunai for kids
Sabah is a brilliant place to bring kids for the nature experiences, but they do sometimes need more 'traditional' kids activities and it's here that the Nexus Resort is a useful detour.
The website lists a kids club although it wasn't open or advertised when we visited but there was still lots for the boys to be entertained with, not least the super pool area. We all enjoyed wandering and playing on the beach, plus the extensive gardens of the resort are fun to play in.
There's also a small playground which kids under 12 will enjoy.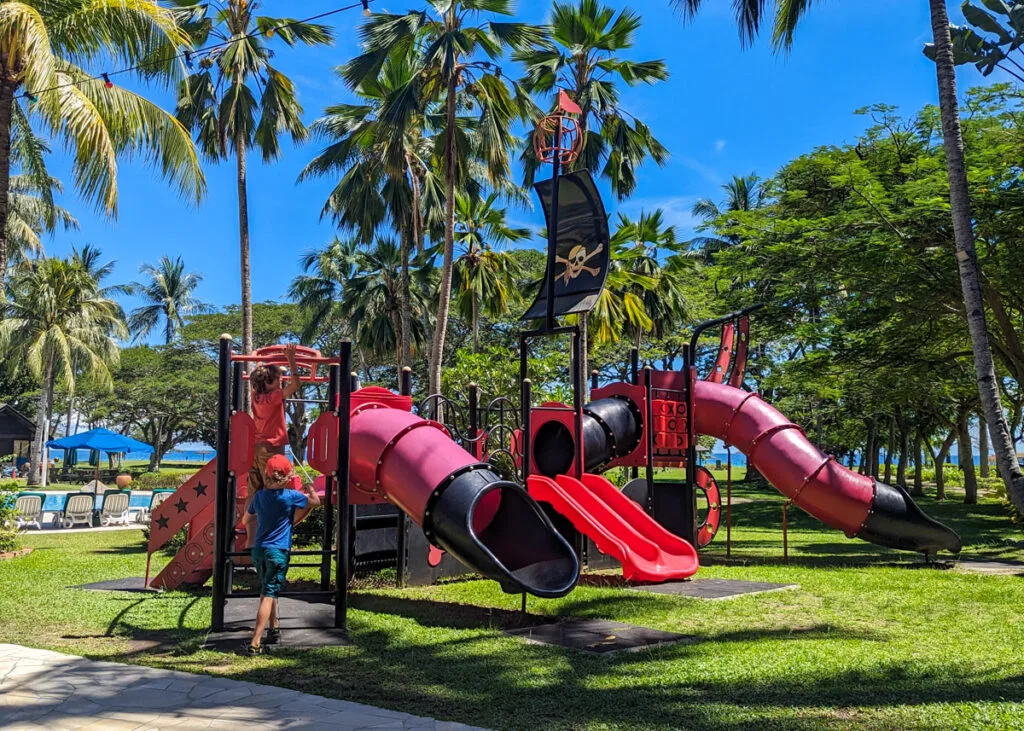 Things to do
In addition to the things we've already mentioned, there is an excellent spa on site called Borneo Spa which offers the usual spa treatments alongside a sauna, steam room and jacuzzi. Something to consider for adults as children aren't permitted.
The championship standard golf course is part of the resort complex and is definitely worth a visit if you're a golfer; club hire and caddies are available if needed.
There are also the usual array of water-sport equipment available to hire including kayaks and jet-skis, although we thought it was quite expensive compared to other parts of Sabah.
However, you can't really treat Nexus Resort as a base of exploring Kota Kinabalu or to go island hopping. It's just too far away. So treat the resort as a destination in itself.
Do check out our guide for things to do in Kota Kinabalu with kids if you're looking to explore further afield.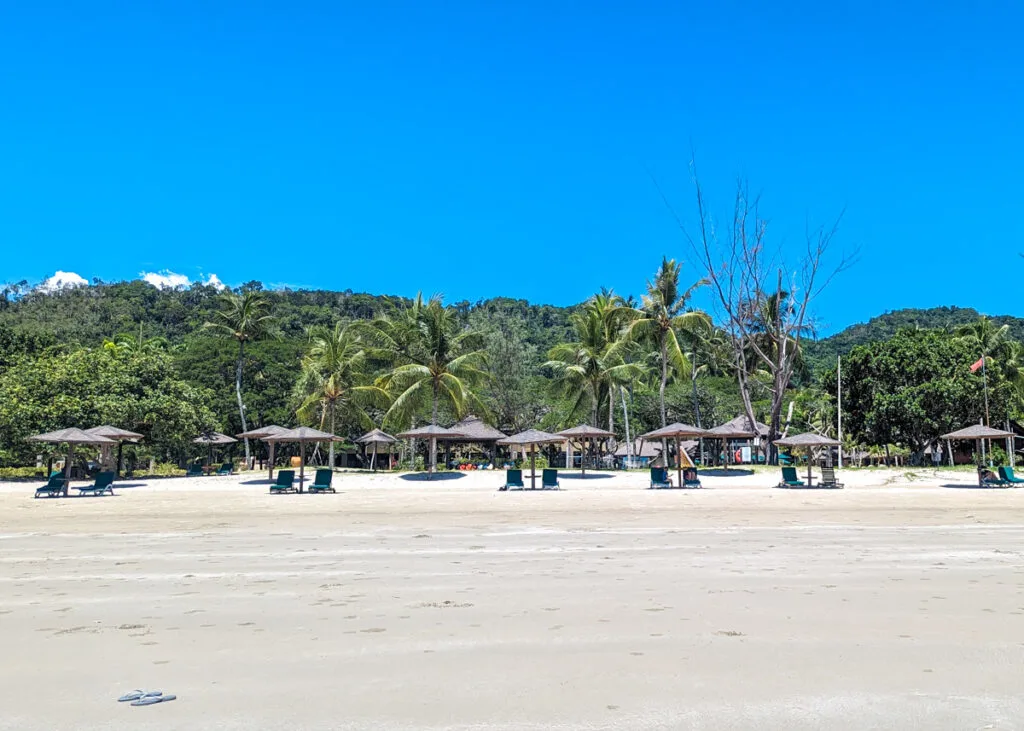 Final thoughts on Nexus Resort & Spa Karambunai
If you're looking for a refresh and recharge during your Sabah tour, the Nexus Resort and Spa is a recommended place to visit with kids. There's a wide range of restaurants and bars to keep you entertained in the evening, and the pool and beach areas will keep the kids busy during the day.
The staffing levels and some maintenance let the resort down slightly; whilst it's excellent in most places, it falls below standard in other areas. We may have just been unlucky on the night we visited, we gathered from members of staff that it was a quiet period and they were experimenting with staffing levels.
Try to book one of the better rooms if you can afford it as some of the cheaper rooms are showing their age. Having said that, the reception and lounge areas are beautiful and really make you feel as if you're in a five-star resort.
And just remember that it's a fair trek from Kota Kinabalu, so not really a good base for exploring the city and island hopping (as the boats leave from the jetty in Kota Kinabalu).
How to book Nexus Resort & Spa Karambunai
For the best rates and options, book your stay on booking.com. We found the official resort website slightly tricky to navigate and the prices seemed to be the same as on booking.com.
Click here to check rates and availability of Nexus Resort & Spa Karambunai
Keep an eye out for special offers and do try to upgrade your room if you can afford it, as you will notice the difference. We had breakfast included in our rate, definitely a recommended option as the meal prices are quite high otherwise.
---
You may also like to read:
Things to do in Kota Kinabalu with kids
Kota Kinabalu Island Hopping
Visiting Borneo with kids