Wondering what to expect from the Poring Hot Springs canopy walk, including how to get there and what to wear? Then this is the guide for you.
Picture Poring Hot Springs and you might envisage a relaxing day; deep bathtubs with warm sulphuric water refreshing your tired limbs.
Whilst that's definitely on the cards, why not set your sights a bit higher and head for Poring canopy walk? A short hike from the hot springs will bring you to an unassuming tower, which in turn leads to a connected series of canopy walkways high in the tree tops, offering a unique perspective on the rainforest.
Make sure you don't miss Poring canopy walk on your Borneo with kids itinerary.
Click here to read about the bathing section of Poring Hot Springs.
Your comprehensive guide to travelling Borneo with kids. Focusing on Sabah, we share advice on safety and getting around, top tips for your visit, and detail a 12 day itinerary.
How to get to Poring Canopy walk
Poring treetop canopy walk is located in the Poring Hot Springs complex, itself sitting near the main road between Kota Kinabalu and Sandakan. It makes for a fun and convenient rest stop when travelling between the two cities, and is a good reason not to take a flight.
Most of the buses and minivans between Kota Kinabalu and Sandakan stop in a town called Ranau which, whilst not amazing in itself, is only a 20 minute drive to Poring. Keep in mind if you buy a bus ticket online, you'll probably need to pay the full fare between KK and Sandakan (MYR43) and ask to be dropped in Ranau. The bus companies don't tend to sell part-tickets for this route. If you take a minivan from Kota Kinabalu, you'll be able to pay just to Ranau, but the comfort isn't the same as buses.
Check out our guide: How to get from Kota Kinabalu to Sandakan
Once in Ranau, you can find a minivan heading to Poring, or better still, ask your accommodation if they offer pickups. You'll probably have to pay, ours cost MYR50 each way but was a much simpler option.
Another option is to take a Grab from KK (not an option from Sandakan) or hire a car.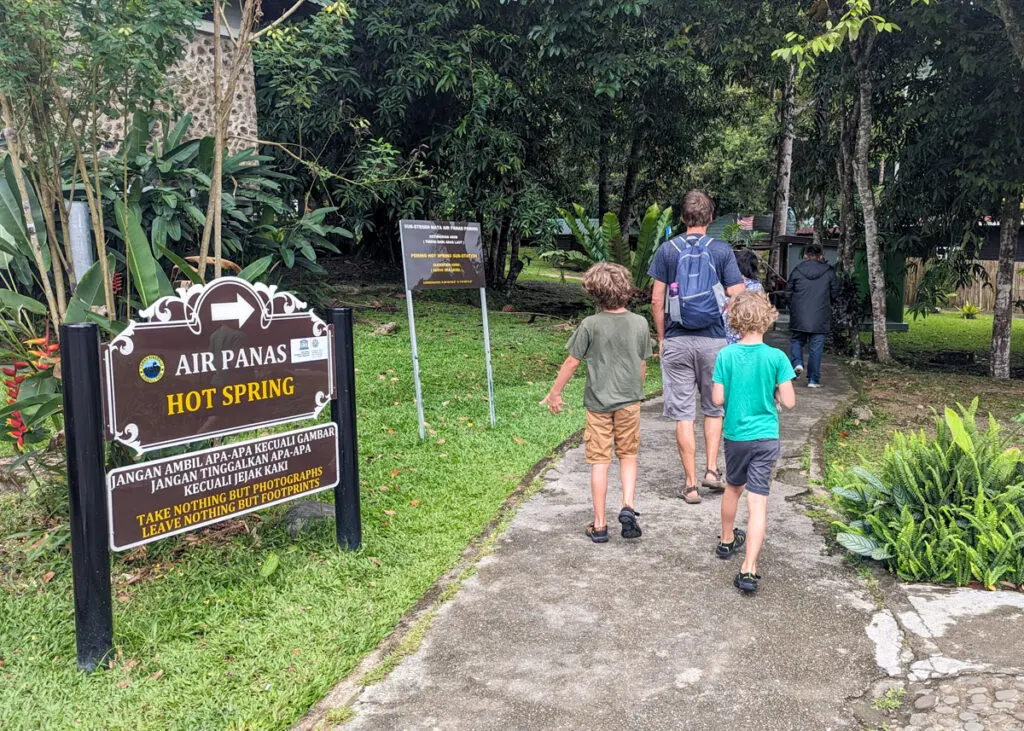 When you arrive at Poring Hot Springs itself, the Poring canopy walk is clearly signposted from the entrance area. Follow the signs past the baths and the Butterfly Park. Just a little further uphill to the right along the same path is the canopy walk, Poring.
It's a 5-10 minute walk from the main entrance of Poring Hot Springs to Poring canopy walk. A ticket booth marks the beginning of the steep climb towards the first tower.
How much is Poring Canopy walk?
At the entry gates to Poring Hot Springs, you need to pay an entry fee to the entire site (MYR50 per adults, MYR25 for children, cheaper fees for Malaysians). Click here for up-to-date ticket pricing.
Within the complex you then need to pay for some activities, and some are free. Poring canopy walk is one of the activities you need to pay an additional fee (MYR10 per adults, MYR8 for children, cheaper fees for Malaysians).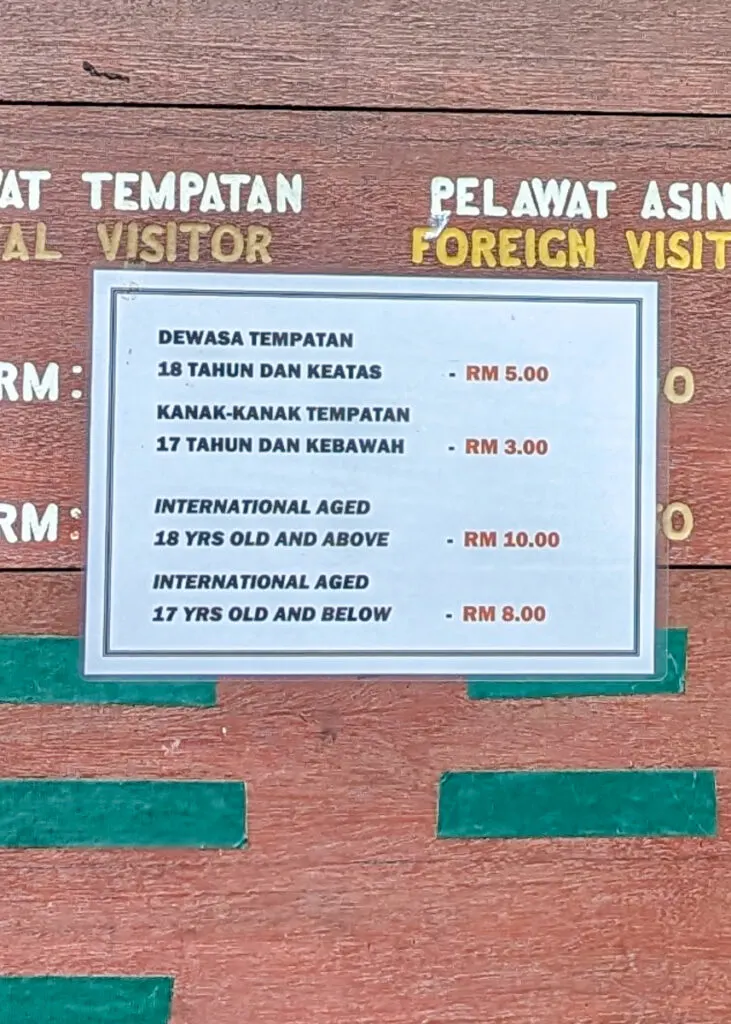 Is the Poring treetop canopy walk suitable for everyone?
No, it's not and it's really important you assess you and your group's capabilities before you start the walk as the walkways get increasingly difficult as you go along.
Poring canopy walkway is 43 metres tall. It's in decent condition but can feel slightly shaky at times, particularly towards the end when the distances of the roped walkways increase. As adults, we felt safe but a little shaky the whole time, and we're usually quite good with heights. The boys loved it and skipped along like they were at ground level, often asking if they could overtake or go first!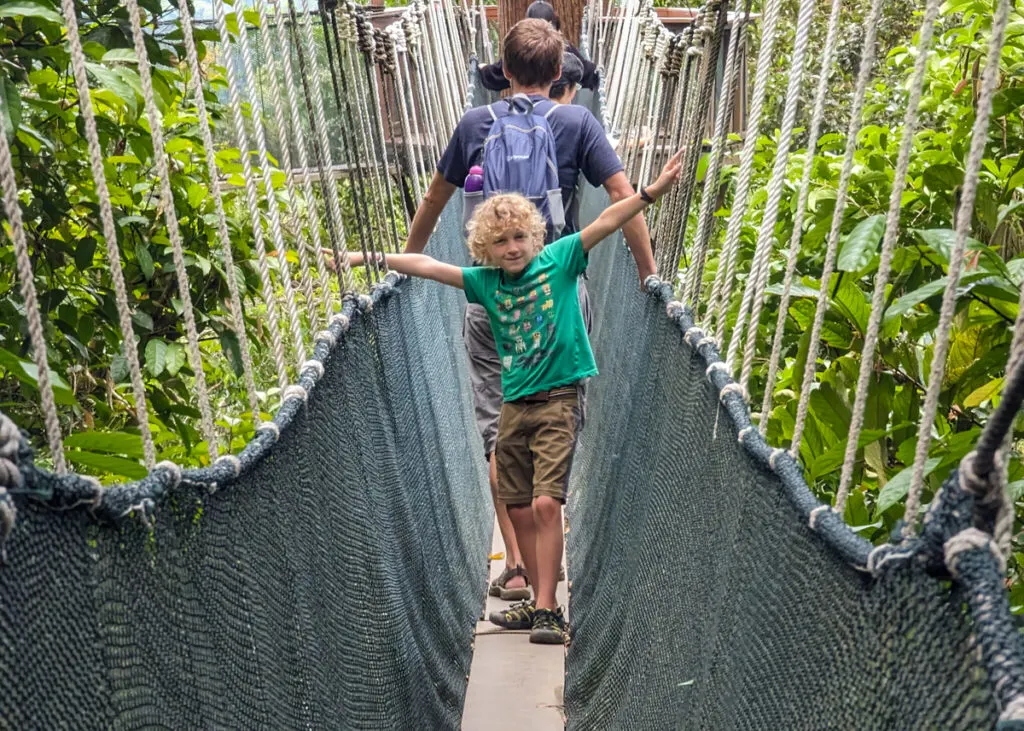 If you have any doubts at the first walkway and it looks too intimidating, we'd suggest you turn around now. There is no easy way to descend once you start as a one-way system is in place and there are no ladders leading down from the towers. You'll either have to continue to the end, or try to retrace your steps which would be difficult going against the flow. We followed one lady who was really struggling and was starting to create a long tailback. She moved to the side to let people pass but she was quite shaken.
Oddly enough, younger kids might find it slightly easier because the side netting is either shoulder or head height for them. This reduces the view somewhat, but gives a greater sense of security. For adults, you'll notice the netting only comes up to your chest or hips which doesn't give as much sense of safety if you happen to slip.
What to expect on the Poring Canopy walk?
From the ticket booth, there is a long hike uphill to the start of the Poring Canopy walk. We were almost wondering if this actually was the canopy walk itself, such was the time and ascent taken to reach the first tower. It can get quite hot and humid on this stage so prepare yourselves, take water and take your time.
The steps on the walk have been upgraded in places and make for quite a comfortable ascent underfoot. In other places, it's worn away slightly and you'll need to watch your step.
Once you arrive at the first tower, someone will check your ticket and usher you forwards to take your first step into the abyss. Signs suggest a maximum of six people on each walkway at a time and this is usually adhered to but some larger groups ignored it. On that note, take a moment before you set off to check there isn't a rowdy group behind you who might impact your trip. You'll take about 30 minutes to complete the whole course, and it'd be annoying to have people behind you who were messing around, or were making it clear you were holding them up. You can see who is approaching before you set off so do check first. That being said, everyone on our (busy) day was friendly and supportive, particularly when the longer walkways appeared.
The course itself starts gently with a 20 metre walkway, hidden amongst the trees, and no real sense that you're (too) high up. It's a nice beginning but don't get complacent. From now on, each walkway gets longer and more exposed, the thrill and excitement increasing with each step. At one point, the canopy opens out and the incredible views towards the mountains reveal themselves. Try to take a moment to absorb the view before you continue on your walk.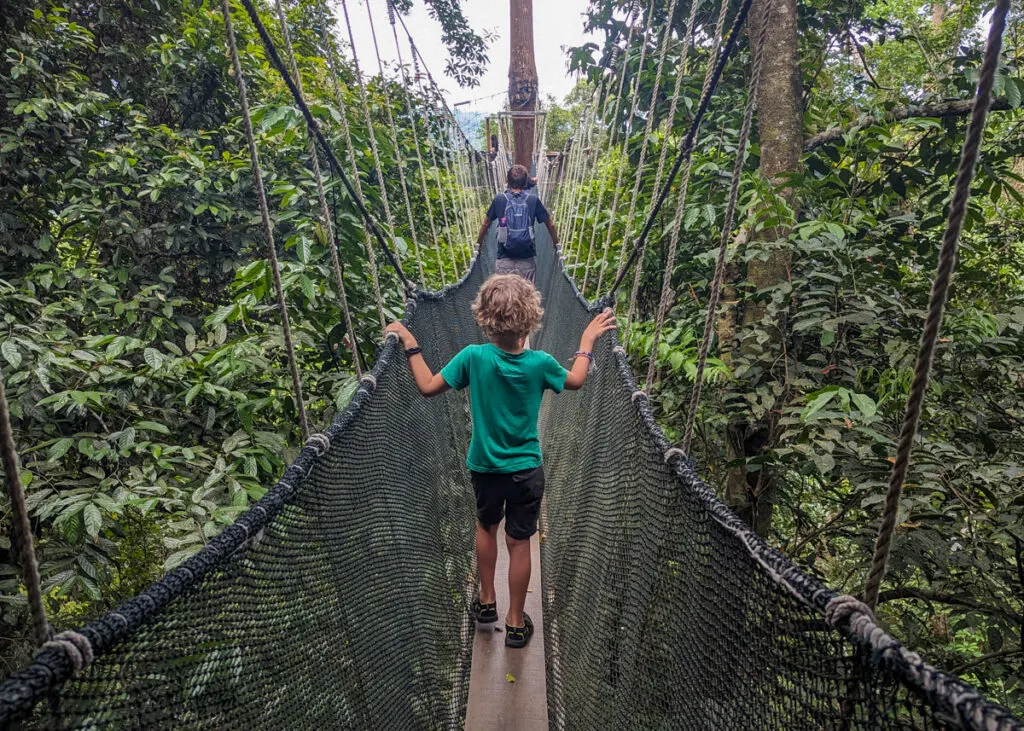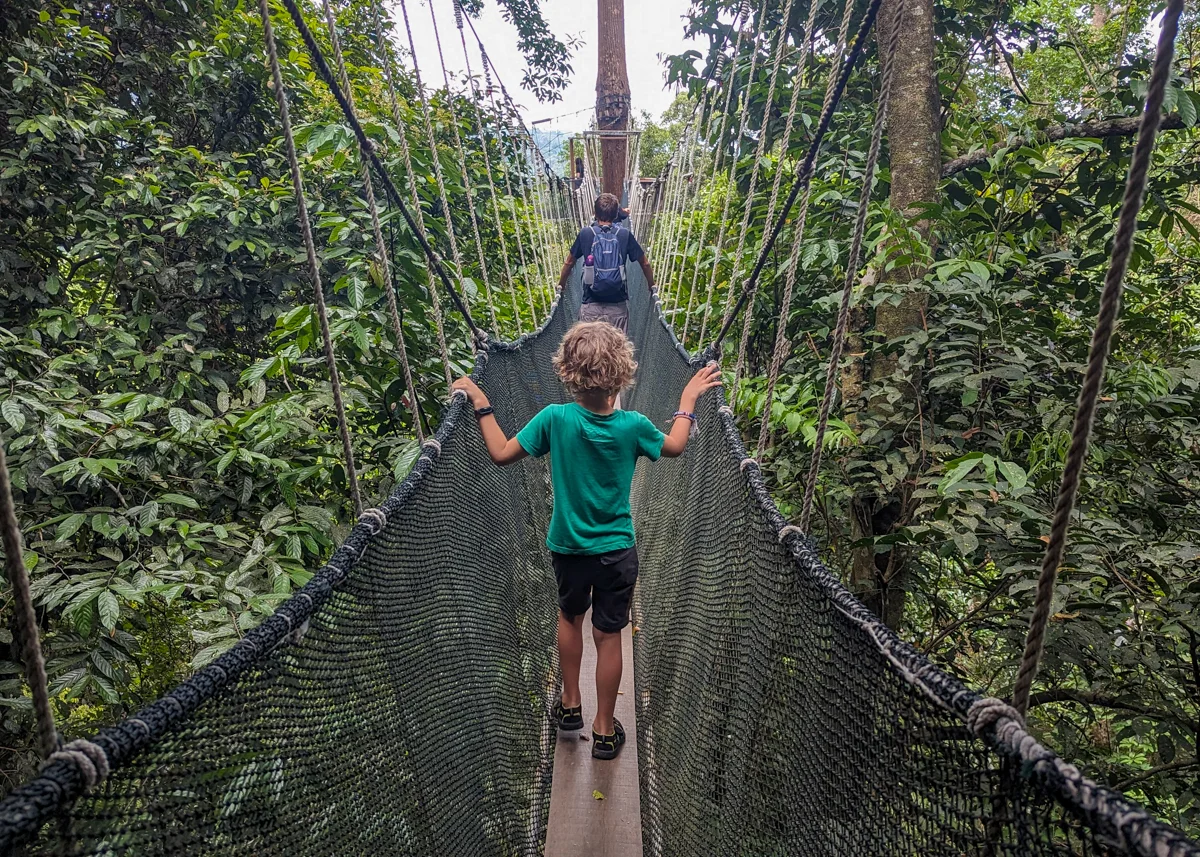 At other times, you'll be within touching distance of the leaves and branches, majestic 70m tall trees rising up alongside you. It's by far the best canopy walk we've ever done and yes, some of that enjoyment came from the exposed nature; it's scary at the time but invigorating afterwards.
As mentioned above, keep in mind that this really isn't an activity for anyone who is afraid of heights. But if you can manage it, it's a literal highlight of your trip to Borneo.
What to wear for Poring canopy walk
The weather (and occasional panic) can make it a hot and humid experience so make sure you're dressed in cool clothes. The essential kit you'll need is good footwear, ideally trainers but if not, something sturdy and enclosed on your feet. Definitely don't attempt it in flip-flops, you'll be grateful for that good grip as you shuffle along.
What to take with you for Poring canopy walk
You're going to want to record this adventure so take your phone/camera, ideally with an easy way to secure it hands-free; you'll be holding onto the ropes when not taking pictures. You don't really want to carry anything else in your hands, it's really handy to have a small bag or bum-bag so you can have a drink/snack on the towers.
What else is there to do near to the canopy walk?
The canopy walk is part of the Poring Hot Springs complex so allow a full day to do everything it has to offer during your visit. We decided to do the Poring Hot Springs bathtubs first before doing the walkway but in hindsight, we might have appreciated a long relaxing bath after the walk.
There are also botanic gardens, small water slides, the butterfly farm and the Rafflesia gardens to explore in the complex, some of them have a separate admission fee. We very much recommend taking the short hike to Kipungit Waterfall, it really is stunning; kids will enjoy playing on the rocks and you can also swim in the pool in front of the waterfall.
Final thoughts on the Poring Hot Springs canopy walk
What an adventure, easily one of the highlights of our time in Malaysia with kids and without doubt the most exciting/terrifying/fun canopy walk we've ever done. It's not for the feint-hearted so do take some time deciding if it'll suit your group or not. Perhaps try a smaller version elsewhere first to see if you enjoy this sort of thing, the lack of an easy exit would be a problem if you needed to turn back.
The advantage children have is, as they're usually shorter, they are hidden somewhat from the views, and would be a lot safer if they lost their footing. Tall adults might not get this same sense of security, which will either enhance or detract from the experience, depending on your viewpoint.
We loved every minute of our visit to Poring canopy walk and were so pleased we pushed ourselves to complete the course. It is rickety/scary in places but the views and sense of achievement are the only things we talk about now.
---
You may also like to read:
Sepilok Orangutan Rehabilitation Centre, Borneo: tips for your visit
Island hopping in Kota Kinabalu
Exploring the Kinabatangan River