A trip to Borneo with kids will undoubtedly be a true highlight of your travelling life, but it can be a hectic trip. It's so crammed full of natural adventure, it's great to slow down at some point and relax for a day or two. And what better way than a revitalising trip to Poring Hot Springs, Borneo's natural spa break, a place to soak your bodies and relax your mind before you pick up the pace again and resume your adventures.
Your comprehensive guide to travelling Borneo with kids. Focusing on Sabah, we share advice on safety and getting around, top tips for your visit, and detail a 12 day itinerary.
What is Poring Hot Springs?
Poring Hot Springs is a natural hot spring resort, handily located between the major Sabah cities of Kota Kinabalu and Sandakan, making it the ideal stopover when travelling overland (and giving you another reason not to take an internal flight). The springs are sourced from natural sulphurous thermal waters, but keep in mind that the water flow and temperature is managed offsite, so it's not quite the authentic experience it once was.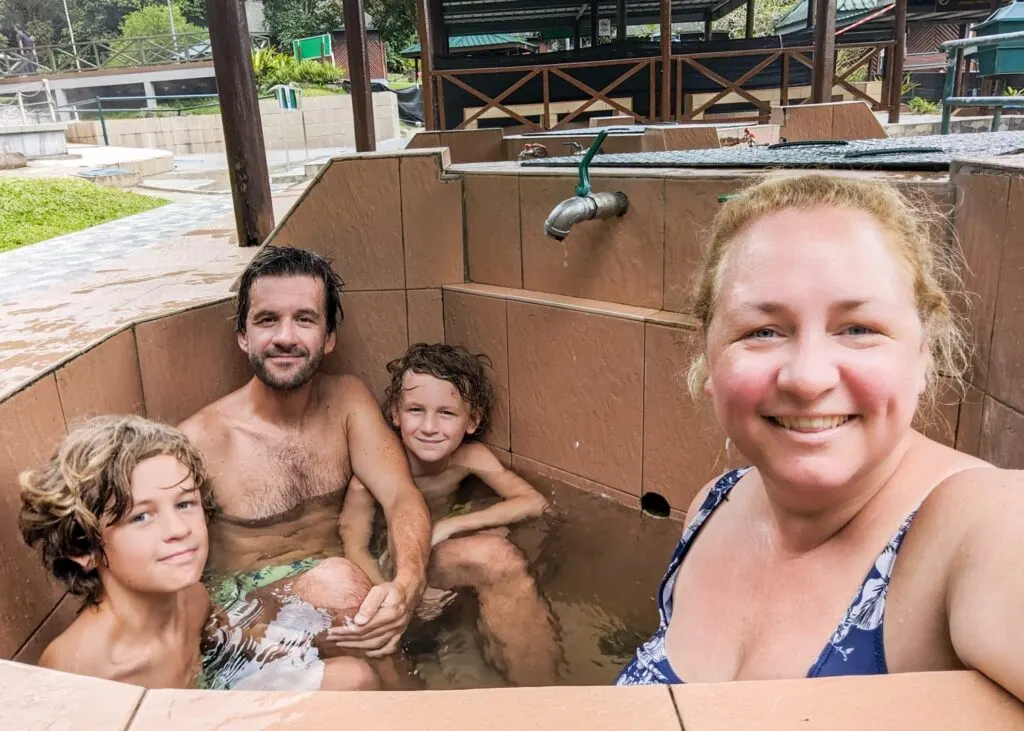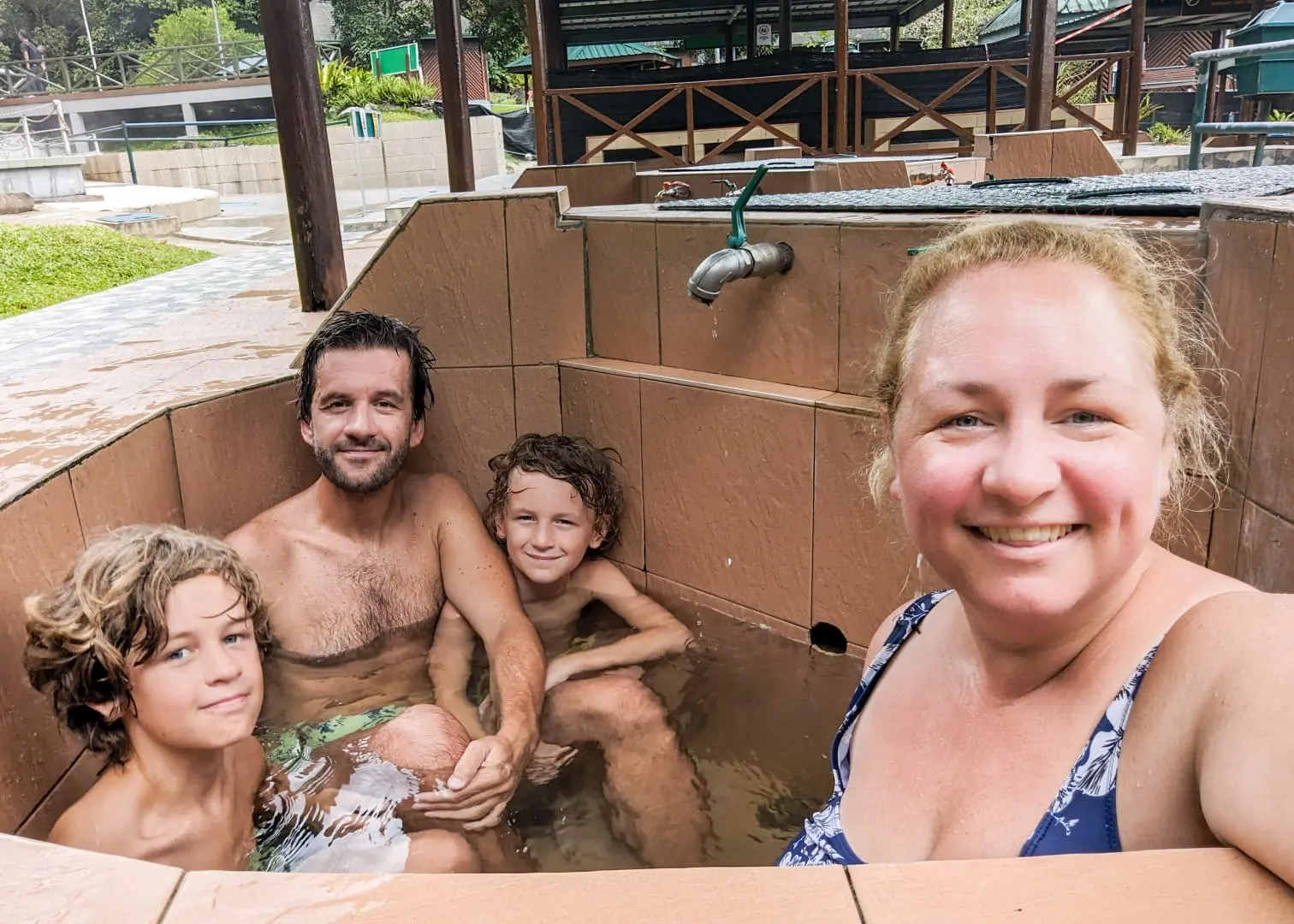 Still, it makes for a fantastic visit; not only will you get ample time to sample the warm springs, you can also try the Poring canopy walkway, play in a swimming pool, and visit beautiful botanic gardens, all in a stunning rainforest setting.
The Poring Hot Springs Resort
Everyone knows about the water but there's more to Poring Hot Springs than a soak in a bath tub. Whilst this is the primary attraction, and the reason most people plan to visit, make sure you leave enough time for a full day before or after your soak.
For the high-flyers amongst you, be sure to tackle the incredible (and daunting) Poring canopy walkway, one of the highlights of our time in Borneo. Stride above the canopy, often within touching distance of the leaves and branches, it's an experience never to be forgotten. Read our review for more information but make sure you have a head for heights and sensible footwear.
For something slightly more down to earth, take a stroll around the botanic gardens where you can see the famous Rafflesia flower, the largest in the world. There is a separate fee (MYR30/15 for international/Malaysia) to enter, with the option of paying an extra MYR100 to 'adopt' one of the orchids.
If you still have the energy, there are two waterfalls within the resort boundaries which are well worth the hike, especially Kipungit which is a very manageable 20 minutes walk from the bathing area. The other waterfall (Langanan) is substantially higher than Kipungit but takes closer to two hours to reach. Make sure you arrive early if you plan to head to Langanan and check in with the rangers before you set off.
How to get to Poring Hot Springs
Poring Hot Springs walk is located in the Poring Hot Springs complex, itself sitting near the main road between Kota Kinabalu and Sandakan. It makes for a fun and convenient rest stop when travelling between the two cities, and is a good reason not to take a flight.
Most of the buses and minivans between Kota Kinabalu and Sandakan stop in a town called Ranau which, whilst not amazing in itself, is only a 20 minute drive to Poring. Keep in mind if you buy a bus ticket online, you'll probably need to pay the full fare between KK and Sandakan (MYR43) and ask to be dropped in Ranau. The bus companies don't tend to sell part-tickets for this route. If you take a minivan from Kota Kinabalu, you'll be able to pay just to Ranau, but the comfort isn't the same as buses.
Check out our guide: How to get from Kota Kinabalu to Sandakan
Once in Ranau, you can find a minivan heading to Poring, or better still, ask your accommodation if they offer pickups. You'll probably have to pay, ours cost MYR50 each way but was a much simpler option.
Another option is to take a Grab from KK (not an option from Sandakan) or hire a car.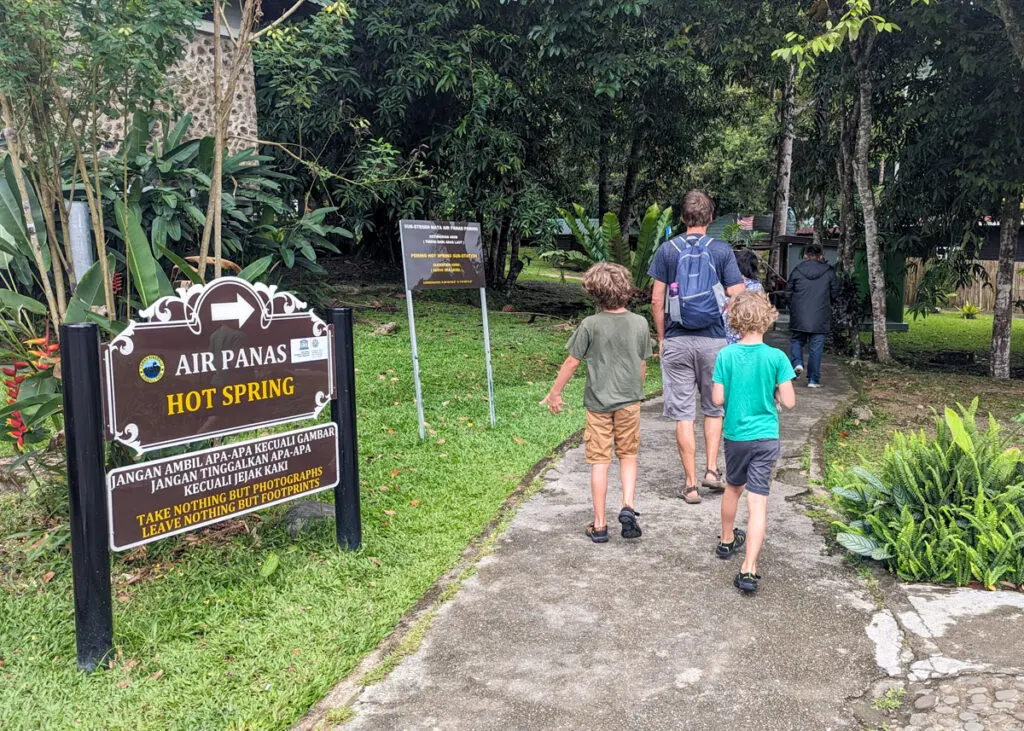 When you arrive at resort, the Poring Hot Spring ('Hot Spring Recreation') is clearly signposted from the entrance area. You really can't miss it as the main footpath takes you right past the baths.
It's a 2 minute walk from the main entrance of the resort to the Poring Hot Spring baths.
What to expect at Poring Hot Springs
Some visitors (us included) are slightly surprised when arriving at the bathing tubs, so it helps to set expectations before you arrive. In a battle between nature and function, the latter has won so you shouldn't expect rock pools or large, pristine bathing areas like in Iceland, for example.
Instead of building into the existing landscape, (very) functional manmade bathtubs have been installed, in blocks of four, surrounded by concrete walkways and steps. It's fine but wasn't quite what we expected.
As there isn't sufficient flow onsite anymore to cater for the volume of visitors, an offsite plant pipes the water into the resort at controlled flows and temperatures. Whilst this is a practical solution to a common problem, it take something away from the experience to know it's so managed. You can see the original spring at the rear of the bathtub area, but it's cordoned off and looks quite sorry for itself.
This also means that you will be sharing a bathing area with lots of other people, although we had a block to ourselves on our visit due to lower numbers. The tubs are quite deep, so you aren't necessarily on display all of the time.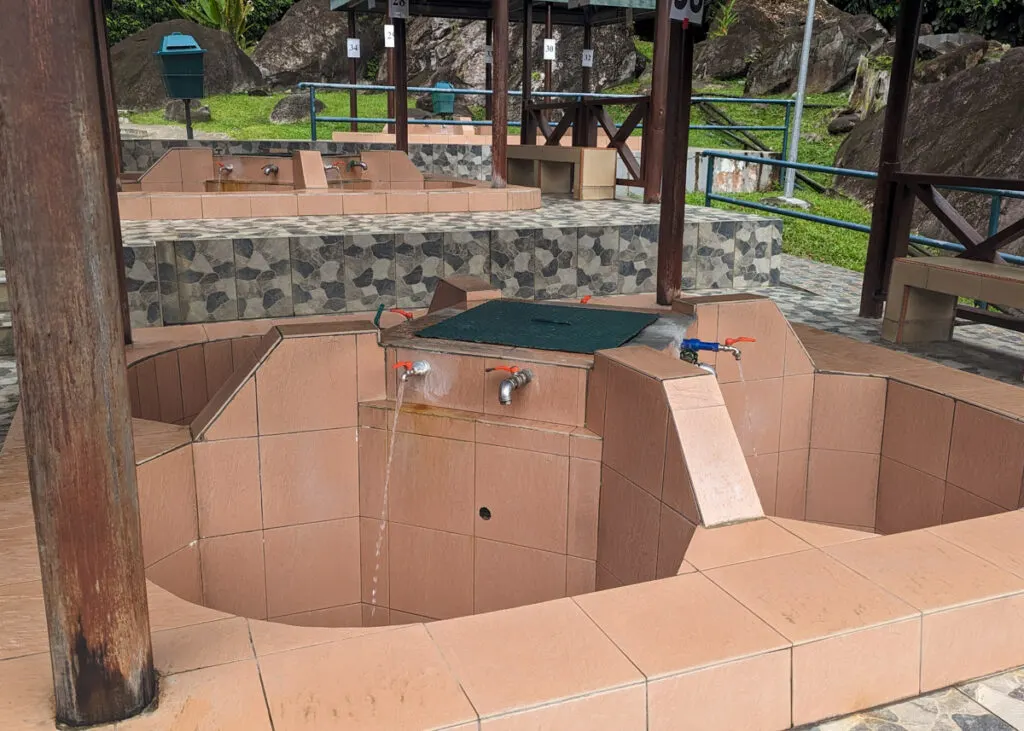 Once you've paid your MYR10 entry fee per tub, you are given a plug and are free to start filling.
Next expectation to manage; the pressure is very low on the hot tap, so it can take a couple of hours(!) to fully fill the tub. In fact, we never actually filled ours up completely and had the tap running the whole time. It took about 30 minutes for them to reach a reasonable level though so it wasn't too long a wait.
As the fee is quite small, you may want to hire two adjacent tubs (the numbers are visible from the reception area so you can request two together). This helps somewhat with the privacy but also means your group can spread out a little; we found an adult and child in each tub worked well. Be careful as some tubs have small leaks which stop them filling to the top – there's not much you can do about that in advance but keep an eye on the level to make sure you're watertight.
There are changing rooms and toilets nearby but we managed to change next to the tubs using our towels. Lockers are available but we felt quite safe leaving our bags and towels on the benches next to our tub for the duration.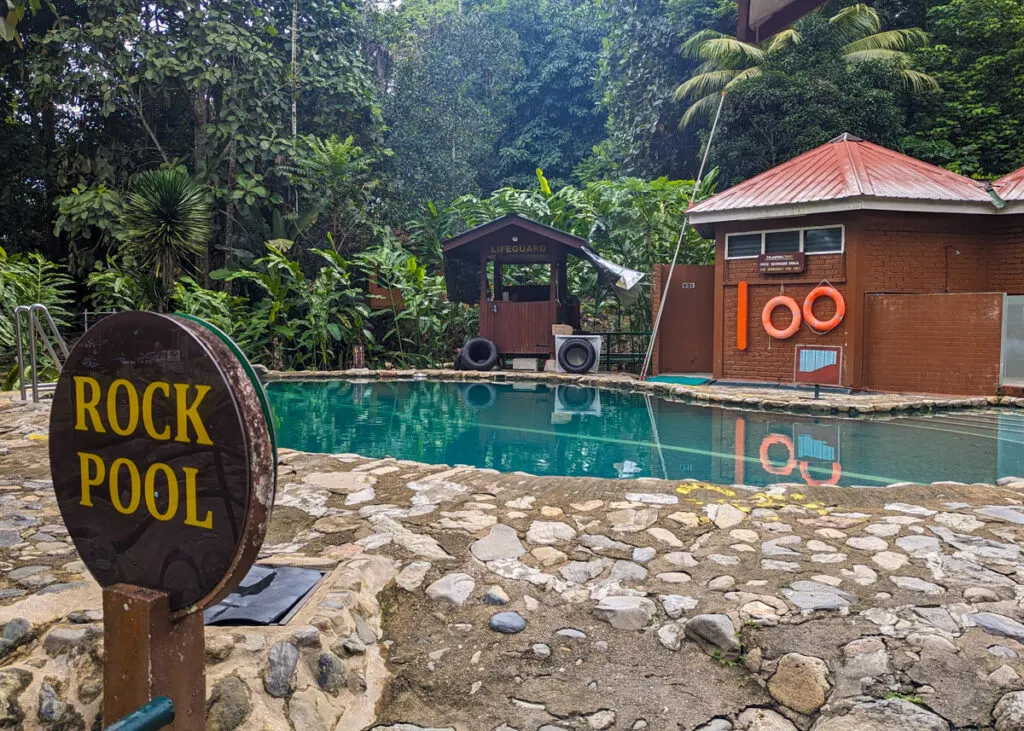 Elsewhere, there is a small rock pool to dip into, but it's not heated to the same temperature as the tubs. There are also private indoor tubs if you'd prefer, these are more expensive and not something we tried ourselves.
The final option is a swimming pool and slide area, likely to be popular if you have younger kids although we gave it a miss as it was quite busy with boisterous young local kids, careering down the slides.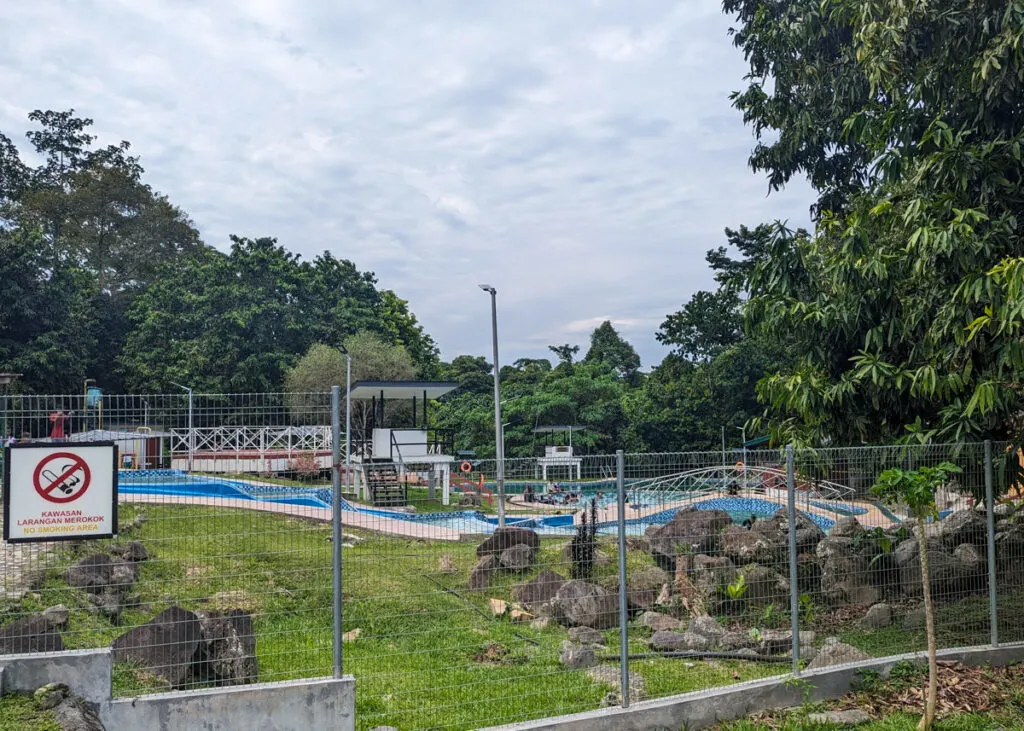 Is the Poring Hot Spring suitable for everyone?
One of the great things about Poring Hot Springs is the range of activities on offer, even if you're not a fan of soaking in a hot spring. It's in a pretty natural setting, so it's a nice place to hang around even if you don't get into the water.
However, it'll be of most enjoyment for those who appreciate the sulphurous water (perhaps after a recent climb on Mount Kinabalu), or who want to take on the challenge of the Poring Hot Springs canopy walk.
Young kids will have a great time, the swimming area with slides will be a big hit and the walk to the waterfalls gives them a chance to get up close with the rainforest with a chance to splash around in the pools at the foot of the waterfalls. Plus of course, the canopy walkway will be talked about for years to come.
What to take with you and what to wear
The dress code is relaxed inside Poring Hot Springs but be aware that, as with all of Malaysia, you should only wear bathing gear once you're at the tubs. For the rest of the time, it's handy to have some lightweight clothes to put on top of your bathing gear. There are changing rooms and lockers to store your stuff when you need to.
Normal swimwear is fine for the tubs themselves, just be mindful that Malaysians dress conservatively at the swimming pool and beach so the same applies here; bikinis and skimpy outfits should probably be avoided.
If you want to do one of the walking activities afterwards, a pair of sturdy footwear is recommended (and essential for the canopy walk). Also bring some sunscreen and hat on hotter days.
We took some snacks and water with us, but you'll find a restaurant and basic café on site as well. If you need to, you can leave the resort and head to the shops and restaurants which line the main road outside. The quality varies but is a bit cheaper than inside the resort. Your ticket will be valid for re-entry during the same day.
How much are the Poring Hot Springs?
Entry to the Poring Hot Springs resort is MYR50 for adults and MYR25 for children (Malaysians are charged MYR10/5).
Once inside there is then a separate fee for:
Open bath tub (MYR10 for three hours)
Private bath tub (MYR35/25 for deluxe/standard, for one hour)
Lockers (MYR5)
Slide pool (MYR5)
Canopy walkway (MYR10/8 for adult/child)
Conservation fee (MYR50/25 for adult/child)
Rafflesia observation fee (MYR30/15 for international/Malaysian)
Is it worth visiting Poring hot springs?
Absolutely, it's a really fun day out, giving you the chance to dip into sulphurous water in the Borneo rainforest, even if the experience is more managed than you might be expecting. There are a range of activities onsite, and your kids will remember the Poring Hot Springs canopy walk for a long time.
How long should you plan to spend at Poring Hot Springs?
A full day is perfect, ideally arriving as early as you can to avoid the crowds descending from the Kota Kinabalu. Try to avoid a weekend if possible as that's when most local tourists arrive and it'll be at its busiest.
We headed straight for the bath tubs as they were quiet at that time; in hindsight, it may have been better to use them after the canopy walk and waterfall as we were quite sweaty by that point and might have appreciated another bath. In the early afternoon, they were fairly quiet during our visit, but this might not always be the case. Just keep in mind that the bath tubs take a fair while to fill.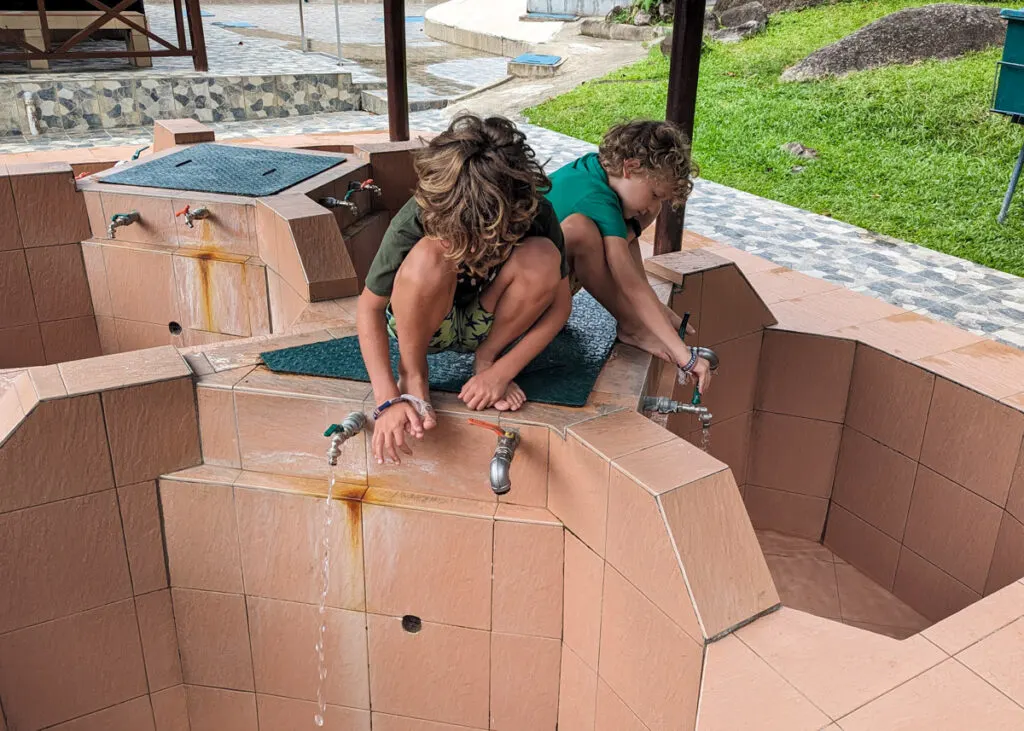 Try to break for lunch if you can at either the restaurant onsite or one of the options just outside the park gates. We stayed at a family guesthouse within walking distance which was handy after a long day relaxing, otherwise you can arrange transport back to Ranau or even to Kota Kinabalu.
Final thoughts on the Poring Hot Springs
There's way more to Poring Hot Springs than sitting in a hot tub. Whilst the lack of water and crowds have tamed the natural experience somewhat, and the man-made bath tubs feel a bit too practical for our liking, you'll still have a fun time.
Once you've finished soaking, head off to the waterfalls and canopy walk for a brilliant Borneo rainforest experience. The fact that it's handily placed between Kota Kinabalu and Sandakan gives you another reason to visit; the drive is a long slog without this stopover, and the internal flight is an extra burden on the environment. Instead, take a break and let the springs do their business.
---
You may also like to read:
Sepilok Orangutan Rehabilitation Centre, Borneo: tips for your visit
Island hopping in Kota Kinabalu
Poring canopy walk: your 2023 guide