Are your wondering if you can do an safari with young kids? You may also want to read: The TRUTH about doing an African safari with kids
We went on our first family safari when they were just 1 and 3 years old. It was to see the elephants at Udawalawe National Park in Sri Lanka, and I remember being ridiculously nervous. Would the boys get bored? Will they keep still in the jeep? Will we have to return early and it be a waste if of money? Is it really a good idea to safari with kids?
Disclaimer: This post contains affiliate links. If you click to purchase, it is at no additional cost to you, and I receive a small commission.
As we returned from our first morning's safari I couldn't help but wear a beaming smile and feel a little teary. Our experience with a mother and her calf had been intimate and truly magical. The boys instinctively knew to be quiet and were totally engrossed. I also learnt that snacks are the most important thing to take on any safari for kids.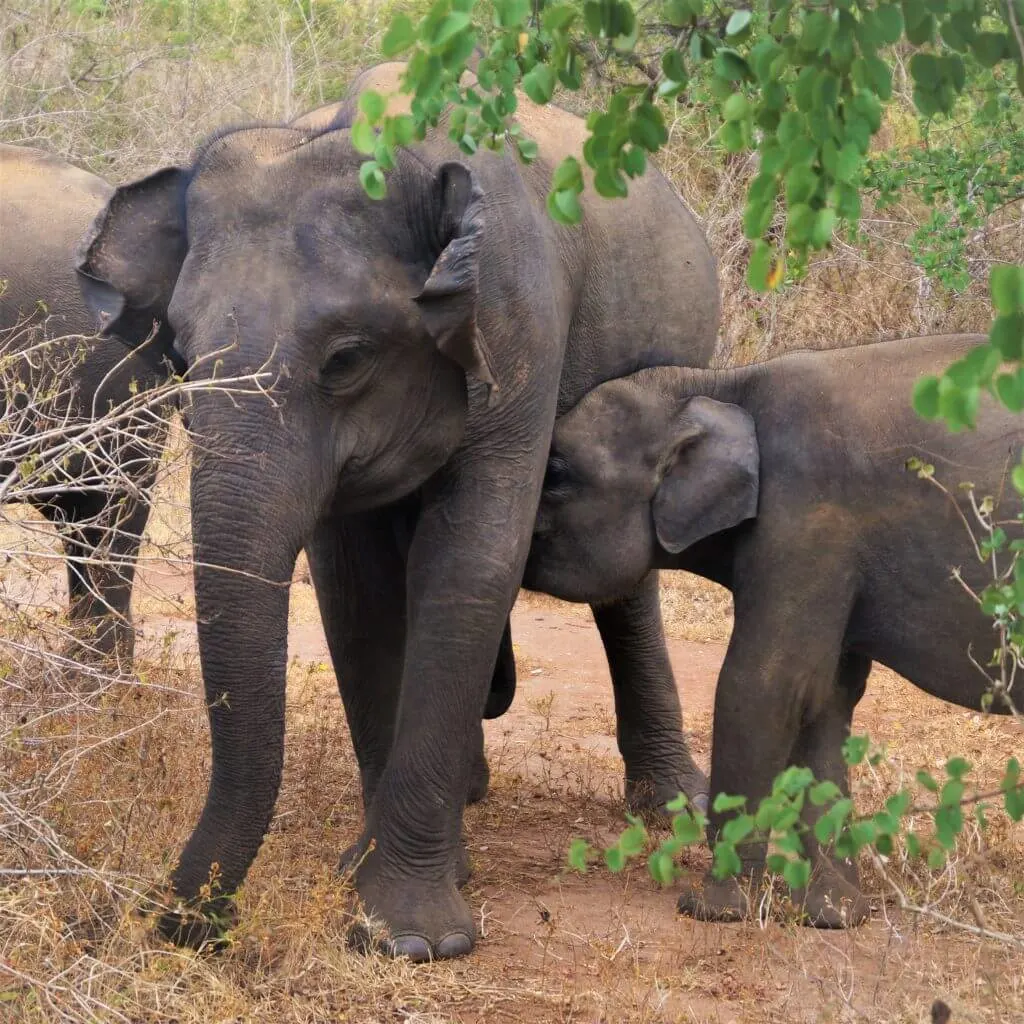 Since then, the boys have been on umpteen family safari holidays. Their next one was seeing the rhinos at Chitwan National Park in Nepal, then more recently on our 3.5 month Africa road trip through Sub-Saharan Africa where countless days were spent on safari and we even camped overnight in parks with our Land Rover with roof tents. Through these experiences, we have learnt a few tips along the way.
If you're wandering which is the best safari for kids under the age of 5? Well it has to be Etosha National Park, Namibia!
Here are our top tips for doing a safari with kids under the age of 5:
1. Don't wait until they're older
Well this is our motto for all adventure travel with kids. But safaris in particular are something that parents think they need to leave until kids are older to appreciate and one of the most common questions I receive is 'What is the best safari age for kids?'
The thing is, you never know how life pans out and there is always a reason not to do things. But what I can tell you is that my boys certainly appreciated the safaris and loved them; watching the excitement on their faces as a herd of elephants crossed the road in front of us, or when they realised how tall a giraffe really is as it ambles alongside the car. Truly magical experiences.
And yes, it is safe to safari with kids under the age of 5. But the best way to make a safari safe for kids is to stay in fenced campsites, respect the space and behaviour of the animals you encounter on safari, and keep inside your vehicle at all times
And if you're wondering if you can even safari with a baby, check out this post from My Travel Monkey.
2. Self-drive
Many parks in Africa allow you to self-drive. This is ALWAYS our preferred option for a safari with kids as we are on our own schedule, can be flexible to how the boys are, and we don't have to worry about disturbing other tourists if someone is hungry or needs the loo. However, if self-drive is not an option (such as in Sri Lanka or Nepal) then we opt for a private game drive (which can often be pricier, but kids under the age of 6 are often not allowed on group game drives). Or if the it's a river safari, a private boat means your little ones may even get to drive amongst hippos!
3. Snacks and more snacks
Whether you are hiking in the hills, on a long train journey or just popping to the playground, parents always have the snacks handy to prevent 'hangry' kids. Same goes for a safari with kids. Often you will be out for at least 3 hours, and my boys certainly can't go that long without eating.
4. Pack the travel potty
As a general rule, you are not allowed to step out of the vehicle whilst on a game drive; probably good advice to follow when lions and leopards are around. But as parents, we know that when you're little one needs to go… THEY NEED TO GO NOW! Make sure you have a travel potty on hand and for boys who just need a wee, this portable urinal is very handy.
Sale
ONEDONE Portable Baby Child Potty Urinal Emergency Toilet…
QUALITY MATERIAL: environmentally friendly PP, which is safe for kids
PORTABLE: Lightweight, easy to carry, mother's essential goods
PRODUCT SPECIFICATIONS: Max capacity :500ml .Size :18cm (high) ,7cm (diameter)
REPEATED USE:Can be reused after cleaning
SEALING STRONG :Sealing performance of urine bucket is good. No leaking after using
5. Get clued up on poo!
My boys are obsessed with poo. I'm guessing they're not the only ones? There can be quite a wait between animal sightings on safari and you don't want them to get bored sat in the car. We would find little things to point out to them like nests in a tree, or branches that had been broken by a big elephant. But what was always most successful is spotting a pile of poo on the track and pulling up alongside in our Land Rover for inspection. What shape is the poo? Is it big or small? Can you see grass or berries? Is it wet or dry? What animal do you think it's from? There is a lot of conversation that can happen around poo.
6. Binoculars, camera and an identification booklet
Providing our boys the tools to search for animals was a great way to maintain interest. The VTech KidiZoom Duo Camera (purchase here from amazon.co.uk) goes everywhere with us and the boys loved ticking off what animals they had spotted (from the park HQ in Etosha we picked up an indentification booklet).
7. Be selective in your park choices
There are a number of criteria you need to consider when deciding on where to safari with kids:
Can you see the animals clearly? Some parks are thick with vegetation and wildlife spotting hindered.
Are the campsites fenced? Everyone wants to stay safe on safari, especially with kids. If staying overnight in a park, you need to know that wildlife won't be wandering around your camp with your curious toddler. This is the best way to make a safari safe for young kids.
Is there a pool at the campsite? An afternoon at the pool after a morning's game drive is always a winner with my boys!
What are the park fees? Many people think that the best place to see wildlife is in the Serengeti in Tanzania. However, it is EXTREMELY pricey and we decided against it as we didn't want that added pressure whilst on safari with kids. You may want to read why we found Tanzania hard work with kids. Namibia, South Africa and Malawi had MUCH cheaper park fees.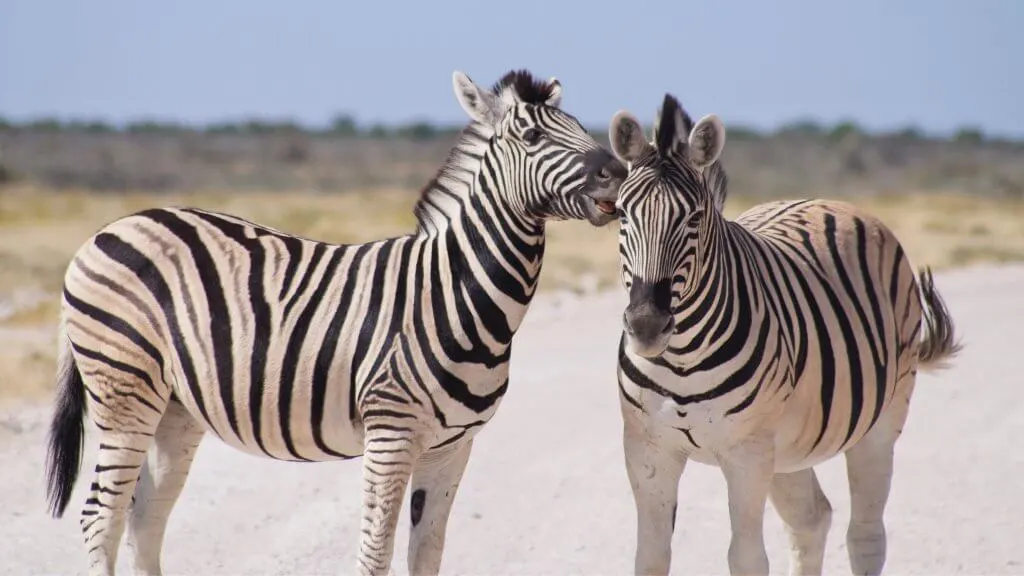 Easy spotting the abundant game amongst the vast open expanse of Etosha National Park
8. Set expectations
If you've ever taken your kids to a zoo, they may be under the impression that it's easy to see wild animals. We found we needed to explain what 'wild' really meant to our boys and that they will need to do a lot of searching and looking to find animals. Zebras and elephants may be easy to spot, but lions (and most definitely leopards) take a lot more work. Coincidentally, we haven't taken our boys to a zoo since returning to the UK.
9. Don't do too much
We found that four hours on a game drive was more than enough for our boys. You can be tempted to keep going a little further in the hope of spotting something amazing, but we found that every time we did that we saw nothing and the boys got grouchy. Similarly, we learnt that 2 days on safari at a time was enough for the boys; we would spread this across three days (Day 1 – afternoon game drive, Day 2 – morning and late afternoon game drive, Day 3 – morning game drive). Park entry fees usually work on a 24 hour system, so if you enter at 12pm on Day 1 and pay for 2 days, you need to be out of the park by 12pm on Day 3).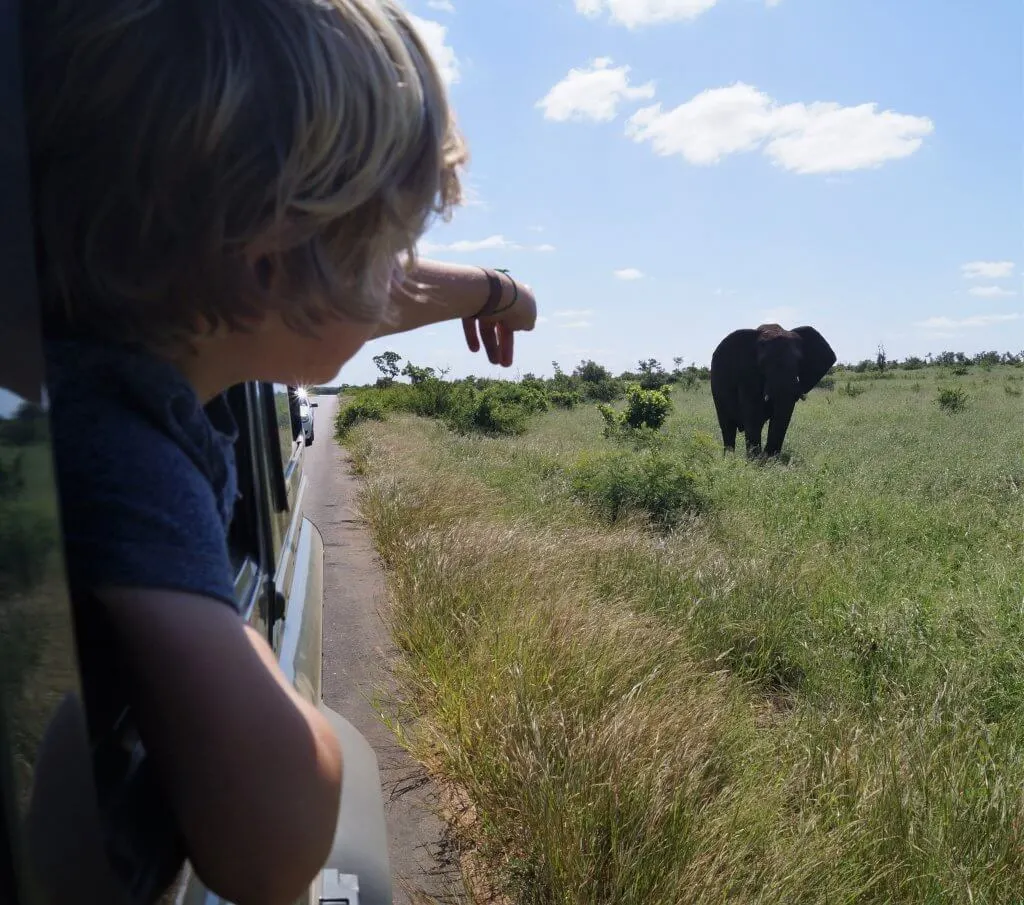 10. Safari in your pyjamas!
Anyone who has been on safari will tell you that the best time for wildlife spotting is first thing in the morning as dawn is breaking over the horizon. However, all parents will tell you that to get their child dressed, washed, up and out with a full tummy quickly in the morning is a mammoth task. Now imagine doing this whilst packing up camp and getting out before sunrise? Impossible.
What we ended up doing is putting this kids straight into their car seats with a bowl of cereal still dressed in their pjs, whilst us parents packed up camp. A couple of hours into the game drive, we would find a picnic area to get dressed and washed. Easy.
---
You may also like to read:
Self drive Africa overland with kids: everything you need to know
Namibia itinerary with kids
Africa packing list: the ultimate packing list for overlanding Africa