The African safari is perceived as one of life's ultimate travel experiences. One that children won't appreciate until they're older, and too expensive for families. Plus aren't there those stories about children being eaten by hungry wildlife on safari? Surely doing an African Safari with kids is irresponsible and pointless.
I hear things like this ALL THE TIME, and not surprisingly, after our 101 days self driving Africa with kids aged 2 and 4 years I don't agree with a lot of these comments.
So lets debunk these crazy myths and share the truth about doing an African Safari with kids.
Join our 'Travel Africa with kids' Facebook Group
The Lonely Planet Africa, and the Tracks4Africa Africa Southern Traveller's Atlas were invaluable throughout our travels.
You can't take young kids on an African safari
Yes this is true to some extent. Most organised game drives have a minimum age of 6, and there are a handful National Parks in Africa have an age restriction for entry.
But it's free entry in many National Parks for kids under 6 if you are self-driving (ie. not going on a group tour). Self-drive is definitely the best way to do an African safari with kids as you can be flexible to your own schedule. If your little one needs a wee, well either drive to a designated rest stop, or get creative with a travel potty or bottle in your vehicle. Plus you can be armed with lots of snacks and not worry about disturbing other travellers whilst they munch on their biscuits. This does mean that you don't have a guide to find the wildlife for you, but we found out that we did pretty well without one.
Check out our tips for doing a safari with young kids.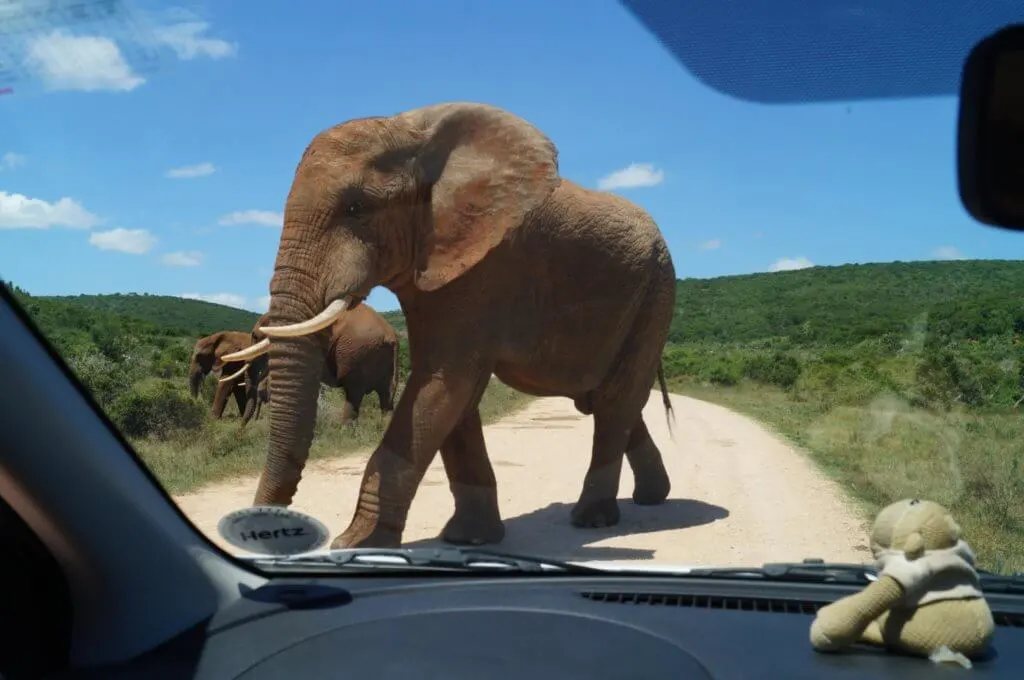 You can also pay to do a private game drive at most National Parks. Although this can be expensive, you are leaving the searching for wildlife up to an experienced guide.
Doing an African safari as a family is expensive
Yes it certainly can be. The fees for some of the East African parks are extortionate and was the reason we decided NOT to visit the Serengeti when travelling Tanzania with kids.
However, parks in Namibia and South Africa are MUCH more affordable. For instance in Etosha, Namibia, day entry for foreign adults is N$80 (£4.50), then N$10 per standard vehicle (£0.56) and children under 16 are FREE! Kruger in South Africa is also very good value. Check out my post which weighs up whether Kruger or Etosha is best.
There are then the extra costs of flights, car hire, visas and vaccinations. These can all add up. But the safari itself doesn't have to be expensive and if you are planning an African family holiday, it's likely that you will want to explore other aspects of a country, not just the safari.
It's too dangerous to do an African safari with kids
Did you hear about the leopard that snatched and ate a toddler in Uganda? Read the Telegraph article here. A horrendously tragic story, which was unfortunately timed with our overland travels in Africa and plagued our families with worry.
However, this story and a few others like it are very few and far between. Millions of people visit Africa every year to go on safari, and have a safe and problem free visit. Where there have been incidents, it is usually because the animals have felt threatened.
Respect the space of wildlife you encounter. Keep your distance, especially if there are mothers with babies in a herd. If you are near lions or leopards, keep windows shut. Always stay on marked roads, and only get out of your car at designated rest stops.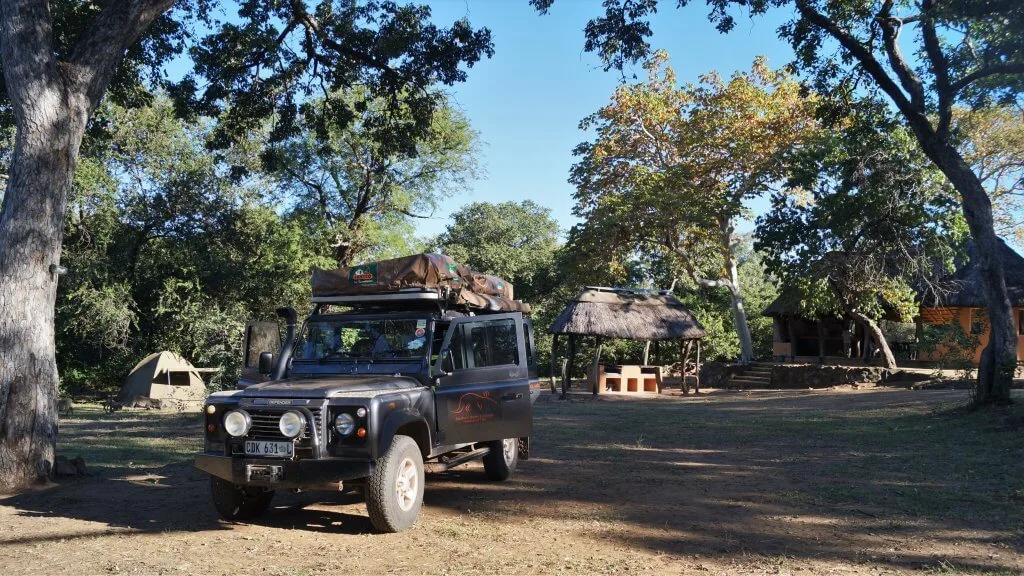 We chose to only stay at campsites in National Parks that were guarded or fenced. If it didn't look safe, we left. This happened when we arrived at Ruaha National Park in Tanzania. There were a family of elephants in the campsite, no guard and no fence. With our boys being so young, we didn't deem it safe and moved on. Use your common sense.
If you are venturing deep into the bush on dirt or sand tracks, consider taking a satellite phone with you. And always ensure you have enough food and water inside your vehicle.
You have to drive a 4×4 on dirt tracks
There are a handful of parks where you do not need a 4×4. Kruger National Park and Addo National Park, both in South Africa have tarred roads, and the salt roads around Etosha National Park in Namibia are very easy for a 2WD.
It's not fair taking kids into a malaria zone
This is an understandable concern. Why take your kids to a malaria zone, especially little ones?
Well Etosha National Park in Namibia in one place where antimalarials aren't required. It is technically in the 'malaria zone'. But if visiting in the dry season, mosquitoes are unable to breed as the land is so parched.
However, we did take our boys into a malaria zone, and so we gave them antimalaria tablets. Please DO NOT go into a malaria zone without them. Covering up with long sleeves and trousers, sleeping under a mossie net, and being liberal with mosquito repellent will deter mosquitoes, but these efforts DO NOT prevent malaria.
We all take antimalarials if visiting an malaria zone. You can check this on the NHS Fit For Travel website. We experienced no side-effects whatsoever, and our kids never knew they were taking them as we crushed the tablets in with a spoonful of Nutella and served on a biscuit.
Do consult a travel clinic (not your GP) for up to date advice on malaria and travel vaccinations required.
My kids will get bored
Yes they may do. It can be a long time between wildlife sightings.
If you are doing an African safari with kids under the age of 6, plan for just 3 hour game drives at a time. No more. Point out the detail in everything, and look for poo (this leads to LOTS of discussions about where animals could be and what they've eaten). We also look to stay at campsites in the national parks that have a swimming pool, which always makes for a good afternoon activity. You can stretch the length of game drives depending on the age of your kids.
Also, we found that 48 hours (spread over three days) is the maximum length of time you really want to be in a national park with kids.
However, we found that boredom rarely struck. Our boys absolutely loved their African safaris and have a strong affinity to the land and wildlife of Africa because of these experiences.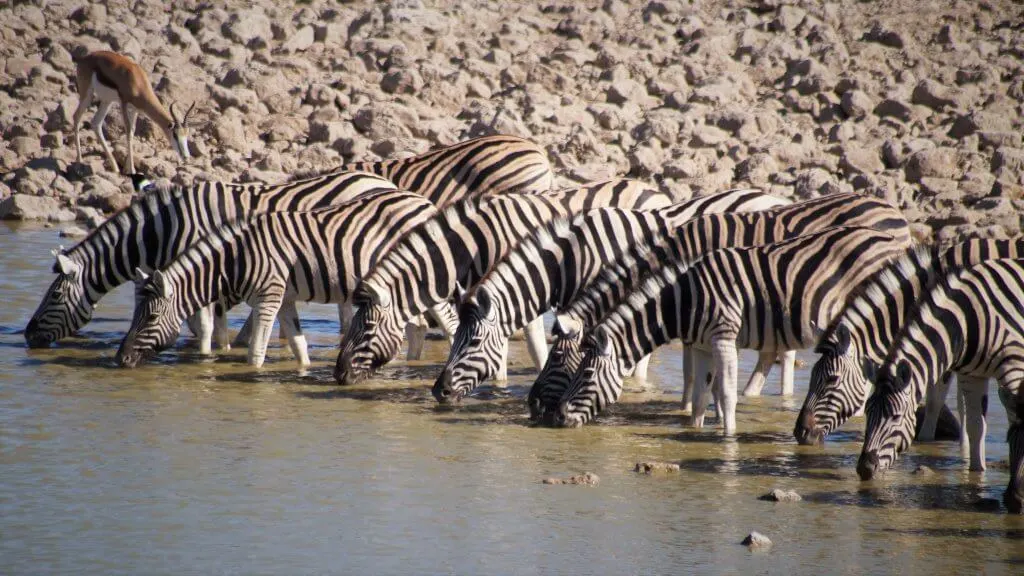 We all need to dress in khaki
Khaki is the signature colour of the African safari. However, it is not really necessary to dress the whole family in matching khaki, especially if you are self-driving and inside a vehicle.
The colours to actually steer clear of are blue and/or black colours as these colours attract tsetse flies, which have a nasty bite. Although in southern Africa, tsetse flies are not much of an issue.
I would also avoid white clothing (if you want to keep it white) and camouflage clothing (as this is often associated with military).
---
The Lonely Planet Africa, and the Tracks4Africa Africa Southern Traveller's Atlas were invaluable throughout our travels.
You may also like to read:
Tips for a safari with kids under the age of 5
Is travelling Tanzania with kids worthwhile?
Self drive Africa overland with kids: everything you need to know