Windows wound down, camera at the ready, I spot movement in the bush up ahead… a lonesome rhino plods out into the morning sun, unfazed by our presence, and munches on a tuft of grass. It's just our family of four in our Land Rover and the rhino. We can't see anyone else for miles around.
Disclaimer: Prices are correct at time of writing. This post contains affiliate links. Should you click on a link to purchase, it is at no extra cost to you, although I receive a small commission that goes towards the running of this blog.
He looks up at us, and ambles our way. My heart is beating so fast. I can't believe how close he is. We all sit their quietly, anticipating his movement. But in his own time he ambles past behind our Land Rover and disappears into the bush.
On our self-drive Africa adventures in 2108, we were fortunate to visit many National Parks in Southern Africa. But for many, the opportunity of an African safari is a once in a life-time experience.
Kruger in South Africa, and Etosha in Namibia, are considered the big parks of Southern Africa, and rightfully so. We have visited both, and both Etosha and Kruger offer an abundance of easy wildlife viewing, a range of accommodation options to suit all budgets, and are relatively easy to self-drive.
But if you had to pick one, which should it be? In both instances, the best time to visit is in the dry season (May to September) when animals are drawn to the watering holes. But let's put the two up against each other and see which comes out on top – Kruger vs Etosha.
---
Best landscape
The landscapes between Kruger and Etosha differ greatly, and certainly makes a difference to the ease of wildlife viewing. If you're a first timer to the African safari and self-driving, the landscape can make a huge difference to your experience. Although do note that for both parks, it is likely you will spot a cluster of cars for a lion or leopard sighting, before you spot the animals.
Kruger
Lying in the north east corner of South Africa, hugging the border to Mozambique, the Kruger landscape is made up of savannah and grasslands, with thicker vegetation adjacent to the Limpopo and the Crocodile rivers. This is your classic African safari landscape, and does mean that wildlife sometimes hides amongst the bushes and requires a keen eye at times.
Etosha
One of the most distinctive features of Etosha is its salt pan, which stretches to around 130km long and up to 50km wide, and can be seen from space! The National Park is a dry and foreboding land, but the low-growing vegetation over flat open plains promotes the best conditions for spotting the abundant wildlife as there are few places for the animals to hide. You can literally see for miles!
Kruger vs Etosha winner for best landscape: Etosha
Whilst Kruger boasts that classic African bush landscape, the other-worldly expansive landscape of Etosha makes for very easy wildlife viewing; perfect for first timers.
---
Best wildlife
If this is your one and only African safari, the pressure may be on to tick off the Big Five (lion, elephant, buffalo, leopard, rhino). In all honestly, you will be VERY lucky to do this in one trip. But you at least want to be in with a chance, right?
Kruger
The Big Five game are all found at Kruger and it has more species of large mammals than any other African game reserve. This is the best place in Southern Africa to see the Big Five. There are almost five times more lion in the park compared to Etosha, and more frequent leopard and cheetah sightings.
Etosha
There are no buffalo in Etosha. Along with wild dogs, they became extinct in this region in the middle of last century. However, there is still a huge abundance of wildlife in the region and if you park up by one of the watering holes and wait, you can watch wildlife come to you. The watering holes make for very easy wildlife viewing. And we still spotted lions in Etosha.
Kruger vs Etosha winner for best wildlife: Kruger
Both Kruger and Etosha offer an abundance of wildlife. But if you want to tick off the Big Five, Kruger it is.
---
Best value for money
The African safari can be expensive, especially if you're heading to Tanzania. For most of us, entry and accommodation fees contribute in deciding where to go.
For both parks, a one-day entry pass lasts for 24 hours. So if you enter the park at 11 am on day 1 and pay for two days, you have until 11 am on day 3. We found this to be the perfect length of time, especially with young kids.
Kruger
Day entry for foreign adults is ZAR 372 (£20), ZAR 186 (£10) for children aged 2-11. Check the Kruger National Park website for up-to-date entrance fees.
Camping starts from ZAR 303 (£16) per night for two adults, and children (aged 2-11) an additional ZAR 186 (£2.50) per night. Bungalows are available from around ZAR 1,383 (£77) for two adults.
Cost of two adults camping for two nights: £112
Etosha
Day entry for foreign adults is N$80 (£4.50), N$10 per standard vehicle (£0.56) and children under 16 are FREE! Check the Ethosha National Park website for up-to-date entrance fees.
Campsites are N$280, plus N$170 per adult. Children under the age of 6 stay free, children between the ages of 6-12 are half price. So campsite costs start from N$560 (£31) per night for two adults. Lodges start from N$900 (£100) per night for two adults, with Halali being the cheapest.
Cost of two adults camping for two nights: £72
Kruger vs Etosha winner for best value for money: Etosha
Both parks offer exceptional value, especially when compared to parks in East Africa. Accommodation is cheaper at Kruger compared to Etosha, but the overall cost is cheaper for Etosha.
Do check out this post by Mini Travellers about the 5 Unexpected Costs of an African Safari.
---
Getting around
Both parks are very easy to self-drive. We prefer this option as we like the flexibility of being on our own schedule, but also as we have two young boys; children under the age of 6 are not allowed on the organised game drives (unless we pay to go privately). Read our tips for doing a safari with kids.
You must not go off road at any point and only get out of your vehicle at designated sites or camps. Always stick to the speed limits and respect your distance from wildlife you encounter.
Kruger
You can self-drive Kruger in a 2WD hire car as many of the roads in Kruger are tarmac. There are some areas some gravel roads, but these are very well maintained. Driving around Kruger is VERY easy.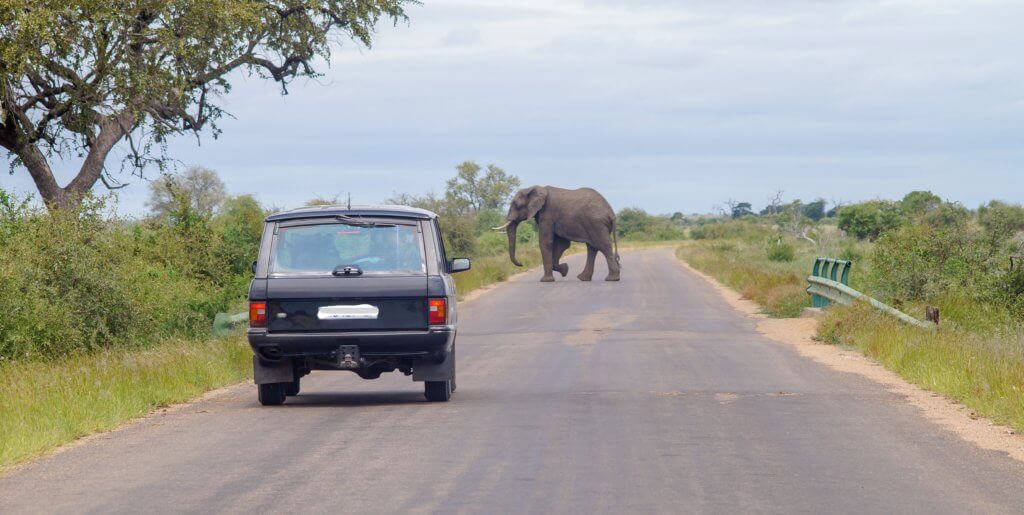 However, you may be disappointed to find tarmac roads in Kruger. It doesn't quite portray the image of that great African adventure! Do not despair, Kruger is so huge that it's very easy to get off the tourist trail, especially if you head up to the North. This area may not be game rich (lots of wildlife), but the wildlife you do encounter will be away from the crowds.
Etosha
Etosha is also very easy to drive and accessible to all vehicles. But, these are salt roads (due to the salt pan spanning the width of the park) and you may not be covered by your insurance to drive on them.
The layout of Etosha lends itself to a logical driving route. Visitors tend to arrive at one gate, and depart from the other. There are four gates, but the main ones are Von Lindequist Gate which lies to the east, and Anderson's Gate on the southern end of the park.
Kruger vs Etosha winner for easiest park to get around: Kruger
Both parks are very easy to self-drive. But due to tarmac roads, Kruger is a little easier. However, if you are looking to join a tour group on an organised game drive, the state of the roads will make little difference as you won't be the one driving!
---
Accommodation
Both parks offer a range of accommodation from campgrounds, right through to luxury lodges. Accommodation gets booked up pretty quickly, especially in high season (May to September). Make sure you book in advance, even for camp grounds.
Our accommodation experience is only with the campgrounds and we have not stayed in lodges at either parks. If camping isn't your thing, you can upgrade to stay in rooms and chalets at both Etosha (booked through Namibia Wildlife Resorts) and Kruger (booked through SAN Parks).
In both instances, campgrounds are open and offer little privacy. Washing and toilet facilities are good, and power is available, as well as braai facilities. Larger campgrounds have (chilly!) swimming pools.
Kruger
If you manage to bag a pitch next to the fence, you may see some night time visitors. Although arrive early to get these sites. Some of the lodges are situated by floodlit watering holes, which are fantastic for night time wildlife spotting.
Etosha
The campgrounds at Etosha are situated next to floodlit watering holes. These are magical spots to sit and watch the wildlife come and go. Close-up black rhino sightings are particularly common at these watering holes! And I spotted a lion whilst I sat sipping my South Africa red one evening.
Kruger vs Etosha winner for easiest park to get around: Etosha
As our experience only goes by campgrounds at Etosha and Kruger, and as they are so similar in their set-up, the only reason to pick Etosha over Kruger is that the campgrounds are situated next to watering holes for night time wildlife spotting. Although some lodges in Kruger have access to watering holes too.
---
Getting there
If you're short on time and want to maximise your safari time, the ease of getting to the park may affect your decision.
Kruger
Most international visitors fly in to Johannesburg. It's then a six hour drive to Kruger. Alternatively, there are daily flights to the recently reopened Skukuza Airport (within the park), and nearby Phalaborwa Airport, Hoedspruit Airport and the Kruger/Mpumalanga International Airport (KMIA).
If you are overlanding, you may want to check out our self-drive South Africa and Mozambique overland itinerary.
Etosha
Similarly to Kruger, you can fly in to the capital, Winhoek, and it's then a six hour drive to Etosha. The closest commercial airport to Etosha is Ondangwa Airport. Flights can be booked with Air Namibia. It's then a one hour drive to the King Nehale Gate, to the north east of the park.
If you are overlanding, you may want to check out our self-drive Namibia overland itinerary.
Kruger vs Etosha winner for easiest park to get to: Kruger
If you're short on time, Kruger offers more options to fly to the park.
---
So… Kruger or Etosha?
The calibre of contenders is high and the scores are in. It's a three-all tie!
But for us, for the ease of wildlife viewing and breathtaking landscape, it has to be Etosha. In fact, we consider Etosha to be the best African safari with kids and a winner for first timers to the African safari.
However, Kruger is still worth a visit, and is certainly easier to get to and to self drive. Plus, Kruger provides the the classic African safari landscape and means you can tick off the Big Five.
If you can… I'd get saving and do both 😉
---
The Lonely Planet Africa, and the Tracks4Africa Africa Southern Traveller's Atlas were invaluable throughout our travels.
You may also like to read:
Self drive Africa overland with kids: everything you need to know
The TRUTH about doing an African safari with kids
Africa travel with kids: our top 10 highlights