What a truly epic adventure the last few months have been! It seems only yesterday I was announcing that we were off to Africa. Whilst there have been some seriously tough moments – record-breaking torrential rains in Tanzania, obstructive border guards in Malawi, and countless times we've had to turn our Land Rover around due to impassable roads – travelling Africa with kids has honestly been the best experience of all of our lives!
READ – Africa with kids FAQ: all you need to about our overlanding family adventures.
Includes details on safety, route planning, 4×4 hire, border crossings, and much more.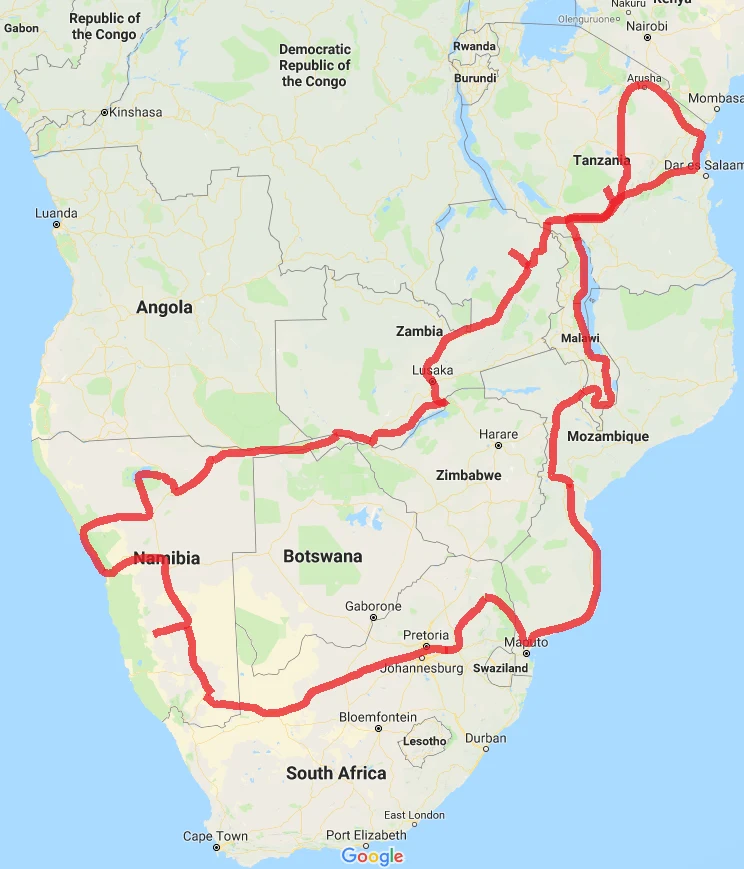 This was our route around Southern Africa. You can read our itineraries for each stage, which provides a day by day account and our accommodation each night:
PART 1: South Africa and Mozambique
PART 2: Malawi
PART 3: Tanzania
PART 4: Zambia
PART 5: Namibia
Below are our top 10 highlights of our adventures overlanding Africa with kids. However, I've said this before and I'll say it again, the absolute highlight of this trip has been the luxury of time. It's the time to be on our own schedule, time not distracted by other commitments, time to just simply share day by day experiences together. Time has given us the flexibility to stay longer in a place we liked, or move on if we fancy; to change our route and our ideas for this trip on a whim. But as we come to the end of this trip, I still wish we had just a little bit more time.
But without further ado, decided by Mummy and Daddy Lynn over a few glasses of South Africa's finest red whilst sat in a campsite in Swakopmund, Namibia, here are our top ten highlights of our African overland adventures with kids that have taken us through South Africa, Mozambique, Malawi, Tanzania, Zambia, Namibia and back to South Africa. We unfortunately didn't make it to Botswana and Zimbabwe (we needed more time!), but will save them for another adventure.
But remember, for those of us living in the UK, Africa is more accessible that you think with low cost airlines flying regularly to the North African countries of Morocco and Tunisia! And for fun, check out these 25 interesting facts about Africa.
1. Skeleton Coast (Namibia)
The most stunning drive we have ever experienced where we felt like we were at the ends of the earth. The road to the Atlantic coast is an other-wordly landscape draped with unusual sandstone formations, traversed by a gravel road that cuts through the valley. Once road meets the ocean there were sand dunes, abandoned mines, untouched beaches, and shipwrecks to explore.
Read our Namibia itinerary with kids and why Namibia is fantastic for kids.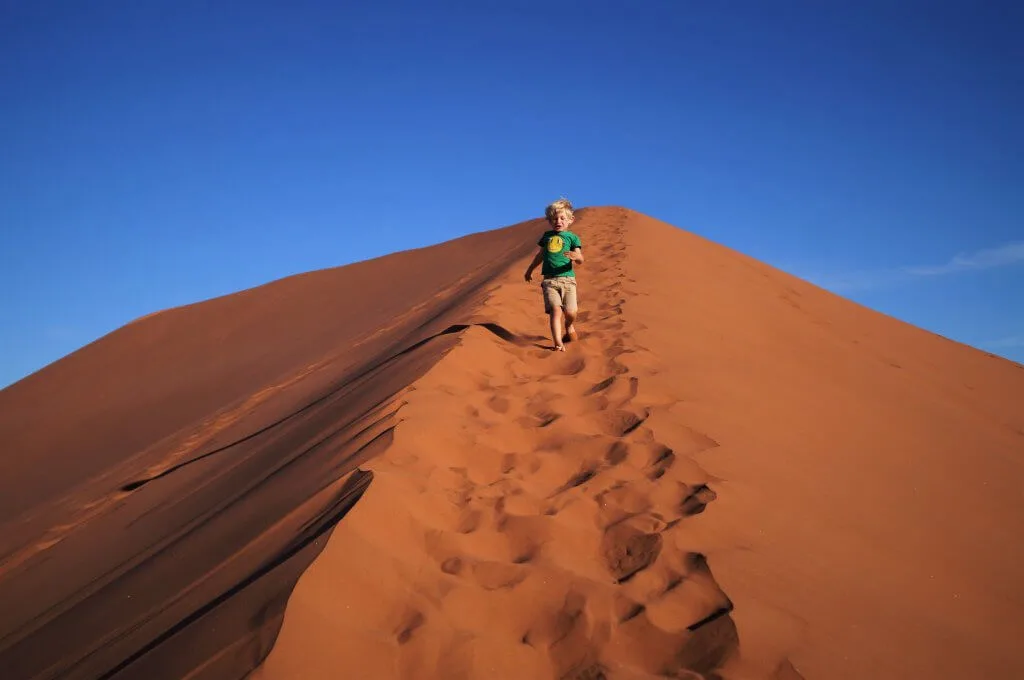 2. Mt Kilimanjaro (Tanzania)
Our visit to Tanzania was timed with the worst rains in over a decade. As such, Mount Kilimanjaro was completely shrouded in cloud as we approached its foothills. I was gutted. I had been desperate to see the iconic peak for too long. Still, we held tight at a campsite in Marangu and on the second morning the skies cleared to the most incredible view. Due to the uncommonly heavy rains, Mt Kilimanjaro's peak was completely covered in snow. Just beautiful.
Find our whether we found travelling Tanzania with kids worthwhile.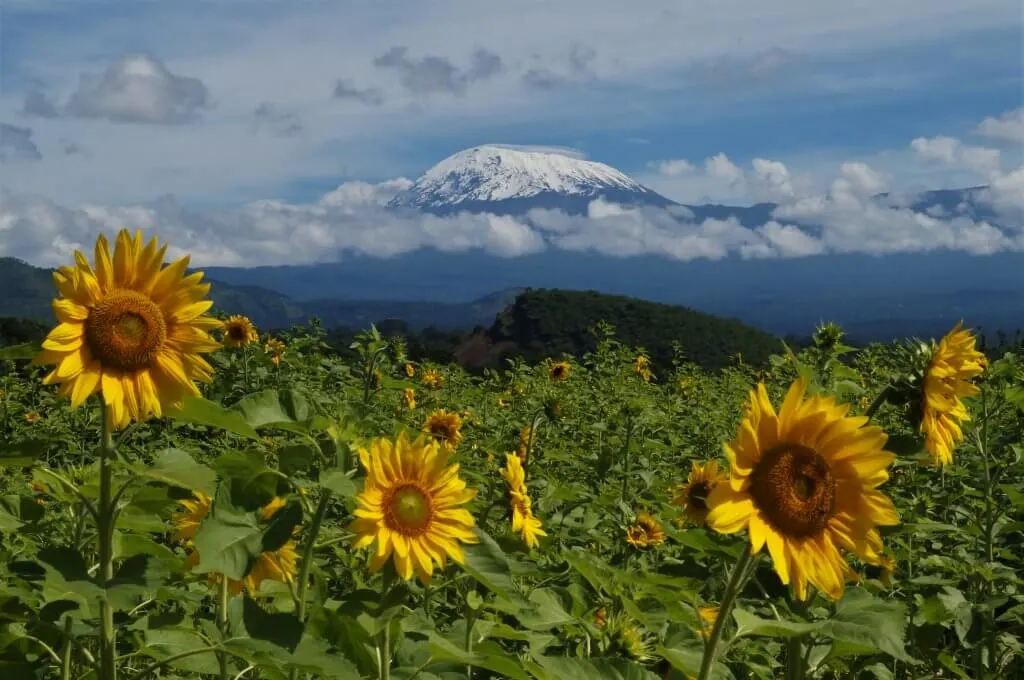 3. Victoria Falls (Zambia)
Nothing quite prepares you for the sheer thundering immensity of Victoria Falls. And it's not like you don't get any warning; the spray is visible for miles around and the sound is the first thing you hear in the morning. But it's not until you reach the first viewpoint that the true spectacle really hits you – literally. We got soaking wet as bucketloads of spray poured over us! We visited at the end of May, right at the end of the wet season with the falls at full volume. It was such a treat to stay at the Victoria Falls Waterfront, right on the banks of the Zambezi with restaurant views over to the plumes of spray bellowing up from the falls.
Read our Zambia itinerary with kids.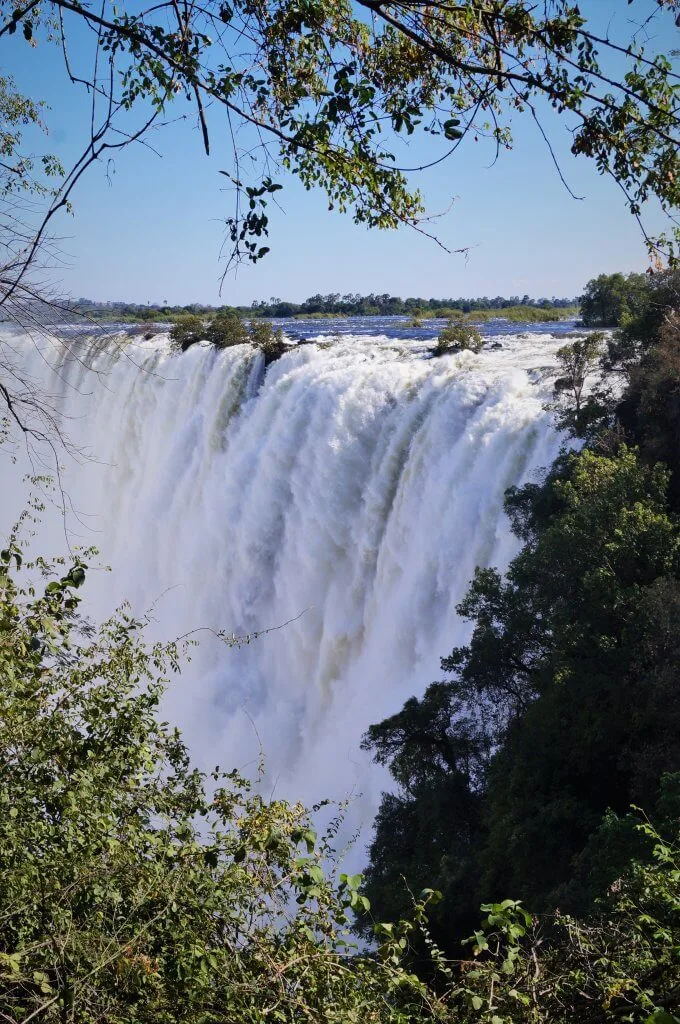 4. Mating lions outside Ruaha National Park (Tanzania)
We had initially planned to camp overnight in Ruaha National Park, but we changed plans once we saw that the campground was covered in plastic litter and inhabited by a rather protective family of elephants. As the sun started setting on the horizon we drove away from the park gates, a little perturbed at the costs of entering the park, and stumbled across two mating lions in the road. Let's just say they like it a little rough, and the deep roars from the male made my hair stand on end. We kept our distance and in throes of violent passion the male clocked us and released a deafening roar. I immediately understood and fumbled the ignition to get the Land Rover away, heart racing. An experience I will never forget. And before you ask, yes, you can take young kids on safari!
Read our Tanzania itinerary with kids.
5. Etosha National Park (Namibia)
Due to it's other-worldly landscape, so different from all the safaris we have done in Africa, and for the sheer ease of spotting its abundant wildlife, Etosha had to be in the top five. Spending the morning with a pride of lions surrounding the car and watching a lonesome rhino pass by was certainly memorable. However, our favourite experience in Etosha has to be venturing to the floodlit watering hole near to the campsite once the boys were asleep to watch local wildlife visit to drink and socialise (us parents took it in turns so the boys weren't left alone).
You can read here why we think Etosha is the best safari in Africa with kids.
6. Hippos on the Zambezi (Zambia)
We arranged a private boat cruise at the lodge we were camping at (Gwabi Rivier Lodge) to take us along the river. We must have seen at least 50 hippos that morning! And the boys particularly loved it as they got to drive the boat too! The campsite at Gwabi is right on the river, so we would fall asleep to the sounds of hippos grunting away.
Read our Zambia itinerary with kids.
7. Sunset cruise Lake Malawi (Malawi)
Lake Malawi was the centrepiece for much of our travels in Malawi. We drove from its southern-most point, all the way up the Western shoreline into Tanzania. Our favourite spot on the lake was Chembe Eagles Nest, Cape Maclear, where the water is calm and crystal clear. A sunset catamaran cruise was the perfect way to experience the lake.
Read our Malawi itinerary with kids.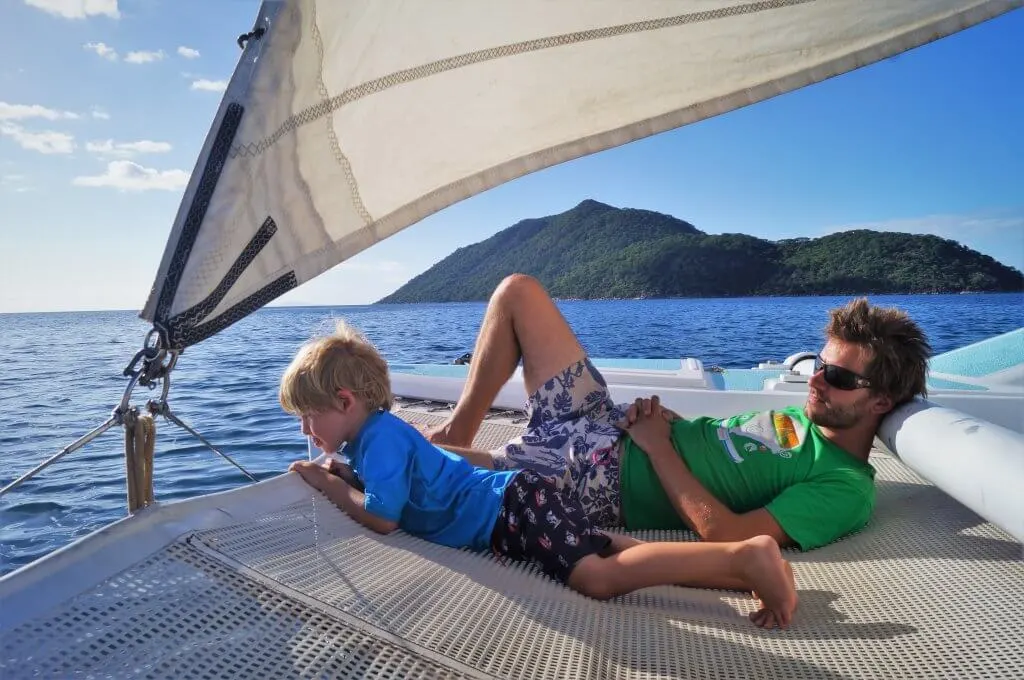 8. Barra Beach (Mozambique)
The beaches of Mozambique completely blew us away. Long stretches of pristine silky sand as far as the eye could see. For ease of getting to, quality of campsite and sheer beauty, Barra was our favourite. Our campsite was a stone's throw away from the sand and we mostly had the beach to ourselves. Half an hour down the road is the old colonial town Inhabane, with it's crumbling architecture harking back to it's Portuguese past.
Read our Mozambique itinerary with kids.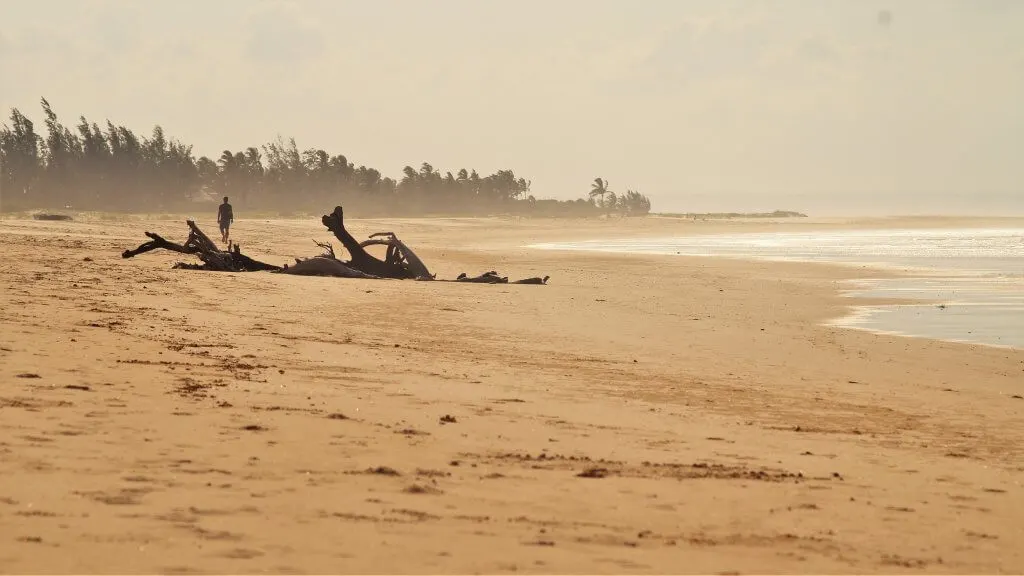 9. Tarangire National Park (Tanzania)
In protest to the obscenely high park fees for Serengetti National Park, we decided to head to Tarangire instead. Our rash decision was rewarded with seeing hundreds of elephants in the wild without another soul around! But the true highlight was camping overnight in the park with the African stars above, no fence to guard off wildlife and roars of lions in the distance. I didn't sleep a wink that night for listening out for wildlife, but certainly one of our most memorable.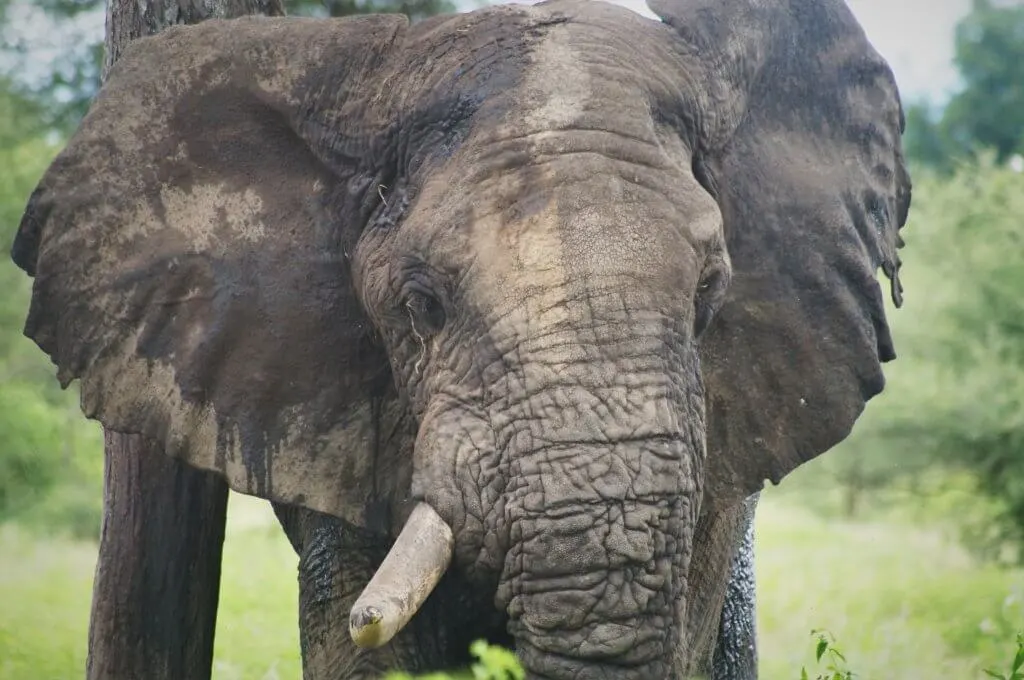 Read our Tanzania itinerary with kids.
10. Mount Mulanje (Malawi)
Rising from the tea plantations of Southern Malawi, majestic Mount Mulanje seemingly soars to the heavens. With little legs, we didn't really entertain the notion of a three-day hike to the summit. Instead, we settled for a splendid hike up to a waterfall on the mountain, where you can enjoy a refreshing dip. With our then 2 and 4 year old boys, the round trip took us about 3 hours. But most would do it 2 hours. We surprisingly bumped into Mini Travellers on our mountain hike who have written up a review of their hike up to the waterfall on Mount Mulanje. On return to our campsite, we were surprised by a performance from some local orphans, as part of Malawi Music Fund. The voices from this choir gave me goosebumps; rich tones and beautiful a capella harmonies. It was then magical to watch the views of the Mount Mulanje being cast aflame by the setting sun.
Read our Malawi itinerary with kids.
---
The Lonely Planet Africa, and the Tracks4Africa Africa Southern Traveller's Atlas were invaluable throughout our travels.
You may also like to read:
We're off to Africa!
Medical kit list for families travelling Africa
AFRICA OVERLAND Part 1: South Africa and Mozambique itinerary with kids
For more posts on Africa, head to our AFRICA page.