Since our overlanding travels through Africa, many people have asked me – which African country is the best for first timers? Whilst Morocco would be an obvious choice as it's only a 4 hour flight from the UK and is relatively straight forward getting around using public transport or hiring a car. But this isn't really the answer people are looking for. When people think of Africa, they're imagining epic open landscapes and spotting the Big Five on a classic African safari. My answer is therefore an adventure to Namibia with kids.
Read on to find out the best things to do in Namibia for kids, including doing a Namibia family safari, or check out our self drive Namibia overland itinerary.
There are many tours that can show you the sites of Namibia. However, we strongly recommend going it alone. Hire a 4×4 with roof tents from Bush Lore or Britz, grab your Tracks 4 Africa Namibia map (this is the overlanding 'Bible'), and hit the road. This allows for flexibility of time and makes travelling Namibia with kids much more relaxing. A trip to Africa should be an adventure after all!
For all your questions answered about our overland travels through sub-Saharan Africa in a Land Rover, check out our post… READ – Africa with kids FAQ: all you need to about our overlanding family adventures
You may also want to check out our ULTIMATE Africa packing list for overlanding Africa with kids.
So if you're considering a family holiday to Namibia, or a Namibia family safari, here are ten reasons why you must visit Namibia with kids:
1. Affordable safaris and incredible wildlife
The national park entry fees of Tanzania, Zambia and Kenya (as well as other African countries) are extortionate in comparison. When you're travelling with kids, especially young ones, you don't want the added pressure of activities costing the earth and stressing over getting bang for your buck. Entry to Etosha National Park for a family safari in Namibia is N$80 per adult per 24 hours (that's £4.30 at the time of writing!) and children under 15 are FREE.
Read: The TRUTH about doing an African safari with kids
Etosha National Park, in the North of Namibia, was perhaps our favourite safari experience in Africa. The vast open plains and abundance of wildlife make for very easy wildlife watching, and often all you need to do is park up by a watering hole and watch the wildlife come to you. During our three-day self-drive safari we saw lions, rhinos and plenty of zebra, giraffe and elephants. And yes, you can safari with kids under 5!
There are also stinky seals to meet at Cape Cross Seal Reserve! Tens of thousands of seals congregate on this headland to socialise, jostle over space and feed on the plentiful fish. There is a walkway that takes you right up close to them. Our boys found the seals, with their comical walk and arguing, to be absolutely hilarious. Plus there are hundreds of flamingos to watch on the salt pans just outside Walvis Bay.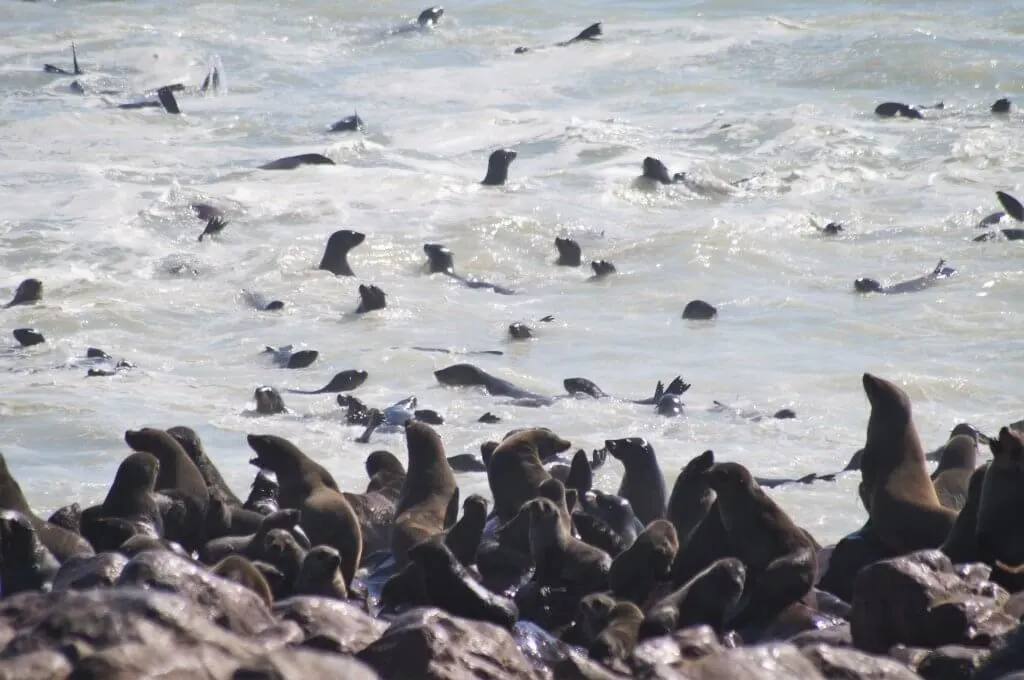 Or for an close encounter with a cheetah or leopard, head to The Africat Foundation at Okonjima.
2. Sand dunes
What kid doesn't love running down (or even better, rolling down) a sand dune? There are some fantastic Namibia desert family adventures to be had! Head to Sossusvlei for those fine crimson dunes backed by striking colbalt skies, or pull over on the road through Damaraland or to Walvis Bay, for the perfect (sand)pit stop.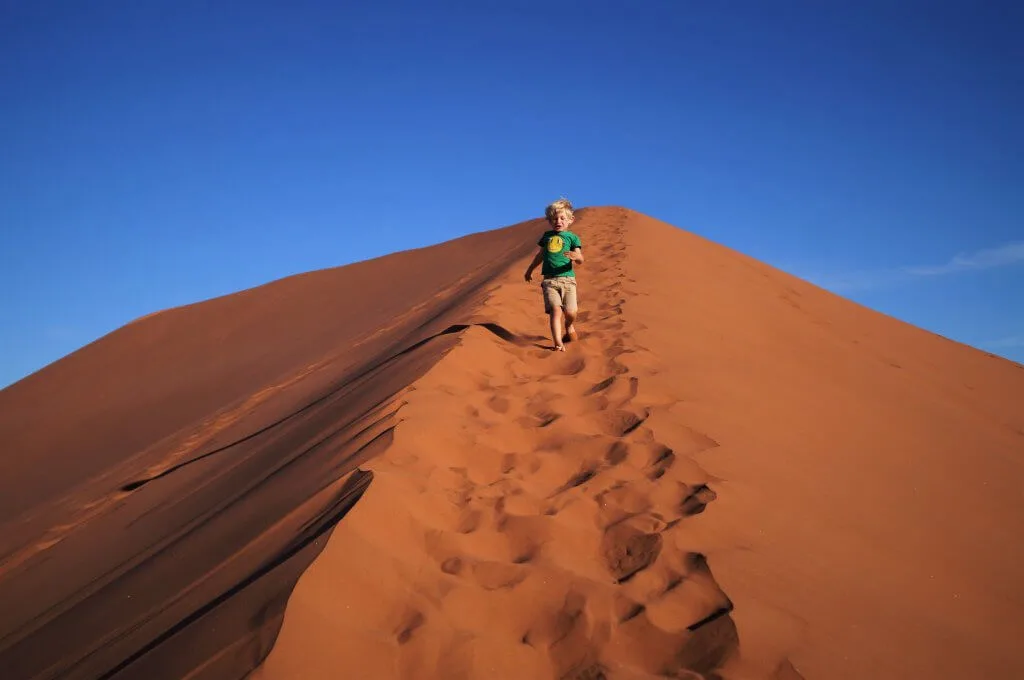 3. Playgrounds
Although we love our kids to experience the natural world as their playground, now and again, the conventional playground with swings and slides is what everyone needs. You will come across good quality playground in most large towns in Namibia. The boys particularly enjoyed this colourful playground right opposite a pub in Swakopmund 😉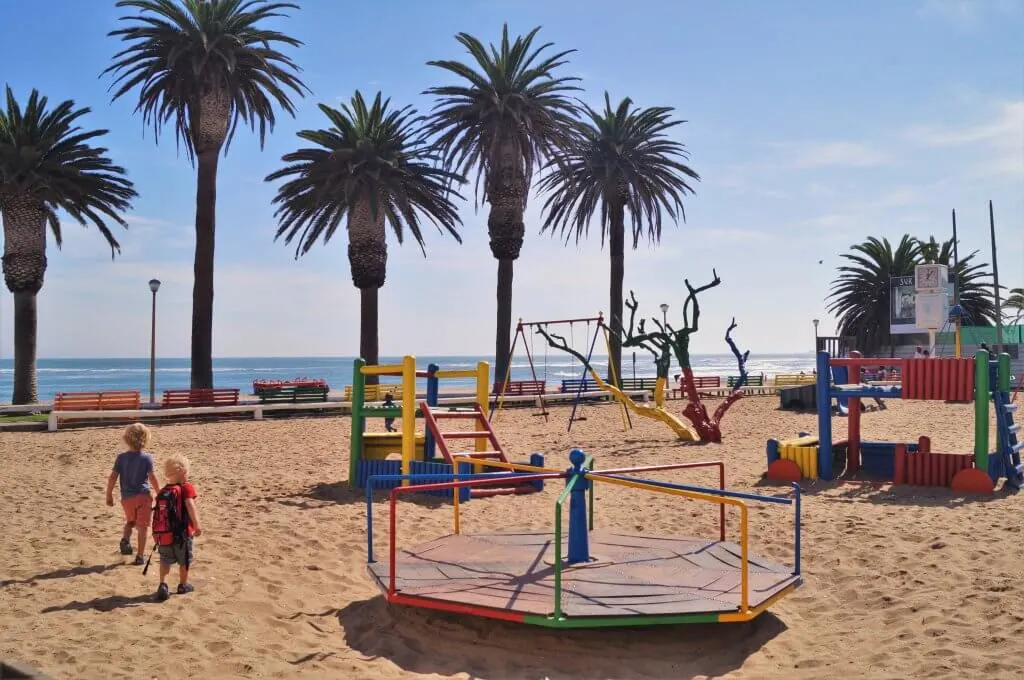 4. Good quality campsites
Namibia has some of the best campsite we have ever stayed in, in the world. Seriously. We even stayed in some where there was an en-suite bathroom and private kitchen area! Admittedly, you pay a little bit more for them in comparison to other campsites in Africa. But generally, they are around USD25-30 per family per night (under 4's free) and totally worth it.
Check out these best campsites in Namibia.
We did come across some rather basic campsites, but the incredible location more than made up for the lack of running water (such as the campground at Cape Cross in the photo below).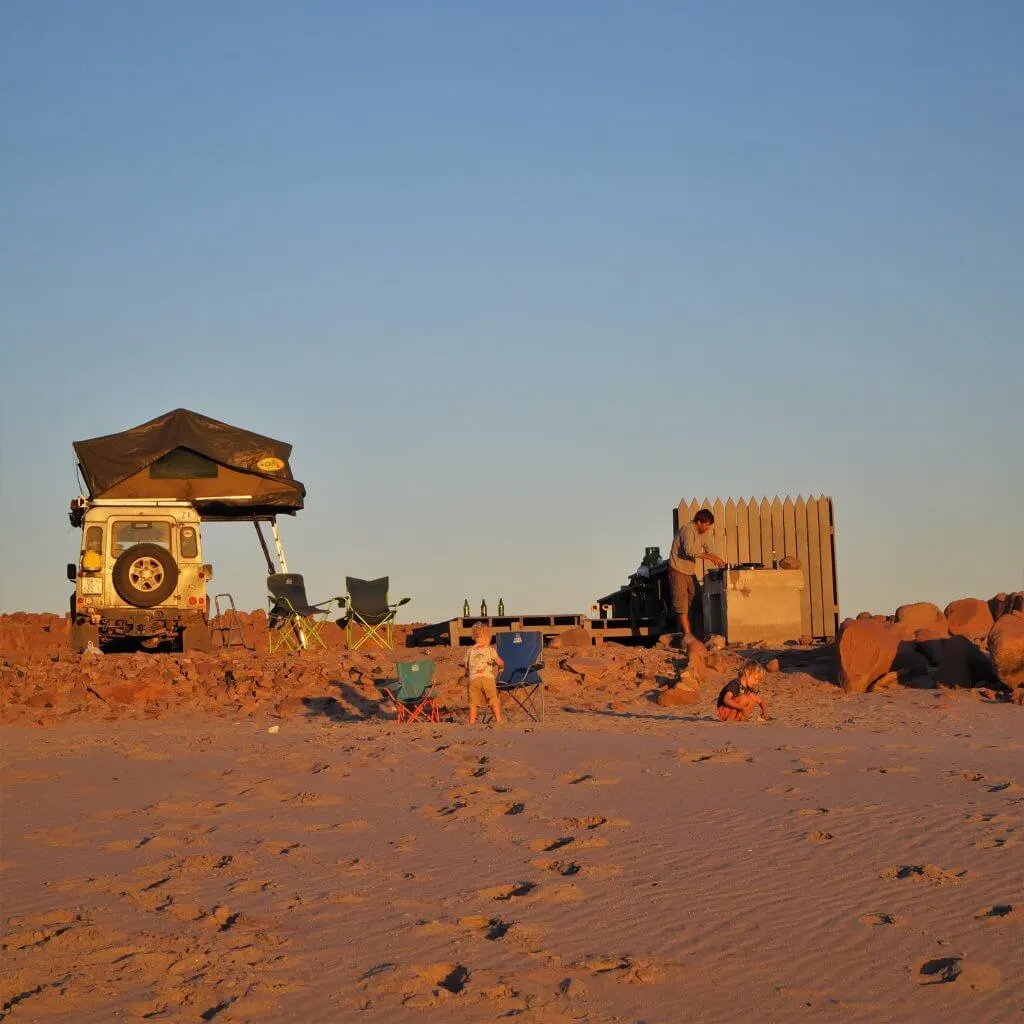 Try and book campsites in advance, particularly if travelling through the high season (May to September). However, we travelled through Namibia in June and never booked any campsites; although we did snag the last spot on more than one occasion.
5. Good roads
Namibia was the first country we drove through on our overland African adventures where we could finally put our foot down. Many of the main roads are perfectly paved with tarmac. There are still sand roads, and quite a few salt roads (particularly through Etosha and the Skeleton Coast), but these are generally well maintained.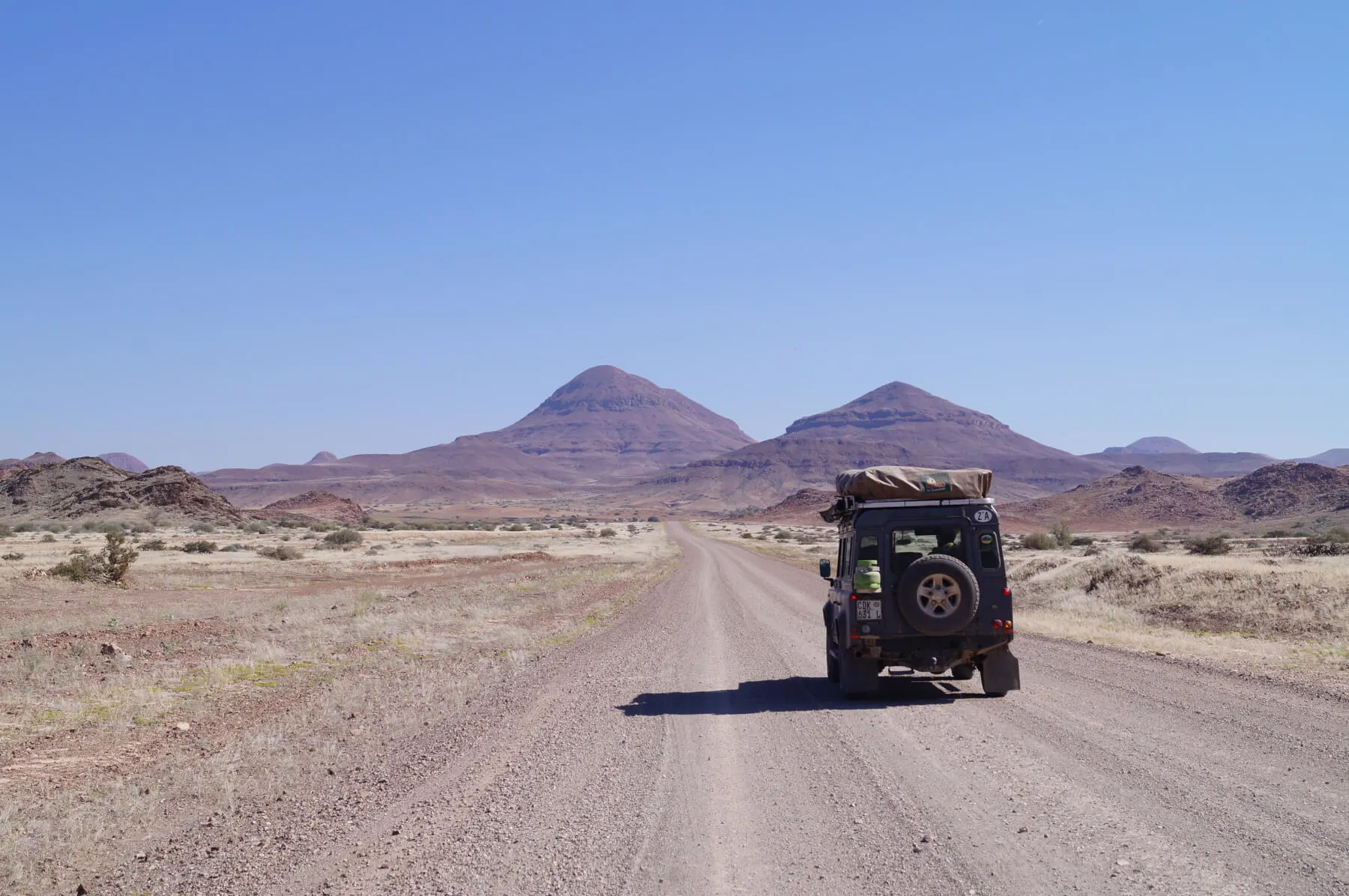 There were however long stretches of corrugated roads in places (a ripple effect on dirt roads), which our top heavy old Land Rover really struggled with and we had to take it painfully slow.
6. Fussy eaters catered for
In most towns across Namibia, you will find westernised supermarkets selling quality fruit and vegetables, steaks and German sausages, the most scrumptious freshly baked breads, and all the usual food you find back home. There are large supermarket chains (Shoprite, Pick n Pay) and your little ones certainly won't go hungry, however fussy they are.
7. Good medical care
This is always a worry for parents as kids are always falling over things, scraping their knee, and sometimes much worse. Namibia is a developed nation, and as such, you will find high quality doctors and hospitals. However, Namibia is also a large and sparsely populated country. We did end up visiting areas that were more than a days drive from a hospital. Always ensure that you have some basic first aid knowledge and access to a good medical kit.
8. Lower malaria risk
Malaria risk is only present in the North of the Namibia, and much of the country is low risk. Refer to the NHS Fit For Travel page for up to date advice.
You may notice that Etosha is just in the 'high risk' section. However, it is believed that the winter months in Etosha are malaria-free. This is because mosquito need water to breed and Etosha is totally bone dry during these months. Although, as always, consult a qualified travel practitioner (not necessarily your GP).
This is a big advantage especially if you're visiting Namibia with toddlers and young kids.
9. One of the safest African countries
Is it safe to travel to Namibia with kids? A question I get asked a lot.
Safety is often people's primary concern when visiting Africa. Too frequently the problems of some countries are projected onto the entire continent. However, every in country Africa is different from it's neighbour and Namibia has been politically stable since gaining independence from South Africa in 1990.
Most people have a trouble-free visit to Namibia. The most likely problem they encounter is puncturing a tyre on corrugated roads. There have been reports of street crime towards tourists in Windhoek, but this can be avoided by being sensible. Do consult the UK Governement Travel Advice before travelling to Namibia.
10. Good climate
With an arid climate and more the 300 days of sunshine each year, you don't have to worry about the rains too much in Namibia. There will often be a backdrop of big blue open skies to those epic otherworldly landscapes. Visitors are also in for some seriously jaw-dropping sunsets and sunrises.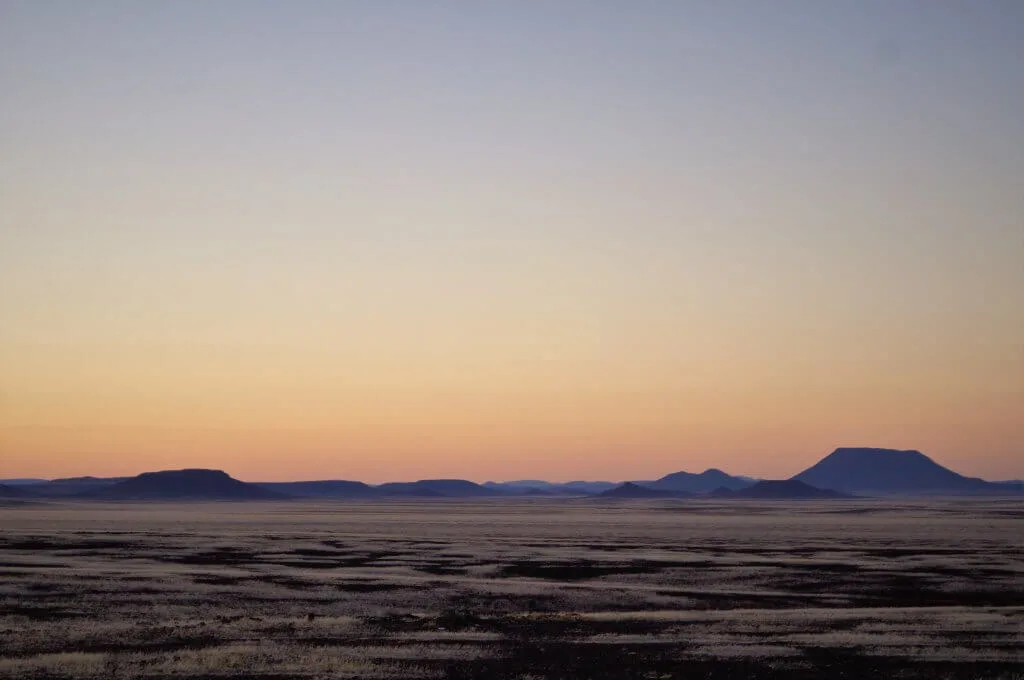 However, along the Skeleton Coast, don't be surprised with the think fog rolling in from the Atlantic; it has caught out many fishing vessels in the past, which you'll spot rotting away, abandoned on the windswept beaches. Do also bear in mind that the nights can get bitterly cold in winter. Pack a cold-weather sleeping bag, as well as hats and gloves for those early mornings getting the tents down.
---
You may also like to read:
Self drive Namibia overland with kids in tow
Swakopmund with kids: 10 FREE and cheap things to do
Tips for a safari with kids under the age of 5