And breathe…. We had been camping along Namibia's remote Skeleton Coast for the past few days and were three months into our overlanding Africa family adventures. Home comforts of good food and a washing machine were the order of the day as we pulled into the the distinctly German town of Swakopmund in Namibia. We only planned to stop here for a day or so, but that seaside holiday vibe seized us, and we were still milling along its promenade and dining on fresh breads from the bakeries almost a week later. We had somehow stepped out of Africa and hit the pause button.
Disclaimer: This post contains affiliate links. If you click to purchase, it is at no additional cost to you, and I receive a small commission.
READ – Namibia itinerary with kids
Seen as Namibia's adventure capital, the old German colonial town of Swakopmund offers an array of adrenaline-pumping activities, including quad biking, sky diving and horse-riding. But for us, this was a place to catch our breath on our overland itinerary through Namibia, and we found so many cheap and free things to do in Swakopmund with kids.
1. Play on the beach
A golden stretch of sand lines the town of Swakopmund. Grab an ice-cream and watch the Atlantic surf roll in, before getting to work on your sandcastle creation. If you want a dip in the ocean (be warned, it's cold!) head round to Swakopmund Mole (in front of the playground) where the surf is much more gentle.
2. Walk the Swakopmund Jetty
Battered by the Atlantic rollers, this iconic jetty has undergone many renovations over the years. There's an expensive restaurant perched at the end, but you can still take in the views and feel the brisk ocean breeze walking along to the end. My boys loved racing the thunderous waves rolling underneath.
3. Join the local kids at the playground (with bar!)
There's a colourful, sandy playground next to Swakopmund Museum. Handily for parents, if your kids allow you to sit down for ten minutes, there's a bar adjacent to the playground where you can sit outside and still keep a close eye of your little ones hurtling down the slide.
4. Check out the German architecture, with an iced bun
Whilst admiring the German architecture isn't an easy sell to younger kids, if you pop to a bakery along the way, I'm sure they can be distracted with an iced-bun as you walk around. Perhaps indulge in a chocolate croissant from Raith's. Architectural highlights are the Altes Gefängnis (Old Prison) and Bahnhof Swakopmund (railway station). But a walk in the centre of town along Albertina Amathila Ave and A.Schad Promenade is equally impressive.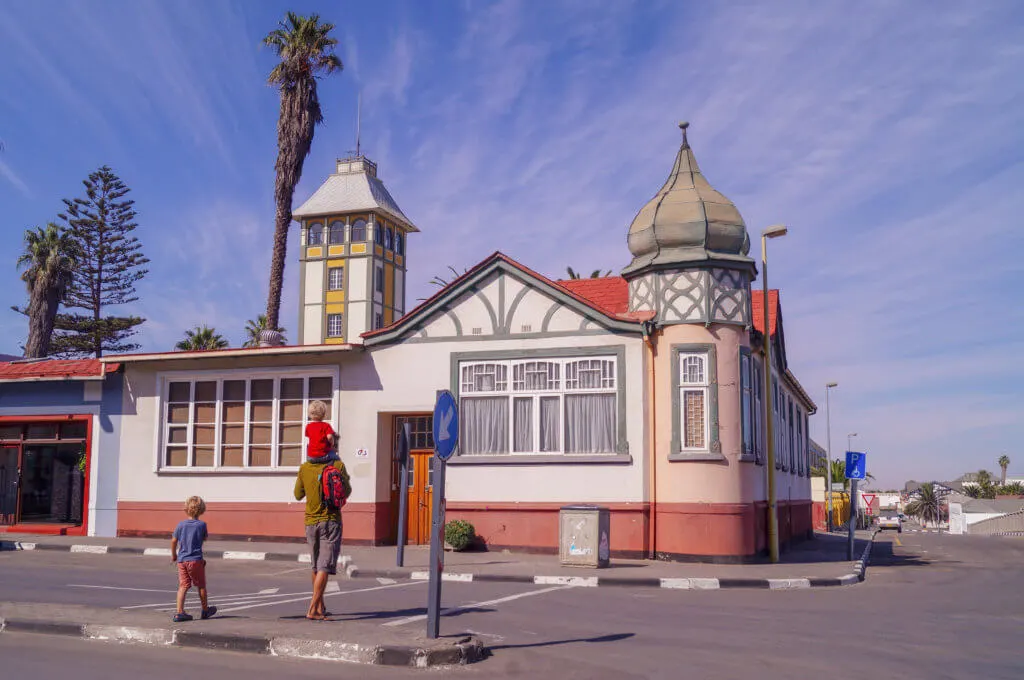 5. Spot the sharks in the Aquarium
This is a rather small aquarium and you will probably only need to allocate an hour here, but it's a great way to get up close to the amazing sea life along the Namibian coastline. Plus, it's very cheap: adult/child N$40/20 (£2/1). Although our boys who were aged 3 and 4 at the time got in free! The highlight is the tunnel underneath the largest tank, getting you super close to the sharks!
6. Learn about the history of Swakopmund at the museum
When the wind is howling off the Atlantic Coast, head to the museum at the foot of the lighthouse for shelter and learn about the history of the town. Includes displays of local flora and fauna, the indigenous Khoikhoi people of the Namib region, and the colonial era. Check the website for entry times and pricing.
7. Ride a camel through the desert
Just 13km East of town is Swakopmund Camel Farm. Kids under 13 can enjoy a 20 minute camel ride through the desert for N$100 (£5). Adults are N$200. There's also a desert garden filled with unique Namibia flora to explore, as well as a traditional farm yard with cows, chickens, geese and donkeys.
8. Count the hundreds of Flamingos at Walvis Bay
Take the half-hour drive South to Walvis Bay and head out to the lagoon and salt flats. As well as producing over 90% of South Africa's salt, this area acts as a rich feeding ground for prawns and larval fish, which flamingos flock to for feeding. Their rosy pink colour actually comes from pigments in the organisms they eat. With their flashes of pink, long legs and backward knees, our boys found these beautiful birds rather comical.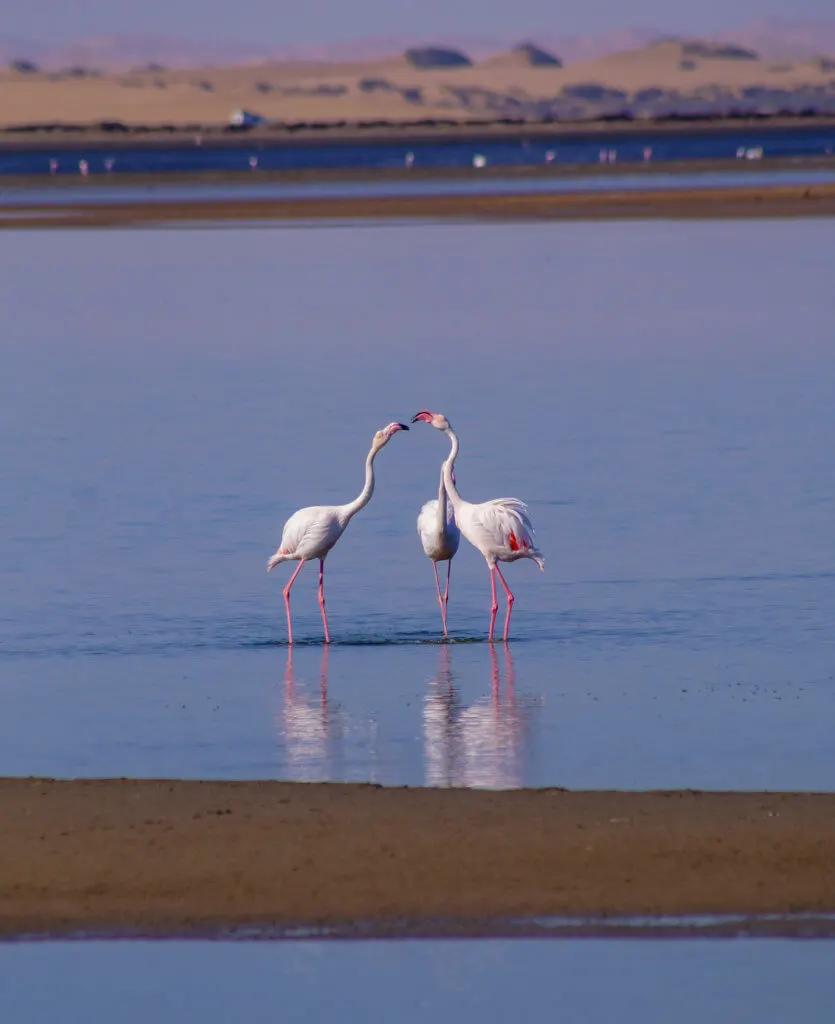 9. Slide down the sand dunes
Grab a sheet of cardboard and head to the highest dune in the coastal region, Dune 7 (click here for location). This is a good stop en route to the flamingos at Walvis Bay. At 130m high, the views from the top make your cramping calves worthwhile, but it's tremendous fun to slide back down on your cardboard. You can also hire quad bikes here.
10. See a shipwreck
The Skeleton Coast, North of Swakopmund, is a foreboding land where countless ships have been caught in the Atlantic crosscurrents and dense fog, and run aground. The nearest to Swakopmund, just a 40 minute drive North along the C34, is the Zeila shipwreck (click here for location). Just a stones throw from the beach, the Zeila ran aground on 25 August 2008, on its way to Mumbai, India. It has now been left to the elements.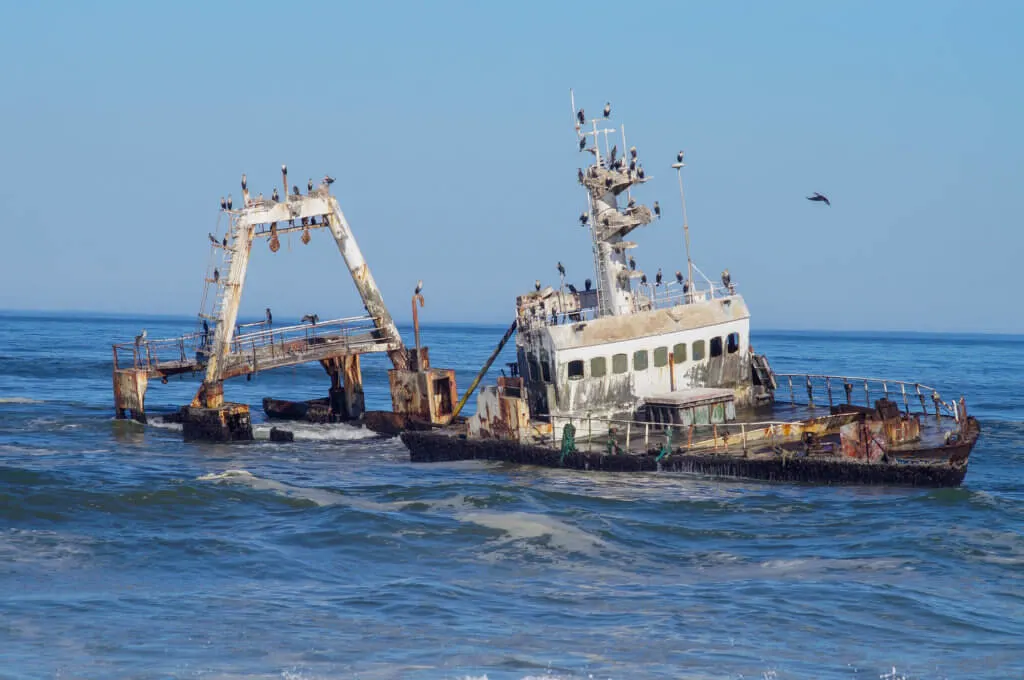 Where we stayed in Swakopmund with kids
We were travelling through Namibia in a Land Rover with roof tents, and therefore looking for a campsite in Swakopmund. We stayed at the rather luxurious (for camping) Alte Brücke. Each site has its own private bathroom with a powerful shower, a kitchen area, and grassy lawn. It's just a 3 minute stroll to the beach and a 15 minute walk to the well-stocked Pick 'n' Pay in town (click here for supermarket location).
If you require a bit more comfort, there are one and two bed luxury chalets also available here.
---
If you're self-driving Namibia, be sure to purchase your Tracks4Africa road map.
You may also like to read:
Namibia with kids: 10 reasons to visit
ETOSHA National Park, Namibia: THE BEST African safari for families
Africa with kids FAQ: all you need to about our overlanding family adventures