Is is safe to visit Johannesburg with kids? Once considered a dangerous place, only explored by the foolhardy traveller, Johannesburg (commonly known as Jo'burg or Jozi), South Africa, is now a changed city that is making huge strides to defy its bad reputation. It's vibrant, edgy and buzzing, and no one seems more excited about this change than its inhabitants who are fervently proud of their city.
Disclaimer: TraveLynn Family were fully hosted in Johannesburg by Joburg Tourism in partnership with JMT Tours. This included accommodation, meals and activities. However, as always, these are all my own words and opinions.
Like any big city, it still has its problems with crime, and Jo'burg has a more troubled and traumatic recent history than most, even when compared with often more favourable Cape Town. However, in spite of all this, it's not a city to fear, but rather to be aware. And it is absolutely safe for young families to visit. Indeed, there so many things to do in Johannesburg with kids, museums are world-class, the weather is great, and you will receive the warmest of welcomes.
Things to do in Johannesburg with kids
1. Acrobranch
Climb, balance and zipline through the trees on this awesome aerial adventure course. Kids between the age of 3 and 6 will love the specially designed Acro-twigs course, which works between 2-3m above the ground. Everyone is rigged up with a harness and superb staff are on-hand to talk your little ones through the course; learning to clip on and off the different sections whilst testing their balance, strength and agility. My boys absolutely loved it and it was their favourite activity in Joburg! There's also a more adventurous course for older kids (and adults). Although, parents be warned by someone who had to be rescued, it's harder than it looks!
Check the Acrobranch website for pricing and opening times (note that it's not open on a Monday and Tuesday). Allow 2 hours for this activity. There is small cafe on site.
2. The Top of Africa
To appreciate the full scale of Joburg, take the inconspicuous lift from the foot of the Calton Centre up to the 50th floor. Despite being built in the 1970s, it remains Africa's tallest skyscraper (223m) and the panoramic views are impressive. The onsite cafe is not anything special and there's not much else up there, but there is loads of space for the kids to run around playing aeroplanes in between admiring the view.
The entrance kiosk and lifts are tricky to find. Head down the escalators in the Carlton Centre mall (in the Centre of the building) in the direction of the music store and look out for the Roof of Africa logo at the head of a corridor to your left.
Check the Carlton Centre website for pricing and opening time.
3. Gold Reef City Theme Park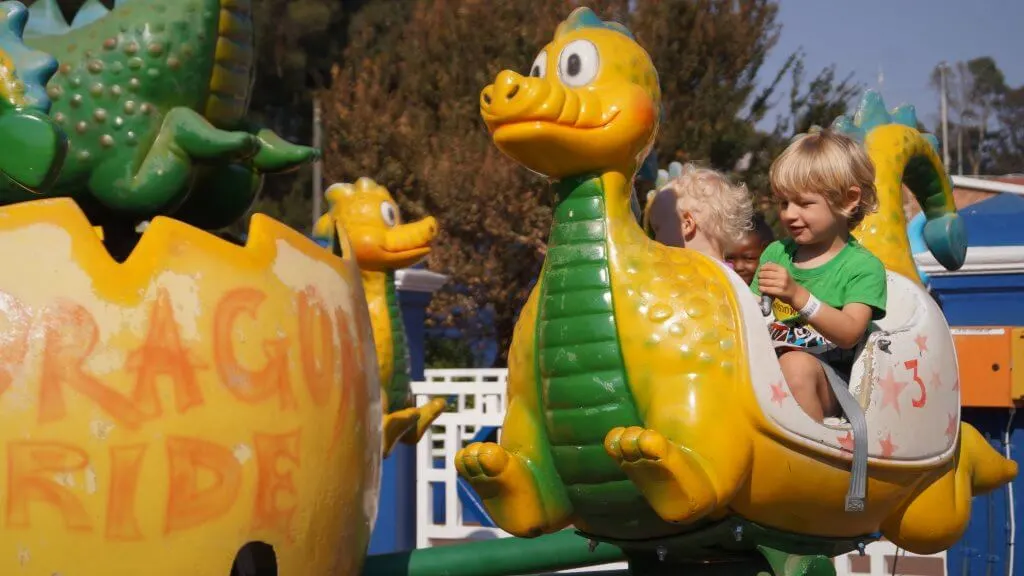 This is the most exhilarating theme park in Southern Africa and you really need a full day to do it justice. For little ones, head over to the Kiddies corner to choo choo through the jungle on the safari train, spin giddy in the tea cups and ride ferocious dragons. There is also an indoor soft play area, farmyard, 4D movie theatre and the Science Exploratory.
Note the that Theme Park is closed on a Monday and Tuesday. Check their website for up-to-date entry prices.
4. Soweto
This infamous township is where Joburg most surprised me. The energy and welcome from this sprawling township is heartwarming. This is an area which has evolved from its harrowing past into a thriving destination in it's own right. Trendy bars line streets of enormous historical significance, whilst tourists rub shoulders with locals dancing.
Elsewhere in Joburg, homes are protected with high walls and high-tech security. Here in Soweto, the low boundary walls and shared gardens celebrate a sense of community and we felt totally safe. Indeed, Vilakazi Street is buzzing with tourists and locals alike, enjoying the bars (we had a fantastic dinner at Vuyos, loved the 'everything goes' vibe) and visiting Nelson Mandela's House.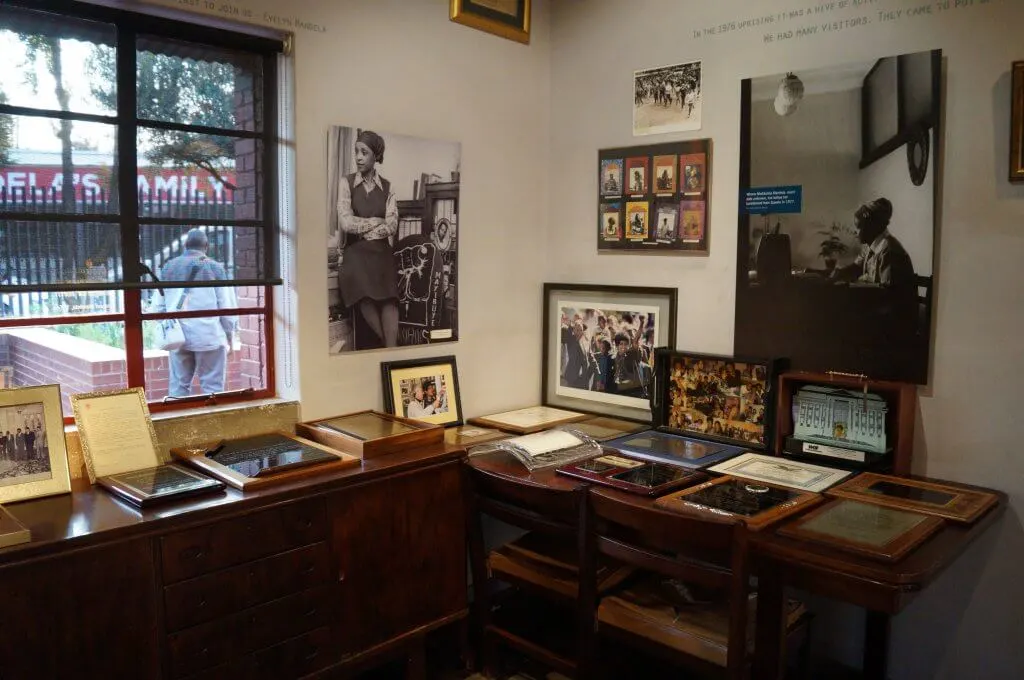 Whilst it may be difficult to explain to young kids the significance of Nelson Mandela's House, it is still worth a visit. As it's only small, you don't need much time, and there are no images that will shock children. However, seeing the bullet holes and black petrol-bomb marks on the walls certainly brings the reality home for parents.
5. Wander the artisan markets
Fresh tastes from around the world, local live music, quirky art work, craft beers and playgrounds with scooters and face-painting. A visit to one of Joburg's world-class markets is a wonderful way to spend a morning. We attended the Fourways Farmers Market, which is open on a Sunday from 9am to 4pm. Ensure you get there early as it gets very busy.
Other markets that are family oriented in Johannesburg include the Bryanston Organic Market (Thursdays and Saturdays) and the Rosebank Sunday Market (Sunday evenings).
6. Sterkfontein Caves (Cradle of Humankind World Heritage Site)
Just an hour's drive from Joburg, step back in time to when man first walked the earth. Examine fossils and skulls of our ancestors and learn how we evolved from apes. Then don a builders hat and venture underground, deep into the limestone caves, to see where anthropologists discovered skeletons that are over 3-million years old. Be warned that if you are tall, you may need to crawl through tunnels to get through the cave. Tours last 1 hour.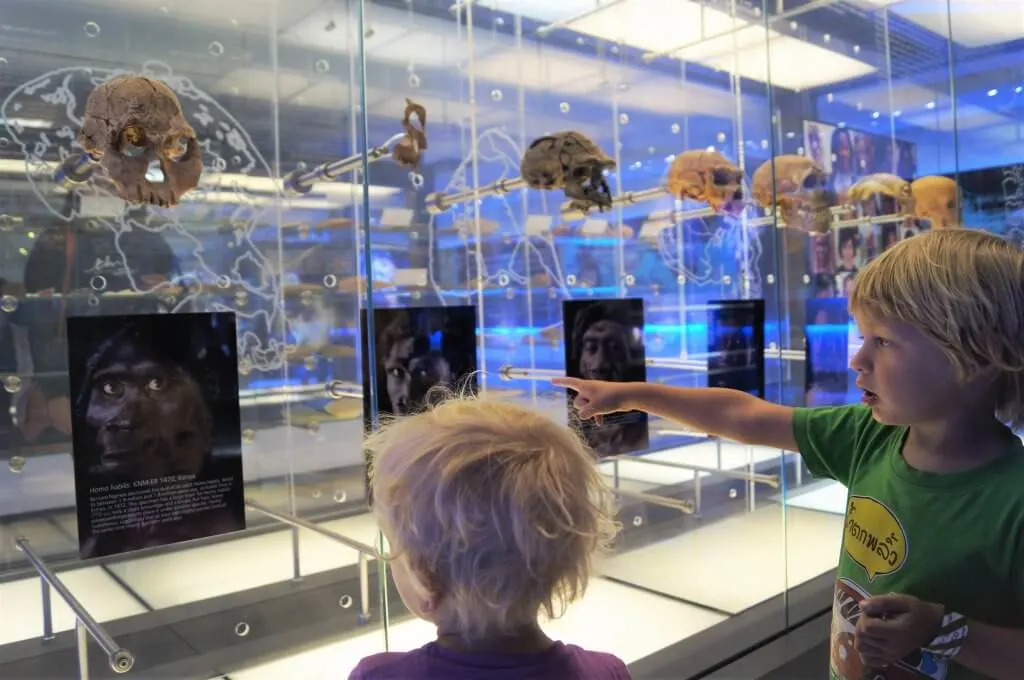 Check the website for pricing and opening times.
7. Maropeng Visitors Centre (Cradle of Humankind World Heritage Site)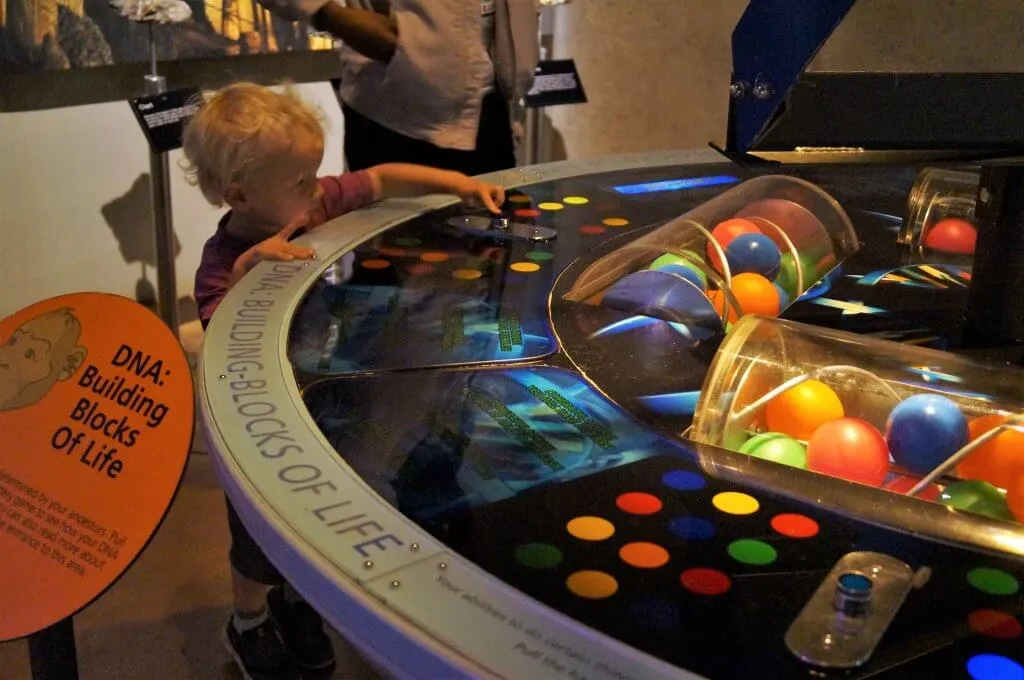 Keep your ticket from Sterkfontein as it allows you entry to the Maropeng Visitors Centre. This is a world-class exhibition which explores the development of humans through interactive activities and displays. The highlight for our boys was the underground boat ride through the natural elements of fire, air, water and ice. A whirling black hole returns you to the present day. Allow a full day to experience both Sterkfontein Caves and the Maropeng Visitors Centre.
Check the website for pricing and opening times.
Other things to do in Johannesburg with kids:
The above are all activities that we enjoyed through Joburg Tourism during our stay. There are other suggested things to do, although we did not visit them:
Visit one of Joburg's beautiful Botanical Gardens
Getting around
If you haven't got your own wheels, the easiest way to get around is using UBER. Or even better, hire a guide/driver though JMT Tours who can tailor-make your visit. We were very impressed by our knowledgeable guide from JMT Tours (arranged by Joburg Tourism). Traffic in Joburg can get awfully congested, so avoid peak hours and allow extra time for your journeys.
Where we stayed
We were hosted by Jo'burg Tourism at Melrose Place Guest House. Set in lush gardens with a swimming pool (not heated), this is a quaint bed and breakfast with a sprinkling of old-English country charm, that caters to the up-market guest.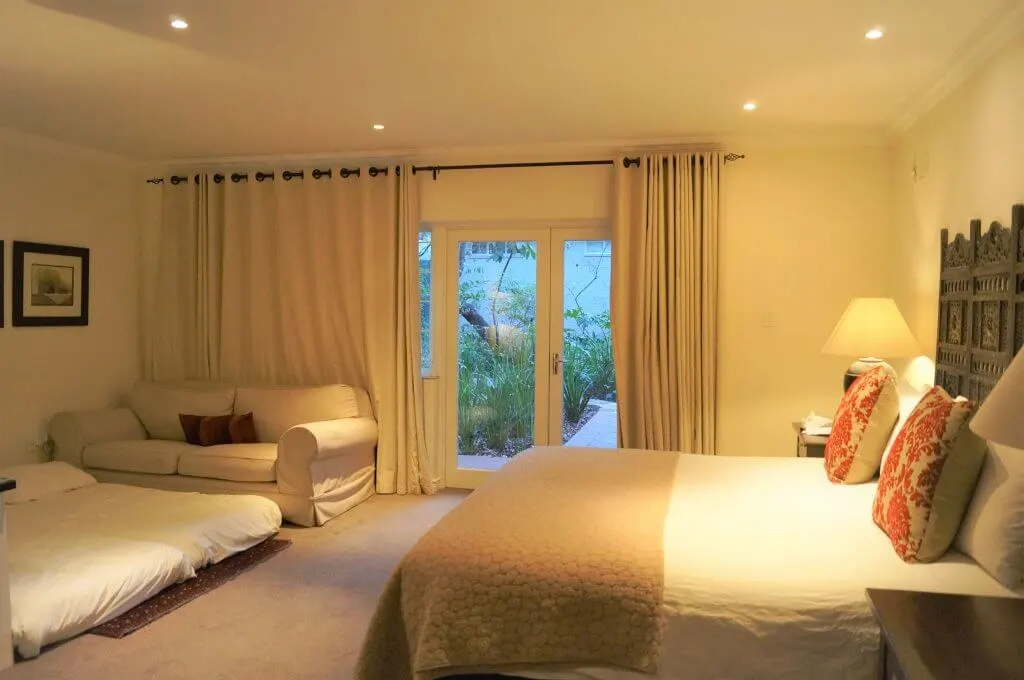 We stayed in a premium double bedroom with two mattresses on the floor for the boys. There is a flat screen TV, free WiFi and you can order in food from local restaurants from the take-away menu.
The staff were (on the whole) extremely friendly and accommodating although there is an expectation that children should be exceptionally well behaved, make no mess and be quiet at all times.
---
Where would we be without our trusted Lonely Planet?
You may also like to read:
Top 18 things to do in South Africa with kids
Namibia itinerary with kids
Zambia itinerary with kids