There are so many things to do in Kuala Lumpur with kids that the challenge is in deciding what not to do. If you feel the need to tick things off, just to be able to say you've experienced the city properly, it can feel overwhelming. Indeed, you could easily spend a full week in Kuala Lumpur and still be finding new things to see and do.
The good news is there can be a different approach; it's possible to get a great feel for the city by just wandering around with a couple of activities thrown in, plus you don't need to spend a fortune.
So if you've just got a couple of days for your family trip to Kuala Lumpur and want to experience the best of the city, we've narrowed down all the best things to do in Kuala Lumpur with kids into the best 10.
Pick a few and save the rest for your next visit, as KL is a city you'll want to return to again. It's is easily one of the best cities to visit in Southeast Asia with kids.
Disclaimer: This post contains affiliate links. If you click to purchase, it is at no additional cost to you, and I receive a small commission.
Top 10 things to do in Kuala Lumpur with kids
To help you locate these Kulala Lumpur family activities, here's a map:
1. Watch the evening light and water show at KLCC
Located on the site of the city's original racecourse, KLCC is known as a city within a city, home to some of the tallest buildings in Southeast Asia. The (two) most famous of all being the Petronas Towers and, each evening, a light and water show illuminates the base of the towers in a free extravegantza.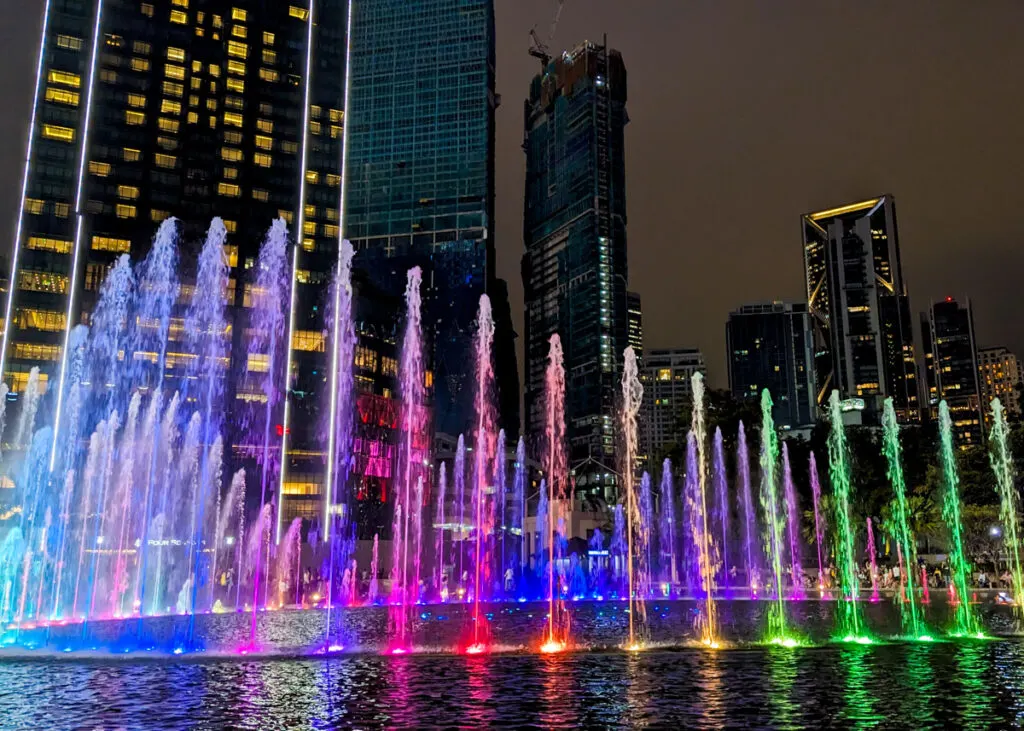 The light and water show runs for fifteen minutes each evening at 8pm, 9pm and 10pm. If those times don't work for you, there is a light-only show at 7:30pm, 8:30pm and 9:30pm.
There is no reserved seating so make your way to the Esplanade at KLCC and find a spare step, seat or patch of grass. We headed to the other side of the lake so the display was in-between us and the towers, but anywhere surrounding the lake will afford good views.
If you're hungry, grab a snack from one of the restaurants or supermarkets in the Suria KLCC Mall before the show starts.
Easiest access to the area is either via the Metro (to KLCC), or jump in a Grab taxi.
2. Play in the huge playground and splash park in KLCC Park
Continuing the KLCC theme, if you're tired of the heat and want to make your own water display, head to the splash park located just past the Esplanade at KLCC.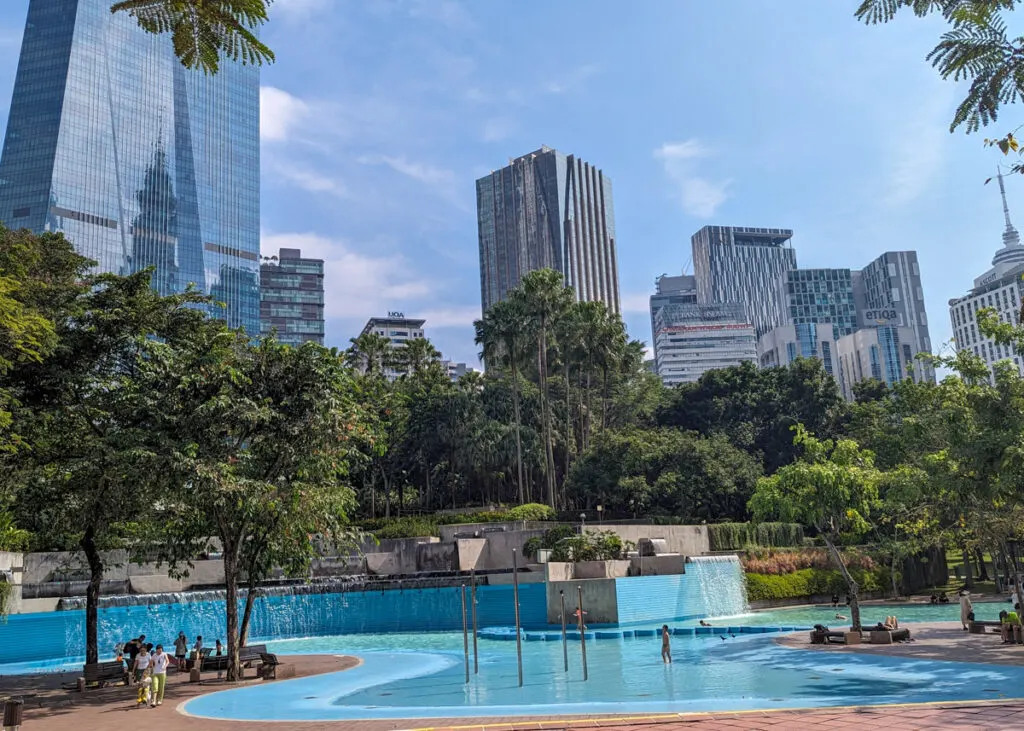 Incredibly welcome on a hot day (which is often in KL), the splash park is a free space for kids to cool off and jump around in the refreshing water. With plenty of space around the edges for parents to sit and relax, this is a enjoyable way to break up a day of sightseeing.
Next door, you'll find a large playground with a wide variety of play equipment to suit all ages, ranging from gentle swings and slides, to panic-inducing (for the parents) climbing frames and towers. Perhaps come here first so the kids can cool down afterwards at the splash area.
There are public toilets, changing rooms and water fountains located near the Esplanade side entrance.
3. Get your geek on at Petrosains, The Discovery Centre
Once you've navigated the over-complicated ticket buying process (try to book in advance if you can), you'll enter the Petrosains Discovery Centre, a large-scale museum very much focused on STEM-obsessed kids (with a dose of petroleum PR thrown in).
The place is huge, with lots of interconnected rooms containing interactive games and activities. We were a little surprised to see a few of the displays not working but there was more than enough to keep the boys entertained, including some theme-park worthy spinning rides (although height-restrictions of 1.4m are in place).
Try to pace yourselves and keep some reserves for the end, those corridors just keep on coming! You'll find small cafes along the way if you need a pitstop.
The admission prices vary depending on days of the week and nationality, so check the website for latest prices and opening times.
4. Test out future careers at KidZania
KidZania takes the concept of a child-focused activity centre and raises it to a whole new level, allowing kids to role-play and experiment with over 60 different activities from dentist to make-up artist, toll-booth operator to radio DJ. It's like a school careers service on overdrive.
Closed on Tuesdays, KidZania only sell tickets online, so make sure you book before the big day. Check the website for up-to-date prices.
5. Defy gravity at Kuala Lumpur Upside Down House
Flip your travels upside down at Kuala Lumpur Upside Down House, the museum where you can imagine life living the wrong way round.
There are half a dozen rooms to investigate, be sure to take lots of photos and check the results during your stay – with a little practice, you'll be amazed how realistic it can look. Check out our full guide here for all of the details.
6. Walk through the canopy of KL Forest Eco Park
Being the capital of one of the world's most renowned nature destinations, it's no surprise that this mega-city manages to pack in at least one natural attraction.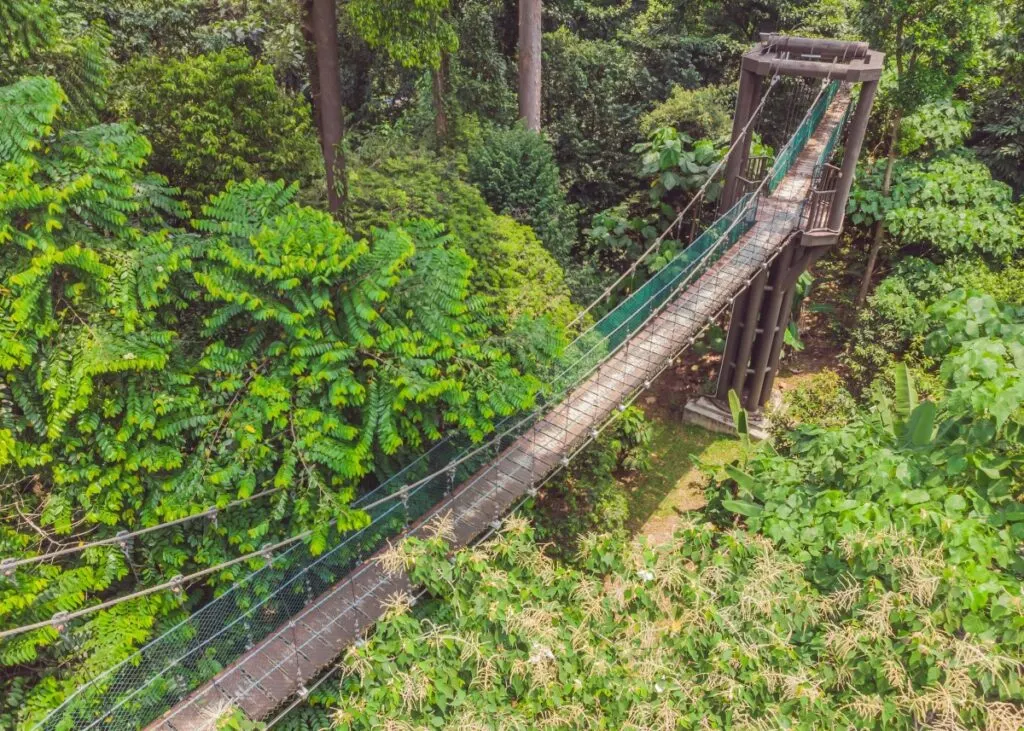 Located right in the heart of the city close to Menara KL, the KL Forest Eco Park is a 10 hectare rainforest reserve complete with multiple activities including nature walks and a canopy walk.
Access is via Bukit Nanas monorail or the Dang Wangi metro station. Do bear in mind that the admission fee is now RM40 for international visitors(!) which makes it an expensive activity, but still worthwhile.
7. Shop along Petaling Street
Did you forget anything when you left home for your big trip? Or perhaps you followed our Southeast Asia packing tips and intentionally left some purchases until you arrived? In any case, Kuala Lumpur is home to one of the regions most vibrant shopping districts, Petaling Street.
Located in the Chinatown district, Petaling Street is a chaotic but fun place to visit with kids, they're sure to find something to spend their pocket money on; expect to find everything from cheap sunglasses to jewellery, handbags to smartphones.
As with many of these shopping streets in Southeast Asia, much of the enjoyment comes from just walking along and taking in the atmosphere. If you do fancy something, be prepared to haggle but remember to keep your cool to keep the price reasonable. If all else fails, get the kids to bargain, the shopkeepers are so nice they'll nearly always give them a good deal!
Petaling Street is located in Chinatown which is quite close to Pasar Seni metro. Otherwise, a Grab taxi can drop you nearby.
8. Delve into the waters of Aquaria KLCC
Back in the KLCC part of town, another attraction awaits, this one giving you the chance to experience some of Malaysia's underwater creatures.
Aquaria KLCC is separated into several different zones, giving you the opportunity to see these underwater creatures up close. Boasting the longest underwater tunnel in Malaysia, as well as the country's largest saltwater tank, it's well worth a visit. The air-conditioning helps too.
Tickets can be booked online which also lets you book a timeslot. Check the website for the latest prices and information.
9. Spot tropical birds at Kuala Lumpur Bird Park
This large bird park is the best place in the city to see many different bird species, predominantly from Malaysia, with some international guests flown in.
Located in the botanical gardens close to Kuala Lumpur railway station, you'll happily while away a few hours here, the trees provide some welcome shade on hot days but do bear in mind the steep entry fee of RM70 for international visitors.
Arrive via the railway station and a short walk, or jump into a Grab taxi.
10. Eating scrummy food along Jalan Alor
Jalan Alor is the place to come in KL for a wide range of Southeast Asian cuisine, all served under a multi-coloured canopy of umbrellas which spill out onto the pavement and beyond.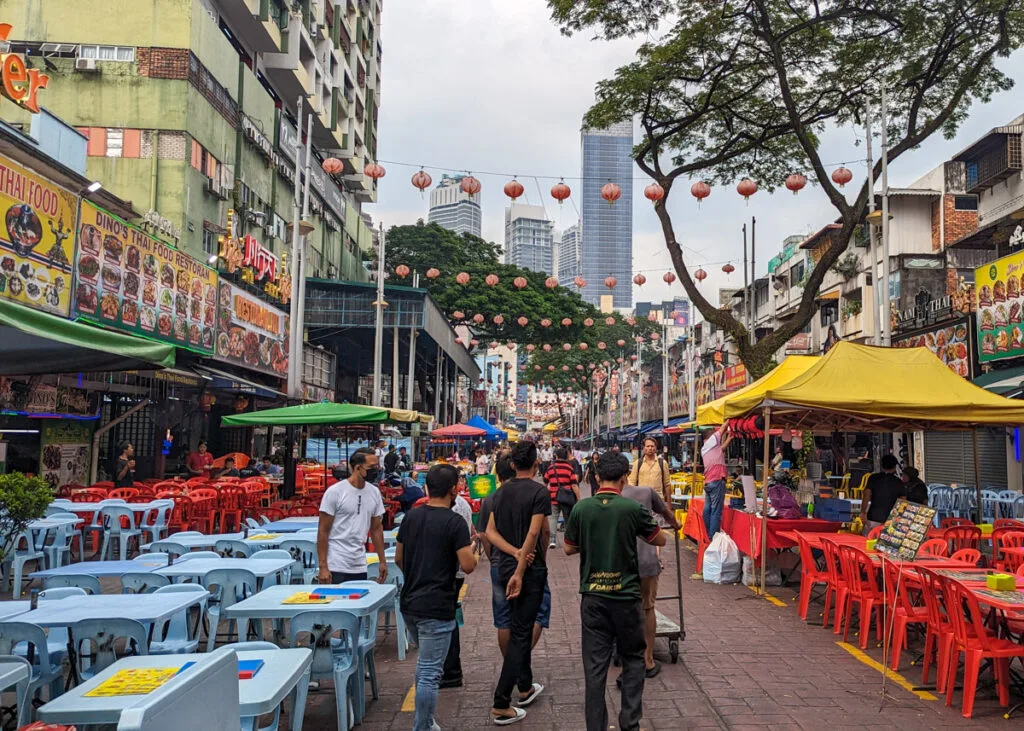 It's open all day but really gets busy from around 6pm when the road is closed and more tables appear. Wander up and down a couple of times to get a feel for what's on offer before diving in somewhere.
If you've spent much time in Southeast Asia before, you'll know what to expect; plastic chairs, plastic plates, extensive menus, fantastic food, and (a rarity in KL) cheap(ish) alcohol.
Getting around Kuala Lumpur with kids
As you'd expect from a major capital city, the public transport system in Kuala Lumpur is excellent, offering a huge array of efficient and affordable options.
It can be difficult to keep track of the different types of public transport available but you're most likely to use:
MRT which is useful for trips out into the suburbs and Batu Caves.
LRT (Light Rapid Transport) is perhaps the most useful for families visiting KL with kids as it links up many of the main tourist areas.
Monorail is a fun way to travel, giving the kids more of a view across the city as you go.
Try to buy one of the transport passes if you are due to stay for a few days as it'll work out more cost effective and save you scrambling to find the correct change or queueing to buy tickets. The KL TravelPass is the one most targeted at tourists, but others, like Touch n Go, are available if you're staying for longer.
However good the public transport is, nothing beats a Grab taxi for convenience. You may also find it cheaper than public transport once you factor in buying multiple tickets. The easy-to-use app allows you to order a ride in seconds, there is never any need to haggle or worry about getting lost, and the cars usually arrive within a few minutes, even during rush-hour.
Where to stay in Kuala Lumpur with kids
Where we stayed: The Platinum Kuala Lumpur by LUMA
Kuala Lumpur is stocked full of apartment buildings, often close to the main tourist sights (e.g. KLCC and the Petronas Towers). They're usually excellent value with the sort of facilities (gym, rooftop pool, panoramic views) you'd expect to find in a five-star hotel. They nearly always include a kitchen with oven, fridge, dishwasher, and washing machine, which saves you money on meals and lets you catch up with your laundry.
We stayed for three nights at the Platinum Kuala Lumpur by LUMA, a superbly located apartment within walking distance to the Petronas Towers and lots of shops, restaurants and public transport options.
We paid RM900 for the three nights which was for a two-bedroomed apartment on the 42nd floor, giving incredible views of the city. There was a TV with Netflix, washing machine, dishwasher, fridge-freezer, oven, en-suite bathroom, rooftop gym and pool with a restaurant attached. There were even a couple of small supermarkets two-minutes walk away where we picked up food and drinks.
The check-in process at these apartments is always slightly hit-and-miss although was fairly smooth on this occasion, just don't expect five-star hotel treatment at this stage. The security guards on the rooftop tried their best to spoil everyone's day but this is outside of the control of the apartment owners and quite common in Southeast Asia with security personnel.
We really recommend trying to find an apartment on booking.com if you can, they certainly offer better value than hotels. Some families prefer to stay in Chinatown near Petaling Street (it's something we've done before and enjoyed) but it's very safe and convenient staying near KLCC and you'll be nearer the more popular sights.
Final thoughts on visiting Kuala Lumpur with kids
KL has always been one of our favourites Southeast Asian capital cities and we were pleasantly surprised how much the kids enjoyed being there as well, and how much there was to do as a family. The activities aren't always incredibly cheap, but offer much better value than places like Singapore.
The KLCC area is chock-full of things to do and everyone (kids included) will be wowed by their first view of the Petronas Towers. Try to leave some time for the kid focused activity centres like Petrosains and KidZania as these sort of places aren't available in every city and the kids will have a blast.
The transport system is safe and reliable, either with Grab or public transport, and the city always feels very safe and welcoming.
Whether as a destination in its own right, as part of a big tour around Southeast Asia, or just as a stopover before heading over to Borneo or beyond, visiting KL with kids really is an all-round winner.
---
You may also like to read
Malaysia with kids travel guide
Borneo with kids travel guide
Visiting Penang with kids