There are so many things to do in Penang with kids, but here we share the top 10. So if you're visiting Penang as a family for a few days or even a week, here's your guide to find out what there is to do in Penang with kids.
Penang Island lies off the western coast of Malaysia, a tropical island with the fascinating city of George Town serving as the state capital of Penang. It's one of our favourite places in the world and we're often asked about the best things to do in Penang with kids, what to see, where to stay and how to get there.
This blog post focuses on what to do on Penang Island, rather than the state of Penang. That's not to say there's nothing to do in the rest of Penang, just that Penang Island is where most of family focused sights and activities are located, and the place most visitors focus their time and energy.
Disclaimer: This post contains affiliate links. If you click to purchase, it is at no additional cost to you, and I receive a small commission.
Things to do in Penang with kids
Wandering what to do on Penang as a family? Here we share our top 10 family activities for Penang.
1. Walk around George Town
Let's start with the easiest and cheapest activity of them all; walking around George Town.
You'd be hard pressed to find any other city in the world which manages to pack so much into such a small area. The 3km2 of UNESCO protected land is home to many different cultures, languages, cuisines and architectural styles.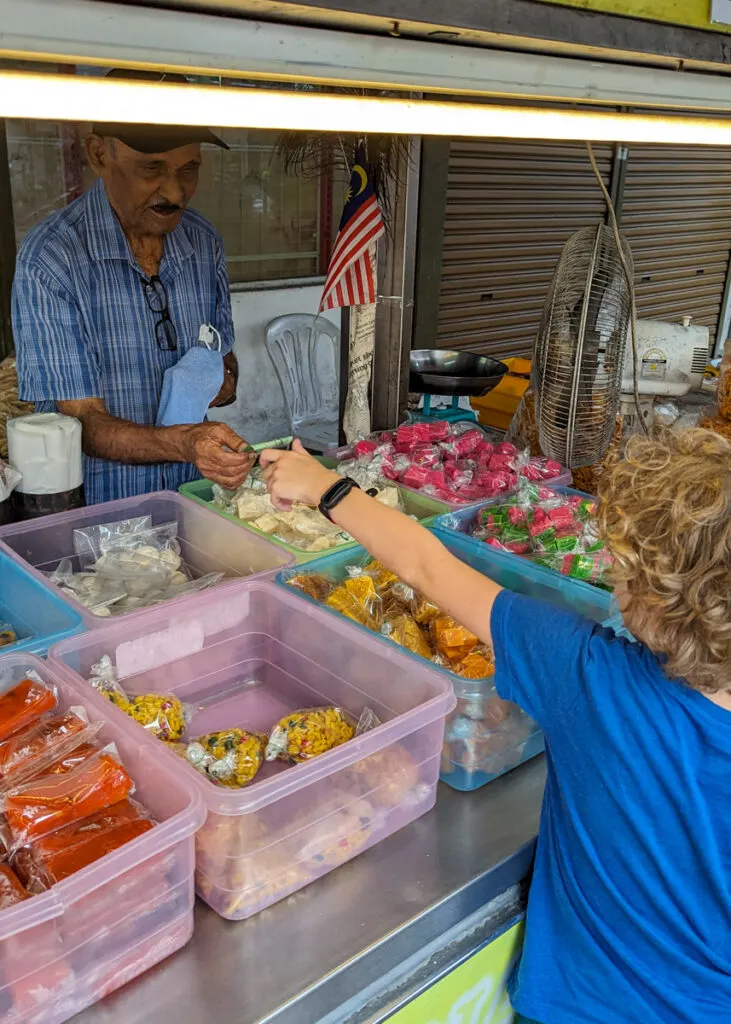 Different streets and areas were traditionally home to Chinese, Malay and Indian groups and whilst those boundaries are more fluid than they once were, you'll still recognise distinct areas such as Chinatown and Little India.
The best part is wandering around at your own pace, stopping when a building or restaurant takes your fancy, but do try to include:
Street art; starting in 2012 international and local artists have started creating colourful murals on various walls around the city. Sometimes with an important message and at other times irreverent, the street art has become a George Town institution, with new examples popping up all the time. The most famous, 'Boy on Motorbike' by Ernest Zacharevic can be found on Armenian Street, but prepare to join a queue of fellow photographers. Take a look by all means, but there are plenty of other cool examples you'll have to yourself.
Fort Cornwallis; the original fort in George Town built by the British, Fort Cornwallis' place is the city is changing over the years, moving away from a tourist site and towards a meeting place for locals with cafes and exhibitions taking place. The colonial history is still tangible and worth a visit, try to visit early or late though as there isn't much shade
UNESCO listed architecture; Love Lane, Armenian Street and the streets around show off the architecture which makes George Town famous, make sure to keep looking up as you walk, there is always something beautiful to see.
2. Take a speedboat to Monkey Beach
READ: Monkey Beach Penang National Park: everything you need to know
There is so much else to see on Penang Island other than George Town, it's easy to forget that most of the island is covered in lush tropical rainforest. One of the best ways to experience it is a day at Monkey Beach, a stretch of sand in a remote corner of Penang National Park.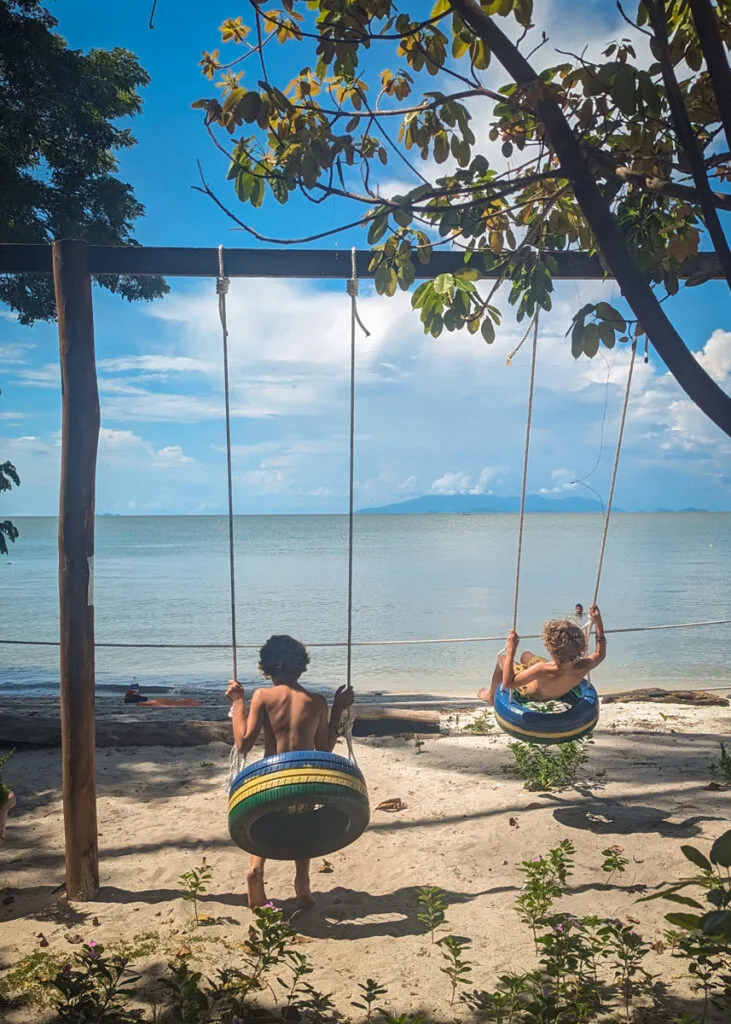 Don't feel bad if you simply arrive here and sunbathe on the beach; it's a relaxing spot and the views out to the Straits of Malacca are stunning.
If you fancy something more energetic, you can hike up to the lighthouse for even better views across the straits, or take a kayak out onto the calm sea.
Read our post all about Monkey Island Penang for all the information on what to do and how to get there.
3. Ride the funicular railway up to Penang Hill
For a great view and different perspective on the island, take a trip up Penang Hill on the funicular railway.
To get started, head for the base station at Air Itam from where you buy tickets and board the railway. It can get busy, so try to avoid weekends and public holidays if possible, but the ticket office and queue are well organised.
It takes about fifteen minutes to get to the top and the railway is open seven days a week from 6:30am to 10pm, but the ticket office closes at 8:30pm. Ticket price are:
Round-trip: International adult/child (RM30/15), MyKad (RM12/6)
One way: International adult/child (RM15/8), MyKad RM6/3)
There's also a fast-lane pass which is almost treble the cost of a normal ticket, not really recommended unless you're in a rush.
Try to get the carriage facing downhill as you'll get fantastic views as the funicular makes it's way up the hill, according to our youngest, it was like a reverse rollercoaster!
Once you get to the top, there's a wide range of activities although it's not quite the tranquil retreat it appears from the bottom. It's a popular tourist and locals attraction with plenty of people milling around but there's enough options to keep everyone busy.
Visit Penang Hill Gallery @Edgecliff a fascinating and detailed gallery/museum in a distinctive white heritage bungalow, set on the hillside. Focusing on the history and background to Penang Hill, it's a great option as an indoor activity for kids to escape the heat and learn more about the famous hill. Open everyday (apart from Tuesdays) from 9:00 to 4:30pm, it costs RM10/5 for adults/children.
There's a well-laid out playground with some larger structures aimed at older children
As befitting on the religiously-diverse island of Penang, there are several interesting religious buildings including Penang Hill Mosque and Sri Aruloli Thirumurugan Hindu Temple, plus a few interesting colonial-era buildings like the Convalescent Bungalow, Police Station and Bellevue Hotel.
The Habitat Penang Hill is a real highlight of any visit to Penang Hill, a small but beautiful rainforest reserve where visitors can study flora and fauna, hike on a short 1.6km nature trails, enjoy a treetop and canopy walk, disappear off into a immersive VR world, or, for the more adventurous, try the zipline to witness the rainforest and Penang Hill from a whole new perspective. The Habitat is open from 9:00am to 7:00pm each day, and ticket prices start from RM60 for adults, RM40 for children (slightly cheaper if bought as the Family Combo package).
4. Marvel the butterflies at Entopia
It's almost forty years since the Penang Butterfly Farm opened, and it's still an enjoyable and informative place to visit, especially if you have an interest in these beautiful creatures.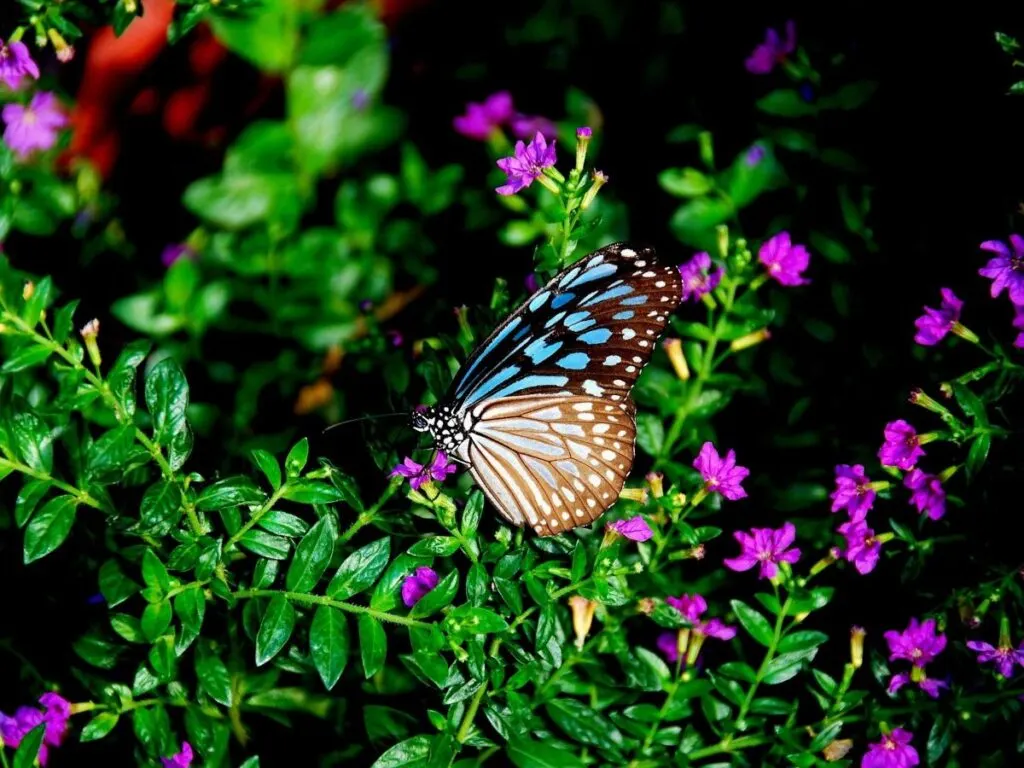 There's no shortage of activities to keep you all occupied, as you'd expect it's heavily focused on butterflies but you'll also get the chance to see other insects including silkworms and spiders.
Entopia is split neatly between two distinct areas, an indoor educational centre where you can learn all about the lifecycle and habitat of butterflies, and an outdoor garden area where you'll get to experience the butterflies in their natural habitat.
There are numerous walking trails with helpful, friendly staff on hand to answer your questions and provide extra information about the butterflies. The outdoor gardens are wheelchair and pushchair friendly, which is a welcome feature, not always commonplace in Malaysia.
Try to set aside half a day for your visit, with the park open from 9:00am to 6:00pm (closed on Wednesday). It's quite an expensive activity (RM260/£45 for a family of two adults and two children), so make your own judgement if that's good value based on your love of butterflies and other insects.
Admission prices are:
International adult/senior/child: RM75/55/55
Malaysians adult/senior/child: RM59/39/39
Entopia is located in the north-western tip of the island, quite close to ESCAPE (see below). The ever-useful 101 and 102 buses from George Town will drop you at Escape which is only a five minute walk from Entopia. The journey from central George Town should take just over one hour, depending on traffic. Alternatively, we'd recommend taking a Grab taxi, it'll be quicker (approx 45 minutes) and more convenient.
5. Go wild at Escape adventure park
Brace yourselves for an incredible adventure at Escape adventure park, although keep in mind it's so much fun, it might spoil any future playground visits; this is no ordinary place. It's probably the ultimate thing to do with kids in Penang.
Broadly split into two separate areas (Waterplay and AdventurePlay), ESCAPE Penang is almost guaranteed to be a huge hit with the whole family, but particularly the kids.
Usually having one Guinness World Record would be enough to make somewhere a must-visit destination, but ESCAPE raises the bar by having two world records; the world's longest inner-tube / mat water slide (an easy to remember 1,111 metres long), and the world's longest zip coaster (slightly longer at 1,135 metres). How often can you say you've ridden on two rides which hold a world-record in a single day?
Throughout the park you'll find much else besides, including water slides, a chairlift (to take you back after riding the record holder), climbing frames, diving platforms. With over thirty activities, you'll never be bored at ESCAPE and it's best to set aside two days if you have the time and money.
Some of the activities have a height-restriction (usually of 120cm and above), you can check the website to see which activities it applies to, but rest-assured there's enough to do for kids of all heights.
We'd really recommend the brilliant BASE CAMP overnight option, a chance to camp under the stars. It's a magical experience with tents, toilets, parking and two day park entry included.
Located on the north-western tip of the island near Entopia, take a 101 or 102 bus from George Town (just over an hour), or jump in a Grab for a quicker (45 minutes) and easier journey.
Tickets can be booked via the website and are slightly cheaper if booked in advance. You can also upload a selfie as part of the buying process to speed up entry at the ticket gates.
Kids under three, and adults over sixty are free, otherwise the advance prices are RM142 for adults and RM95 for children. If you'd like to try the BASE CAMP option, the advance prices are RM192 for adults and RM128 for kids.
6. See the turtles at Penang Turtle Sanctuary
One of the best places to view the endangered sea turtles is at the Penang Turtle Sanctuary, located in the Penang National Park.
This small sanctuary offers visitors the chance to observe and understand the vitally important conservation work undertaken, in a smaller (perhaps less touristy) environment than at other sanctuaries.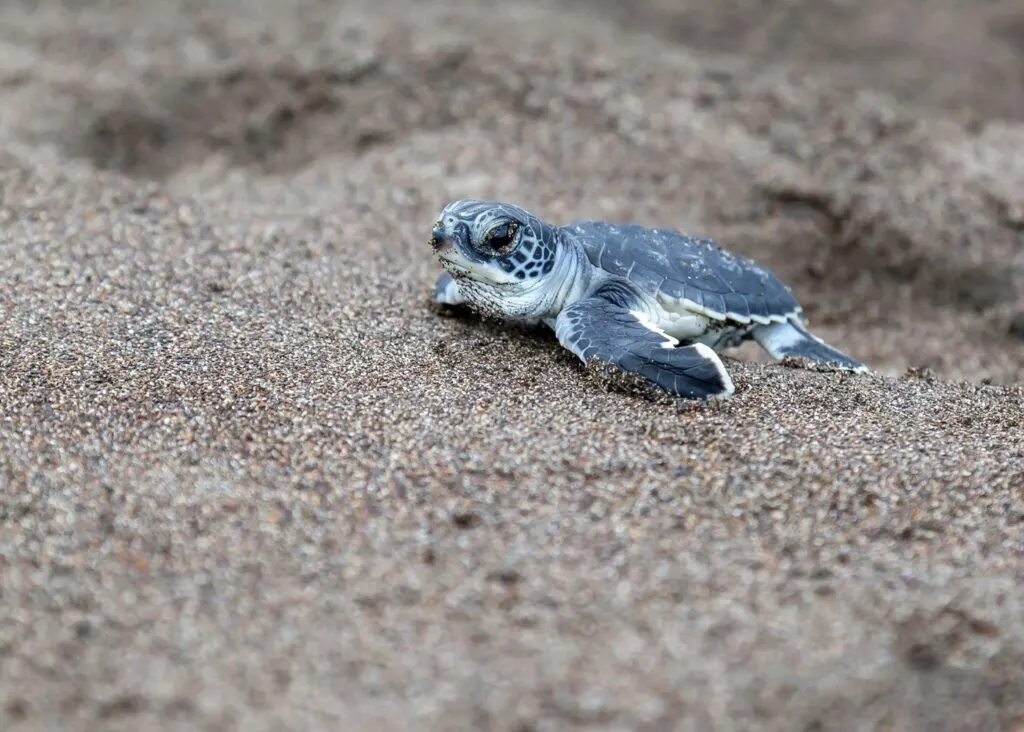 Located in Penang National Park, it's often combined with a visit to Monkey Beach.
Entry to the sanctuary is free but remember that you'll need to pay the national park fee.
Take the 101 bus from George Town to the national park entrance located here, or take a Grab taxi from the city (which is quicker and easier). Penang Turtle Sanctuary is open daily from 10:00am to 5:00pm.
If you are heading over to Borneo with kids, you will definitely want to check out the turtles on Selingan Island.
7. Learn about the history of the spice trade at The Tropical Spice Garden
If you've been enjoying the food in Penang, take some time to visit the Tropical Spice Garden to learn and sample some of the spices (and herbs) which are used to give your dish that incredible flavour.
Located a few hundred metres to the west of Batu Ferringhi, it's well-placed for a visit if you're staying at a resort, or heading towards Escape or Penang National Park.
With the opportunity to explore the gardens, take part in a cooking class, visit a museum, or an educational class for adults and kids, it makes for a great visit for the entire family.
Open daily from 9:00am to 4:30pm (until 6:00pm on Friday, Saturday and Sunday), the Spice Garden can be reached by Grab taxi or 101/102 Rapid Bus.
Tickets for adult/senior/child cost RM28/20/15 and can be booked via the website. A free audio tour is included in the price.
8. Let them run free at Penang Botanical Gardens
If the kids are in need of some open space to run around and explore for a few hours, take a trip out to the Penang Botanical Gardens, located twenty minutes to the northwest of central George Town.
Established in the 1880's, the Botanical Gardens showcase a wide variety of trees, plants and other flora, in a well laid-out and shaded park. There's also a few 'houses' containing spices and herbs, plus specific garden areas housing plants from across Penang, Malaysia and the rest of the world.
Perhaps the best part of the gardens are simply the open space, a great place for running around or enjoying a picnic under a tree.
Access is easiest via a Grab taxi.
9. Marvel Kek Lok Si Temple
Penang is well-known for its mix of cultures and religious buildings, and there are none more striking and beautiful than the Kek Lok Si Temple, often considered the most impressive Buddhist temples in Malaysia and even Southeast Asia.
Brace yourself when you first arrive, the initial glimpse of the temple is something you'll long remember. Aside from walking around and taking in the overall splendour, you'll see the famous Ten Thousand Buddhas Pagoda, the almost forty metre tall statue of Kuan Yin, as well as the peaceful prayer areas.
Remember, this is an important pilgrimage site for Buddhists from across Southeast Asia so it will often be busy, particularly around Chinese New Year, when the festivities are at their fullest.
Open each day between 8:30am and 5:30pm, entry to Kek Lok Si Temple is free although donations are welcomed.
Located in Air Itam, quite close to Penag Hill Funicular, the easiest access is to use a Grab taxi, although the 201 bus from central George Town can drop you one kilometre from the entrance if you fancy a walk.
10. Wander the Clan Jetties
Handily located a short walk from central George Town, the Clan Jetties offer a unique opportunity to see how the traditional Chinese communities live and work in Penang.
The wooden buildings built on stilts jut out into the water, still busy with activity as the local community goes about their day. Visit early in the morning when it's at its quietest; whilst many inhabitants now have jobs in the city, you'll see witness this fascinating traditional community come to life.
Later, leave time to stroll around, take photographs, do some shopping, visit temples, or enjoy a scrumptious meal at one of the many small, family-run restaurants.
Getting around Penang with kids
Penang Island covers a relatively small area, so you're never likely to be covering huge distances getting from A to B. The traffic is usually fairly manageable, with none of the gridlock you find in other Southeast Asian cities, the exception being a weekend evening around Batu Ferringhi when the traffic can grind to a halt.
We wouldn't recommend hiring a car if you're just staying on the island, the hire cost and parking charges won't make it worthwhile, and you can reach everywhere in a taxi.
Grab taxis are our preferred e-hailing company, providing an easy and cost-effective way to move around, without the worry of haggling over fares and language problems. Make sure you have the app installed before your first ride, we didn't need a local SIM when we first registered but some of the other e-hailing apps needed this (check this as soon as you arrive).
There is a useful and convenient 101 bus service on the island which links the Jetty Bus Terminal with the town of Teluk Bahang (close to Penang National Park and Escape), via central George Town and Batu Ferringhi.
The buses run from 5:30am until midnight and cost between RM1.40 and RM4; make sure you have cash on you, ideally the correct change.
There is also the 102 bus from the Airport to Teluk Bahang which follows a similar route and schedule.
The buses work well if the place you're heading to is right next to the route (e.g. Penang National Park), but keep in mind that a Grab taxi will always be quicker and, if you're travelling as a family, the cost will be very similar.
Where to stay in Penang with kids
Where we stayed: Love Come Home @ Japan-European Style Homestay
The accommodation choice in Penang with kids tends to boil down to either city centre or by the beach. Both have their strengths and weaknesses for a family trip and remember that it's always possible to combine both during your visit.
The capital city of George Town is on the east coast of the island and is linked to the mainland via bridge and boat, so it's often the first place you'll see on Penang Island. It's stacked full of accommodation options and you'll always be able to find something to suit your budget and style.
It has a particularly good selection of boutique heritage style hotel but our favourite type are the modern apartment buildings which often have a panoramic view, rooftop pool, kitchen, washing machines and en-suite bathrooms. The quality is usually high and they're excellent value for money; the rooftop pool are a real winner with kids after a day's sightseeing and can help reduce your costs elsewhere as they're an activity in their own right.
The advantage of George Town accommodation is that you're right in the heart of what makes Penang special, with all the restaurants, heritage buildings and sightseeing on your doorstop. You'll save money on travelling into the city, but will spend more time reaching the activities elsewhere on the island, particularly Penang National Park in the north west of the island.
If you're less keen on being in the city, and fancy some beach time, then it's definitely worth staying in Batu Ferringhi on the north coast. Close to Penang National Park, this town overlooks the Straits of Malacca, providing idyllic views and relaxing days in the sun.
You'll find fairly large scale resorts here with some international brands represented (including Hilton and Shangri-La), offering the comforts and service you'd expect. Keep in mind that the water is home to jellyfish so the water isn't quite as perfect as it might look. Most resorts have multiple swimming pools, gyms, restaurants and bars meaning you'll have less reason to leave, although there are plenty of craft markets and local seafood restaurants close by, definitely worth a trip out for.
It's the reverse of George Town in terms of location, you'll have a short trip to Penang National Park but a longer (30 minutes) drive back to the city. If you have the time, it's a good option to spend a few nights in each place, so you get to experience both sides of Penang Island.
Final thoughts on visiting Penang with kids
We think Penang Island is one of the most beautiful places on earth and a great destination to visit with kids. The people are friendly and the island always feels safe, plus you're never short of places to eat or attractions to visit.
Neatly split into two main areas, families will love the ease and comfort of the resorts in Batu Ferringhi, especially as they provide easy access to the activities in the northwest of the island.
Try to spend some time in George Town as well, it's a magical place with a unique mix of cultures, religions and people. The kids will love trying all the different cuisines and the ever-changing architecture makes it feel like you're travelling between different countries, even though you've just crossed the street.
Finally, Escape Penang is a world-class water park and adventure area, well worth the money and sure to be a highlight of your trip to Penang.
---
You may also like to read:
Malaysia with kids travel guide
Borneo with kids travel guide
Visiting Kuala Lumpur with kids