This travel guide includes how to get to Monkey Beach Penang and what to do there
Penang National Park provides a beautiful contrast to the colonial city of George Town on the other side of Penang Island. Tucked away in the northwest corner of the island, the national park is also home to Teluk Duyung (perhaps better known as Monkey Beach), a golden arc of sand backed by tropical rainforest.
This is a great spot to spend a day, with the option to sunbathe, hike, snorkel, swim or kayak. Take the opportunity to jump aboard one of the wooden boats which zip between the park entrance and Monkey Beach, dropping you off in style at the water's edge.
Keep an eye out for monkeys, although they'll probably find you and your belongings first.
A visit to Monkey Beach is one of our top things to do in Penang with kids.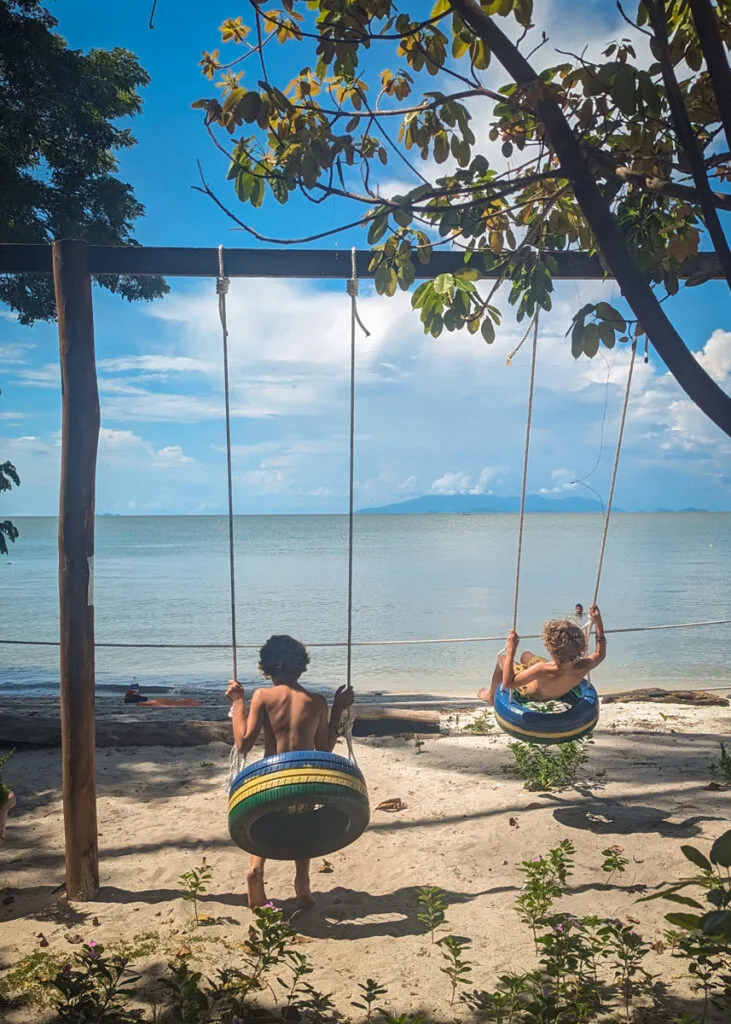 How to get to Monkey Beach Penang
Whether you're coming from George Town or Batu Ferringhi, the fastest and most convenient option is to take a Grab taxi, although prepare yourself for a longer wait on the return journey for a Grab to arrive, especially if it's a weekend. It should take around 45 minutes, depending on traffic, which can be very bad on a weekend heading back into town.
Alternatively, you can take bus number 101 from several locations around George Town (including the Jetty) and it also passes through Batu Ferringhi. It'll take about one hour, potentially a lot longer on busy days,
Once you reach the park entrance, you'll find several stalls selling boat tours which also double up as mini-supermarkets and restaurants. The prices are fairly fixed-price but there might be some room for negotiation depending on the time of year and your haggling skills.
It's possible to either walk to Monkey Beach and back, or a combination of the boat one way, and walking the other. A single boat ride should cost around RM70 but keep in mind that if you walk, you'll need to pay the national park fee (there is no fee if you only take the boat).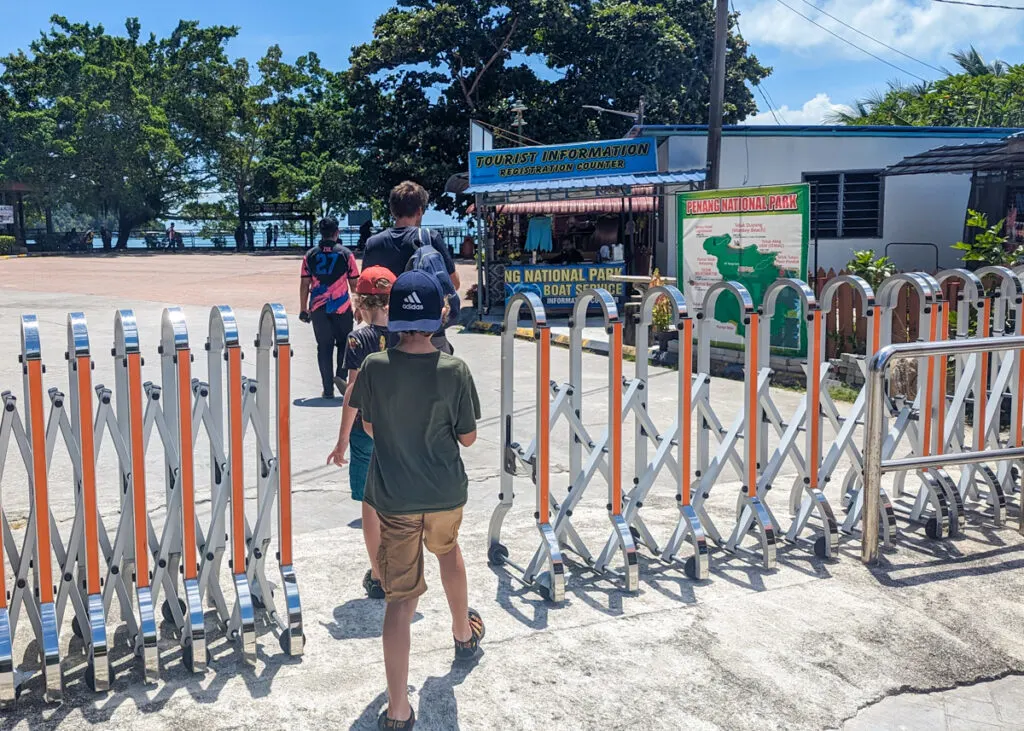 The National Park fee is payable at the kiosk just past the entrance where you'll also be asked to register your details and let them know if you're planning to camp. The entrance fees for international/Malaysians are:
Adults (RM50/10)
Children aged 3-12 (RM15/5)
Under 3 are free
Students (RM20/5)
It's about a 3km walk from the entrance to Monkey Beach but it can get hot and humid so make sure you take plenty of water and leave yourself enough time to either get there or back.
How much is the boat to Monkey Beach?
The boat to Monkey Beach costs RM100 return, or RM70 one-way. These prices are per boat, not per passenger, so you might be able reduce the costs if you hook up with fellow travellers before purchasing your tickets, but the boat operators won't encourage or facilitate this.
You can fit 10-ish people into each boat and you'll be given the driver's WhatsApp number to arrange pickup when you're ready.
What are the opening hours of Penang National Park?
Penang National Park is open year-round from 8am to 5pm although the park headquarters close for an hour or so at lunchtime. Try to time your arrival in the morning to get the most out of your day.
Things to do at Monkey Beach Penang
For a relatively small area, Monkey Beach manages to pack in a lot of activities, with the ever-appealing option of simply lying on the beach under the sun always available.
Kayak rather than swim
The water might look idyllic from a distance, but once you dip your feet in you'll soon realise it's by no means crystal-clear. Combined with the ever-present threat of a jellyfish floating past, we didn't really fancy much of a swim and instead hired a kayak to experience the water.
Kayaks can be hired at a couple of locations along the beach but we decided on Tiger Monkey Bar and Leisure, a super-chilled beach bar and camping area set right on the beach. Kayaks cost RM30 for one hour, can accommodate three people, and lifejackets are provided.
The water was relatively calm and peaceful when we were there, so it was a relaxing way to spend an hour and we even let the boys go out on their own, testing their teamwork and our nerves. They had a fun time and managed to return the kayaks to the beach in safety. We did spot quite a few large jellyfish which rather justified our plan to avoid a swim. Such a shame as the water did look more appealing away from the shoreline.
Walk up to the lighthouse
We didn't want a completely beach-based day and were keen to take on the hike to Muka Head Lighthouse which we'd been assured afforded amazing view across the Straits of Malacca.
The path starts from the western edge of the beach, you'll quite easily spot it or otherwise ask one of the locals for guidance. From there, it's easy to follow the route as there are no deviations off the main track and occasional signposts appear along the way, charting the distance to the top.
It's quite steep in places and was a challenge in the hot, tropical sun. Remember to take plenty of water and some snacks, these can be picked up from the same place you hired the kayaks.
After about an hour, you'll reach the summit and the lighthouse comes into view. It's quite a strange arrival, the lighthouse has a very abandoned feel and technically should have been closed according to the opening times attached to a rusty, broken gate. We went through anyway, signed the visitors book and headed up the steps.
You're asked to remove shoes which seems a bit incongruous considering the derelict state of the site but watch out for broken glass and stones if you follow the rules. Once at the top, it truly is an incredible view, giving you the full panoramic view of the Straits and the rest of the island. In some ways the graffiti covered walls and broken tiles give it quite an atmospheric feeling and all the more memorable.
The walk back is straightforward, following the same track until you re-emerge onto Monkey Beach.
Sip a drink and watch the monkeys
The monkeys were an occasional companion during our visit to Monkey Beach and it was fun to have a drink and watch them go about their daily activities. Back at Tiger Monkey Bar and Leisure, you can buy beers, soft drinks, and snacks from the shop and either enjoy them in the restaurant, or take them to the beach and look out to sea.
Keep a tight hold of your stuff and drinks though as the monkeys will share them with you, whether you offer or not.
Is there accommodation at Monkey Beach Penang?
You can camp at Monkey Beach Penang, the best place is (again) Tiger Monkey Bar and Leisure who have pitches available and also rent some basic gear.
Camping must be booked in advance and arranged via the park headquarters, where fees are also paid. The cost is RM15 per person and this includes access to basic facilities (cold shower, toilet, etc). Remember to bring your mosquito spray too.
Final thoughts on Monkey Beach Penang
Monkey Beach Penang is a brilliant place to visit for the day, especially if your only experience of Penang so far is George Town. It's a well organised place and didn't feel too overrun with visitors, even though it was a weekend.
Don't expect too much from the sea in terms of swimming opportunities; whilst it's a long way from being the worst water we've ever swam in, the combination of murky-ness and jellyfish will probably mean you limit your water time to the kayaks, which are cheap to rent and let you enjoy the water away from the jellyfish.
The walk up to the lighthouse is an enjoyable challenge, ideally with the promise of a cold drink waiting for you at the end before you board the boat back home. Just make sure you check the monkeys haven't borrowed your phone though!
---
You may also like to read:
Things to do in Penang with kids
Things to do in Kuala Lumpur with kids
Malaysia with kids travel guide