There's always a lot of forward planning that goes into our big, long-term trips, and those last couple of weeks can always be rather stressful with sorting the house out, tying up lose ends with work, catching up with friends, and generally preparing to put our UK life on hold for a few months.
Over the years, I've found ways to reduce stress on those couple of days before we fly and my number one tip is to book an airport hotel the night before you fly. This eliminates any stress with delays in getting to the airport (whether it be motorway hold ups, cancelled trains, or taxis that don't show up) and means you start your epic trip a day early!
Disclaimer: This post contains affiliate links. If you click to purchase, it is at no additional cost to you, and I receive a small commission.
From our front door in the Peak District to get to the airport, we either have to get a 20 minute taxi to Grindleford Station and then two trains to the airport, or take a bus to Buxton and then another bus to the airport. Driving isn't an option when we leave for months at a time. Public transport in the UK doesn't have the best reputation, and delays and cancellations are common.
So for our 10 weeks in Southeast Asia, even though our flight didn't leave Manchester airport until 14:15, we booked into the Holiday Inn at Manchester Airport T2. Booked through booking.com, the price for one night on a Saturday in May (2023) was £145 for a family room, with breakfast included.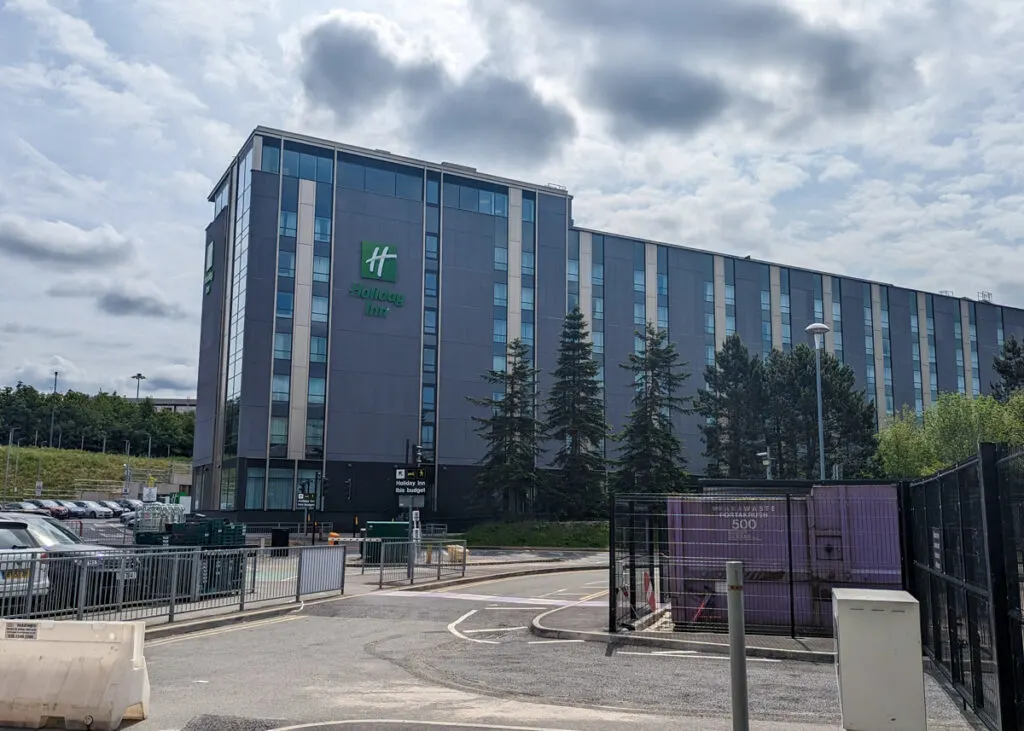 Arriving to Holiday Inn Manchester Airport T2
We arrived by bus from Buxton to Manchester Airport T2. It was then a circuitous 10 minute walk, following the signs, to Holiday Inn Manchester Airport.
Staff were friendly and efficient getting us checked in at the 24hour reception, but I couldn't help think that for a recently opened airport there should be online check-in kiosks as a queue formed behind us.
It was rather busy. Maybe because it was a bank holiday weekend and the May half term holidays?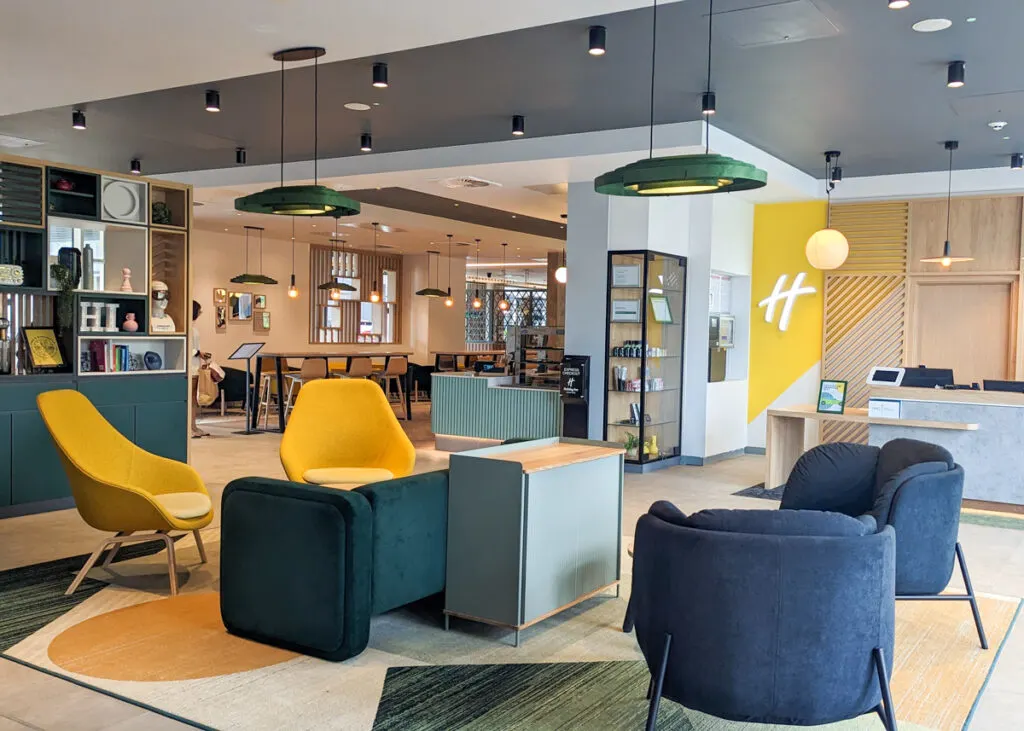 Our family room
We had booked a 'Queen Room with Sofa Bed'. So the boys shared the made up sofa bed, and Jay and I took the queen bed.
The room was fresh and modern, with large window on two sides (we had a corner room) overlooking Terminal 2. Lots of sockets are provided for charging devices, a large TV with lots of channel choices, and a desk at the window to work. There are also tea- and instant coffee-making facilities and essential blackout curtains.
WIFI is free and fast.
The bathroom is compact and modern, and the powerful, hot shower will be welcomed by weary travellers. There was no bath.
Dining at Holiday Inn Manchester Airport T2
There are no restaurants or shops around the hotel, so you are limited to either eating at the hotel or ordering a takeaway delivery.
The main restaurant at Holiday Inn Manchester Airport T2 is Firin, which offers Turkish casual dining. If you are after classic UK dishes, you can select from the Open Lobby Menu. Kids under 12 eat free with an adult.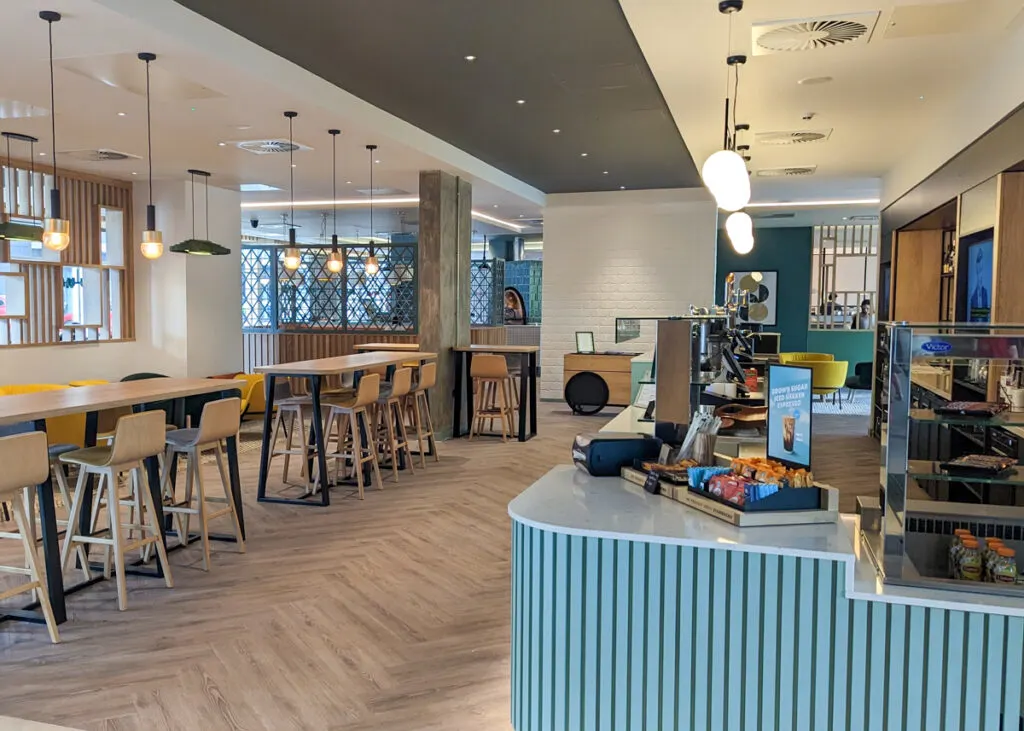 However, we found the dining and lobby area to be too busy with extremely long queues, and with two pizza-loving boys, we decided to get a Dominoes delivery. This is quite a treat for us as we can't get a takeaways delivered where we live in the Peak District. I also checked with staff if we were allowed to order from restaurants outside of the hotel, and they were absolutely fine with this.
As buffet breakfast was included in our booking, we did dine in the restaurant the following morning. There's the usual English cooked breakfast spread, cereals, juices, hot drinks, fruit and fresh breads. Again, this was rather busy and staff were rushed off their feet (but always polite) as they kept the buffet topped up.
Getting to Manchester airport from the Holiday Inn
There are three terminals at Manchester airport. Terminal 2 is immediately opposite the hotel.
To get to Terminals 1 and 3, you need to walk to Terminal 2 and then follow the Sky Link, which is an overhead walkway connecting the terminals. Allow for up to 15 minutes to walk to the other terminals. There are moving walkways to speed you along slightly, but they rarely work.
Final thoughts on Holiday Inn Manchester Airport T2
For an easy start to a big trip, an airport hotel alleviates any stress, especially if you need to rely on public transport. It's the perfect decompression. Holiday Inn Manchester Airport T2 is convenient for Terminal 2 especially, with fresh and modern rooms, and a great breakfast spread.
However, if you're looking to enjoy a drink and a meal to kick off your travels, then be warned that it can be exceptionally busy (although this may have been because our stay coincided with the late May bank holiday weekend).
---
You may also like to read:
Looking for a Luton airport hotel with free parking?
Meet and Greet at Manchester Airport with APH Parking
Radisson Hotel & Conference Centre London Heathrow REVIEWED: taking a breather before the next chapter