Are you planning a trip to LEGOLAND Malaysia? Then read on for our ultimate LEGOLAND Malaysia tips to get the most out of your visit.
During a visit to Legoland Malaysia, you're sure to hear their theme tune multiple times throughout the day. 'Everything is Awesome' plays on loop around the park, soon getting stuck in your head but is it also a fair description of the park itself?
Conveniently located near Singapore and Johor Bahru, Legoland Malaysia is actually three parks in one, hosting a Theme Park, Water Park, and SEA LIFE aquarium. Predominately aimed at younger children, the theme park is a fun experience for the whole family and, on hotter days, the water park is a welcome option if you fancy cooling down.
With so much to see and do, it pays to be prepared in advance and know what to expect. Check out these Legoland Malaysia tips which we've put together to get the most out of your visit to Legoland Malaysia.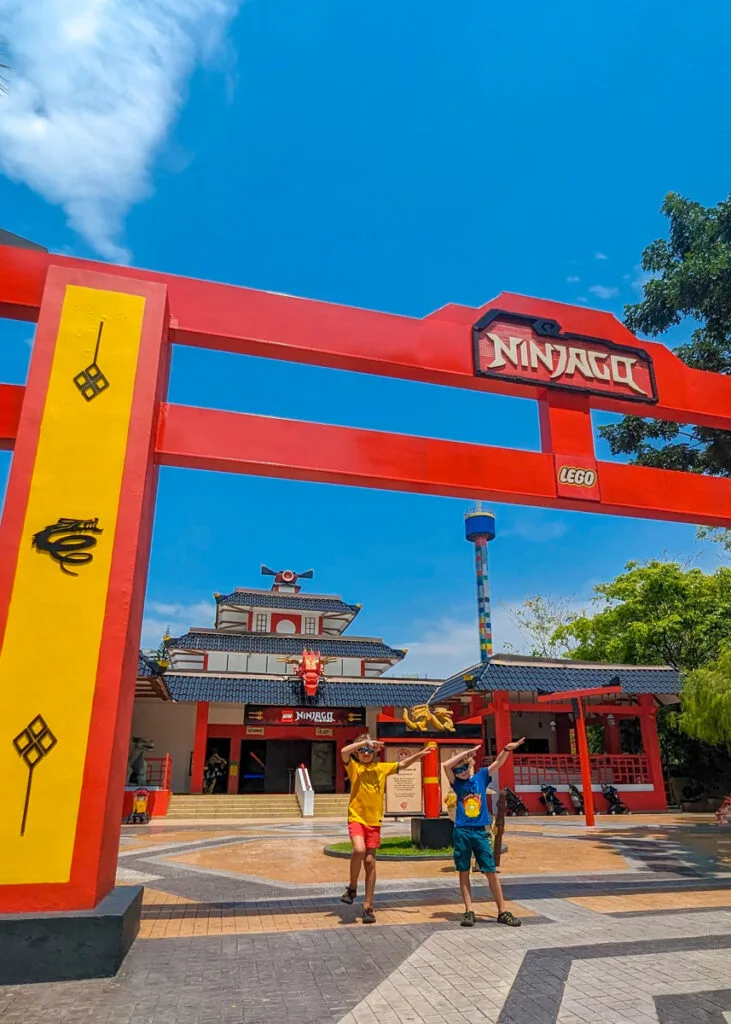 1. Stay in Legoland Hotel to maximise your time
Whilst not the cheapest accommodation option in the surrounding area, a stay in the Legoland Hotel Malaysia is not to be missed, especially if you have a Lego-fanatic in your family. From the moment you arrive, you're thrust into the world of Lego with themed-rooms, Lego bricks to play with, kid-friendly dining, all with easy access to the park before and after your visit.
It's quite expensive, prices from RM850 per night for a family room including breakfast, but as a one-off splurge, it ticks a lot of boxes.
2. Check for park closures
Each of the three areas of the park close on various days each month for maintenance. Make sure you check in advance on the Legoland website before booking your stay. If one of the parks is closed, it'll have a knock-on effect, making the others busier.
3. Try to visit outside of weekends and school holidays
There is a very large population within a 20km radius, so the parks do get super busy on weekends and public holidays.
Whilst there is always a steady flow of international visitors, if you visit on a weekday, you'll find the parks are substantially quieter, giving you more time on the rides. Do also note that local Malaysia school holidays don't align with European, US, or Australian school holidays, as well as those of Malaysian international schools.
4. Make sure you measure up
One of the most annoying factors when visiting theme parks with younger children are the height restrictions in place for different rides. There can't be many more sad sights than a small child being told they can't go on a ride, whilst their older siblings skip ahead to join the queue.
The Legoland website has a handy page which lets you enter your child's height to see which rides they can and can't access. It's a good idea to do this both before booking (in case they're too short to make the visit worthwhile), and then on the day of your visit so you can set expectations and plan ahead.
The Theme Park and Water Park are aimed at younger visitors so the height restrictions aren't quite as strict as some other theme parks around the world. In general, once they're above 105cm, most of the rides at the park will be fine, though they may need an adult to accompany them until they reach 120cm.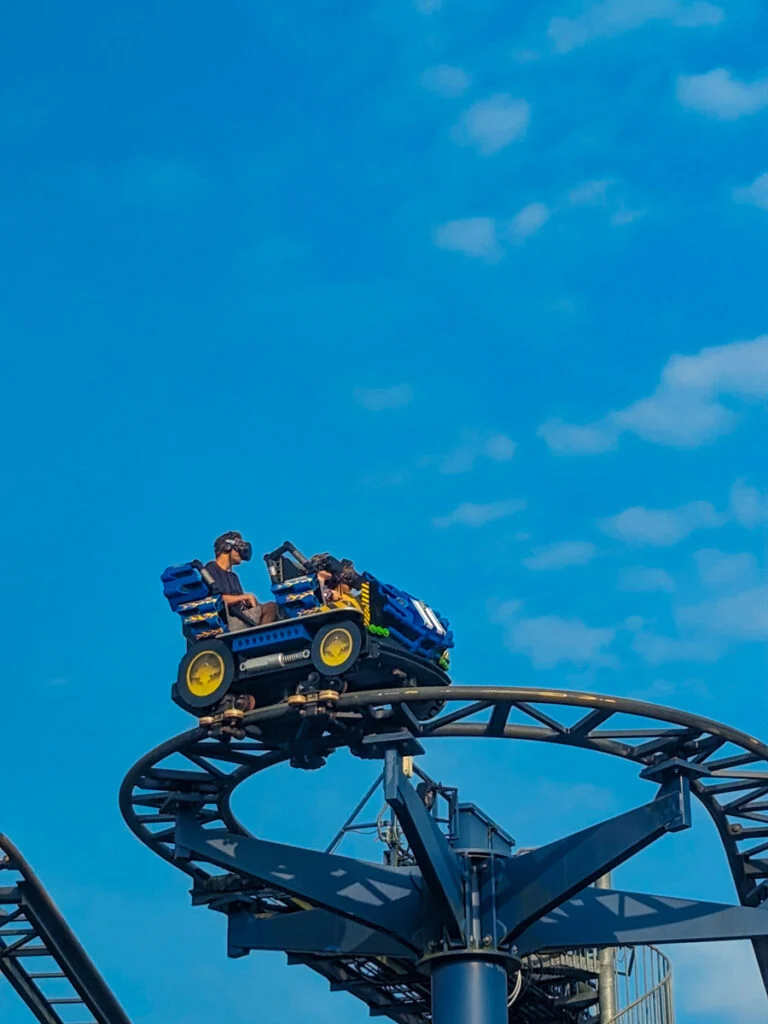 5. Plan in advance
At the Theme Park in particular, it's a good idea to download the map from the website and see which rides you want to head towards first. As with all theme parks, the rides closest to the entrance get busier early in the day so try to venture further into the park when you first arrive.
During our visit to the Theme Park, the Great Lego Race and Dragon were very popular but were quietest in the morning. Although do keep in mind that some rides don't open straightaway, they seem to need extra maintenance or checks before opening.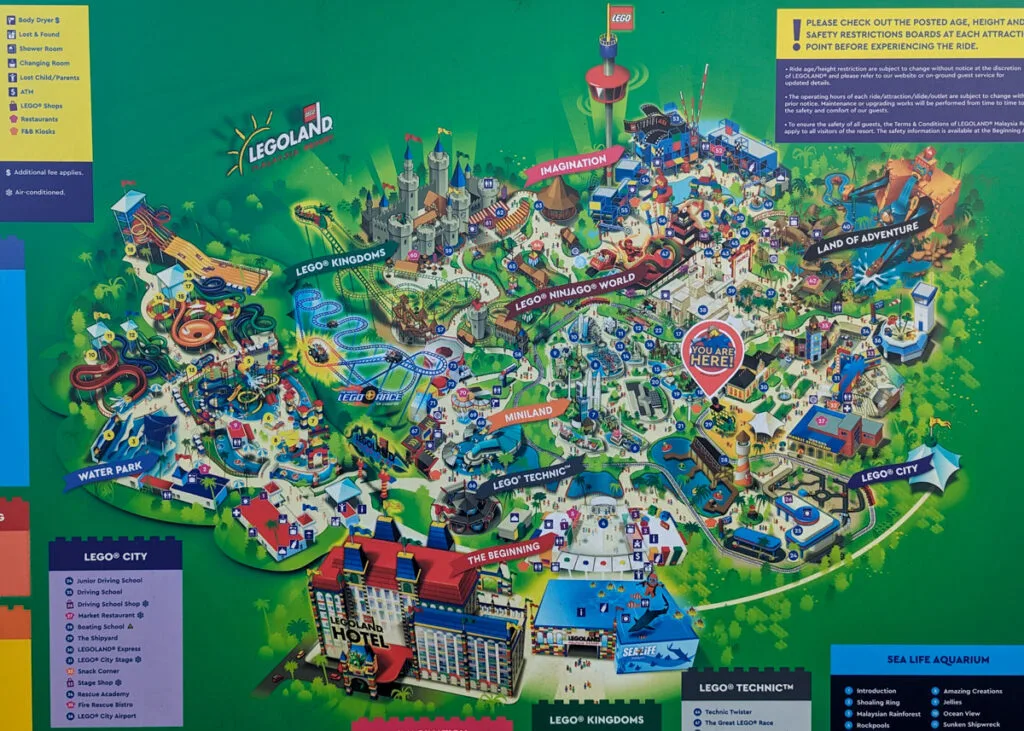 At the Water Park, the queues tend to be more evenly distributed. SEA LIFE doesn't have any specific rides as such, so there is less need to plan in advance.
6. Book activities ahead
There are a couple of attractions at the Theme Park which need to be booked when you arrive including Lego Mindstorms (a cool indoor coding experience where kids get the chance to program Lego vehicles to move around a track). During our visit, numbers were quite low so booking wasn't strictly required, but it pays to pop in and get your name down in any case, that way they'll know you're interested and you can just turn up five minutes before your slot.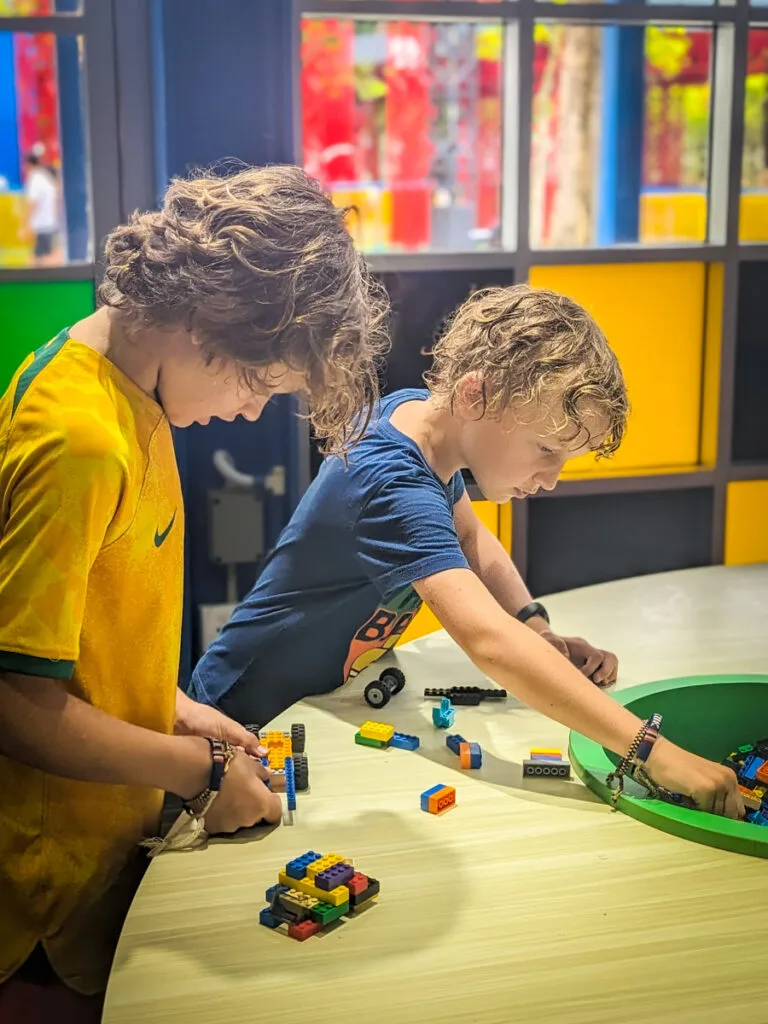 Unlike at other Legolands we've visited (such as Windsor and Billund), the Driving School wasn't pre-bookable, instead you just turn up and queue.
7. Don't get too excited about your dining options
There are several restaurants in both the Theme and Water Parks, all of the same (quite limited) quality. Don't expect the best dining experience but the food is reasonably filling with a relatively decent selection (but not for vegetarians or vegans).
For some reason, the menus are hidden from view until you get quite close to the ordering station, which makes it difficult to decide in advance and adds to the queues. If you're a fan of burgers and pizzas it's fine, otherwise some compromise is needed.
There are supermarkets and restaurants opposite the park in the Mall of Medini which are useful for grabbing some supplies before or after your visit. The choice is better and the prices more reasonable. Note that you can't re-enter the park with a Day ticket, so popping out for food and then re-entering the park isn't possible.
8. Book tickets in advance
Tickets (both day and annual passes) can be bought in advance on the Legoland website; if you're planning to visit more than once in a year, the annual passes work out at better value. As with everywhere in Malaysia, international visitors will pay substantially more than locals.
Once the ticket has been purchased, you can show it on your mobile phone (or a printout) at the entrance gate, saving you any further queuing.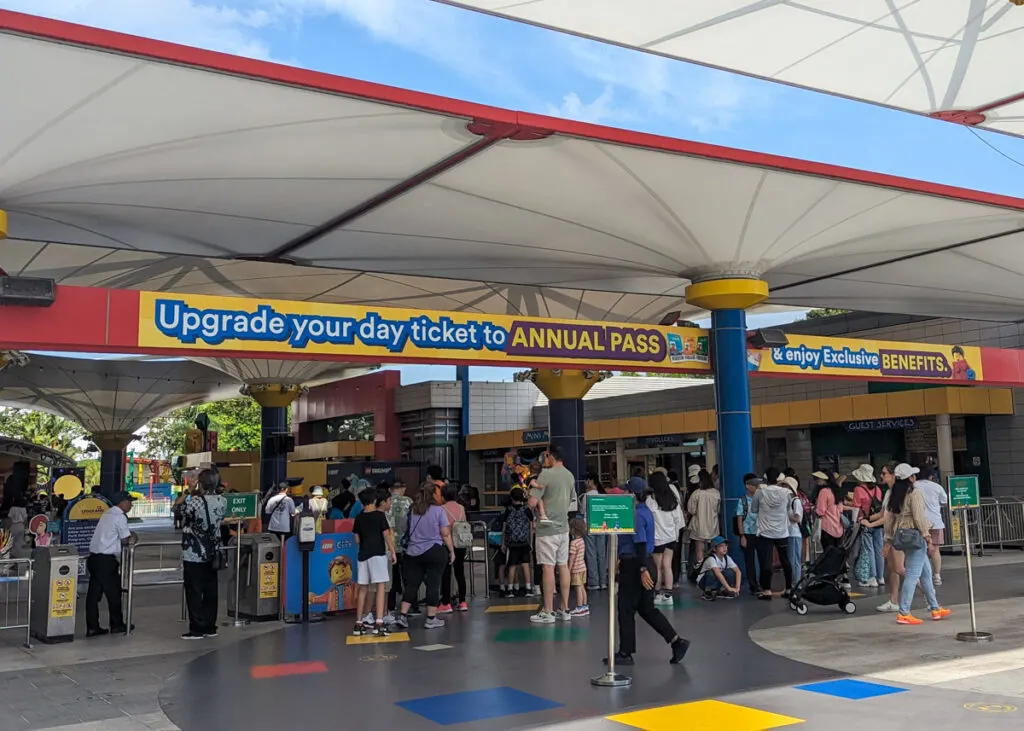 Tickets can be bought as single, double or triples park passes (e.g. you can visit either one, both, or all of Theme Park, Water Park, and SEA LIFE aquarium).
Check the Legoland website for current prices.
9. Don't try to do too much
If you wanted to, you could buy a one-day pass to cover access to all three parks, but this would probably be too tiring. If you have the time (ideally combined with a hotel stay), try to only visit one park per day. You might be able to combine SEA LIFE with one other park if you are short of time, but trying to do the Theme Park and Water Park in one day would be too much.
It's better to take your time, especially as the parks get quieter towards the end of the day, and you'll have time then to skip the queues and get more rides in.
10. Forget fast-track
Unlike many other theme parks around the world, Legoland Malaysia doesn't offer any sort of Fast-Track ticketing system. We actually preferred this as it kept the cost down, and there weren't any occasions where we lost our place at the front of the queue.
Visitor numbers were quite low during our visit anyway, so it wouldn't have made much difference to us; queuing may be more of an issue on busier days.
11. Save some time and money for the shops
You don't quite exit via the gift shop at Legoland Malaysia, but there is still a huge Lego store near the exit, drawing in visitors for one final purchase. The selection is vast, with surprisingly reasonable prices. There are also some items on offer which are unique to Legoland Malaysia, so it's definitely worth a visit.
The shop does close quite soon (30 minutes) after the rides close so don't leave it too late. We were politely ushered towards the exit during our visit, fulfilling our usual objective of being one of the last guests to leave a theme park.
12. Check out Miniland
Don't fall into the trap of thinking all Minilands (where landmarks and cities are replicated with LEGO bricks) are the same. In fact, Minilands are different at LEGOLANDs across the world. Billund's Miniland is very different to Dubai's Miniland, and this is also the case with LEGOLAND Malaysia.
There is very much an Asian theme to LEGOLAND Malaysia, and we loved spotting all the famous landmarks we'd visited on our Southeast Asia trip.
How cool does Angkor Wat look in LEGO? Visiting Angkor Wat was an absolute highlight of our time in Cambodia with kids.
Final thoughts on LEGOLAND Malaysia
Legoland Malaysia is a brilliant theme park complex, especially when you realise it contains three parks in one.
The target audience is fairly young, perhaps kids over the age of 10 or 11 might find the rides slightly too tame, although the larger slides at the Water Park are lots of fun for all ages.
We had a really fun visit, the Lego theming throughout is perfect and you feel fully immersed in the Lego world. There were enough rides to keep us there until the park began to close; the Virtual 3D Great Lego Race was a complete highlight and one of the best rides we've ever been on.
Staying in the LEGOLAND Malaysia hotel before and afterwards is highly recommended, it's great to be able to walk back to your room after a long day and not worry about the long journey home.
You'll be humming the theme tune for days to come but it is true: at Legoland Malaysia, everything really is awesome!
---
You may also like to read:
Visiting Melaka with kids
LEGOLAND Hotel Malaysia: REVIEW
Southeast Asia packing list for families