Rightly famous across Malaysia and beyond for its stunning heritage buildings, Melaka (formally known as Malacca) features on many travel itineraries. Whilst there is no doubt the architecture and ambience are not to be missed, how does this translate into a family travel destination, especially for those travelling with younger kids? Read on for our honest reviews and recommendation for visiting Melaka with kids.
In this guide we'll take you through the highs and lows of the city, what to expect and what to avoid. There's no doubt Melaka is a fantastic destination, but there are also some challenging aspects mostly relating to over-crowding and over-tourism. Don't let this deter you, with a little planning, you'll find out why this city draws in so many visitors.
Disclaimer: This post contains affiliate links. If you click to purchase, it is at no additional cost to you, and I receive a small commission.
Things to do in Melaka with kids
Being a tourist town, there are so many things to do in Melaka with kids. Here are our top picks.
1. Jonker Street Night Market
If you're visiting over the weekend, Jonker Street is the place to head for hundreds of small market stalls. It's particularly good for small trinkets and souvenirs. However, prepare yourself for crowds, particularly around sunset when seemingly everyone in town is trying to squeeze along the narrow road.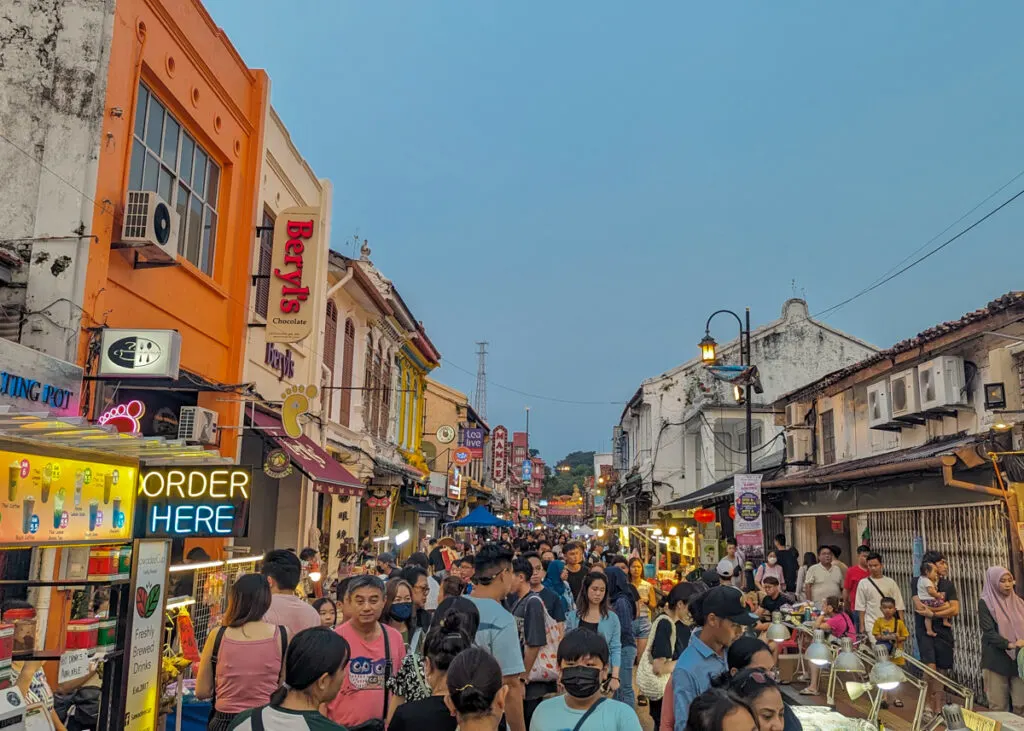 At this time, you're here for the experience rather than shopping as it's very difficult to stop and browse. Treat it like a set of river rapids; wait for a gap, jump in, and escape to a side alley when you need a breather. Smaller kids might find it intimidating surrounded by so many bodies and adults could feel the same. Perhaps try to visit at a quieter time if possible.
It's lots of fun though and you're sure to find something of interest at one of the stalls. You can also pick up tasty street food and drinks along the way to refuel, and it's centrally located to all the other main tourist sights.
2. Maritime Museum
You'll spot the large replica Portuguese ship a few times as you walk around Melaka. This is the centrepiece of the Maritime Museum, a quirky museum right in the centre of town. Tickets bought here also cover the Royal Malaysian Navy Museum next door.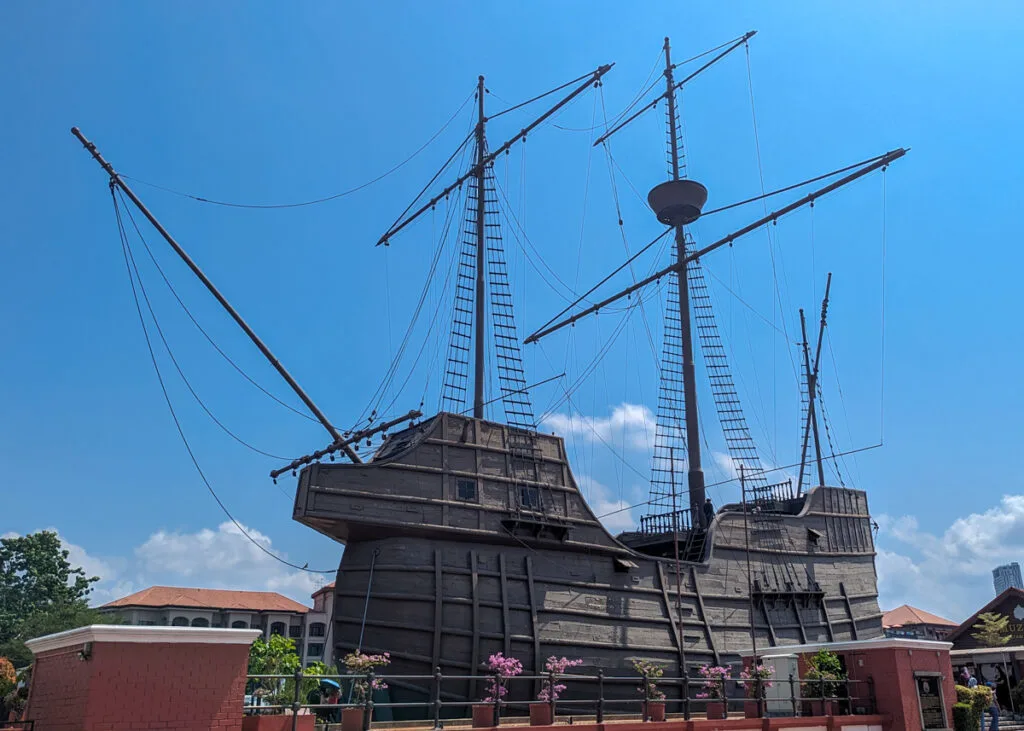 Perhaps the most impressive part of the museum is the exterior, a full-size replica of a ship which sank off the coast of Melaka. Once inside, you'll find some interesting displays but it's quite an 'old-school' style museum with lots of text to read and no buttons to press or interactive displays for kids to play with. The air-conditioning is very welcome on hot days though.
3. Dutch Square and St Paul's Church
The red centre of Melaka, Dutch Square, is rightly famous for its unique architecture and history. It's likely you'll already know what to expect, the red walled buildings have graced many an Instagram shot. As with other sights in Melaka, try to visit at a quieter time (e.g. not a Saturday evening), otherwise you'll be vying with other tourists to get your photo.
The striking Christ Church and Stadthuys (dating from 1650) are the big-ticket items, but the rest of the square has a beautiful ambience too. It's a good place to just wander around and soak up the atmosphere; the buildings here are some of the best examples of colonial architecture in the whole region. Christ Church is free to enter and look around, the calming quiet of the white walled building can be quite a nice retreat from the heat and noise outside.
If you continue along the road from the square, you'll see some steps leading up to St Pauls Church, part of the A Famosa ruins complex. It's only a short climb up the stairs to reach the ruins of the church, built in the 16th century. It's another relaxing place to wander around, especially if you can find some shade amongst the fallen walls, although there isn't a huge amount else to do here. Despite some trees encroaching, there are impressive sweeping views of the ocean and it's easy to imagine a time when this building was the main landmark for approaching sailors.
4. River cruise
As with all cities which grew up with river trade, a cruise on the water is a great way to see the sights, especially in a country like Malaysia where daytime activities with kids need to avoid the midday sun. The river cruises run throughout the day and evening, you'll find several booths around the city centre and most seemed to be charging the same fare.
Ours took about 40 minutes and drifted northwards past the beautiful riverside buildings displaying funky street art which line the water. It was also a useful chance to get our bearings and find some places for food later on. You can see how the city grew outwards and there are lots of quirky things to see as you go past the various parts of the city.
There was a pre-recorded commentary playing over a speaker but it was almost impossible to hear anything. On the brief times we heard it though, it seemed quite generic and not like we were missing out on much. Some other cruises may include a live commentary which would have been better.
5. Ride a trishaw
You'll hear them before you see them (which is quite a feat considering how brightly they're lit up). The trishaws in Melaka divide opinion and we were initially dismissive of them, considering how loud they were it didn't quite seem appropriate in this historic city. But Melaka has many faces now and we eventually realised it was part of the weekend experience so joined the party with two trishaws (MYR25 each).
It's advertised as a 15 minute tour but it was more like 5 minutes out and 5 minutes back which was arguably enough time anyway. It was easy to judge the length of time because you're allowed to choose the music via the drivers mobile phone. One and a half songs were about all we got but it was still fun to hear your song choice blasting out over Melaka.
Lots of fun but (for everyone's sake), once is probably enough!
6. Taming Sari Tower
Rising above the city like a giant needle, the Taming Sari Tower glides 80 metres into the sky before performing several rotations at the summit. It's actually a really fun activity, if a little on the quick side (7 minutes).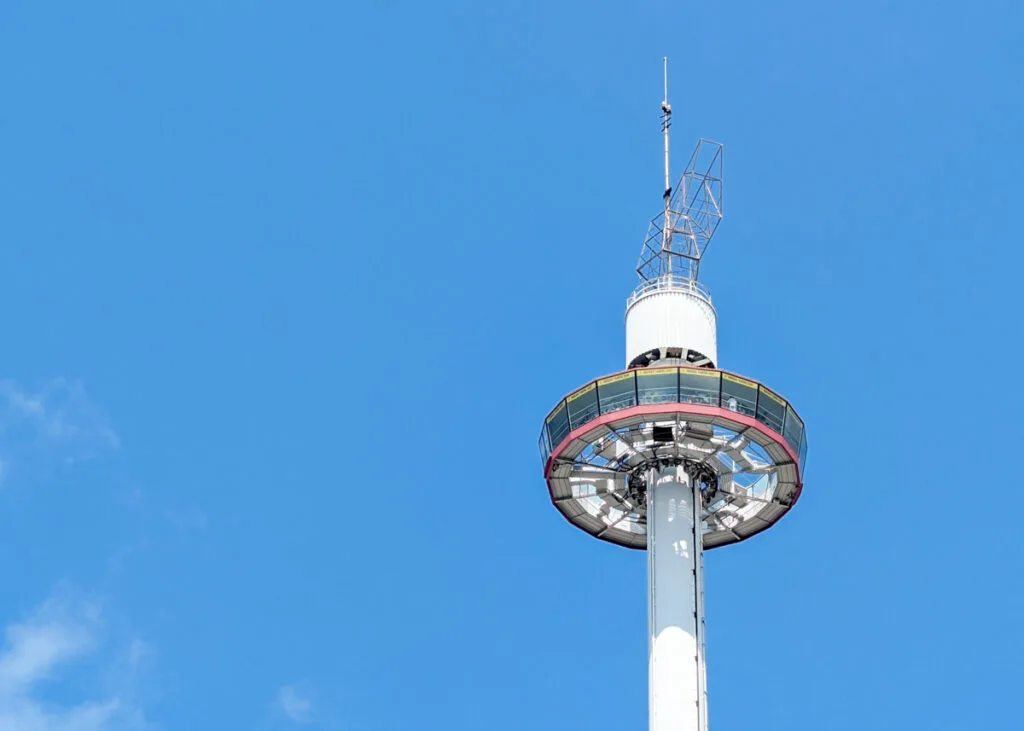 If you catch it on a clear day, you get to see all of the main sights in Melaka plus sweeping views over the Straits. We really liked seeing the rooftops below, looking more like Florence than Malaysia. The different perspective was something you missed at ground level of course.
A free bottle of water is included with your ticket price and there's usually not much of a queue unless you visit at sunset when the tour groups converge.
7. Upsidedown House Melaka
Everyone comes to Melaka for the historic sights and, whilst they're incredible, there comes a time when travelling with kids that you all need a change of pace. How about visiting the Upsidedown House in Melaka and let your kids (and your camera) take a different focus?
Each of the rooms is (you guessed it) upside down so it's a weird and fun place to visit, especially whilst the novelty holds. It really comes to life when you've taken the first photo and shown the kids what it looks like flipped round. Before long, you'll all be experts at striking the right pose and looking like you're levitating. The aircon makes it a perfect place to take a break for an hour or two.
8. Illusion 3D Art Museum
Very similar idea and vibe to the Upsidedown Museum, the Illusion 3D Art Museum is a place to escape the heat and let everyone's imagination run wild. Try out lots of different camera angles and prepare to be amazed by what you see.
9. Malacca Wonderland Water Park
Sometimes you just need a water park! Hot crowded days sightseeing are brilliant but the kids (and you) will need a day to cool down and burn off some energy.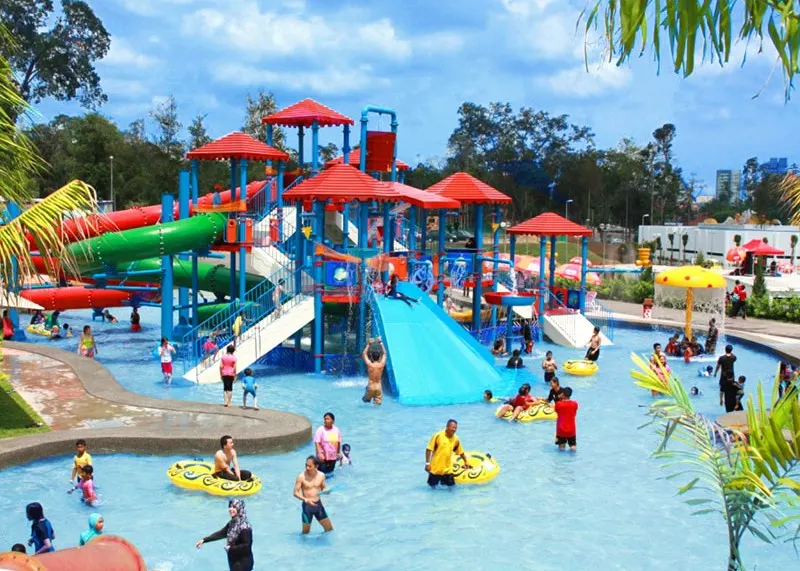 Getting to and from Melaka
Melaka is handily situated between Kuala Lumpur and Singapore and makes a great day trip or stopover. If you have your own vehicle, the excellent toll roads make the approach straightforward but it's not recommended to drive in the city centre with all the crowds and trishaws vying for space. Try to leave your car on the outskirts and take a bus/taxi in to the centre.
The bus network is excellent in Malaysia and Melaka is served by multiple companies. Most drop off at the central bus station (Melaka Sentral) but some have locations elsewhere (e.g. Hatten Hotel). The main bus station is well organised with shops, restaurants, left luggage, and onward connections available.
You can buy tickets at automated ticket machines but there were long queues when we passed through so try to book online if possible. There are separate windows to collect pre-booked tickets and we were charged a 0.30 RM fee to print them out. You'll need your ticket (with QR code) to get through the gates and gain access to the platforms.
Where we stayed in Melaka with kids
There is a huge array of accommodation options in Melaka, ranging from the smallest homestays right up to international hotel chains with rooftop pools. We wanted to stay close to the centre and not spend too much so we opted for 3 Little Birds.
The location was really good; at first we were concerned it was a long walk to the centre but soon realised this was a plus point on a Saturday night as we avoided too much noise. There were also restaurants and shops right outside and a in-house kitchen, which was handy.
The accommodation itself was typical of a few homestays we've stayed at in Southeast Asia which blurred the line somewhat between quirky opportunity to stay in someone's home and 'but you're still providing a service, right?'. The owner is very chilled out but this did extend to a slightly unclean building and service (we were locked out on the last night and had to wait 30 minutes for someone to let us in). If you know what to expect, it's fine, and the price (£21pn) was excellent.
If you're in need of accommodation with a pool (perhaps something we should have done!), then these accommodation are good options for visiting Melaka with kids:
Atlantis Melaka – a two-bed apartment with a kid-focused pool and communal games room.
Holiday Inn Melaka – clean and modern, with an epic sunset view from the swimming pool
Casa del Rio Melaka – splash out on this centrally located, 5* hotel on the Melaka River
We were happy to stay budget though, especially as we knew that we were next staying at LEGOLAND Hotel Malaysia, which of course meant a visit to the theme park at LEGOLAND Malaysia.
Final thoughts on visiting Melaka with kids
We enjoyed our time here, coming as it did right at the end of our 10 week trip around Southeast Asia. Melaka is a very cool place to visit with lots to see and do but we felt it landed slightly on the wrong side of busy for our family. We did visit on a weekend and chose to tick off all the tourist sights so that's to be expected but it wasn't the relaxed UNESCO heritage city we remembered or expected. George Town in Penang is a better option and misses some of the crowds.
There are lots of activities for kids to do but the main focus is heritage and colonial sightseeing. Combined with the biggest crowds we saw in 10 weeks, you'd need to decide if your family time might be better spent elsewhere. Certainly try to avoid the weekend if you don't like crowds, although we heard from other travellers that the pendulum swings too far on weekdays and the place closes down somewhat.
But, if you know what to expect and are passing through between KL and Singapore, or in need of a weekend getaway, it ticks a lot of boxes. Join the throng and have a great time!
---
You may also like to read:
Visiting Kota Kinabalu with kids
Borneo with kids travel guide
Kuala Lumpur with kids