What is a stay at LEGOLAND Hotel Malaysia really like? Here we share our honest opinions from our stay, including the room, the dining, and the overall vibe. Read on for our LEGOLAND Hotel Malaysia review.
If you've ever spent time at a theme park, especially with kids, and particularly on a hot day, you'll know it can be a tiring experience. Legoland Malaysia is a well-designed, engaging, and fun park for young kids but, after a full day, the last thing you feel like doing is getting into your car and driving home.
Legoland Hotel Malaysia sits alongside the theme park, a welcome sanctuary when the fun ends. It's not the cheapest place to stay near the theme park, but is by far the most convenient.
But is it worth the money, or will you instead wish you'd just jumped in a Grab and stayed elsewhere? Keep reading to our Legoland Hotel Malaysia review to find out.
To get the most out of your visit to the theme park, do check out our guide with top tips for LEGOLAND Malaysia.
Disclaimer: This post contains affiliate links. If you click to purchase, it is at no additional cost to you, and I receive a small commission.
Click here to check prices and availability for LEGOLAND Hotel Malaysia
Checking in to LEGOLAND Hotel Malaysia
It might sound obvious, but the first thing to strike you on arrival to Legoland Hotel Malaysia is that you're at a Lego Hotel. The adventure has already started and you're even not in the theme park yet!
For us, this was a huge plus-point, the kids scarpered off in different directions whilst we checked in, playing with Lego bricks, high-fiving Lego characters, and frantically browsing the gift shop.
The check-in process is smooth with only a small queue and plenty of friendly staff on hand. We were given a free upgrade due to overbooking which was a bonus, and also given some information on meal times and room-service options.
Once we had the key, the next cute touch were the lifts, decorated in Lego theming and with a loud rendition of 'Everything is Awesome' blasting out as we ascended. Our two boys were in their element and sang along; it was a fun start to our stay and a nice change to find a hotel which was so kid-centric.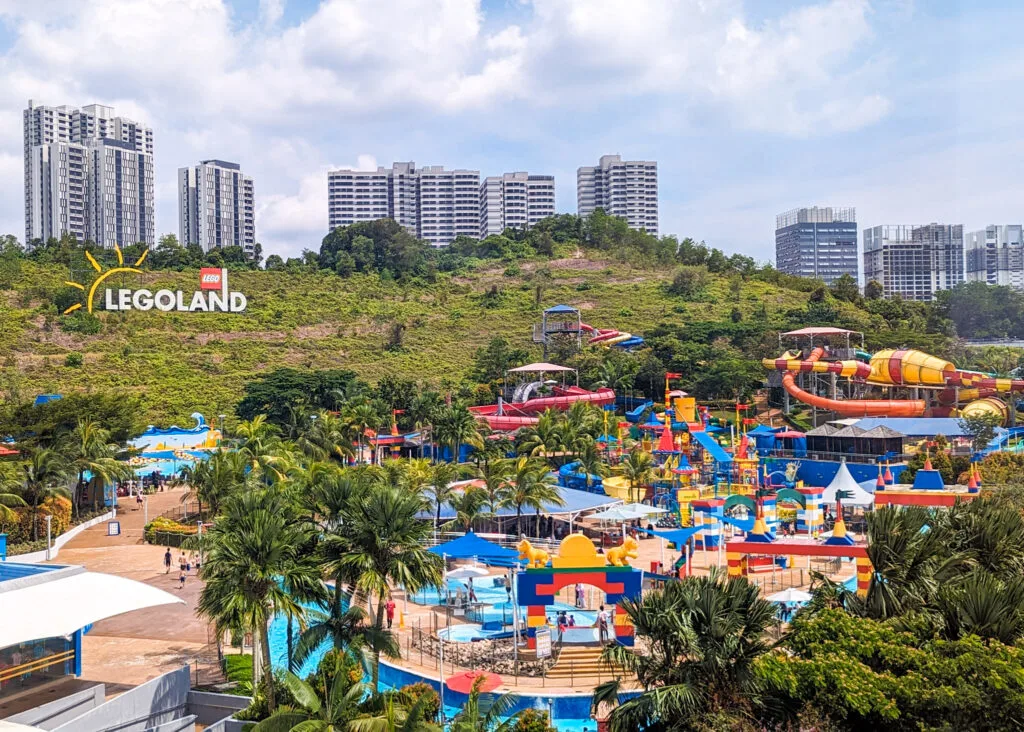 Our room
The free upgrade to the Premium Adventure room meant we had a view of the theme and water park below us from the corner window. Excitement levels reached fever-pitch and the boys were glued to the view for a few minutes whilst we got our bearings. Our youngest is a Lego-fanatic and was already pointing out rides in the distance, planning our route for the next day.
If you've stayed at any other Legoland hotels around the world (such as Billund, Windsor or Dubai), then the room won't be a surprise at all, as they're all the same.
Everything in the room is planned with kids in mind and, of course, is totally Lego themed. If your kids are anything like ours, it'll probably be 'the best room they've ever stayed in' (that's a direct quote by the way).
There are cute little Lego dressing gowns (kid and adult size) and slippers to get changed into, and a kid-only safe in the corner which can only be accessed by completing a treasure hunt. No adults allowed!
The kids have their own separate sleeping area, complete with bunk beds, TV, and sliding door to give them (and the parents) some privacy. You'll also find all the features you'd expect from a high-quality hotel such as en-suite bathroom, toiletries, fridge, safe, room service, and air-conditioning.
The Lego theming extends to everything in the room; duvet covers, wallpaper, mini-figures hidden in nooks and crannies, framed portraits of Lego characters hanging on the wall. We had the Adventure themed room but you can choose other themes such as Pirate, Ninjago, and Kingdom.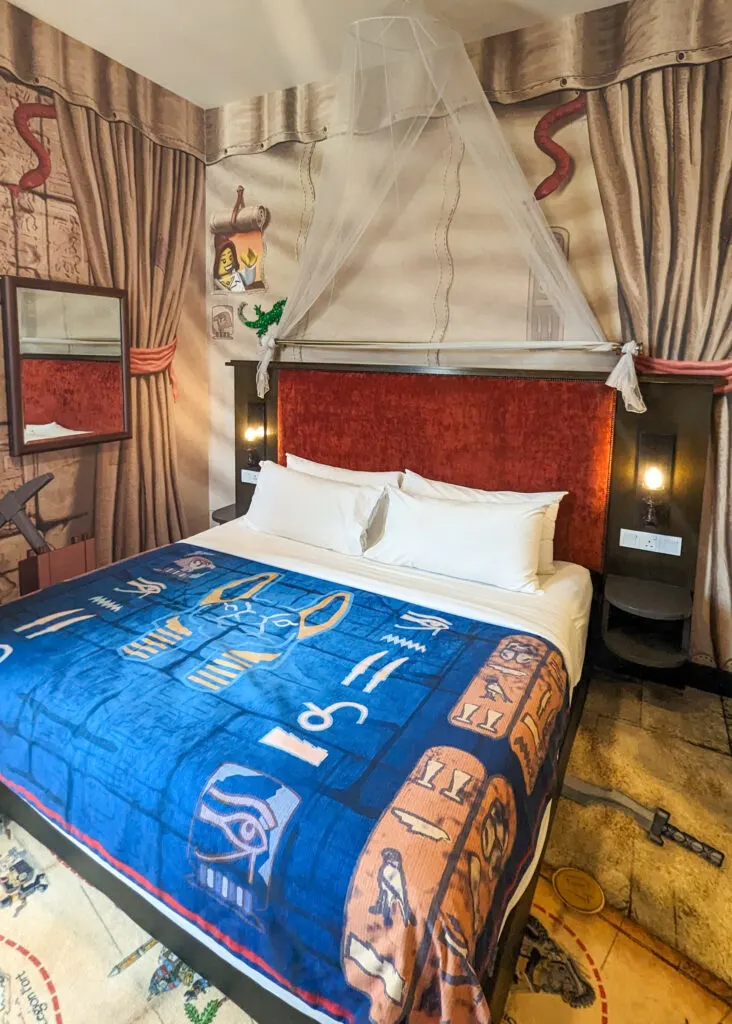 Activities at LEGOLAND Hotel Malaysia
Whilst the main attraction of the hotel is its proximity to Legoland Malaysia, there are plenty of things to keep the kids entertained at the hotel.
In the lobby area, you'll find a Lego brick play area set around a small castle. Despite having boxes full of Lego bricks at home, the novelty of playing with them again here meant they were entertained for hours. There's a few seats for parents to perch on and watch, or feel free to grab a handful of bricks yourself and get building.
At set times during the day, the hotel staff put on a light entertainment show, ranging from dance routines, meeting Lego characters, and Lego building activities. You can also sign for games consoles sessions and, in the evening, a film is shown in the lobby.
For younger kids, there's a Duplo area set aside for their use which is a bit quieter and less busy with older kids.
Don't forget the music in the lift either, the full-on disco experience isn't to be missed. Be warned though, you'll be humming 'Everything is Awesome' for the next few weeks!
Dining at LEGLOAND Hotel Malaysia
Breakfast is included with the room cost but prepare yourself for a scrum of people. In theory, everyone is supposed to book a set time to eat (split into one-hour slots) to manage crowds but it did seem busy most of the time.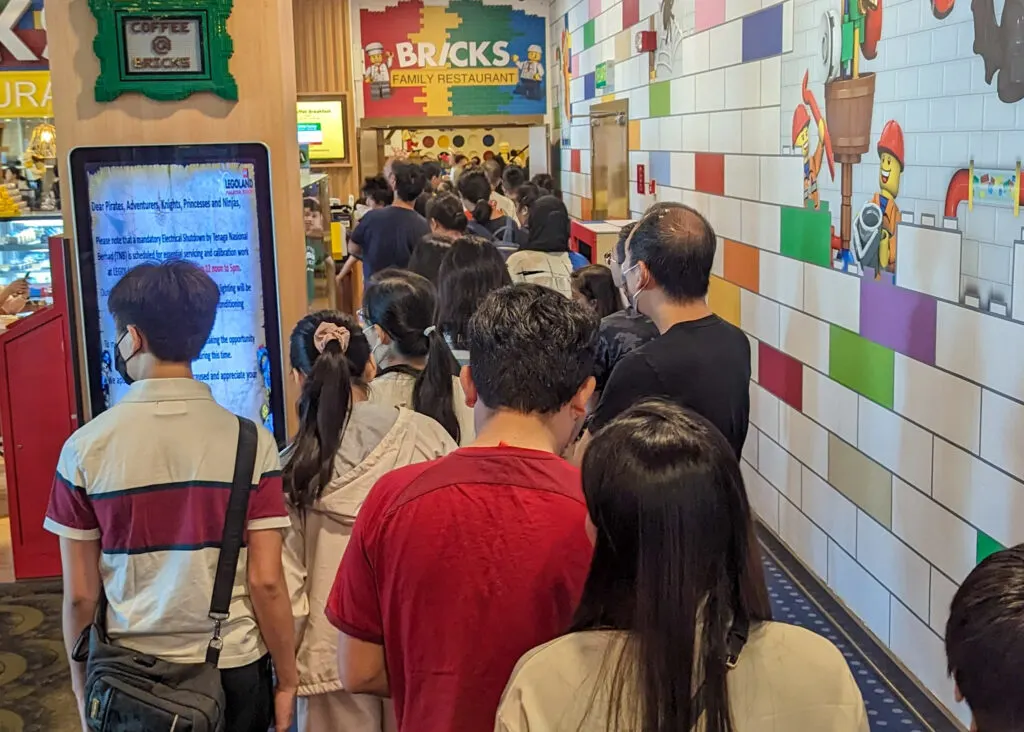 It's quite the operation once you get inside, members of staff direct you to your seat using red-glowing sticks, more akin to directing a plane into its terminal gate at the airport.
The tables are quite closely packed together and it's very loud, with people jostling for space at the serving areas and queueing for juice and coffee. It's quite a hectic start to the day.
The Asian food is tasty though, less so the Western options. There is a large selection and the staff were good at keeping the trays topped up with food, although some of the chefs at the egg section seemed like they were ready for a break.
We're never huge fans of buffets anyway, so perhaps you may enjoy a better experience. If you're just treating it as a refuelling exercise, it works. Fine dining, less so.
With that in mind, we decided not to eat there in the evening as it was looked like a similar experience and the food was quite expensive. On the night we stayed, the Italian restaurant was unfortunately closed, so we were left with seafood or sushi as the choice, not our favourites.
Room service is available which is usually a good option for a family and something we considered but, in the end, we decided to nip across the road to the Medini Mall which had several restaurants (including a Subway) and supermarket. After picking up some supplies, we ate back at the room whilst the kids played with their Lego; a much better experience than braving the busy restaurant again.
How to get into the LEGOLAND park from the hotel
One of the big selling points for us, the Legoland theme park was right next door to the hotel, accessible via the basement level of the hotel. At the end of the day, you can branch off to the right at the exit and go straight to the lifts, a huge bonus.
Keep in mind that you still have to join the 'normal' queue with non-hotel guests to buy tickets and go through the park gates; hotel guests don't get any fast-track option. It would've been great if you could buy tickets at the hotel before arriving to the park gates but the queues weren't too bad in any case.
Getting to and from LEGOLAND Hotel Malaysia
Legoland Hotel Malaysia is very close to the southern Malaysian city of Johor Bahru. It's also accessible from Singapore, where a large proportion of the visitors are from.
If you're in either Kuala Lumpur or Singapore, there is a useful direct coach which arrives in time for park opening and departs around closing time. Tickets can be bought in advance, recommended during busy times.
If you have your own vehicle, parking is available at the hotel for MYR60. You can pull up to the hotel entrance first and drop your luggage off, then head back to car park which is only a few metres away.
For those travelling independently from the rest of Malaysia, it's easiest to get to Johor Bahru first (which is what we did coming from Melaka), then book a Grab taxi to the hotel. It should take around 25 minutes.
Leaving the hotel is the same as above in reverse, it was easy to book another Grab taxi from the hotel back to JB Sentral before we crossed over to Singapore. On this occasion, it was a normal metred taxi operating as a Grab ride; the first time we'd seen this and a sign of the times.
Final thoughts on LEGOLAND Malaysia hotel
There's no doubt, Legoland Hotel Malaysia is an expensive place to stay; it's the most we paid on our entire Southeast Asia trip. For the two nights (including breakfast), we paid MYR1760 which didn't include theme park entry of course.
Click here to check prices and availability for LEGOLAND Hotel Malaysia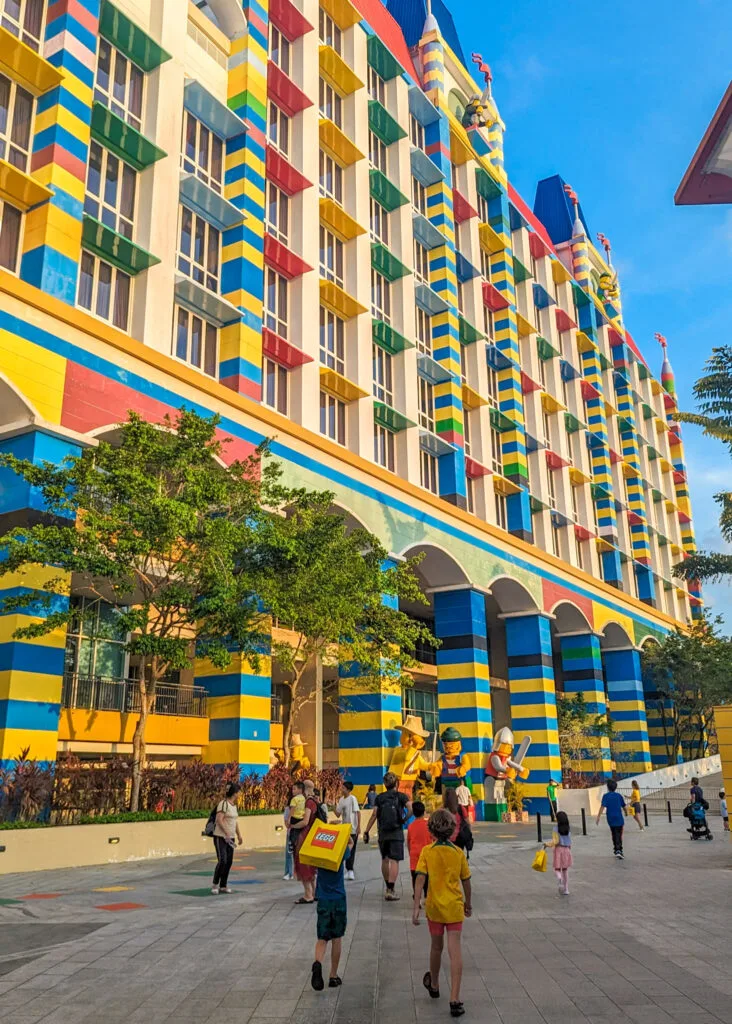 The big strength of the hotel is that it prolongs and extends your Legoland experience, making it less of a single day visit to a theme park, more a multi-day Lego adventure. If you have a Lego obsessed family like us, it's totally worth it.
On the other hand, if Lego isn't such a big part of your life, and you're only interested in the theme park, you might want to explore some of the cheaper options nearby. Whilst you'll need to factor in the cost of the getting there and back, it'll still work out much cheaper than staying at the hotel.
The food options were a let-down, the breakfast experience didn't match the hotel's price tag and the evening meal choices were limited when we visited.
For us (and our youngest in particular), it was totally worth it though, one of the rare extravagant splurges we'd made on the trip. The look on his face as we entered the lift for the first time, and the excitement as they explored the room, will stay with us forever.
And yes, we've still got 'Everything is Awesome' going round our heads!
---
You may also like to read:
Visiting Melaka with kids
Malaysia with kids travel guide
12 LEGOLAND Malaysia tips to make the most of your visit