For those not in the know, Billund perhaps isn't the obvious choice for a European city break with kids. But when they realise that Billund is the home of LEGO, well then it all makes sense.
Billund has really embraced its LEGO history with LEGOLAND, the LEGO House, and LEGO accommodation. Even the garbage trucks going around town have LEGO characters on them. But there's also Lalandia (Denmark's answer to Centreparcs), and much more to explore.
TraveLynn Family were provided with complimentary entry to LEGO House, LEGOLAND and two nights at Lalandia. As always, these are all my own words and opinions, and I write reviews that are 100% honest. Also, this post contains affiliate links. Should you click to purchase, it is at no additional cost to you, but I receive a small commission.
Our Lego-obsessed 7 year old had been asking to go to Billund, the 'home of LEGO' for years. So when we gave our boys the choice of where to go for October half term (they got to choose one place each for 4 days), there was no surprise when Ezra voted for Billund (football and pizza-obsessed Arthur chose Milan). Thankfully, Ryanair flights from Manchester to Billund were very reasonable for half term (we booked back in May), and from Billund there were also direct flights to Milan, Italy.
We spent 5 nights and 4 full days in Billund. This felt like a good amount of time, although we could have done with an extra day or two perhaps, as I hadn't realised how long we would spend enjoying the LEGO elements of Billund.
Here we share our recommendations for things to do with kids in Billund, as well as how to get around, where to stay, and budget.
If you are visiting Copenhagen with kids and considering visiting Billund, it is a three hour drive west of Copenhagen.
Things to do in Billund with kids
LEGO House
The huge, interactive, indoor LEGO centre known as LEGO House, should be your first port of call when visiting Billund with kids (although as it's mostly indoors, you may want to time it with a forecast rainy day).
Not only are there impressive LEGO displays to marvel at, but fantastic hands on LEGO fun for all ages; create a LEGO face and watch it dance on the screen, create a LEGO fish and watch it be released into a digital ocean, or how about a LEGO racing car to race on the track? Or just sit by the LEGO waterfall and let your imagination flow.
Expect to spend a good few hours at LEGO House. But for true LEGO fans who will spend hours building their creations, allow a full day. We arrived at 11am and stayed until closing at 7pm; there really is that much to do!
It does get rather busy on weekends and school holidays (although much quieter later in the day). But if you need a breather, there are outdoor spaces off from the main experience area with play apparatus.
The MINI CHEF cafe by the entrance will be a highlight for LEGO fans. Order your meal using LEGO bricks fed into a computer and your meal will be served by robots. It's not the cheapest dining experience, but it's certainly one to remember.
LEGOLAND
READ: LEGOLAND Billund tips to make the most of your visit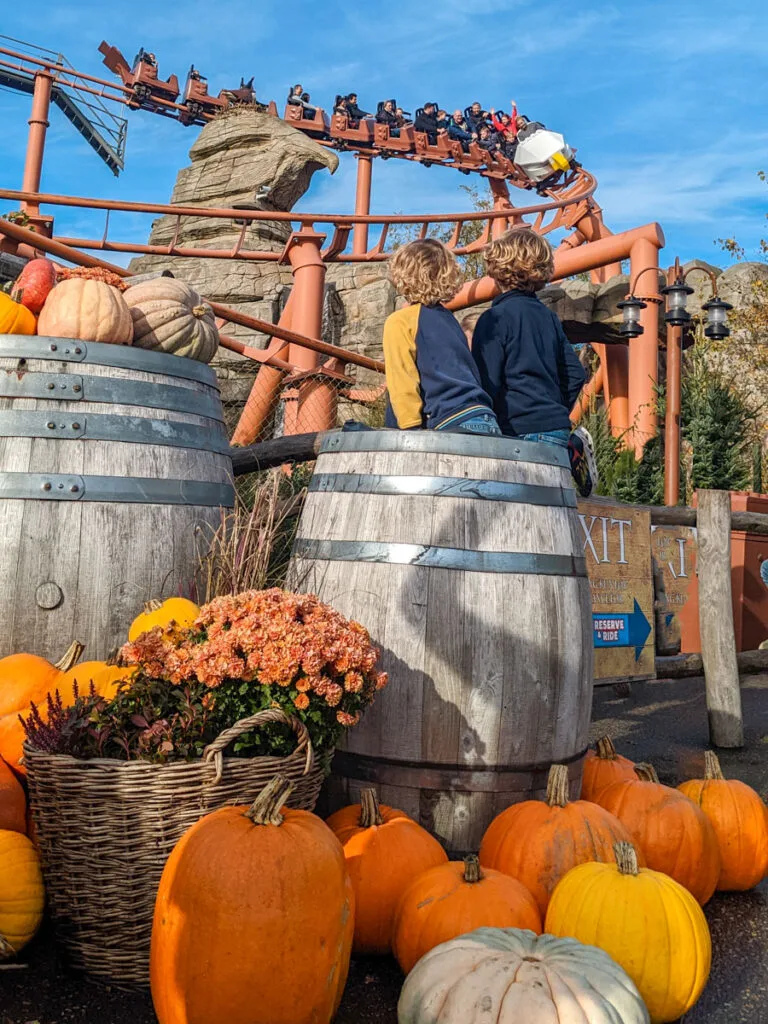 The LEGO theme park is of course another must-visit attraction for little LEGO fans to Billund.
For our UK readers, LEGOLAND Billund is much better for older primary aged kids than LEGOLAND Windsor, which I'd personally recommend for kids age 7 and under (check out the Windsor-Billund comparison review over on Mini Travellers). We've also been to LEGLOAND Malaysia (where we also stayed in the LEGOLAND Hotel Malaysia) and we can honestly say that Billund was better!
LEGOLAND Billund has some awesome rides to appeal to thrill-seekers aged 7-10!
Our top 5 rides at LEGOLAND Billund are:
Polar X-plorer – big rollercoaster with a surprise drop, and an added bonus of stopping at the penguin enclosure.
Emmett's Flying Adventure Masters of Flight – a mind-blowing fly through VR experience.
X-treme Racers – like the old Mouse Trap rollercoaster, but better.
Apocalypseburg Sky Battle – whizz around into the sky and fly your own wings to somersault (min height 130cm and 🤢).
NINJAGO the ride – exactly the same as the one at @legolandwindsor, VR game to fire lasers and baddies with your hands.
Expect to spend a whole day at LEGOLAND Billund. We arrived at 11am and in true TraveLynn Family style we were one of the last families to leave to park at 7pm. And we then returned the next day for more!
Do check out our top tips for visiting LEGOLAND Billund to make the most out of your visit.
Lalandia Billund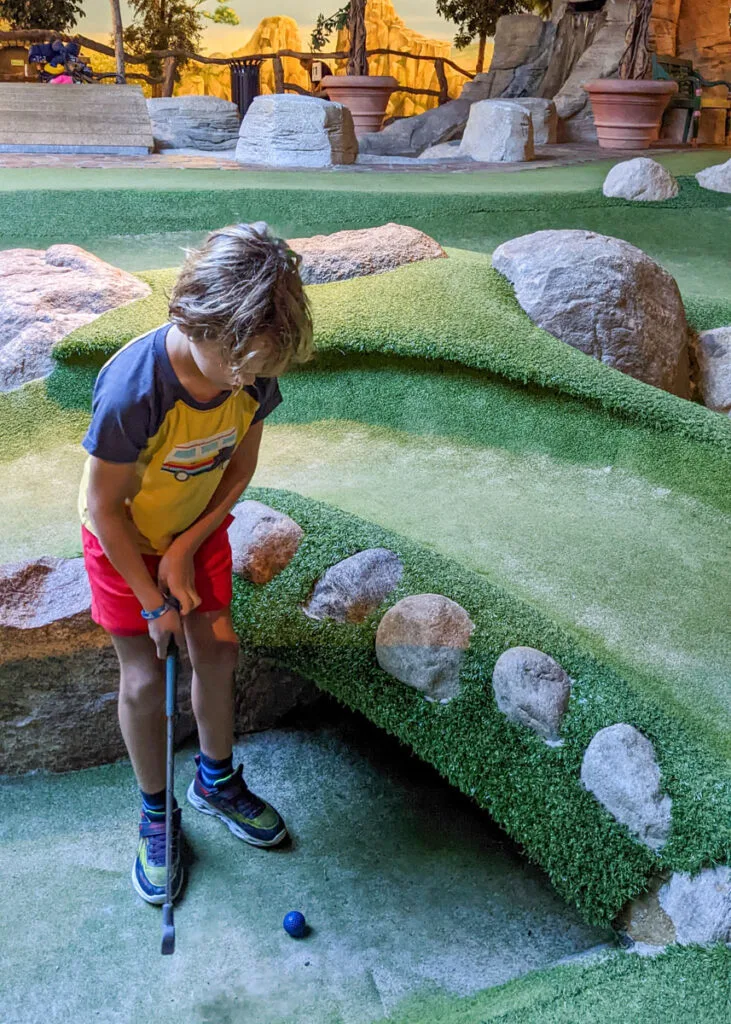 Lalandia is Denmark's answer to UK's Centreparcs, but better. There are a range of chalets for guests to stay in, but the main area is actually open to everyone, not just guests.
From the outside, the main area of Lalandia just looks like a big warehouse. But step inside to a cleverly themed indoor space with restaurants, bowlings alleys, trampolines, crazy golf, climbing walls, Monkey Tonk play area, and even an ice rink and ski slope!
But the main reason anyone visits Lalandia, is to visit the huge indoor waterpark, easily one of the best we've ever been to! The waterpark is free to guests.
Billund Skulpturpark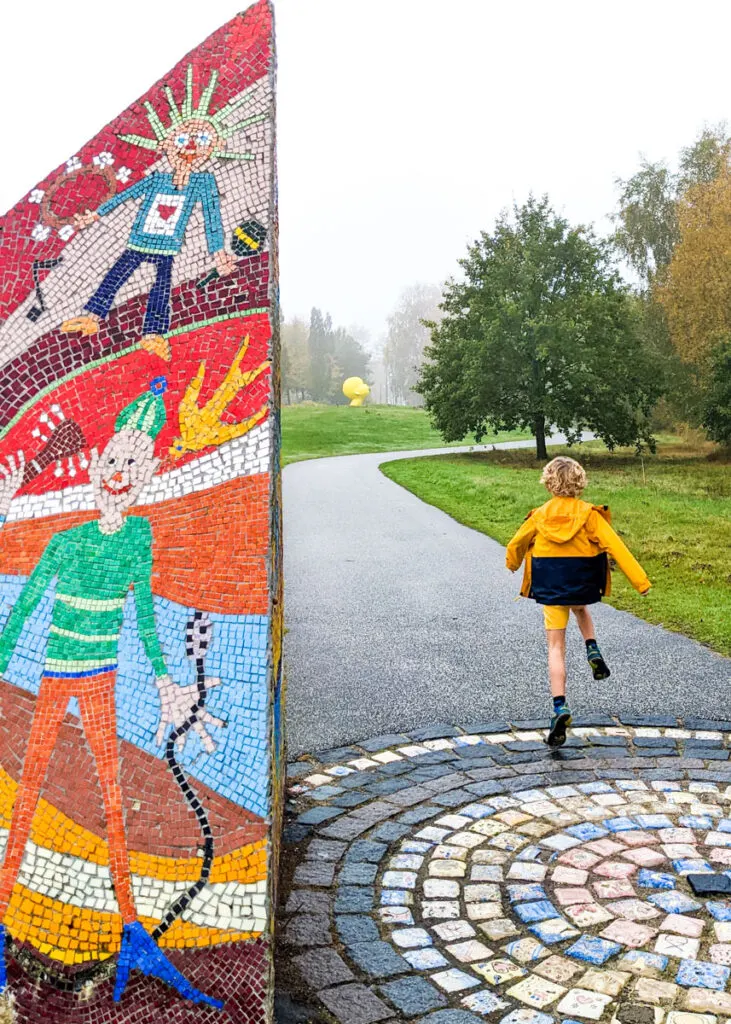 A 1.5km cycling and walking trail through parkland connects The LEGO Holiday Village and Lalandia area to LEGO House. Along the way are unusual sculptures, perfect to keep little ones engaged on the walk between locations.
There is no fee. Billund Skulpturpark is FREE to walk through.
WOW PARK Billund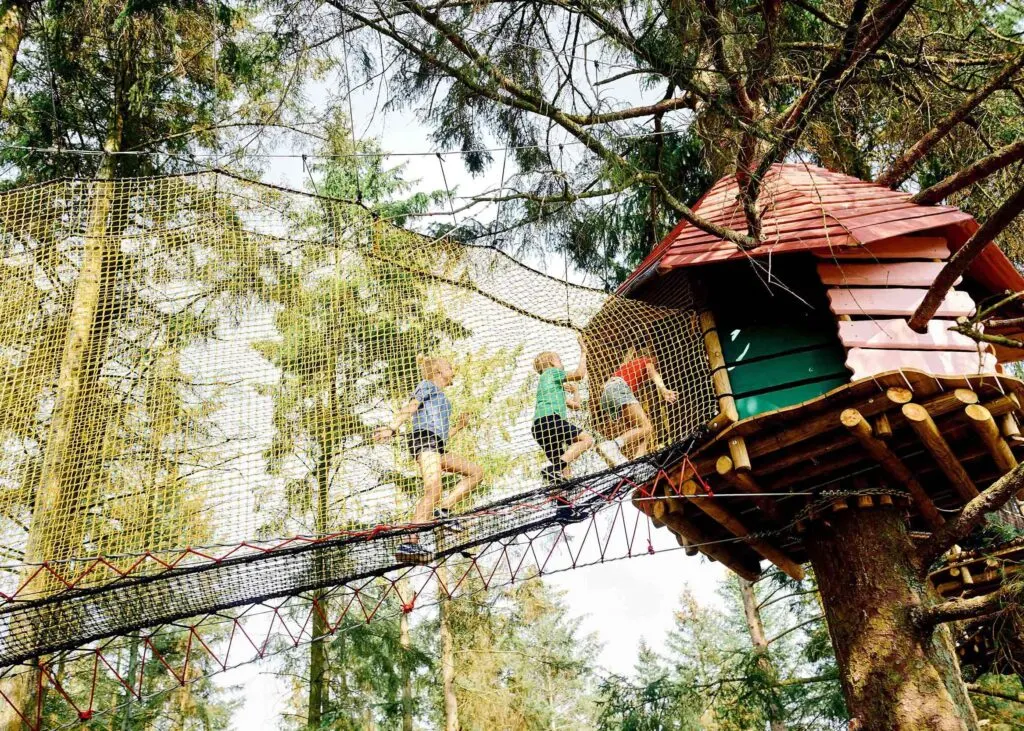 WOW PARK is a huge outdoor play and amusement park in Billund with giant swings, high-hanging suspension bridges, slippery slides, and underground caves. There's also Water World to splash around in and a creative workshop where you can take your invention home with you.
When it all becomes a bit too much, you can chill in the hammocks and campfire areas, where you can grill your own food – hot dogs, popcorn, or marshmallows. Guests may also purchase food in the family-friendly café and ice cream shop.
Givskud Zoo
Enjoy an African safari in Denmark! Givskud Zoo is a 25 minute drivefrom Billund and you can drive your own car or take the safari bus across Denmark's savannah to spot zebras, giraffes, and the big cats.
Throughout most of the season, the gorillas, lemurs and other species are fed daily. There are also play areas for the kids and the biggest collection of dinosaurs in Denmark.
How much time do we need in Billund?
We spent four full days in Billund and didn't have time for Wow Park or Givskud Zoo. We spent a full day at LEGO House, 1.5 days at LEGOLAND, and 1.5 days at Lalandia.
We had planned to spend the third day at WOW PARK, but we had been provided with a two day pass for LEGOLAND, and the boys were desperate to go back. You could fit in the zoo and WOW PARK into a day though.
Ideally, I would recommend at least five days to do everything, and for things not to be too rushed. But if you do have a week to spend in Billund, it's worth reading this Jutland itinerary with kids, which also includes a visit to Kongernes Jelling, a superb interactive museum around Danish history that's just a 30 minute drive from Billund.
What's the easiest way of getting around Billund?
Most attractions around Billund are walkable, but a car or bikes can make travel life easier. Although it really depends on how far you plan to venture.
If you are only planning to visit LEGO House, LEGOLAND, and Lalandia, it's not necessary hiring a car.
As for getting to and from Billund airport, the airport is only a few km from the centre of Billund. If you were so inclined you could actually walk it. Although after a flight with kids, a taxi is always the easiest option and they wait outside the main departures exit. Expect to pay £15 for the journey. Taxis are metered.
If your flight arrives at a sensible daytime hour, there are regular buses into Billund. Our flight (finally) landed at midnight, and so taxi was our only option.
I recommend pre-booking your taxi back to the airport. We left it to the morning of departure to find that the local taxi app (Dan Taxi) didn't work with our UK numbers, and we couldn't get through on the phone. By chance, a taxi drove by and stopped to take us to the airport at 6am.
Eating out in Billund with kids
Billund is a tourist town and so eating out can feel a little pricey. It's definitely more expensive that the UK, but cheaper than Iceland with kids.
We had lunch out every day (once at LEGO House, twice at LEGOLAND, and once at Lalandia Waterpark). A basic burger-style lunch with drinks for our family of four seemed to average around £45. The meal at MINI CHEF (at LEGO House) was £90, but you are paying for the very unique experience of little LEGO characters and robots making and serving your meal, as well as ordering via LEGO bricks on the computer.
For self-caterers, there is a supermarket at Lalandia and also at the LEGO Holiday Village. Both are open to non-guests. Lalandia is the better stocked of the two. But as these are in tourist locations, prices are slightly inflated.
There is a local supermarket (Coop SuperBrugsen) just south of the Skulpturpark if you want to save a few pennies. Though for convenience, we found the Lalandia supermarket absolutely fine.
Where to stay in Billund with kids?
We stayed three nights at LEGOLAND Holiday Village in a 4bed motel room with breakfast, and two nights at Lalandia in a 2bed self-catering chalet. If you want to splash out, the LEGOLAND Castle Hotel is the place to stay.
LEGOLAND Holiday Village is better located for the attractions in Billund, including the waterpark at Lalandia.
LEGOLAND Holiday Village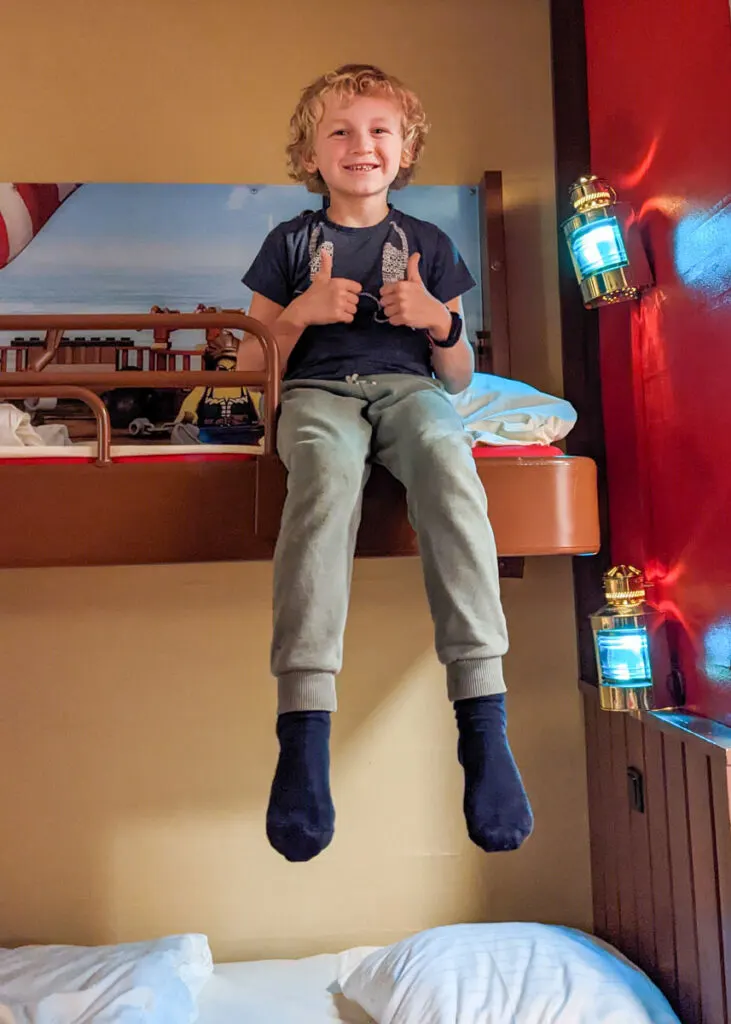 If you are visiting Billund in the warmer months with a tent or campervan, there are spaces to camp at LEGOLAND Holiday Village. As we weren't travelling with the Bongo camper for this trip and flying from Manchester, we opted for the Pirate Inn Motel Room, which included breakfast.
Seeing Ez's face light up as we walked into the room was wonderful. There are so many little LEGO details to the room (the perched LEGO parrot, a LEGO box of DUPLO, and a LEGO channel on the TV). We had worried that it wouldn't live up to what you would experience the much more expensive LEGOLAND Castle Hotel, but his little face confirmed that the Motel was more than perfect for him.
Breakfast is a fantastic spread of meats, cheeses, cereals, and of course, Danish Pasteries, although limited for vegetarians. There's a LEGO play room attached to the dining room to allow parents a relaxed morning cuppa.
Lalandia
Lalandia is situated next to LEGOLAND Holiday Village and almost opposite the main entrance to LEGOLAND. The chalets sit behind the main area of Lalandia and these seem a fair walk away from the main attractions. Indeed, the motel area of LEGOLAND Holiday Village is actually closer to Lalandia than Lalandia's own accommodation. However, there is a small tourist train to transport guests between the chalets and main area of Lalandia.
Chalets offer self catering and lots of space for families to spread out. Décor is very minimalist (you won't see any LEGO here). Linen and towels need to be paid for separately, otherwise bring your own. If you do order linen, you will need to make up the beds yourselves.
Also, do note that you have to pay for your energy on top of your accommodation, and this is paid when you check out.
When is the best time to visit Billund with kids
If you want to visit LEGOLAND (which is really one of the main reasons to visit Billund with kids) do check that it is open as it closes for the winter months (November through to February).
The best time is from March to October if you can work out a time when the Danish kids are in school. For instance, their half terms are often a week before English schools, and they tend to return to school from the summer holidays before the English schools too.
Final thoughts on visiting Billund with kids
It's not the cheapest destination, and the things to do in Billund with kids involves lots of pricey entry fees; this isn't a wild nature holiday of hikes and beach swims. But if you're prepared to spend the money, it's a magical family holiday. I especially enjoyed the fact that Billund is such a compact city and everything is walkable.
Billund really was a dream come true for our LEGO-loving Ez, and he now declares Billund as his best holiday ever (and this is a kid who has been to some amazing family travel destinations over the years)!
---
You may also like to read:
Copenhagen with a toddler in winter AND on a budget
Alternative European city breaks with kids
Best cities in Germany to visit with kids