A short city break can often feel as revitalising as a week-long holiday. It's just a case of being prepared with knowing what kids' activities are available, yet allowing yourself time to wander and unveil hidden gems. And in our opinion, Germany offers some of the best city breaks for kids.
Disclaimer: This post contains affiliate links. If you click to purchase, it is at no additional cost to you, and I receive a small commission.
Why do we love German cities so much? Because every city we've visited in Germany with kids always impresses me with how well families are catered for with activities and places to visit, the transport is excellent (think family-only carriages on trains!), there's often an excellent playground to be found, and… schnitzel. Plus, it's always more interesting to step away from the bucket list tourist cities in Europe such as Barcelona and Paris, and explore somewhere a little different. Well that's our style of travel anyways 😉
Whilst we've explored a handful of German cities, we haven't done them all… yet. So I reached out to fellow travel writers for their suggestions for the best cities to visit in Germany with kids. There are some obvious ones in here, such as Berlin and Munich, but a fair few that I hadn't even thought of and have certainly piqued my interest!
1. Cologne
There's much more to Cologne that it's magnificent cathedral and beer cellars. We visited Cologne when our boys were 6 and 4 years old and they had the best time!
It's a very walkable city, with little play areas along the way and a diverse scenery to engage. Start at the Cologne Cathedral. We couldn't help but think the spires are a little grubby and could do with a scrub. But the sheer height of the spires that pierce the heavens is impressive and families are more than welcome to explore inside. Then walk towards the river where you'll find a little play area next to the bridge. It's not immediately obvious as it looks like a sculpture. But this is an art installation for play!
Walking along the Hohenzollern Bridge which stretches over the River Rhine, you can't help but notice the thousands of love locks attached. It's fascinating reading the names and dates. Over the other side, is KölnTriangle for epic 360° views over the city on a clear day. Then follow along further to the left for the huge playground at Rheinpark.
There are also lots of family friendly museums and attractions in Cologne. Our favourites are the Odysseum (Science Museum totally geared to kids), the Chocolate Museum, and the huge indoor waterpark at Aqualand.
For more ideas on what to do in and around Cologne, check out our post: Top things to do in Cologne with kids.
We had a lovely stay at Hostel Köln in a modern quadruple room with private bathroom. Built in a former office building, rooms are basic, but clean, and the location is good. We also enjoyed a fantastic buffet breakfast which was included each morning, and there is even a small play area in the dining room. Check out our full review here.
2. Nuremberg
A city often associated with it's dark history and the war trials, Nuremberg is a city steeped in elegance and charm, boasting medieval architecture, numerous museums, and characterful beer cellars. It doesn't sound like an obvious place to visit with kids. So you may be surprised to read that it's actually a fantastic city to explore with kids. We visited when our boys were 3 and 5 years old.
Nuremberg's old town is compact, with lots of pedestrianised streets. It's therefore relatively easy for little ones to get around, and also rather flat if you wish to take a buggy. For venturing further afield, the public transport is efficient and affordable and kids will love riding the trams and the metro.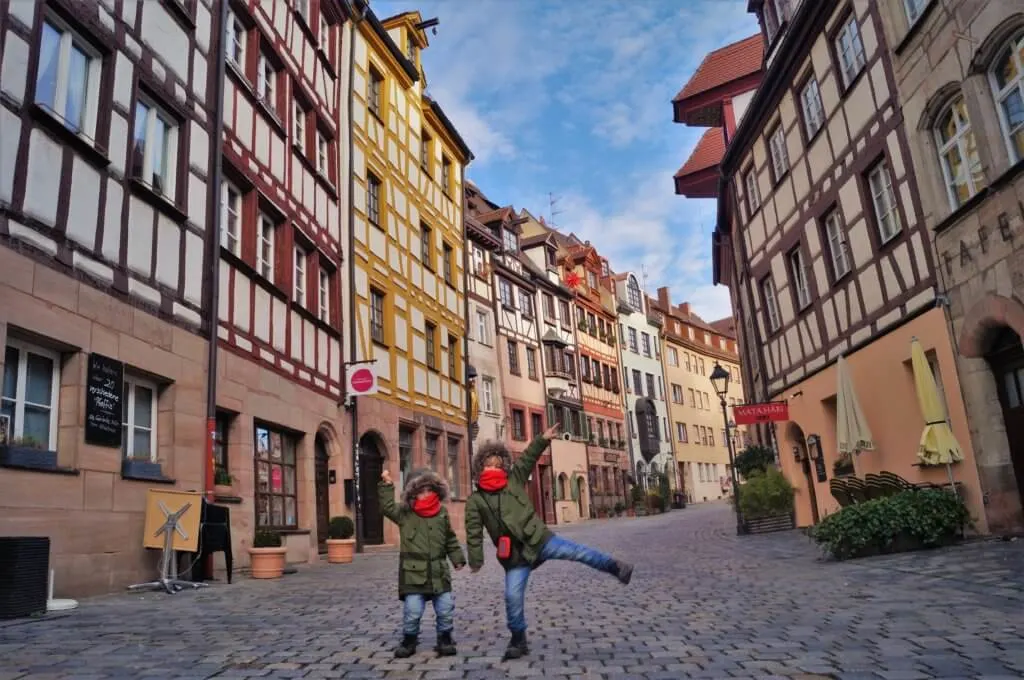 Start your visit with a stroll around the old town and make your way to the impressive Imperial Castle, which boasts stunning rooftop views over the city (although our boys spent most of the time climbing the boulders at the front). Then head over to the DB Railway Museum. The train models are fascinating, but the real fun is on the very top floor where there are train carriages to scoot around on, a dress up area, wooden track making, an electric ride-along train, and much more. The Toy Museum is another good inside activity for kids as, not surprisingly, there is a whole area devoted to playing with toys.
An absolute must for families is the Playmobil Fun Park, offering various play worlds including a Farm, Police Station, Dinosaur Land, and a Knight's Castle. There's also an extensive water play area and sand sludge section for cooling down on hot summer days. As we visited during the winter, only the glass HOB-Center was open. This is a huge Playmobile entertainment centre with lots of Playmobil toys to play with, a large climbing area, and lots of cafés.
For even more ideas on your family visit to Nuremberg, check our blog post – Top 10 things to do in Nuremberg with kids.
Centrally located within the city walls, the aptly named Holiday Inn Nürnberg City Centre is a great choice for families. We stayed in a spacious family room with bunk beds for the boys.
3. Hamburg
Lined with canals boasting both heritage and world leading architecture, Hamburg, Germany's second largest city and biggest port, is a fascinating European city to explore. With echos of its maritime history everywhere you can spend your days wondering the harbour and Speicherstadt district, and dining in funky restaurants and bars of the vibrant neighbourhoods. But if you're looking for things to do in Hamburg with kids, it'll more likely to be a chocolate museum and the largest miniature railway in the world that will pique interest!
In fact our top two things to do in Hamburg with kids are Miniatur Wunderland and learning about the making of chocolate at Chocoversum (which also includes a lot of tasting).
Kids will love riding the escalators of Elbphilharmonie. Designed in the shape of an arch, it gives the impression that it's never-ending, and is the longest escalator in Europe. And there is even a beach to play by the river on a warm summers day! Check out this post for more ideas of things to do in Hamburg with kids.
We had a fantastic stay at the Mercure Hamburg City in the Junior Suite equipped with a double bed and a built-in sleeping sofa where the boys slept. There is also a flat screen TV, free WiFi, a private bathroom, a wardrobe with a built-in safe, a fridge and tea and coffee making facilities. We loved the funky maritime design and modern feel, and especially loved the expansive city views. Check out our review here.
4. Hannover
I knew very little about Hannover before our visit, and in all honesty we only planned a two night stop here as I was looking for somewhere interesting to explore between Cologne and Hamburg on our February half term train travels through Germany. A quick Google search told me that it's a very business city, popular with trade shows, and was heavily bombed in the war. Would this mean a charmless city with little to do in Hannover with kids?
Far from it! As with so many German cities, kids are perfectly catered for. We particularly enjoyed the family focused walking tour around the city booked through Hannover Tourism. Our guide took us to the main sites such a Ernst-August-Platz, the grand Opera House, and the even grander and extremely impressive New Town Hall. But it was the little unknown extras that really engaged our boys (who were 4 and 6 at the time) – a drain cover in the main square that plays music, a real dinosaur footprint on a wall of a building, and the best place to order your own made up juice drink!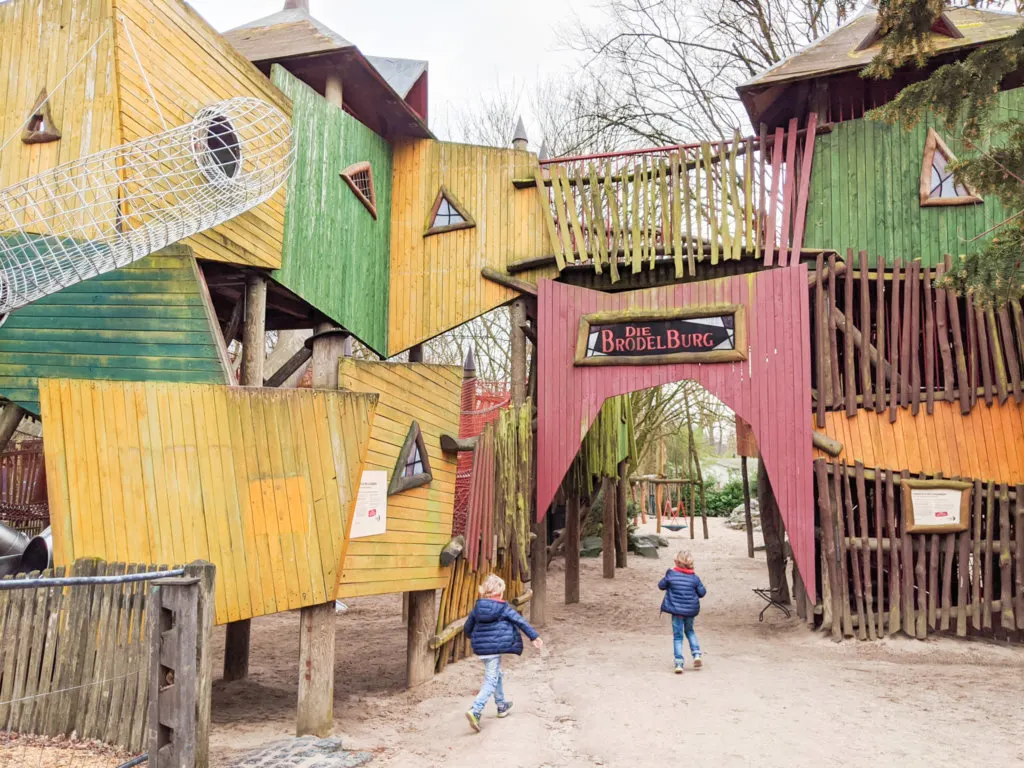 A visit to Hannover SeaLife Centre is perfect for a rainy day. But an absolute must do is Hannover Zoo, which deserves a whole day to itself. It is a fantastic zoo and extremely well thought out, with a logical path guiding you around all the wildlife. There is a really good range of animals including lions, elephants, gorillas, and even a baby polar bear. There are small play areas along the way to break up the wildlife watching, although make sure you allow a good chunk of time for the huge adventure playground towards the end.
Check out our 2 day itinerary for visiting Hannover with kids.
We had a fantastic stay at the Novotel Hannover in a jungle themed family room. I had always thought the Novotel chain to be solely geared towards business travellers, but this hotel have added so many thoughtful touches to welcome families. You can read our full review of Novotel Hannover here.
5. Berlin
by Melissa from Thrifty Family Travels
There are so many wondering things to do in Berlin with kids! Berlin has plenty of child friendly museums, family friendly attractions and great places to eat.
There are plenty of great free sites to visit such as the Reichstag Building, Checkpoint Charlie, the East Side Gallery at the Berlin Wall and the Brandenburg Gate. With the Reichstag Building, you do need to book in advance, but entry is free as is the audio guide provided.
The German Spy Museum is fun where the kids can dress up as spy's, debug a room and even make their way through a laser alarmed room. One of our favourite places was the DDR Museum, where you learn about life under the German Democratic Republic. It's super interactive and the kids are encouraged to touch and play with everything!
Other great attractions for the kids in Berlin include LEGOLAND, Little Big City, the Berlin Zoo and Sea Life.
Berlin is super easy to get around too with a great public transport system. The city is fairly well spread out but using the public transport system is easy.
We stayed at Schulz Hotel Berlin Wall at the East Side Gallery. They have great family rooms and its across the road from the train station, which makes it really easy to get around too.
6. Heidelberg
by Erin from Erin At Large
A pretty university town only an hour south of Frankfurt, Heidelberg is the perfect size for exploring as a family. The renowned castle ruins are definitely worth a visit, but there's more to see. Hiking trails wind all around the Königstuhl, the mountain where the castle sits, and there's even a small kids theme park among the trees at the top (best for kids 8 and under).
The meadow along the river Neckar is where the locals meet for a BBQ, or to take advantage of the several playgrounds, including a nature-themed water area, in sight of the café serving coffee, beer, ice cream, and snacks.
Don't miss the Kurpfälzisches Museum on the main shopping street. Skip the paintings and the ceramics and head for the archaeological displays in the basement levels. Lots of models and large-scale reproductions explain the rich Roman and Celtic history of this town. Make sure you take a look at the reproduction of the monastery of Saint Michael, and then go visit those very ruins on top of the Heiligenberg (the mountain on the opposite side of the river from the castle). Kids routinely climb all over them, leaping from wall to wall.
Stay right in the heart of the old town at the Hotel am Schloss, or experience a luxury weekend at the family-owned Europäsicher Hof. Budget options include the Ibis right at the train station, and the new Star Inn; though that one requires a tram ride into the interesting parts of town.
Blog is Erin at Large, preferred link would be my post on the castle:
7. Stuttgart
by Diana from Travels in Poland
Stuttgart is a dream to visit with kids. As a place that houses the largest combined botanic/zoological garden in Europe, multiple family friendly festivals year round, Germany's largest indoor playground, many child friendly museums and hundreds of parks, playgrounds, the city is a great place to visit with kids.
Wilhelma Zoo Botanical Garden is a paradise for animals and families alike. With millions of visitors a year, restaurants, and dozens of hectares of open space, the zoo is a huge draw for families in southern Germany.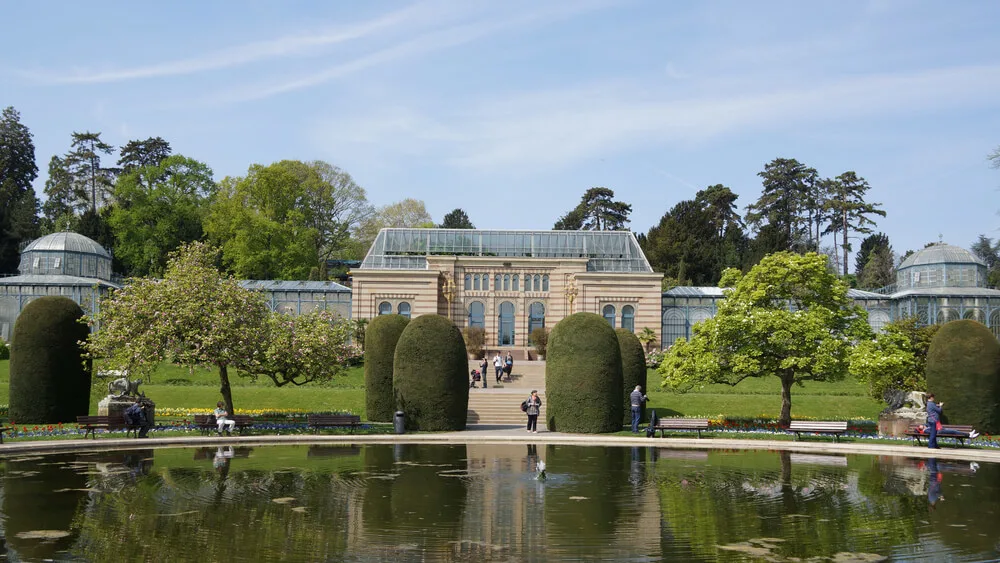 Stuttgart is also home to Sensapolis, Germany's largest indoor playground. With an indoor spaceship, zipline, a castle, dozens of slides, climbing structures, a pirate ship and so much more, Sensapolis is a great way to spend the day with family at a fantastic indoor adventure park.
Older kids are certain to love the Mercedes-Benz museum, where the history of cars and trucks is depicted with real life vehicles spanning the multi level building. As the centre for the car industry, Stuttgart is a car lover's paradise.
If visiting Stuttgart for the weekend, it is best to stay in the center of the city. The Le Meridien Stuttgart or the Altoff Hotel am Schlossgarten are both great places for families.
8. Dusseldorf
by Chrysoula from Historic European Castles
Dusseldorf in Germany is a fantastic family destination with loads to do for all ages. Whether you're into history, culture, food or the great outdoors, Dusseldorf has something to offer.
The River Rhine flows through the centre of Dusseldorf and as such, hiring some bikes and cycling along the Rheinuferpromenade is a wonderful way to see the city. You'll be able to cover more ground while cycling so you'll be able to explore the sights in a much shorter space of time, and it is a good way for the children to expend some energy! In addition, the Rheinturm television tower is a fun attraction situated on the banks of the Rhine. This tower is 240m high and features an observation deck and revolving restaurant which turns 360-degrees each hour to offer stunning panoramic views of the city.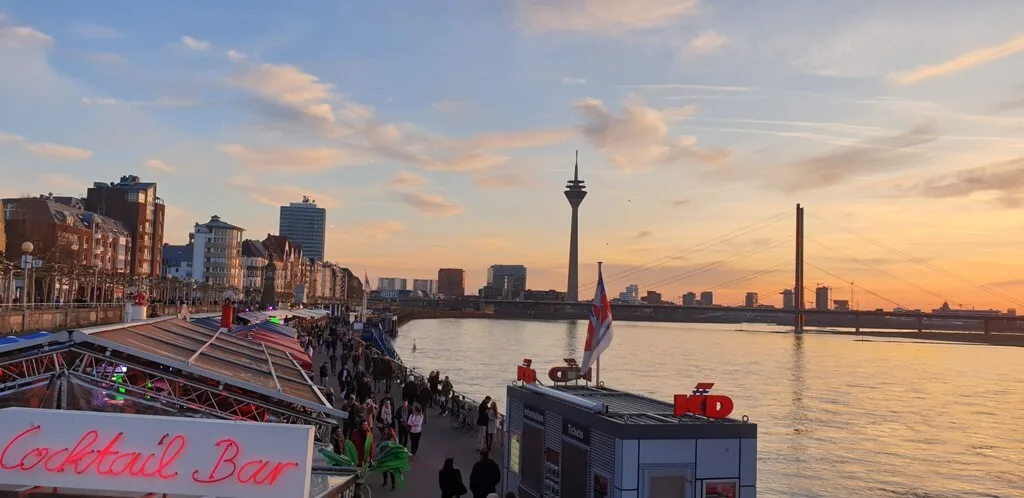 Another site that's worth a visit if you're into history is Schloss Benrath, a pastel pink castle in Dusseldorf with spectacular rooms and grounds to explore. Visitors can take a short tour in English or German to learn about the palace's past, and guests are asked to wear funny felt slippers in order to protect the marble floors!
Other popular family spots in Dusseldorf include the Hofgarten park, Phantasialand, the Marionettentheater, Wildpark Grafenberg and the Neanderthal Museum.
9. Bonn
by Marie from Our City Travels
April is a wonderful time to visit Bonn as the flowers are in bloom with cherry blossom-laden streets. It's like a little Tokyo in the middle of Germany. Bonn is also home to Ludwig van Beethoven's home. The house where he was born has since been turned to a museum.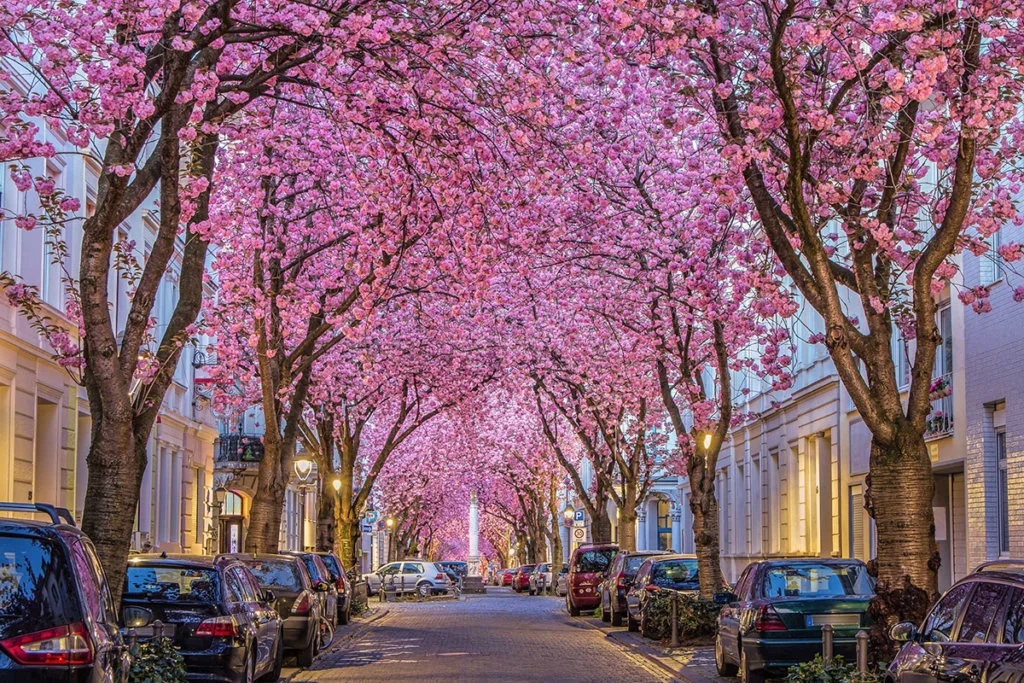 Bonn boasts of a number of museums that kids will enjoy. Some of these would be the Haus der Geschichte (House of History), Kunstmuseum Bonn (fine arts), Bundeskunsthalle (art exhibition hall), Rheinisches Landesmuseum Bonn ( archaeological cultural and artistic history of the Middle Rhineland ), and Museum Koenig (a zoology museum).
If your kids are into castles, visit the Schloss Drachenburg. The ride up a funicular itself is fun, and the castle tour with a costumed guide is a lovely experience.
Finally, never miss the HARIBO Fabrikverkauf Factory. It's certainly for those with a sweet-tooth, but explore the many Haribo flavors and colours there, priced lower than usual, and maybe limited edition ones.
When in Bonn, we recommend Hilton Bonn. Get a room with a view of the river.
10. Munich
by Yukti from Travel with me 24×7
Munich which is the third largest city in Germany and the capital of Bavaria. Although Munich has become renowned for Oktoberfest and beer, families will love this city as there are numerous museums, gardens and so many more things to do! I recommend at least two to three days to explore modern and medieval Munich with kids.
Car fans need to head to the BMW Museum, budding scientists should visit the Deutsches Museum with all its hand on science and engineering exhibitions, and sport enthusiasts will certainly enjoy Olympia Park.
There are many architectural wonders worth visiting, including Nymphenburg Palace and Marienplatz pedestrian zone. But the mechanical puppet show at Marienplatz at the top of the Neues Rathaus is a must see for families.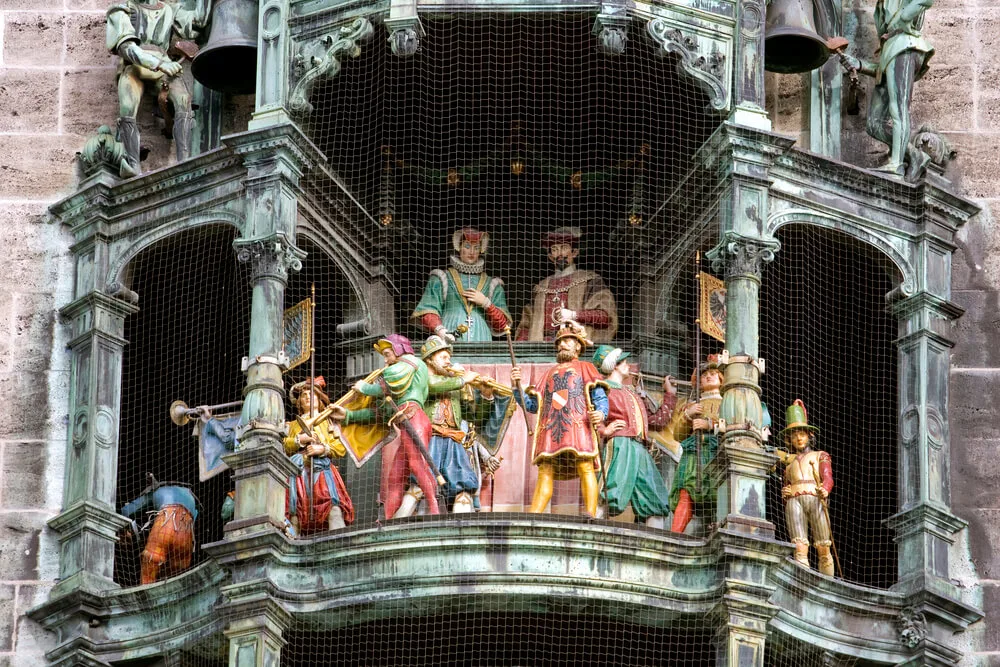 Englischer Garden or Park is also a good place to take the kids for a run around. Make sure you stop to watch the surfers on the Eisbach River!
Families should stay at Novotel München City which is at 300 m from the historic city centre and has family rooms.
For more ideas on things to do, check out this Munich itinerary.
11. Leipzig
by Kirstie Pelling from The Family Adventure Project
Leipzig isn't the most obvious choice for family break, but it is rewarding; especially if you like music and the arts.
Start with the outdoor interactive music trail. Then visit the Grassi Museum for a play on their collection of musical instruments. The famous Gewandhaus Concert Hall should be next on your list for a tour, and it's often possible to pick up last minute tickets for a concert.
There are lots of other attractions based on music like the homes of the composers and the coffee shops they frequented. But you need to move on to the Spinnerai arts complex, in a former cotton mill, where you can take a tour and meet some of the 100 artists who work there. There's a cinema too if you have the time.
Then it's time to get active. Pick up a canoe and paddle through the city out to the Cospudener See. Or hop on a bike and let a guide show you around. Leipzig is full of ginnels and arcades that offer great shopping and cute coffee shops. We recommend Mephisto Bar and Kaffeehaus Riquet for fun experiences you will only get in Leipzig. Check out Kirstie's post on musical activities in Leipzig for further recommendations.
A fantastic place for families to stay in Leipzig is Motel One Leipzig-Augustusplatz.
12. Freiberg
by Hannah from Hannah's Happy Adventures
I spent a year living and working in Freiburg, Germany. It's the perfect family city break destination for a number of reasons. There is so much to see and do not just in the city itself but within the Black Forest, on the edge of the city. It's a great outdoor city and is perfect for all ages.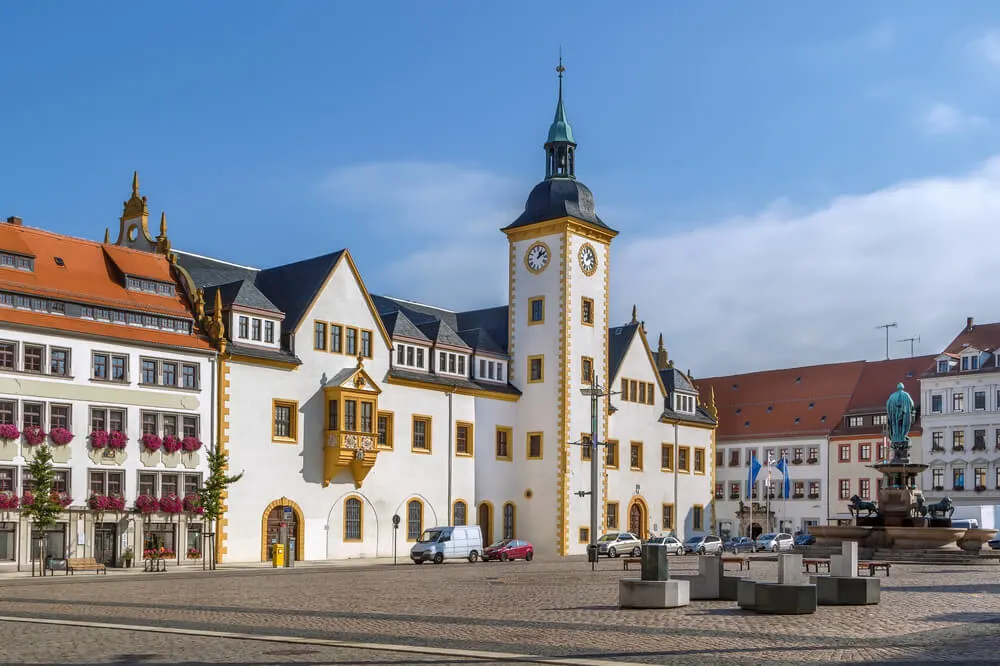 First I recommend visiting Mundenhof. This is a free animal park just outside of the city centre. It has large open spaces and a playground on-site so is great fun for everyone. Afterwards head to Schlossberg. Here you can take the small funicular up the mountain for a great view of the city.
If you have a full day, I recommend visiting the Black Forest. Take the tram to Schauinsland and then the cable car up the mountain. Once there, you can walk around and explore the amazing views. In winter, there is a huge sledging park here complete with lift to take you to the top. This is great fun for all the family. Lastly, I recommend an afternoon spent at Lake Titisee. It's perfect for a picnic and a swim in the lake.
As a family, I recommend renting an apartment to stay in Family-Apartments Freiburg. If, however, you'd prefer to stay in a hotel, I recommend Novotel Freiburg Am Konzerthaus. It has a central location and you can also get breakfast onsite for them busy mornings.
13. Bremen
by Anca & Sinan from Dream, Book, and Travel
Bremen is a charming city in Northern Germany, often overlooked. Family travelers will discover that its slow but lively pace fits getaways with children very well. There's, of course, the Grimm Brother's tale you can read beforehand, a charming old town with tiny colorful houses reminding of those times, and plenty of options for outdoor activities.
From the vast Bremer Bürger Park that even hosts some farm animals to the exquisite Rhododendron Park, little visitors will have plenty of areas to explore. Cultural activities such a visit to the Universum Science Center are highly appropriate for the entire family. Add to that some traditional chocolate manufacturers, a riverfront, more legends, and a hidden street with an animated medieval clock!
The Bremen Christmas market is still my favourite one in the entire world (and I live in Vienna!) and season-specific things to do in Bremen like the Freimarkt in autumn are sure to keep you entertained no matter when you decide to visit.
Our absolute favourite place to stay is the Atlantic Grand Hotel, from where you can easily reach the city centre and the main attractions on foot, as well as the Main Train Station and all the connections from there.
---
You may also like to read:
The best ALTERNATIVE European city breaks with kids
Places to visit in Europe in Summer to avoid the crowds
Best family eco resorts and accommodation in Europe