A picture of a large giraffe on the door indicated that this was our room for our stay in Hannover with kids. This wasn't at all what I expected from a Novotel, a hotel chain synonymous with business travel.
Disclaimer: Hannover Tourism paid for our two night stay at Novotel Hannover in exchange for reviewing Hannover as a family city break on my blog and social media channels. As always, these are all my own words. This post also contains affiliate links. Should you click to purchase, it is at no additional cost to you, but I receive a small commission.
We then opened our door to be greeted by a large toy leopard, a lion and parrot on the wall, and animal print furnishings. It was a jungle themed family bedroom! There was such attention to detail, even the sink plug had an orangutan face on it. Our boys (aged 4 and 6) were in their element. What a fantastic family room for a family who love adventure travel! If you're visiting Germany with kids, the Novotel chain is a fantastic option.
Click here to check prices for Novotel Hannover.
The location
Although a little outside of Hannover City Centre, Novotel Hannover is just a two minute stroll from Lister Platz Metro, which is two stops away from the central station, Hannover Hauptbahnhof. We found it very easy nipping around the city using the efficient tram system, using our Hannover Card.
Novotel Hannover is also right by Eilenriede City Park (Europe's largest city forest), which is lovely for a stroll where you feel miles away from the city.
Our family room
The jungle themed family room was a huge hit with our budding David Attenboroughs. It's such a simple idea, but made us feel so welcome in what otherwise is very much a business hotel.
The room was a standard size, but two extra single beds had been brought in for the two boys. It didn't feel two much of a squeeze.
There was absolutely everything we needed, including a large TV screen, excellent WiFi, fridge, deep bath, and fluffy bath robes. Very comfortable indeed, and we do wish we could have stayed longer than two nights.
Breakfast
A buffet breakfast is included for all guests in the large modern dining room. The spread is fantastic and there's something for everyone, whether you want a fully cooked breakfast, fresh croissants, a meat and cheese spread, or just fruits and cereals.
Breakfast is served until 10 am.
Other facilities
There is a small children's play room just off from the foyer. Blocks and colouring pens are available to keep smaller children entertained, whilst older kids may appreciate the games console. Unfortunately our time in Hannover was so short and jam packed, we didn't have time to play here.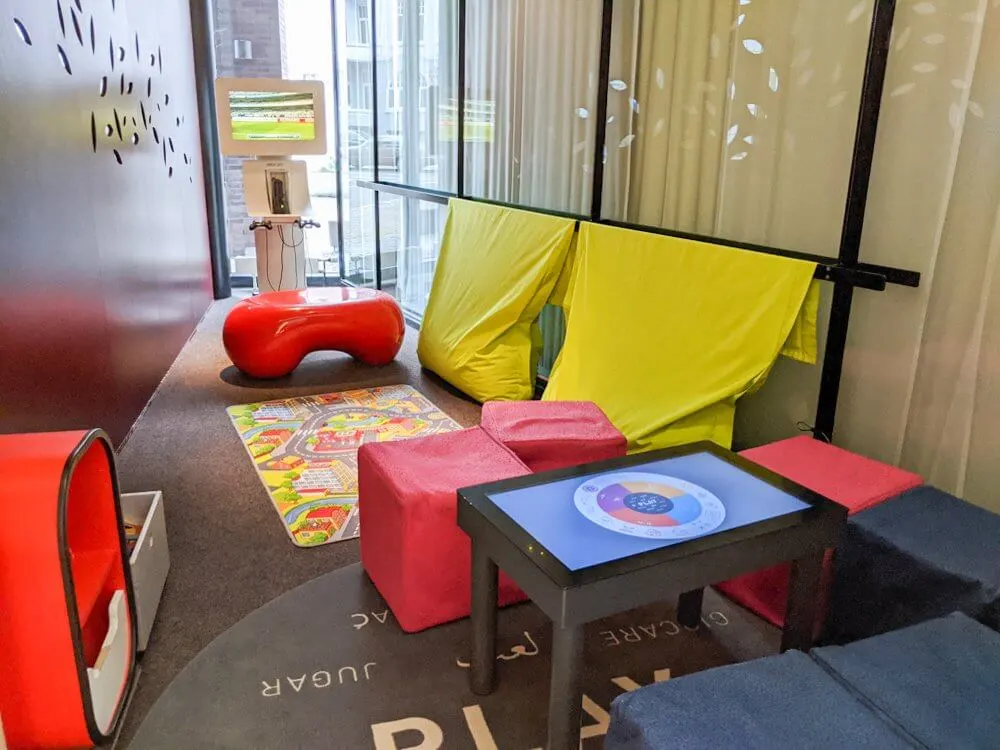 There is a fitness center on site with the usual machinery. This was very much appreciated by my husband who is in training for another marathon. Check out his tips for running training on holiday.
Whereas I was a little more excited about the Wellness Center on the ground floor, which boasts a jacuzzi and sauna. When the boys were fast asleep on our first night, I popped on my cossie, bathrobe and slippers and headed down in the lift for some relaxation. Unfortunately I was greeted by a roomful of stark naked German business men! Needless to say, I didn't stick around too long. The next night I opted for a bubble bath in our room. This was much more relaxing.
Final thoughts on Novotel Hannover
Don't let the distance from the city centre put you off. This is a fantastic family hotel and as it's so close to the tram stop it's very quick and easy to nip around the city.
If you want to stay in the same room as us with the jungle theme, make sure you book in to the 'Zoo room'. Click here to check prices for Novotel Hannover.
And parents, be wary of the level of nakedness you may encounter in the Wellness Centre…
---
You may also like to read:
Alternative European city breaks with kids
The best cities to visit in Germany with kids
Visiting Hannover with kids