By Jason Lynn
You may not have heard of him, but Ron Hill holds a fairly impressive unofficial world record – the longest running streak (i.e. running day after day with no break) for 52 years. When I read that myself, my first thought was – what did he do when he was running on holiday?
Despite being a keen runner myself and completing eight marathons, I've always found it tricky to combine a relaxing family holiday and going out for a run. On our recent month long road trip around France I was in the middle of training for the New Forest marathon so needed to keep up my training schedule whilst away. It can be a difficult balancing act between spending time with the family and running five times a week but it is possible, especially if you include the kids in your runs, perhaps helping with water stops, doing a couple of warm-down laps or helping you to plan your routes.
With that in mind, I've put together some top tips for running on holiday. It might not mean you reach Ron's level of continuity, but every little helps!
Save packing space, use running trainers for day-to-day use
One of the challenges of travel, particularly longer term trips is fitting everything into your luggage. Remember that most running trainers also double-up nicely as everyday walking/hiking shoes and will be suitable for all but the most challenging hikes. No need to pack a separate pair, re-use your runners and save some space.
Use your local parkrun
Parkrun is the free, weekly, timed 5km run which started in London but has blossomed into thousands of events worldwide. There is no guarantee but it's likely you're never too far from a Parkrun and, if you've already registered, your Parkrun ID can be used worldwide. Added bonus – if you carry your Parkrun ID with you on all runs, it'll also list your Emergency Contact and medical conditions. You'll find Parkruns everywhere, including such cool destinations as France, Namibia, Malaysia, Finland and Australia (check out this list of parkrun countries).
Plan your runs with Google Maps, Strava and your phone
Google Maps is a brilliant resource for planning runs and Strava will also list routes nearby. With a little bit of advance planning you should be able to find a route in even the most remote of destinations. Remember to take take your mobile with you at all times in case you get lost or need to get help.
Also, ask at your accommodation if they have any advice on local runs you can do; they are probably asked this question a lot and may even be able to provide local maps and tips.
Book hotel accommodation with a gym
Depending where you are staying, your accommodation may have a gym which you can use to bash out some miles when the weather is too hot or cold, or there isn't a suitable route nearby. You'll often find free water, AC and towels to make the run even more comfortable.
Combine running on holiday with sightseeing
Combined with running, sightseeing can be an incredible experience, allowing you to see famous cities and sights up close and personal. Plus, compared to walking, you'll get to see more in less time. Many tourist cities are great to run around (Sydney, San Francisco, and London – check out runningtours.net for a list of tour organisations worldwide), but almost any town or city will have a park or botanical garden you can run around.
If you fancy something more extreme, there are several companies (such at Travelling Fit) which specialise in combining a holiday with a marathon in such places as Angkor Wat, Great Wall of China and New York, often with guaranteed entry.
Cool-down in the sea
Treat yourself after a run to a welcome cool down in the sea (or hotel pool, waterfall, river) after your run. There's no better feeling than soaking in the water knowing you've (a) done a run, (b) aren't at work, (c) have earned a drink!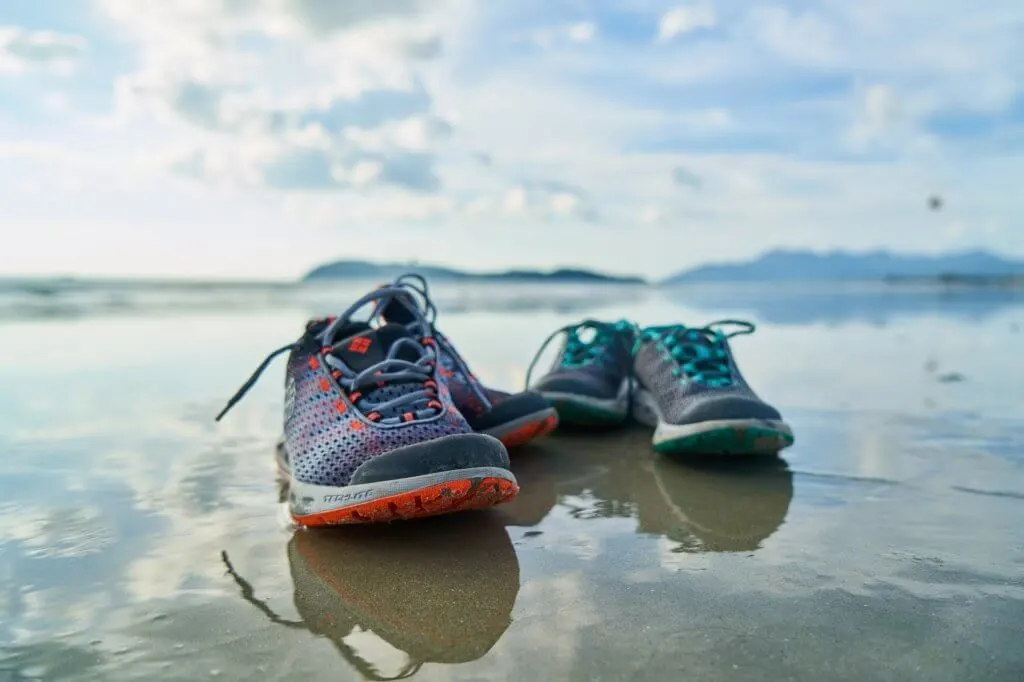 Eat and drink well
If you are training a specific event, you may need to watch what you are eating and drinking whilst on holiday. It can be difficult to avoid beers, wine and burgers but it's quite easy to find pasta, rice, vegetables and other running-friendly food in most countries, especially if eating at a restaurant. Don't be too hard on yourself if you do have a naughty day or two with food, you are still on holiday remember.
One of my favourite parts of a holiday is relaxing with a cold beer in the evening. But rather than having an alcoholic one at night, I found that France and Spain produce some nice non-alcoholic beers (San Miguel and Kronenburg were my favourites) which allowed me to chill out, guilt-free. Plus the lack of a hangover helped with the early starts.
Change your routine
At home, I usually go out for a run in the evening when the kids have gone to bed but, on holiday with later bedtimes and evening entertainment, this wasn't always possible. Don't be afraid to change your routine whilst you are away and go out for a run when it fits in better with family time. I enjoyed the early starts for a change and was usually back to the tent before anyone else was awake – perfect for ticking the runs off but still being involved fully in the holiday.
---
You may also like to read:
France road trip itinerary for a summer of family camping fun
Is it worth getting a GoPro for family travel adventures?
Family adventure travel ideas for 2020