Nuremberg is steeped in elegance and charm, boasting medieval architecture, numerous museums, and characterful beer cellars. It makes for a wonderful European city break . But what we didn't appreciate before our visit, is exactly how much there is to do in Nuremberg with kids; a castle, toy museum, train museum, zoo, and planetarium to name but a few.
This city has to be top of your list if you're visiting Germany with kids!
Disclaimer: Tourismus Nuernberg provided us with a two-day pass to cover transport and entry costs to the Imperial Castle, Toy Museum, DB Museum, Nazi Party Rally Grounds, and Zoo. Holiday Inn Nürnberg City Centre provided us with five nights complimentary stay in a family apartment. However, as always, these are all my own words and opinions. Furthermore, this post contains affiliate links. Should you click on a link to purchase, it is at no extra cost to you, but I receive a small commission, which goes towards the running of this blog.
Check out our video to see what we got up to:
We visited Nuremberg in December for five nights, in-between Christmas and New Year, flying direct from Manchester with Ryanair. With temperatures hovering around 0°C we wrapped up warm, but there was always a hot chocolate or Nuremberg Bratwurst to warm us up if needed. The city is compact making it easy to walk between places in the Old Town, and the public transport efficient and affordable if venturing further afield.
Make sure you get a 2 day Nuremberg pass. This gives you free admission to lots of museums and attractions throughout Nuremberg (including Imperial Castle, Toy Museum, DB Museum, Nazi Party Rally Grounds, and Zoo), and also provides unlimited free public transportation.
If you are looking to visit Nuremberg with kids, these are our top ten things to do:
1. Walk around the old town
Nuremberg's old town is compact, with lots of pedestrianised streets. It's therefore relatively easy for little ones to get around, and also rather flat if you wish to take a buggy. Take a stroll from Josephsplatz to the small island in the Pegnitz across the wooded 'Hangman's Bridge', then along picturesque Weißgerbergasse and up to the Imperial Castle (where kids will want to play and climb on the boulders at the front), via the Lutheran St. Sebaldus Church. Head back in to the centre via Burgstraße, past Hauptmarkt (opposite the Catholica Church) and on to St Lorenz Kirche.
2. Imperial Castle
Towering over the rooftops of Nuremberg, the Imperial Castle was once one of the most important fortified palaces of the Roman Empire. Explore the hidden staircases and marvel at the armour and weaponry, before taking a guided tour of the Sinwell Tower and Deep Well. At the foot of the castle are large boulders, perfect for little explorers to climb over. Note that there are no toilets inside the castle, only mobile toilets by the viewpoint.
3. DB Railway Museum
A must for all train enthusiasts, learn about the history of the German railroad at the oldest railway museum in the world. There are lots of fine models displayed behind glass, and restored and replica engines, all to admire from a distance with no touching. The lack of interaction was initially disappointing.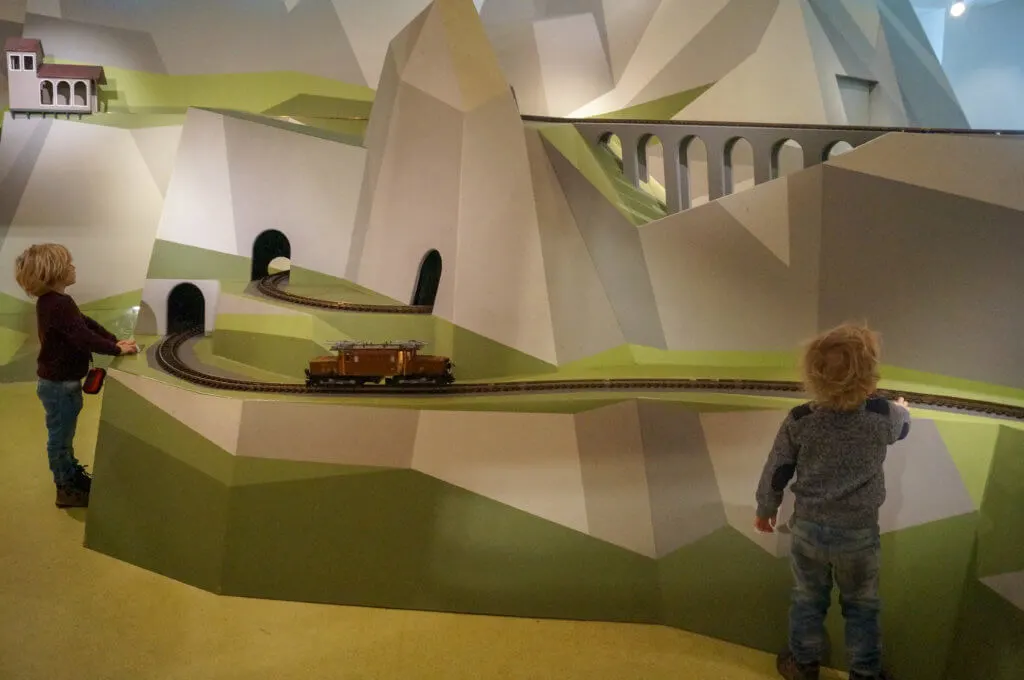 However, if you head through the Communications Exhibition (which is a lot more interactive with quill writing, pneumatic postal tubes, and phone calls – our boys had no idea how a dial phone worked!), you will find 'Kids Trainland'. This is a fantastic kids' play area with train carriages to scoot around on, a dress up area, wooden track making, an electric ride-along train, and much more. We would have missed it if we hadn't decided to wander into the Communications Exhibition.
4. Toy Museum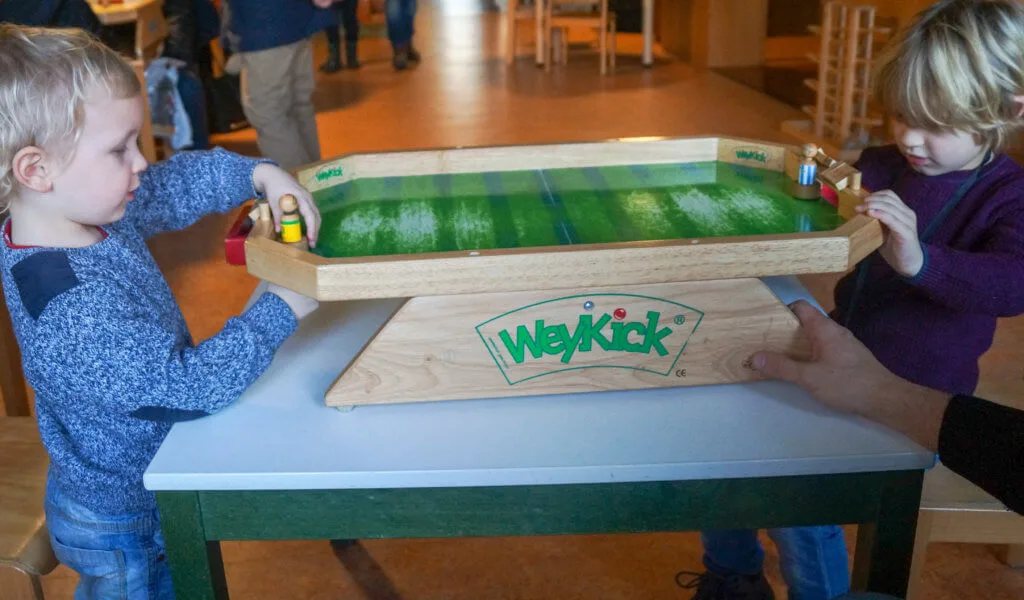 Nuremberg has a long history of toy making, starting with the doll makers of the Middle Ages. Marvelling at the historic toys behind glass, I couldn't help but notice how delicate toys used to be, and how they wouldn't last a second with my boys! Thankfully there are designated play areas next to the entrance and on the third floor. Lots of building blocks, board games, retro electronics, and wooden toys await curious minds, both young and old.
5. Taste the Nuremberg Bratwurst
Mini sausages piled into a bun. Apparently the way to ask is "Drei im Weggla" ("Three in a bun"); a bit different to your standard one-sausage in a finger bun, and arguably tastier. You'll stumble across market stalls in the old town selling them, ready to eat. Squirt on ketchup, mustard, or (more traditionally) horseradish ("Kren"). Perhaps order some sauerkraut on the side. The kids will love it.
6. Nuremberg Zoo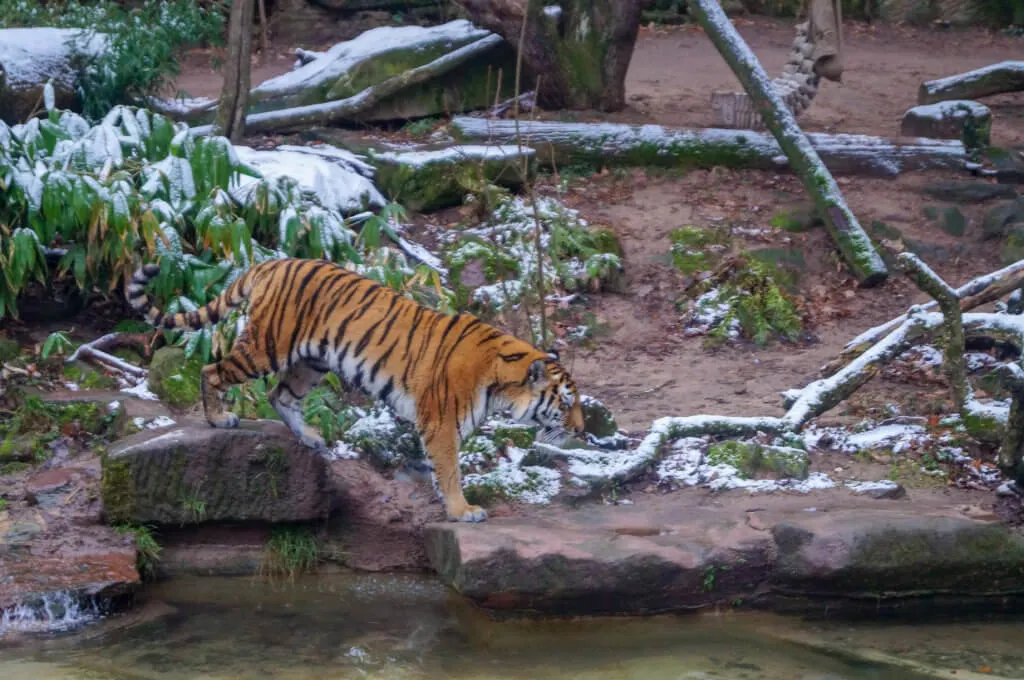 Since our overlanding travels through Africa, we were yet to visit a zoo as we didn't feel right seeing animals in captivity. However, as far as zoos go, Nuremberg Zoo is pretty good; the conservation work and research undertaken is extremely worthwhile, and it's wonderful to see children so engaged in our natural world. The pens are clean and spacious, yet the zoo isn't too spread out for little legs. There's a good playground and lots of picnic sites for the warmer months. Our boys particularly enjoyed the gorilla enclosure and the rather vocal lion (although it didn't quite seem right watching him pacing up and down in the snow). Take tram no. 6 from Main Railway Station (Hauptbahnhof Nürnberg) and get off at Tiergarten (Zoo).
7. Playmobil Fun Park
A Playmobil theme park offering various play worlds including a Farm, Police Station, Dinosaur Land, and a Knight's Castle. There's also an extensive water play area and sand sludge section for cooling down on hot summer days. As we visited during the winter, only the glass HOB-Center was open. This is a huge Playmobile entertainment centre with lots of Playmobil toys to play with, a large climbing area, and lots of cafés. It was insanely busy and overcrowded when we visited, but the boys loved it. Check their website for opening times.
8. Tucherland
If it's a rainy, cold day and your little ones need to burn off some energy, head to this indoor play centre. There are trampolines, bouncy castles, high ropes, a climbing wall, and virtual games. There's also an outdoor lake where you can paddle and swim in the summer. We didn't actually visit here, but thought I'd mention in case a parent is in need 😉
9. Nicolaus Copernicus Planetarium
With shows geared at kids aged 4 and up, this is a fantastic way to explore outer space from the comfort of an air-conditioned domed hall. This is another place we didn't get round to visiting. Do bear in mind that shows are all in German. Check out their website for further details.
10. Nazi Party Rally Grounds
The Nazi Party Rally Grounds is far from the most obvious place to take kids on a city break in Nuremberg, but it's a place us parents wanted to visit, and we actually found the boys were quite engaged in the various displays which provided a factual, sombre and thought-provoking explanation of the past. Entry price includes an audio guide but there are no buttons to press or interactive exhibits for kids, and you will have to be selective in how much ground you cover. To the back of the building is a open parkland if your little ones require a run around.
Save on attractions with the Nürnberg card
With the Nürnberg card you have free entry to more than 40 museums and attractions and you can use the Nürnberg card for unlimited travel in Zone A on 2 consecutive days (not 48 hours), and it's FREE for children aged 5 and under. If you plan to visit three or more attractions in Nuremberg over two consecutive days, it's definitely worth getting. Click here to purchase.
Where we stayed
Centrally located within the city walls, the aptly named Holiday Inn Nürnberg City Centre is a great choice for families. We stayed in a spacious family room with bunk beds for the boys. The temperature-controlled rooms, are clean and modern, with tea/coffee making facilities, generous storage space, a safe, and spacious en-suite with deep bath and double sinks. Fluffy towels are standard. The sparkling apple juice left daily in the room's fridge is a nice touch.
Read our full review of Holiday Inn Nürnberg City Centre here.
Staff have a good balance of formal and friendly, and we particularly enjoyed the generous buffet breakfast each morning offering fresh breads and fruits, yogurts, cereals, meats, cheeses, and cooked breakfast options.
Getting around Nuremberg
The old town is compact and therefore walking between places within the city walls is doable with young kids. The city is also buggy-friendly. However, should you wish to venture further afield, there is a good network of trams, buses and metro. If you ride the tram, try and get a seat right at the back so you can watch the rails from the large rear window.
The easiest way to get from the airport to the city centre is via the metro.
---
You may also like to read:
Things to do in Cologne with kids
Best cities to visit in Germany with kids
Things to do in Hamburg with kids