Like seemingly all German cities, Cologne makes for a fantastic family city break. But I would go as far to say that it was our favourite stop on our half term German cities tour, which also included Hannover and Hamburg. There's much more to Cologne that it's magnificent cathedral and beer cellars, and if you're planning a family trip to Cologne and researching things to do in Cologne with kids (or rather, 'köln mit kindern'), then read on…
Disclaimer: Köln Tourismus provided us with a 48h KölnCard and Hostel Köln provided three nights complimentary accommodation in return for honest coverage on my blog review of Cologne for kids and social media. As always, these are all my own words. Also, this post contains affiliate links. Should you click on a link to purchase, it is at no extra cost to you, but I get a small commission that goes towards the running of this blog.
Best time to visit Cologne with kids
Cologne gets flooded with tourists in the summer months of July and August and accommodation prices rocket, along with much of Europe. However, this is the time for beer gardens and festivals (such as Summerjam, Eat Play Love, and the city's Christopher Street Day parade). November and December is a popular time for visiting the Christmas Markets, and Carnival Cologne is also mid November.
We visited February half term, and even though there was a chill in the air we had a couple of sunny playground days. But we did find some attractions closed, such as the Cologne Cable Car and Phantasia Land.
However, if you want to enjoy some warmth in your days, but avoid some of the crowds and ensure places are open, May and October and probably the best months to visit and experience all things to do in cologne with family.
Top things to do in Cologne with kids
Here is a map showing locations of the top things to do with kids in Cologne.
1. Cologne Cathedral
On exiting the main station, the grubby spires of Cologne Cathedral tower over you, piercing the heavens. This is Germany's most visited landmark, attracting an average of 20,000 people a day, and no visit to Cologne is complete without stepping inside to marvel its interior.
Standing at 157 meters tall, the cathedral is currently the tallest twin-spired church in the world, and the largest Gothic church in Northern Europe. So not surprisingly it dominates the Cologne skyline, which after the world wars has very few tall buildings to compete with.
You can organise a guide to show you around, but with our boys only being 4 and 6 years old we prefer to wander around at our own pace. We try and work out the stories from the stained glass windows and light a candle for family members who have passed away.
You can climb to the top of the tower and also visit the Cathedral Treasury. Tickets are €6 combined per person, €3 for school children, under 6 are free. Or you can purchase a family ticket for €12.
2. Hohenzollern Bridge
Across from the Cathedral, the grand Hohenzollern Bridge stretches over the River Rhine, weighed down by thousands of love locks. There is a footpath separated from the rail tracks and road that you can walk along to check out all the locks left by lovers who have thrown the key into the Rhine to demonstrate their eternal commitment to eachother.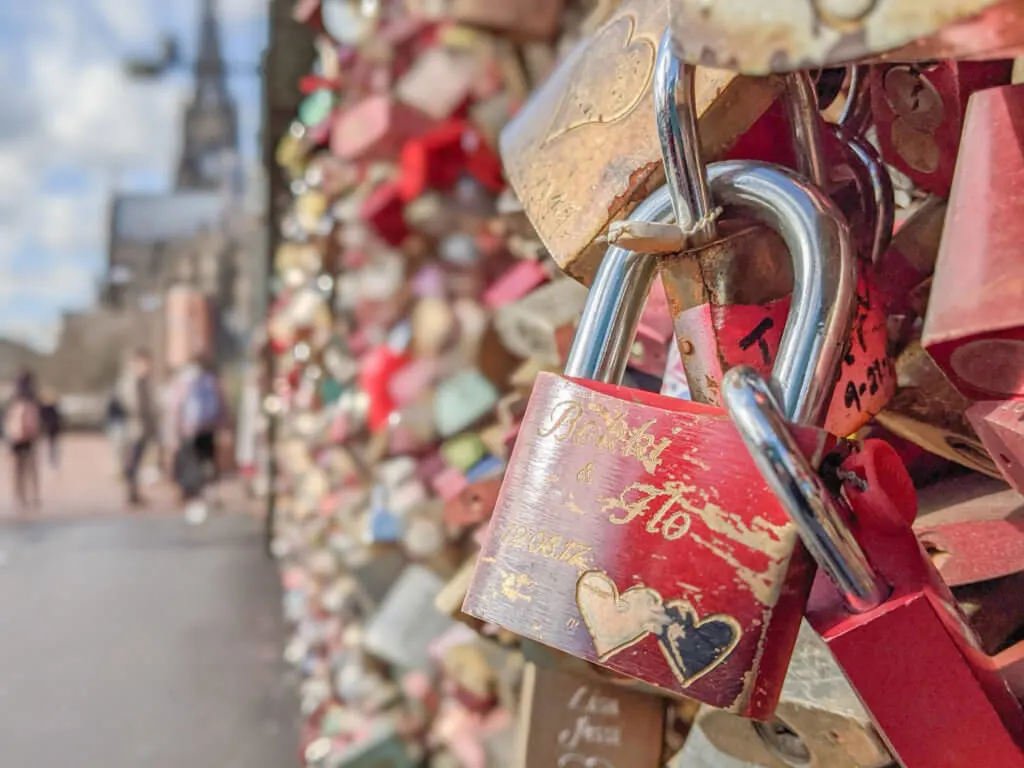 The boys found it fascinating picking out names and dates. I suggested to them that we should do the same, but I was stopped by my eldest that explained that it's bad for the environment. Interesting how kids are often more aware of environmental issues than us!
3. Rheinpark
Once you've crossed the bridge, follow the path along the river to the left until you reach Rheinpark. Here you will find a fantastic playground complete with climbing ropes, a huge slide, and zip wire. It's a good place for a picnic on a warm summer day.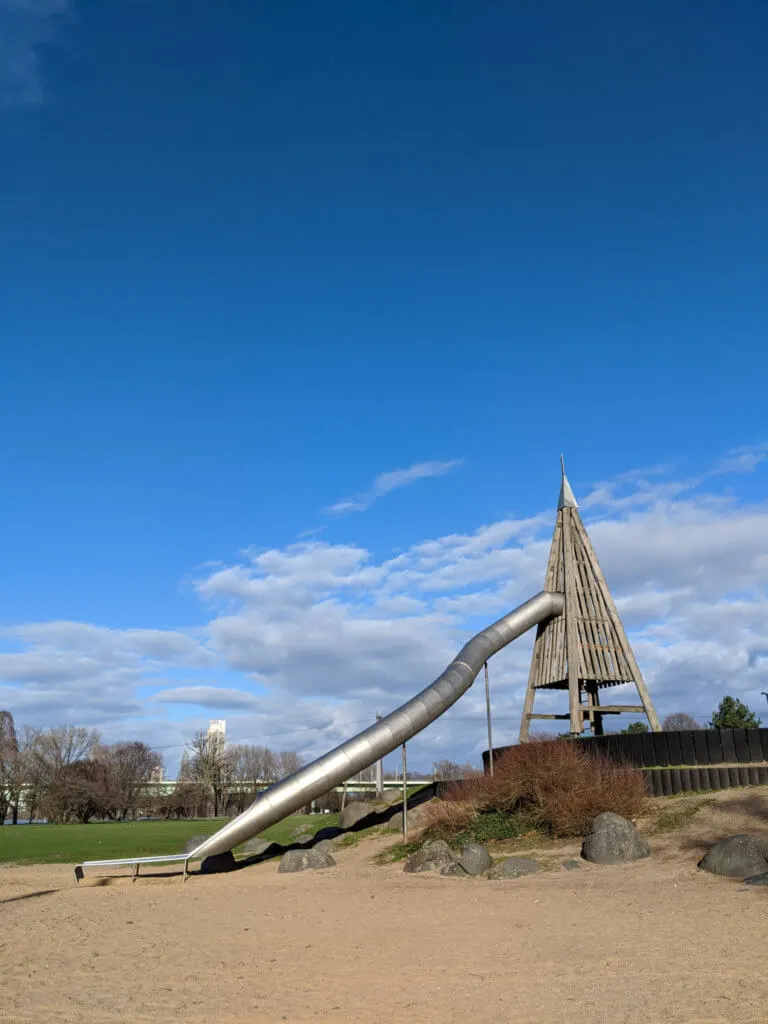 4. KölnTriangle
For epic 360° views over the city on a clear day, head to the viewing platform at KölnTriangle. Entry is €3 and there is a lift to take you up to the 28th floor. You then climb an additional flight of stairs by foot.
The views from the top are breathtaking and there is no time limit on your ticket. Perhaps indulge in some waffles from the bar to accompany the view.
5. Odysseum
Odysseum is a high-tech interactive science and technology museum geared 100% to kids. It's very hands on and perfect if you're wondering what to do with kids in Cologne on a rainy day, or any day in Cologne really, as it's that good.
Uncover dinosaur bones and climb jungle trees, train to be an astronaut and figure out science quizzes, and run wild in the large soft play area or make your own movie.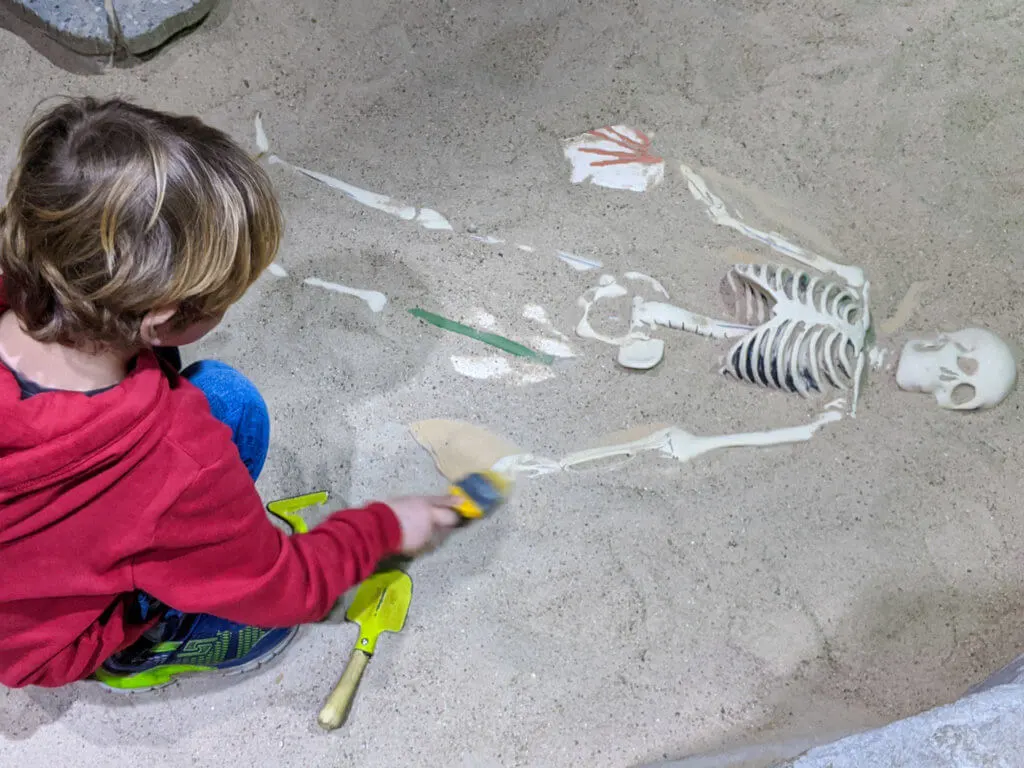 There is so much to do here and you could be here for a full day. Except, we found the crowds a bit too much and only lasted a couple of hours. We visited on a Sunday in February. If you can visit on a regular school day, it will of course be much quieter. I would normally suggest getting there as soon as the door open, but everyone else had the same idea as us.
6. Chocolate Museum
Learn about the history of chocolate and how it's made at the Chocolate Museum. There is, of course, a lot of tasting to be had along the way and you can even make your own chocolate bar! Children under the age of 6 are free. Deliciously fun! And a good sugar pick me up after a mornings sight seeing.
7. Aqualand
Wandering what to do in Cologne with kids away from the main sightseeing? Well head to Aqualand, which is a huge indoor water park just to the North of Cologne. Arrive early to beat the queues for entry tickets, but plan to be there for the full day. It's one of the best indoor activities in Cologne for kids.
On arrival we were a bit worried there was't enough for our boys to do. They were 4 and 6 years old at the time, so too big for the toddle pool, and technically too short for the big slides. However, they were allowed on a few of the slides (about four of them) with an adult. This is obviously super fun, but exhausting for parents, so just keep this in mind.
There are also lots of water jets, different pools, and a lazy river to take you outside.
Lockers are free. We noticed that locals had brought flip flops with them to wear around the pool. There are sunbeds for lounging, although we couldn't find a spare one (this is Germany after all!) and didn't really have time to stop anyway. There is also a fast food restaurant on site.
8. Cologne Zoo
It seems that most German cities have a zoo and Cologne is no exception. Cologne Zoo is open 365 days a year with over 10,000 animals and 8,000 species to see.
Expect to see all the usual animals; the huge elephant enclosure is impressive. There is also a massive adventure playground area. Although it's nothing special to the city, it's definitely one of the best things to do in Cologne for kids and can easily fill an entire day.
9. Cologne Cable Car
Cologne Cable Car is a unique way to view the city. It's a 930 metre long crossing over the Rhine that lasts for six minutes. It's handy for the zoo and a good way to get across to the playground at Rheinpark if little legs need a break.
The cable car is not open during the winter. Tickets for one-way are €4.80 for adults, €2.70 for children aged 4-12, under 4's are free. Discounts available for groups of 4 or more and multiple journeys.
10. Phantasia Land
Just 45 minutes south west of Cologne is Phantasla Land, a huge amusement park with thrilling rollercoasters, epic water rides and world class entertainment across six different lands: Berlin, China Town, Deep in Africa, Fantasy, Mexico and Mystery. Unfortunately, we were unable to visit as it is only only April through to November, and we were in Cologne in February. Check the website for ticket prices and opening times.
How to get around Cologne with kids
Most of Cologne's main attractions are in the Old Town and you really don't have to walk that far to get between places.
For journeys further afield there is an excellent public transport system including trams, buses and trains. If you get the KölnCard, you get unlimited transport for either 24h or 48h, and up to 50% lots of attractions, museums, and even restaurants. We found Google Maps to be fantastic for navigating the city with train and bus times.
However, if you just fancy resting your legs and getting a feel of the city, the Hop-on-hop-off bus is a great idea.
Getting to and from Cologne airport to city centre
The easiest way to get from Cologne-Bonn Airport to Cologne City Centre is by using the S-Bahn train S13. This train goes direct to Köln-Hauptbahnhof. Trains depart every 10-15 minutes from the airport train station and the journey is only 14 minutes. If you catch the Regional Express (RE) trains it's only 11 minutes, and the ICE trains are 10 minutes. It's just a case of arriving to the platform and seeing which one turns up!
The fare between Cologne city centre and the airport is €3. Expect to pay €30 for a taxi.
Alternatively there in the bus (line 161), which departs from Cologne Bonn Airport to the Portz Markt in Cologne (main Rail station) every 30 to 60 minutes. Travel time is 15 minutes and one ticket costs 3€. The train is easily the best option.
Where to stay in Cologne with kids
We had a lovely stay at Hostel Köln in a modern quadruple room with private bathroom. Built in a former office building, rooms are basic, but clean, and the location is good. We also enjoyed a fantastic buffet breakfast which was included each morning, and there is even a small play area in the dining room.
Check out our full review here.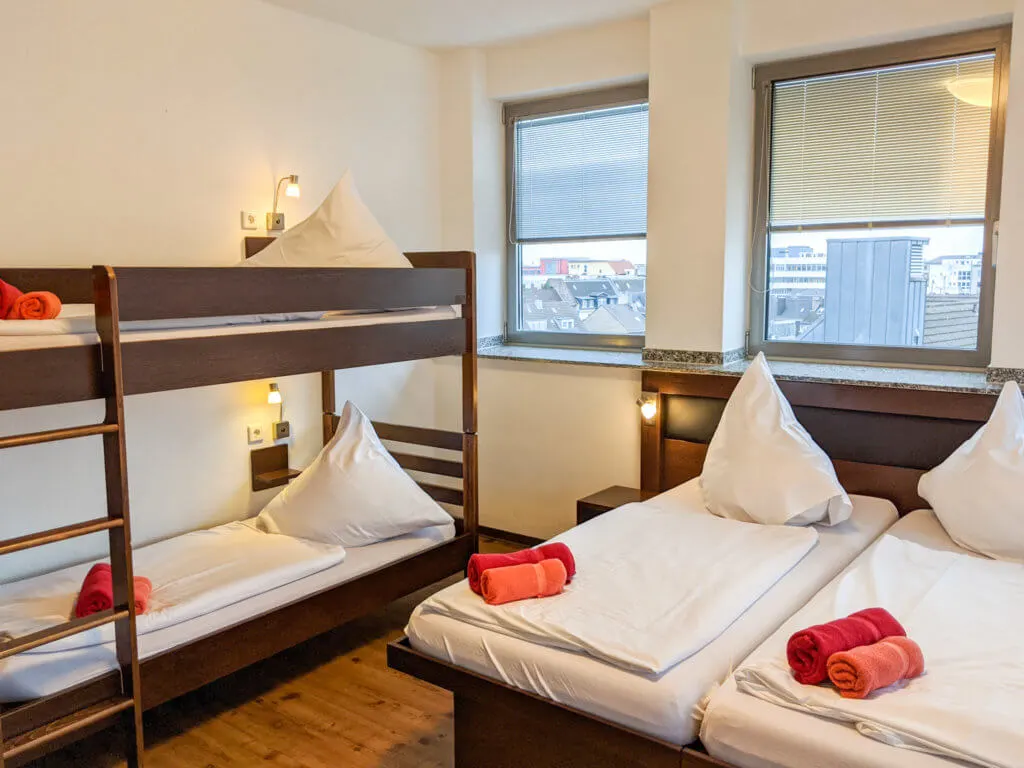 Walking is really the best way to get around the city and ideally you want to be in or near to the Old Town. If you're looking for something a bit more fancy than a hostel, check out these alternatives:
art'otel cologne by park plaza – a modern hotel with bright spacious rooms, located right on the River Rhine. Cologne Cathedral is a 15-minute walk away, and Imhoff Chocolate Museum is 250 yards away.
Mauritius Hotel & Therme – another modern style hotel located beside the Mauritiuskirche Church in the Old Town district of Cologne, and has both an indoor and outdoor pool!
---
You may also like to read:
Nuremberg with kids: top things to do
The best ALTERNATIVE European city breaks with kids
Places to visit in Europe in Summer to avoid the crowds