I knew very little about Hannover before our visit, and in all honesty we only planned a two night stop here as I was looking for somewhere interesting to explore between Cologne and Hamburg on our February half term train travels through Germany. A quick Google search told me that it's a very business city, popular with trade shows, and was heavily bombed in the war. Would this mean a charmless city with little to do in Hannover with kids?
Disclaimer: Our visit to Hannover was hosted by Hannover Tourism who organised complimentary accommodation, meals, transport with the HannoverCard, and activities. As always, these are all my own words. Also, this post contains affiliate links. Should you click on a link to purchase, it is at no extra cost to you, but I get a small commission that goes towards the running of this blog.
Far from it! Every German city we've visited always impresses me with how well young kids in particular are catered for, and our family trip to Hannover was no exception. Plus, the city is oozing with history. Whilst the arcitecture perhaps does lacks charm, it certainly makes up for with its impressive Baroque buildings dotted across the city. I always love it when a destination off the tourist track ticks all the boxes for a European city break with kids – Hannover offers some great family days out, yet has enough history and culture to keep parents interested too.
2 days in Hannover with kids itinerary
From the things we got up to on our family trip to Hannover, I've tweaked this itinerary for a perfect two day itinerary, including suggestions of where to eat.
You can check out the locations on the map below of our suggested things to do in Hannover with kids.
Day 1 – Hannover Walking Tour and Sea Life
Hannover is one of those cities where the sites aren't immediately obvious, so I suggest starting your visit with a walking tour with a local booked through Hannover Tourism. This isn't normally something that we would do as we generally perfer to explore a new city under our own steam with the flexibilty to go where we please. But our local guide, Nikolas, really brought the city alive for us, tailoring our personal tour perfectly to the boys and taking us to places we never would have found ourslves.
Nikolas took us to the main sites such a Ernst-August-Platz, the grand Opera House, and the even grander and extremely impressive New Town Hall (featured at the top of this blog post). But it was the little unknown extras that really engaged our boys (who were 4 and 6 at the time) – a drain cover in the main square that plays music, a real dinosaur footprint on a wall of a building, and the best place to order your own made up juice drink!
A good lunch stop after your tour is Francesca & Fratelli (located here). The pizzas are perfect, and they also do smaller sized pizzas for kids.
After lunch, jump on the tram at Kröpcke and ride 6 stops to Hannover Herrenhäuser Gärten for the Sea Life Centre. If you have been to Sea Life in the UK, it's the same company and branding. They're always a great day out with little ones.
Sea Life Hanover is just the same, so you can expect to see lots of fascinating sea creatures, a walk-through tunnel to spot the sharks, and lots of hands on activities. You'll also find an outdoor rainforest to explore! Our boys loved getting their Sea Life Hanover passports stamped as we went through each section, and received a small medal at the end. Don't miss the education room where you can colour a fish in, put it under a machine, and watch your creation appear on the screen and swim about!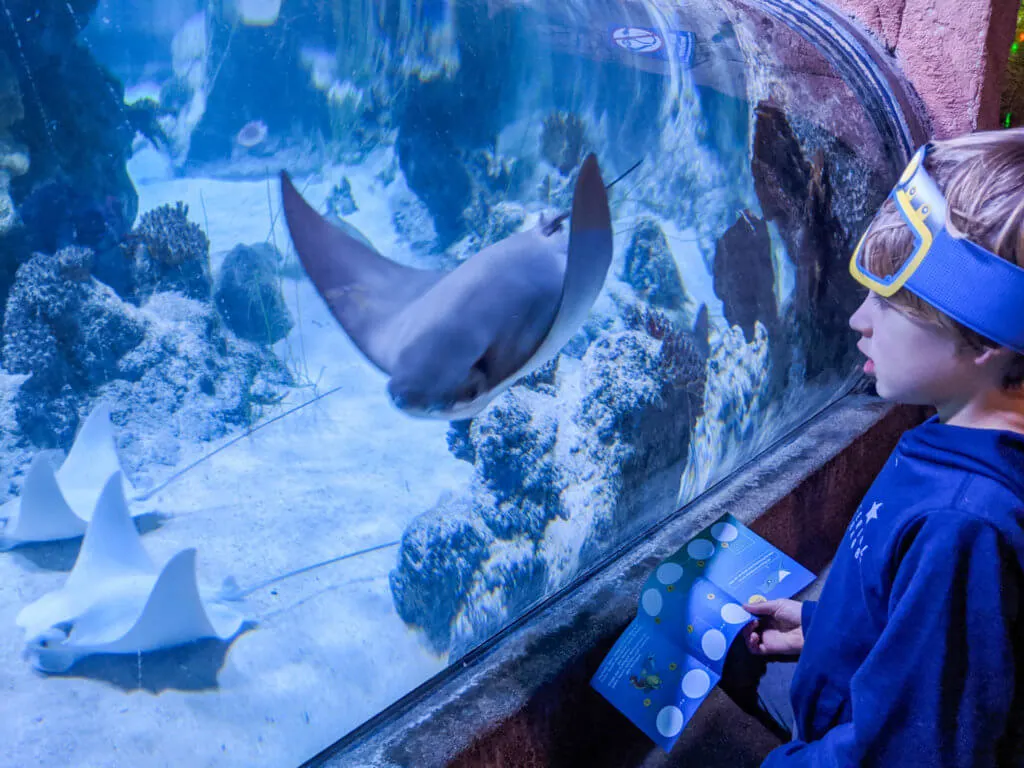 If you have time, it's worth visiting the Herrenhausen Gardens just across the road from Sea Life. These extensive Baroque gardens are free to enter, and a good place for the kids to have a run around. Check here for opening times.
Day 2 – Hannover Zoo
We only allowed for a few hours at Hannover Zoo, but it all honesty it deserves a whole day to itself. It is a fantastic zoo and extremely well thought out, with a logical path guiding you around all the wildlife. There is a really good range of animals including lions, elephants, gorillas, and even a baby polar bear.
There are small play areas along the way to break up the wildlife watching, although make sure you allow a good chunk of time for the huge adventure playground towards the end.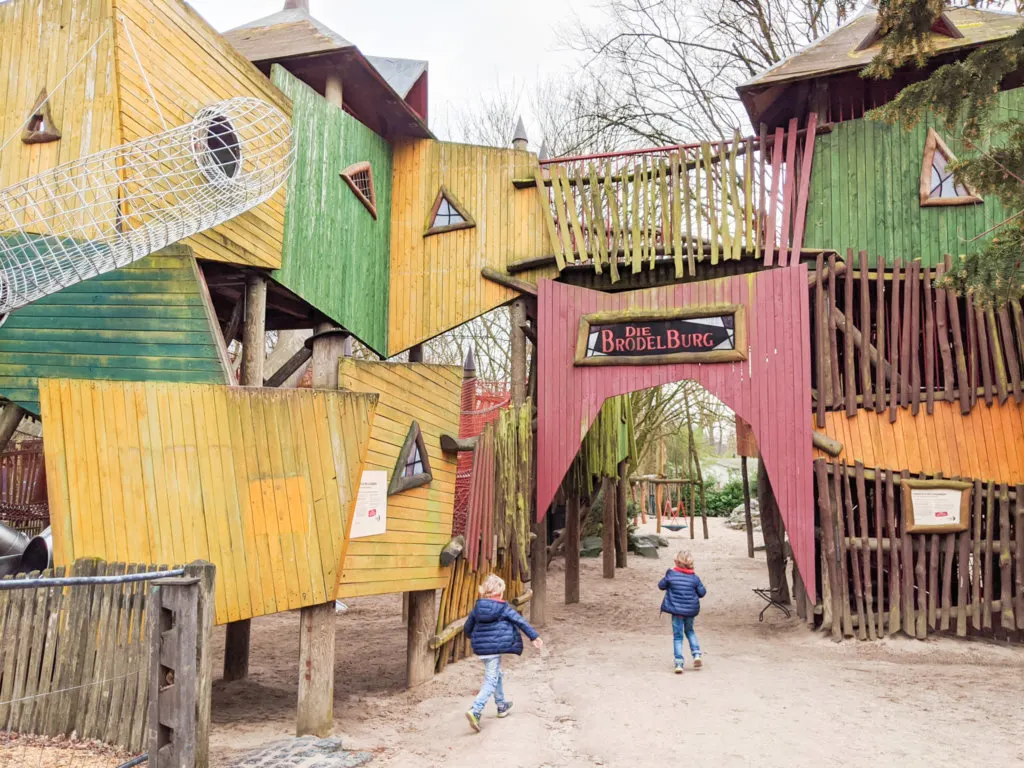 There are picnic benches and lots of eateries along the way. But we were treated to a very lovely lunch at the onsite restaurant, Hoflokal. This is a far cry from usual fast food restaurants at zoos, and whilst it's more formal, it's extremely family friendly with a separate kids menu and colouring paper and pencils provided. Plus, the service is very quick, which is alwars a bonus when eating out with kids.
After the zoo, and if the kids aren't too tired, it's worth taking a walk through Eilenriede, the largest urban city forest in Germany, and also one of the largest in Europe, twice the size of Central Park! The zoo is actually part of Eilenriede, but take a stroll through the trees to Wakitu Playground. This is the perfect spot on a warm summers evening, so perhaps come prepared with a picnic for dinner.
How to get around Hannover with kids
Hannover is a very walkable city, but we also found the transport system to be excellent. We used the trams throughout our visit, free on our Hannover Card (this card also provides discounts on attractions and restaurants). We never had to wait too long and tram stops were always well positioned for where we wanted to go.
Getting to and from Hannover airport to city Centre
S-Bahn train S5 line takes you direct from Hannover airport to Hannover city centre, and takes 18 minutes. The airport station is located in the Arrivals area of Terminal C.
You need to purchase 2 zone tickets and prices at time of writing are:
Adult single ticket: € 3.40
Adult day ticket: € 6.60
Short trip ticket: € 1.50
Children (6 to 14 years old) single ticket: € 1.30
Alternatively, the train journey is included on the Hannover Card.
Where to stay in Hannover with kids
We had a fantastic stay at the Novotel Hannover in a jungle themed family room. I had always thought the Novotel chain to be solely geared towards business travellers, but this hotel have added so many thoughtful touches to welcome families. You can read our full review of Novotel Hannover here.
Novotel Hannover is a good midrange option. If you're looking for something slightly more budget, check out:
---
You may also like to read:
Best cities to visit in Germany with kids
The best ALTERNATIVE European city breaks with kids
Places to visit in Europe in Summer to avoid the crowds