Al fresco dining late into the evening, outdoor festivals, hiking amongst jagged mountain peaks, and days whiled away at the beach… Europe is at its best in the summer months, and boy, doesn't EVERYONE know it. Accommodations get booked up, there are queues to get a parking spot at the market towns and beaches, and prices rocket.
Disclosure: This is a collaborative post where fellow travel bloggers have expressed their own opinion of a location and provided their own personal recommended for accommodation. Also, this post contains affiliate links. Should you click on a link to purchase, it is at no extra cost to you, but I receive a small commission, which goes towards the running of this blog.
So I've reached out to some top travel bloggers to find out their European secrets. Here are 18 places to visit in Europe in summer to avoid the crowds, including least crowded European cities in summer.
READ: 35 alternative European city breaks with kids
1. Pitigliano, Italy
(Jane, Little Trips)
Where to stay: Agriturismo La Gioia in the nearby town of Scansano
Living in Tuscany with our family has given us the opportunity to find the best places to sight-see in the high summer season without being shoulder to shoulder with the tourists in Florence or fighting for parking in San Gimignano. If you want to avoid the tour buses and overpriced souvenir stalls of the more famous 'guide book cities', head a bit further south to explore the town of Pitigliano.
Located between the western coast and the busier town of Orvieto, Pitigliano stands above the landscape seeming to emerge from rocks, known as 'tufo' in Italian. On a weekend in mid-July we wandered the streets of Pitigliano without a tour group in sight. We explored small artisan shops, ate pizza outdoors under a shady tree with a view of the countryside, and cooled down with water from a public fountain, which the kids thought was so much fun. At times we felt like the only travellers in the city and the kids loved being able to explore the streets without mom and dad grabbing their hands and worrying about losing them in a crowd.
Known as "little Jerusalem", the town of Pitigliano has a unique story for history buffs to learn about as well. We parked on the outside of the city centre, along the top of the rock wall on a street lined with shady benches, which made for a picturesque and relaxing way to view the city. It's a beautiful place to spend a day before heading toward the beach or back to the pool of your agriturismo.
2. Frigiliana, Spain
(Hayley, Lifeasabutterfly)
Where to stay: Apartamento De Lujo Con Vistas Unicas
When I think of visiting Spain in the summer holidays I generally picture beaches packed with sun loungers and umbrellas, all-inclusive hotels with kids clubs and streets lined with overflowing Irish bars. BUT if you take a step away from the traditional 'Brits abroad' destinations, you can find some really special places that are off the beaten path.
One of my favourite places that I have visited in Spain is the picturesque area of Frigiliana. Described as the 'prettiest village in Andalusia' by the Spanish tourism authority, this quaint area is only a few minutes drive from the hustle and bustle of Marbella, yet it seems a world away.
It has a traditional Spanish vibe and no big hotels or tourist crowds. There are many nearby tourist attractions that you can drive to before retiring back to enjoy the beautiful scenery over a nice relaxing glass of Sangria. Many of these attractions are perfect for kids – you can take them hiking in the Sierra Nevada mountains (the hanging bridges are great fun), visit the Nerja Caves or explore how the 'other half' live in Puerto Banus.
There isn't a huge amount of accommodation here but we found a gorgeous Airbnb that had the most stunning views looking out over the mountains and ocean!
3. Symi, Greece
(Cathy, Mummy Travels)
Where to stay: Iapetos Village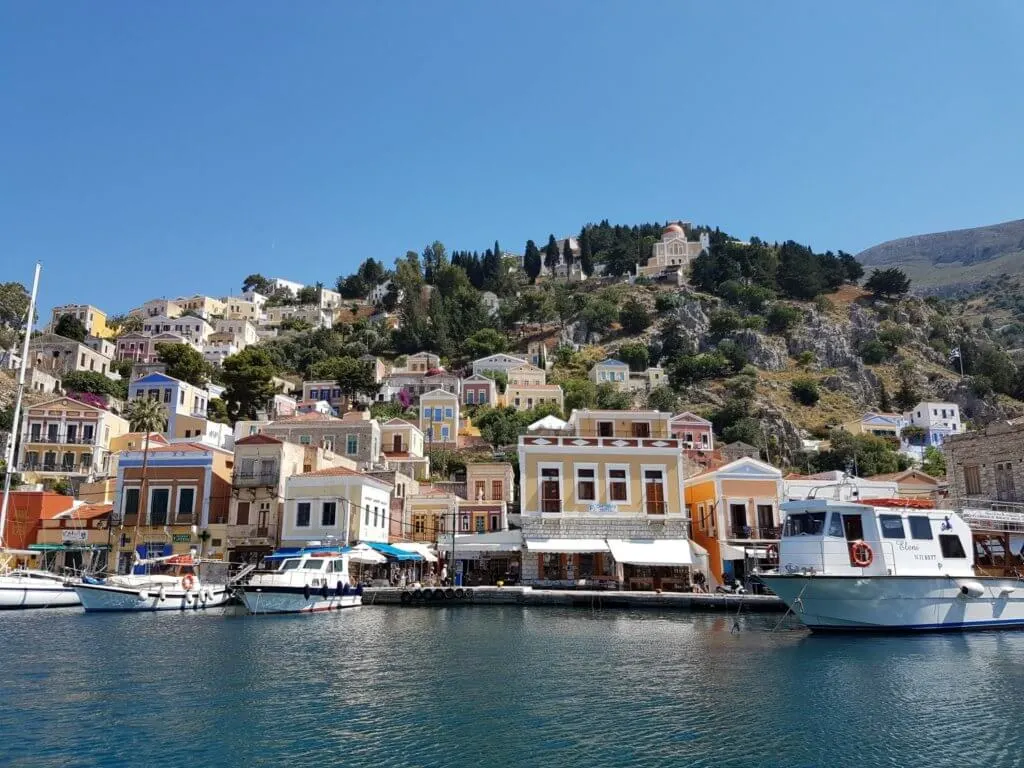 Greece is perfect for families – kids are welcome everywhere, there are beaches galore, and plenty to explore whether you prefer myths and history or boat trips and snorkelling. And there are so many Greek islands that it's still relatively easy to find one which is free of crowds.
Tucked between Rhodes and Kos, Symi is a world away from these tourist hotspots. Accessible only by ferry, you arrive to one of the prettiest harbours in the world, with Italianate pastel houses sprawling up the hillside.
There aren't many 'sights' on the island but that's part of its charm. Once an important spot for sponge diving, you can visit the island's monastery or take the bus up the hill to the little town, but even better are long lazy days spent on one of the many beaches.
Little water buses cruised around the island stopping at tiny coves with a handful of loungers on the shingly sand, often only accessible from the water which was the clearest turquoise I've ever seen. And all seemed to have a small taverna with fabulous fresh fish at bargain prices. There's no quicker way to relax.
We stayed at Iapetos Village, with a little pool and basic self-catering facilities, a few streets back from the harbour.
4. Liscannor, Ireland
(Jenny, Time Zone Travelers)
Where to stay: Clairs Cottage, Cliffs of Moher
Escape the hustle and bustle of the summer crowds and head to Liscannor, Ireland! There you can rent an amazing cottage from Airbnb that's just a short walk from the Cliffs of Moher. The over 200 year old cottage is surrounded by Irish farmland, fields of flowers, and the prettiest and healthiest cows you have ever seen. The cottage has multiple bedrooms to easily fit a family, and get this…it has goats! The host even left us a box of cereal to feed them.
When it starts nearing sunset, pack up some food for a picnic, a blanket, and a camera. Then stroll along the private trail through the fields that leads to a section of the cliffs. It is quite possible that you'll have them all to yourself. Once you round the corner, and you start to hear the waves crashing, find a spot to setup your picnic. From there, be prepared to witness one of the most beautiful sites you ever see. The majestic Irish Cliffs of Moher at sunset…all alone.
5. Berchtesgaden, Germany
(Brittany, October Acres)
Where to stay: Pension Seeklause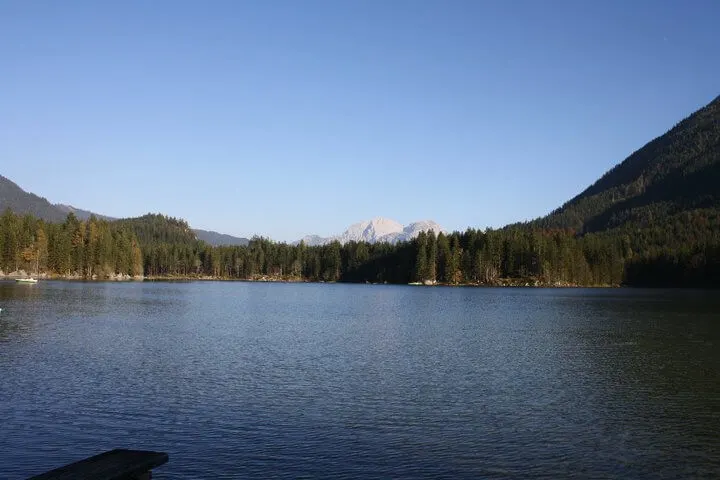 Berchtesgaden is a quaint Bavarian town located in southern, Germany. It is full of beauty and things to do, yet is often overlooked by tourists who instead go to Salzburg, Austria or other nearby Bavarian towns.
While in Berchtesgaden, we suggest visiting the Eagles Nest for stunning views and history. As the former Bavarian compound of the Nazi's there is a vast array of history to walk through. Many of the tunnels are still in tact and you can visit on your way back down from the Eagles Nest, in Obersalzburg. The Berchtesgaden Salt Mines are another kid-pleasing attraction. You will take a tour through he underground mines, which includes a boat ride in an underground lake!
We suggest staying at Pension Seeklause where you'll be treated to more gorgeous mountain and lake views as well as an authentic German bed and breakfast experience. From here you can walk through Berchtesgaden National Park and explore the serenity of this European town.
To read a more in depth guide to Berchtesgaden click here.
6. Tbilisi, Georgia
(Kami, Kami and the Rest of the World)
Where to stay: Hotel Flower
Even if each year more and more tourists travel to Tbilisi the capital of Georgia is still relatively off the radar. It's one of the most unique cities in Europe, a truly East meets West point, and you should visit it before the mass tourism discovers what a fantastic destination this is.
Tbilisi has so much to offer that it will keep you busy for at least 2-3 days. Be sure to wander around Old Tbilisi and look up the details of old houses – they are a great example of art nouveau architecture. Don't be afraid to enter the yard and staircases as they hide some real gems too. Marvel at the splendid Rustaveli Avenue, take the cable car to Narikala Fortress to see the city from above and visit some of the old churches (did you know that Georgia was among the first countries that adopted Christianity?).
Don't forget about the food – Georgian cuisine is extraordinarily delicious, and each meal turns into a small fest. The best place to stay is Hotel Flower, located in the heart of the Old Tbilisi – no other accommodation gives you such a splendid view of the city.
7. Lumbarda, Croatia
(Sinead, Maps Made Memories)
Where to stay: Apartment Rano
Lumbarda is a picturesque village in the south-east of Korcula Island in Croatia. It is five miles away from historic Korcula Town. The pretty, hilly village is situated around a small harbour overlooking the Skoji Archipelago in the Adriatic.
There are a few welcoming restaurants and bars offering fabulous views of the Adriatic. There are no discos or thumping music! Families can hire bikes, paddle boards or kayaks to enjoy the pristine water around Lumbarda. The visibility for snorkelling is fantastic and the sea is luxuriously warm for swimming. Kids will love the sandy beaches of Vela Przina and Bilin Zal just 1.5 kilometres away from the village centre. Both beaches gently slope into the sea making them ideal swimming spots for children. There is an easy coastal path families can walk providing beautiful views of the sea particularly at sunset.
Every Friday evening, the small village square comes alive with a Fisherman's Market. Local people set up enticing stalls selling wine, main dinner courses (mostly fish caught that day) and delicious, locally made desserts.
We stayed in gorgeous Appartment Rano, a friendly Airbnb metres from the shoreline. The village was very quiet, even in August and was a peaceful, calm retreat from other busy Europe locations we visited.
8. Aberdeenshire, Scotland
(Kathi, Watch Me See)
Where to stay: Skene House Hotels – Rosemount
The Scottish Highlands, Edinburgh and the islands can be incredibly busy during the summer. Luckily Scotland has a lot more to offer and there are many places to visit and things to do off the beaten track. A summer trip to the north-east of Scotland boasts sandy beaches, stunning coastal scenery, dramatic lighthouse, fairytale castles and much more!
Aberdeenshire is my favourite region to explore when I'm hungry for nature, history, delicious food and vibrant cities. You can follow the Scottish Castle Trail to visit ruins by the sea and fully-restored castles in the countryside – one of them even has a treetop course. In the Royal Deeside you can go for easy walks and see lots of wild animals – a Scottish forest safari! And on the Aberdeenshire Coastal Trail you can hike, visit lighthouses or do watersports – there is so much to discover and many family-friendly activities!
It is much easier to find affordable accommodation here as well – although I would always book ahead of I visit during school holidays. I recommend Skene House in Aberdeen because their fully equipped apartments make life a lot easier.
One of my favourite hidden gems to discover is the beach at Rattray Head – a remote sandy beach with an off-shore lighthouse that makes for some dramatic landscape photography and sand castle backdrop! What are you waiting for!?
9. Le Marche, Italy
(Annabel, Smudged Postcard)
Where to stay: Casa Ulissi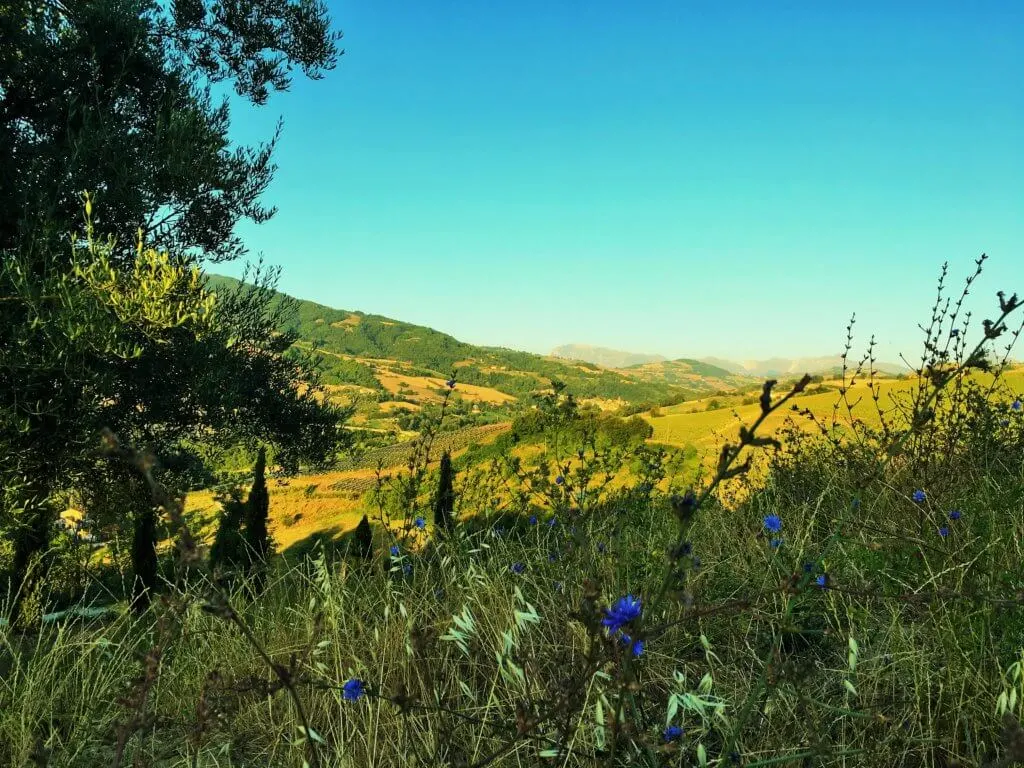 If you've visited Tuscany and you're after more amazing hilltop villages, plenty of art and culture but with a fraction of the tourist crowds, head to Le Marche. This central Italian region offers top notch cities such as Urbino, birthplace of Renaissance artist Raphael, and Macerata home to an excellent open-air opera festival. There are charming villages to enjoy long lazy lunches in and plenty of wine tasting opportunities. There are mountains to explore and miles of sandy coastline to unwind on.
In August Italians flock to the beaches of Le Marche but you'll find very few foreign tourists. It remains very much a locals' holiday destination. The beaches are really well equipped for families: lots of pizzerias and gelaterias along with beachfront play areas and long shady promendes perfect for cycling.
Accommodation is noticeably cheaper in Le Marche compared to Tuscany: there's a good range of villas or you can opt for an good value agriturismo where you'll feast on incredible cuisine!
10. Aix-en-Provence, France
(Priya, Outside Suburbia)
Where to stay: Grand Hôtel Roi René Aix en Provence Centre – MGallery by Sofite
Once we made our way to Aix-en-Provence, when we were on our Southern France road trip, and visited the markets in the evening, we did not want to leave. The streets were so lively with that South of France charm – plane tree lined boulevards and fountains at every turn. The town was not crowded like most other European cities during summer.
Well-known as the city of art and lights, many famous artists have lived here. These days it is a college town with a Provençal charm. Our original plan was to spend just a night, we decided to extend our stay in Aix-en-Provence and drove to Sault the next day looking for lavender fields. It was beginning of August when we embarked on our little road trip, which was well beyond lavender season. We were checking out the evening market near Cours Mirabeau, where one of the vendors who owns some lavender fields told us that there were a few unharvested fields near Sault, so we decided to drive to go find them the next day! We saw many sunflower fields and a few lavender fields albeit beyond their time and a little gray, but still smelt wonderful.
11. Innsbruck, Austria
(Karen, Are We There Yet Kids)
Where to stay: Hotel Sailer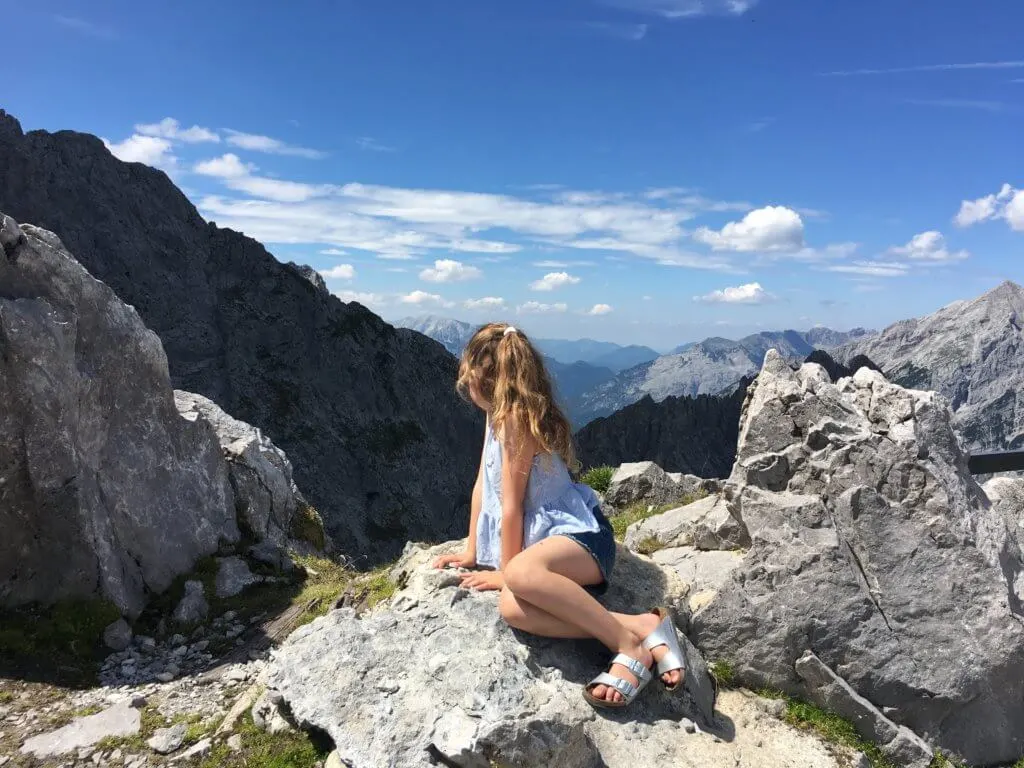 Of all the European cities we visited during last summer's family interrailing adventure, Innsbruck quickly became our favourite. Better known for winter holidays, this beautiful city on the banks of the River Inn becomes a peaceful and colourful place to visit over the summer months. Being surrounded by mountains you'll feel totally cut off from the rest of the world – heaven!
The city is small enough to navigate by foot but to get the most out of your visit I highly recommend a trip up the Nordkette by funicular and cable car.
Pick up the funicular at Congress station, designed by Zaha Hadid it's a work of art itself, then it's two cable car rides up to Hafelekar station – 2,256m above sea level where it's time to dismount and explore the top of the mountain range. The views are absolutely stunning, it feels like you've landed on Mars. You're on top of an Alp so give yourself time to hike a few of the child friendly, easy trails.
On your way back down, I suggest popping into the Alpine Zoo where you'll see various mountain creatures and learn about how they live in such an hostile environment.
12. Stavanger, Norway
(Nicky, Go Live Young)
Where to stay: Scandic Stavanger City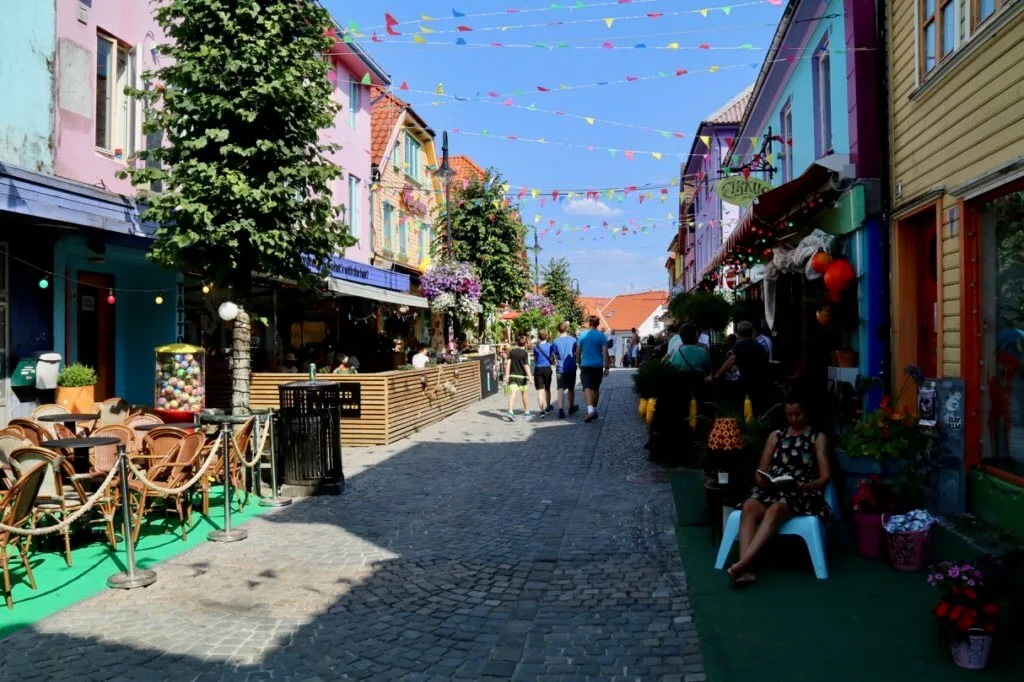 This enchanting town in fjord land, on the west coast of Norway, is the perfect place to visit to escape the summer crowds in Europe. We were lucky enough to spend a week there last summer in glorious weather (can't be guaranteed in Norway!) as part of a road trip around Norway. Stavanger has so much going for it: a spectacular location on the Lysefjord, a bustling colourful historic centre, some unique and interesting museums and some amazing hiking, all within easy reach of the town.
Wander the streets to see the old historic buildings, left over from the sardine canning industry, and bustling harbour. There are flowers everywhere in summertime. Visit two fabulously informative and interactive museums – the Norwegian Canning Museum to find out all about Stavanger's sardine history, and the Norwegian Petroleum Museum to find out all about oil exploration. Both are fun and engaging for children, with lots of interaction. There's also a wonderful playground outside the Oil Museum,made from recycled materials from the oil industry.
While in Stavanger you have to spend some time in in the great outdoors. Take a boat ride on the Lysefjord for spectacular fjord views. There are a number of memorable hikes all within an easy drive of Stavanger. Three to recommend would be Pulpit Rock or Preikestolen, with its far reaching fjord views; Kjerag, to stand on a boulder wedged between two cliffs high above the valley floor; and Florli 4444, to climb the world's longest wooden staircase. Pulpit Rock is the most suitable for younger children, with the other two being being more suited to older kids who have done some hiking.
Stavanger in fjord land should not be missed on any trip to Norway.
13. Lake Myvatn, Iceland
(Emily, Kids and Compass)
Where to stay: Vogafjós Farm Resort
Iceland is firmly on the beaten path for summer tourists. But hear me out; while there are going to be crowds in and around Reykjavik and along the south coast's attractions, the further north you go, the fewer tourists you'll see. One of Iceland's top things to see is in the north, and when we visited in August we found it much quieter than other places on the ring road.
Lake Myvatn is on the ring road in the north of the country, near Iceland's second city, Akureyri. The whole area around the lake is on top of a seismic rift, so there's lots of volcanic activity here. You probably need two days to do Lake Myvatn justice, but it can be done in one. Kids will love the volcanic sights and smells even though there are no specific kid-friendly activities – it's all about exploring the great outdoors here!
I'd head to Hverir geothermal area first, before going up to the volcano Krafla where you can walk on steaming lava. Elsewhere you can explore a magical forest by the shores of the lake and soak away your cares in the Myvatn Nature Baths – a much quieter (and cheaper) version of the Blue Lagoon.
We were based in Akureyri when we visited Lake Myvatn, but Vogafjós Farm Resort has family accommodation and a restaurant, and is set on the shores of the lake.
14. Lake Como, Italy
(Emma, Wanderlust and Wetsipes)
Where to stay: My Heart in Argegno
Lake Como isn't the first place that comes to mind when you think of "off the beaten track" or escaping the summer crowds". I was worried about going in July – I'd heard it would be heaving. In the end we went for it and I'm so glad we did! Lake Como is probably one of the best family friendly destinations we have ever been to.
There are loads of kid-friendly activities like swimming in the lake or in the many lidos dotted around the area. There's mini golf in Menaggio – a winner with my kids boasting a backdrop of the lake and mountains. You can hire a boat or take the ferry to another town on the lake. Going exploring is another fun thing to do – my kids adored Belaggio's cobbled streets and going in a funicular followed by a small hike. If that's not enough, surely Italian food (pizza and gelato anyone?) was made to be kid friendly!
As for the crowds? It wasn't deserted but we were pleasantly surprised with how uncrowded it was. We stayed in a lovely AirBnB in a little village called Argegno and had one of our best family holidays ever.
15. The Orkney Islands, Scotland
(Helena, Through an Aussie's Eyes)
Where to stay: Self Catering Bothy, Stromness
The Orkney Islands is a small archipelago off the north eastern coast of Scotland and it is very rich in Neolithic history. With such places as Skara Brae (a Neolthic settlement), the Ring of Brodger (a stone circle – think Outlander) and Maeshowe (chambered cairn with Viking 'graffiti' on the inside) it is easy to get lost in the way life use to be 5,000 years ago.
If modern history is more to your liking than you need to see Scapa Flow (acted as a Naval base during the World Wars), the Italian Chapel (built by prisoners of war) and the Ness Battery (a base). All of these places, including the Neolithic places, are kid friendly and will easily introduce them to the world of history.
My favourite accommodation on the islands was based in Stromness and is a Self Catering Bothy that I booked through Airbnb. Situated on a pier it allowed for me to watch the boats come into the harbour and the sea life that surrounds the island. I would drop everything that I am doing to go back and explore the Orkneys.
16. Stuttgart, Germany
(Chelsea, Pack More Into Life)
Where to stay: Maritim Hotel Stuttgart
Stuttgart, Germany is a major city that packs a punch without the swarms of tourists like the nearby cities of Munich and Frankfurt. There is plenty to do in the city itself such as two car museums (Porsche and Mercedez Benz), visiting the Schlossplatz with the baroque palace standing regal in the background, and taking a stroll in Killesberg park where you can enjoy the biergardens, climb to the top of the Killesberg tower for views of the city below.
If you have children travelling with you, don't miss the fun train that makes a round trip around the park, the petting area, and a huge playground complete with water play and a zip line.
Be sure to book your stay at the Maritim Hotel, Stuttgart due to its location, large rooms, indoor pool, and three onsite restaurants. Stuttgart is also the perfect jumping off point to visiting other small towns in the area such as the famous Triberg, Germany with its waterfall, black forest clocks, and cake. Or venture off the beaten path to take part in some local German activities like a barefoot walk through the forest. With its international airport and connecting flights around Europe, it is easy to see why Stuttgart, Germany would be the perfect European destination.
Check out this and more in my Top 10 Things to see and do with Kids in Stuttgart.
17. Elaphiti Islands, Croatia
(Krix, Travel Hacker Girl)
Where to stay: Guest House Tomić
Croatia became really popular in recent years thanks to the famous series Game of Thrones. While Dubrovnik is packed with tourists in the summer months, just a 40-minute ferry ride away you can find the quiet Elaphiti Islands.
Kolocep and Lopud islands are car-free. You can imagine this makes it a lovely peaceful paradise for those who come here to relax. You can get around by golf carts, but everything on the islands are within walking distance.
There are several Airbnb places to choose from, each with its own charm! We stayed at Guest House Tomić on Lopud Island, which had the most gorgeous view from the balcony to the town and the Adriatic Sea.
Sunj Beach on Lopud island has a shallow, sandy beach, which is very rare in Croatia. So this place is very ideal for families with children. You can also go snorkelling here and see some lovely fishes.
If you want something more adventurous you can go kayaking around the Elaphiti Islands. It is a great way to explore hidden bays and secluded beaches. There is a cool underwater cave near Sipan Island which can only be reached by kayak. So don't miss out on this experience if you have a chance!
18. Luxembourg
(Cielmike, Skylar Aria's Adventures)
Where to stay: Hotel Belle Vue
READ: Visiting Luxembourg with kids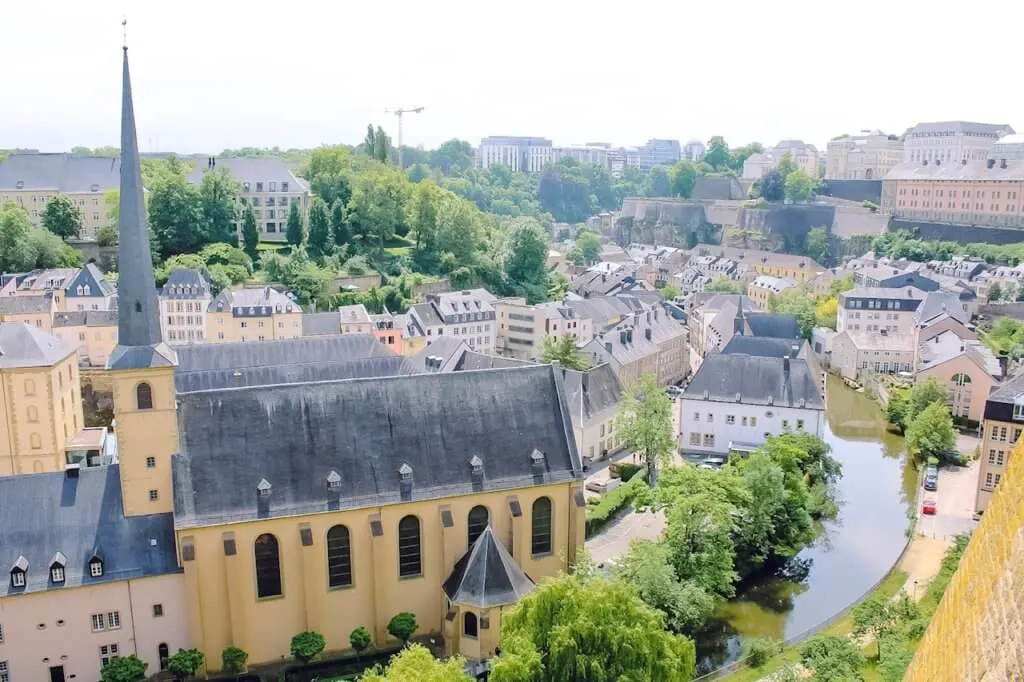 Luxembourg is one of the most overlooked countries to visit in Europe, but should be on everyone's bucket list. Because of it's location within the Ardennes forest, it's the perfect place for hiking, kayaking, camping, an outdoor lovers paradise!
Not only can you go on an outdoor adventure, but Luxembourg is a great place to go on a castle hunt as well! You can follow the national hiking trail of the "Valley of the 7 castles" that runs through the idyllic Valley of Eisch in the western part of the country. It is a 37 km walk, if your into it, or you can just drive.
It's capital, Luxembourg City is a great city break with so much to do. You can explore historic fortresses and get lost at the Bock Casemates, stroll through the picturesque streets of the Grund, or simply watch the kiddos play at one of the many playgrounds around the city. It's definitely one of the most beautiful countries in Europe that has not been overrun by tourists!
---
You may also like to read:
Best family eco resorts and accommodations in Europe
Lanzarote with kids: off the beaten track
35 alternative European city breaks with kids