When people told me they had been to Iceland with kids, their eyes widened, followed by a disbelieving shake of the head before they launched into a list of the things they had done.
Since returning from our first Iceland family holiday, I now understand that look. The breathtaking beauty of this island has to be seen to be believed, and with all its open space, magical geography, charming Icelandic horses, and hot dogs, there are so many things to do in Iceland with kids, and our boys (aged 3 and 4) enjoyed it so much that we returned exactly a year later to do another Iceland road trip with kids; this time a North Iceland itinerary!
Disclaimer: Our visit to Iceland with kids was hosted by Hey Iceland, with complimentary 4×4 car hire from Europcar Iceland (we paid for our car insurance). However, as always, these are all my own words and opinions. This post also contains affiliate links. Should you click on a link to purchase, it is at no extra cost to you, although I receive a small commission.
Where would we be without our Lonely Planet Guide? There's also a specific Iceland Road Trip edition.
Sale
Sale
We also recommend you purchase a good Iceland road map (click here), in case your tablet or Google Maps fails.
A trip to Iceland with kids had escaped us for so long as we thought it would be too expensive for us budget travellers. But cheap Easy Jet airfares tempted us and, alongside some Iceland saving tips from fellow bloggers, it made us realise that a visit to The Land of Fire and Ice does not need to break the bank. Admittedly accommodation and car hire are the largest outgoings, and we found grocery costs to be double compared to the UK, but there are so many free outdoor activities to do in Iceland to help outweigh this cost.
This 5 day Iceland family itinerary is aimed at those who want to keep costs down, get away from it all and self-drive. I've also included an extension at the end of this itinerary for those that have more time.
Check out our trip highlights of our 5 day Iceland with kids itinerary in this video:
Self-drive Iceland with kids
We love a good road trip. Self-drive is the best option for exploring Iceland with children as you're on your own schedule, with the flexibility to linger or move on as you please. Europcar Iceland provided us with a 4×4 rental on arrival at Keflavík airport. If you are following the below itinerary and driving in the winter months, a 4×4 is essential as roads can be icy and you may be driving on snow!
Planning the route for 5 days in Iceland
Hey Iceland put together this fantastic 5 day Iceland self drive itinerary for us. We explained that we wanted to see the sights, but also wanted to feel we were getting off the beaten track and away from it all. And as we were travelling with kids (our boys were aged 3 and 4), we didn't want to cram as much as possible into our days and overtire the boys. Hey Iceland certainly delivered and I couldn't fault their itinerary.
Check out this guide from Monkey and Mouse if you're looking to visit the South West of Iceland.
Online routing from your car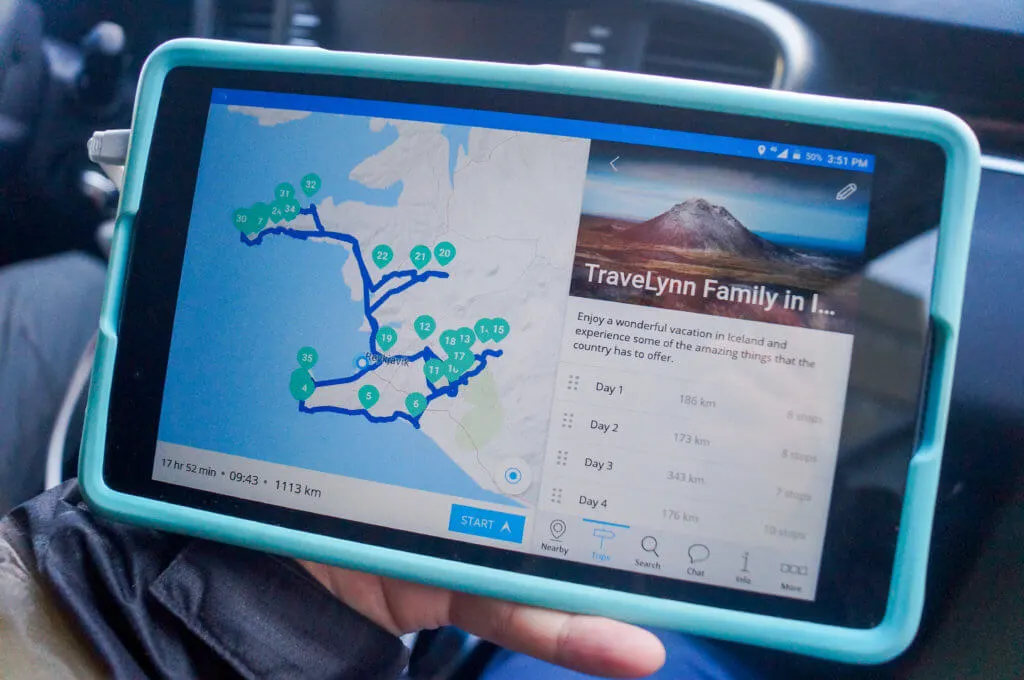 We were provided with a tablet displaying an online map with GPS to follow. This is much better than relying on Google Maps as some of the roads we drove along do not exist on Google Maps! Moreover, it was very easy popping back into the car after visiting each spot and pressing a button to lead us to our next location, rather than consulting a paper map.
You can also search for cafes, petrol stations and geothermal pools using the tablet, change your route as you go, and check road conditions ahead. If you get really stuck, there's even an online chat to speak with someone back at the Hey Iceland office in Reykjavik. The tablet also comes with inbuilt WiFi, so you can still be connected to the world when you're out in the sticks.
Child friendly accommodation in Iceland
As we travelled to Iceland end of October / beginning of November, camping really wasn't an option as temperatures dropped below freezing. Hey Iceland booked us two nights at Sel Guesthouse and two nights at Kast Guesthouse. It was really nice not having to pack up and move each morning, instead returning to a base on Day 2 and Day 4, and it didn't feel like we did much back-tracking.
We stayed at a self-catering cottage at Sel Guesthouse, which has a homely charm and felt nicely remote. This had one bedroom which we all slept in, and a separate kitchen/lounge area.
In contrast, Kast Guesthouse has a more modern feel, with spacious rooms, bunk beds for the kids, a powerful shower, and a large window to watch the Northern Lights dance over the mountains (if you're lucky!)
For both accommodations a buffet breakfast was provided, which included cereals, fresh breads, cheese, fish, cured meats, fruits, fresh juice, tea and coffee. If you book in advance, an 8 pm dinner can also be arranged for you at these accommodations, although we found this rather late for our boys and opted to self-cater at Sel Guesthouse, and had a picnic in the room each night at Kast Guesthouse.
When to visit Iceland with kids
Many people suggest visiting Iceland in summer when the weather is warmer, and long hours of daylight mean that you can pack more into your visit. However, we visited during the UK October half term. This meant there were far fewer tourists (we enjoyed many places completely to ourselves) and gave us the chance of seeing the Northern Lights (although we weren't quite that lucky).
At the time we visited, sunrise was around 9am and sunset 5pm. For young kids (our boys were 3 and 4 years old), this is more than enough daylight hours for sightseeing. They were shattered by the end of each day, and fitting any more into an evening would really have been pushing it (for us parents too). Although we did find that after 3pm, the temperature dropped and it became bitterly cold. So we advise getting out on the road for 9am each morning.
Plus, we were also fortunate enough to have snow! Snow is a huge novelty for our family and we absolutely loved it. It makes everything look so pristine and pretty, it's fun to play in, and Daddy Lynn even got to drive on the snow!
What to pack for an Iceland family holiday
Check out this post – What to pack for Iceland. But the key is layers! We took (and wore) thermals, waterproofs (we love these 3-in-1 jackets from Mountain Warehouse), woolly hats and gloves, and good walking shoes. Don't forget a spare battery and memory card for your camera (you will be taking A LOT of videos and photos).
Our 5 day self drive Iceland with kids itinerary
Day 1: The road South
Overnight stay at: Sel Guesthouse
Aim to land at Keflavík Airport in the morning to maximise the first day, and collect your hire car (we had pre-booked with Europcar and collected our 4×4 from straight outside the airport). Many tourists then head straight to the Blue Lagoon or on to Reykjavik. However, we wanted to get out into the open countryside as soon as possible!
If you do arrive the night before, we recommend staying at Guesthouse Keflavík. It's a great budget option for families.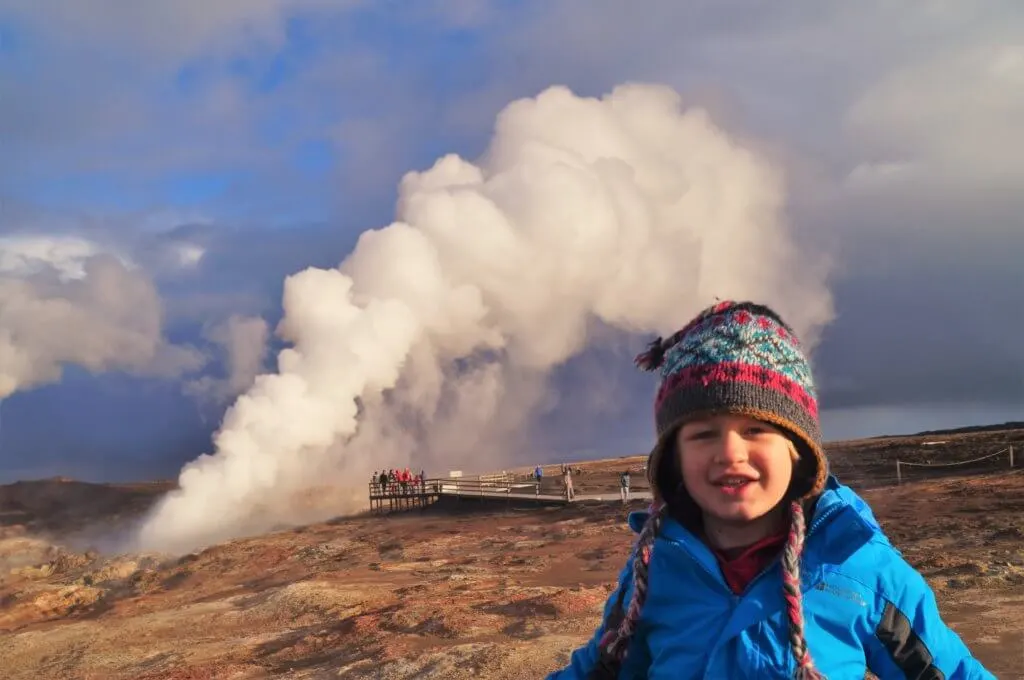 Take the 20 minute drive South to the 'Bridge Between Continents' where you can walk from the European to North American plate and back again, via a wooden bridge spanning a black-sand gulf. Then on to the steamy hot springs of Gunnuhver. Around this area, a handful of power plants have been built to exploit the geothermal heat.
Feel the bracing power of the Atlantic Ocean crashing on to the coastline and spot the lava pool of Brimketill, before making your way towards Sel Guesthouse on the Golden Circle, via the Lutheran church of Strandarkirkja and the seaside town of Stokkseyri.
Day 2: The Golden Circle
Overnight stay at: Sel Guesthouse
Today you will tick off some of the major sites of Iceland, so expect to see a few more tourists and coach parties; although we did have our first couple of stops totally to ourselves. The first of these is the beautiful historic church of Skálholt and then the eco-village of Sólheimar.
Once we arrived at Kerið, a volcanic crater lake, we started to see more tourists. Surprisingly, we had to pay entry to walk around the top of the crater. This is the only outdoor natural attraction we had to do pay, and unfortunately due to the biting cold wind and icy footpath, we weren't able to stay long and didn't really get our money's worth. We did see some people wearing crampons (like these). This was a very good idea.
Drive on to the Þingvellir National Park, the setting of Iceland's original parliament, to explore the waterfalls, fissures, church and lake of this historical site, along a boarded footpath.
Next pop for some organic home-made ice-cream at Efstidalur Farm, before heading to the hot springs of Geysir. This was a huge highlight for my Go Jetters fans (the Strokkur Geyser features in the first series). Thankfully there was no Grand Master Glitch to be seen, and the main geysir (Strokkur) was free to shoot boiling water up in the air at any given moment. Very exciting to witness. The geysir blows every 6-10 minutes, sometimes up to 40 metres high.
The last stop is the magnificent Gullfoss waterfalls, before heading back to the warmth of your cottage at Sel Guesthouse.
Day 3: To the West Coast
Overnight stay at: Kast Guesthouse
If driving in the winter months, you will need a 4×4 for this day. We visited at the end of October and drove on snow-covered roads. It was magical. However, we had the peace of mind of a 4×4 with specialised snow tyres. Otherwise, you should take the road West to Gljúfrasteinn, just north of Reykjavik.
First stop at Laugarvatn to marvel the hot spring lake from it's black sand beaches. It's also worth making time to visit the Fontana Geothermal Baths on the lake shore here. It's one of the best Blue Lagoon alternatives in Iceland.
Then head north on the spectacular F550 (also known by us as the 'snow road') to the waterfalls of Hraunfossar. If you get an early start, you can also walk INSIDE a glacier. Check out our experience with Into the Glacier here. But you'll have to decide between Into The Glacier or Fontana Geothermal Baths. You won't really have time to do both in the same day if travelling with young kids. If you do want to do both, we suggest staying over night at Guesthouse Hvítá.
Next stop is Hestalanda Farm to ride an Icelandic horse! If your kids have experience riding horses or are older, you can pre-book riding tours. As my boys had no riding experience and were 3 and 4 years old, they enjoyed a gentle ride around the indoor paddock. Call or email ahead to book.
Day 4: Snæfellsnes Peninsular
Overnight stay at: Kast Guesthouse
Today you will drive a loop around the Snæfellsnes Peninsular, returning back to Kast Guesthouse.
First head to the church at Búðir. Park up and follow the coastal paths for a morning walk along the Atlantic coast, backed by dramatic mountains. Then head to Rauðfeldsgjá where you can walk up to a large crack in the mountain face. We had deep discussions of whether dragons lived in there. Watch your footing if icy on the way back down, but do stop to admire the spectacular view in front of you.
Back in the car, pass through the hamlets of Arnarstapi and Hellnar, stopping to marvel their sea-sculpted rock formations, and on to the pair of pinnacles at Lóndrangar. There's a lot of hopping in and out of the car here, which little ones may get a bit fed up with. If you need to just chose one view point here, Lóndrangar is the best.
You may then wish to visit the underground lava cave of Vatnshellir. However, at ISK3570 (approx £24 per person), we decided against it as we had so much natural beauty to explore this day that was free.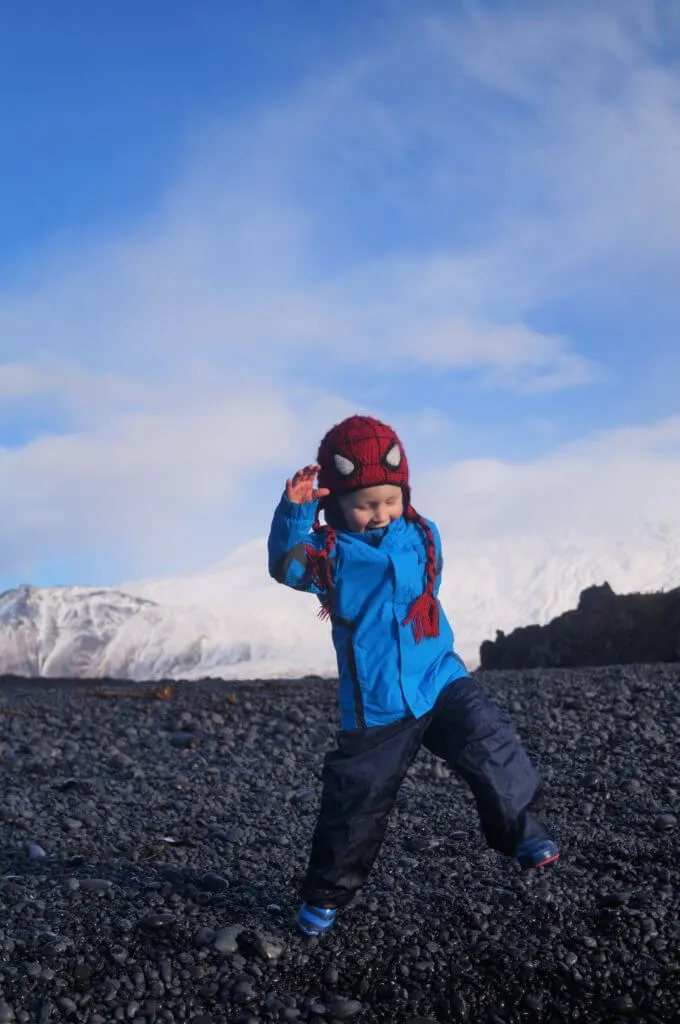 Instead we drove on to the black pebble beach of Djúpalónssandur, where we found the poignant shipwrecked remains of a fishing trawler from Grimsby (where Daddy Lynn was born!) The boys had so much fun here chasing the waves and jumping in the pebbles.
Finish the day at iconic Kirkjufell and follow the footpath up behind the waterfalls, before driving back to Kast Guesthouse to warm up with a hot shower and hot chocolate.
Day 5: Back to the airport
If you've booked an evening flight from Keflavík Airport, you still have a whole day up your sleeve. Head to the Borgarnes Swimming Pool, an hour from Kast Guesthouse and on the way to Reykjavik. Entry is a fraction the cost of the Blue Lagoon and by arriving at 10am, we had the place to ourselves! Entry is IKR900 per adult (approx. £5.70) and the boys were FREE (although their website does state IKR300 for children). There are three heated pools (the hottest is 41°C ), a kids' pool and slides (although they were closed for our visit as the water that runs down the slides had frozen), an outdoor sauna, an outdoor lap pool and an indoor pool. There are free arm bands for children, should you need them. Ensure you follow the correct etiquette on entry to pool and wash thoroughly – yes, that does mean getting naked in the shower and washing your bits with soap in front of everyone.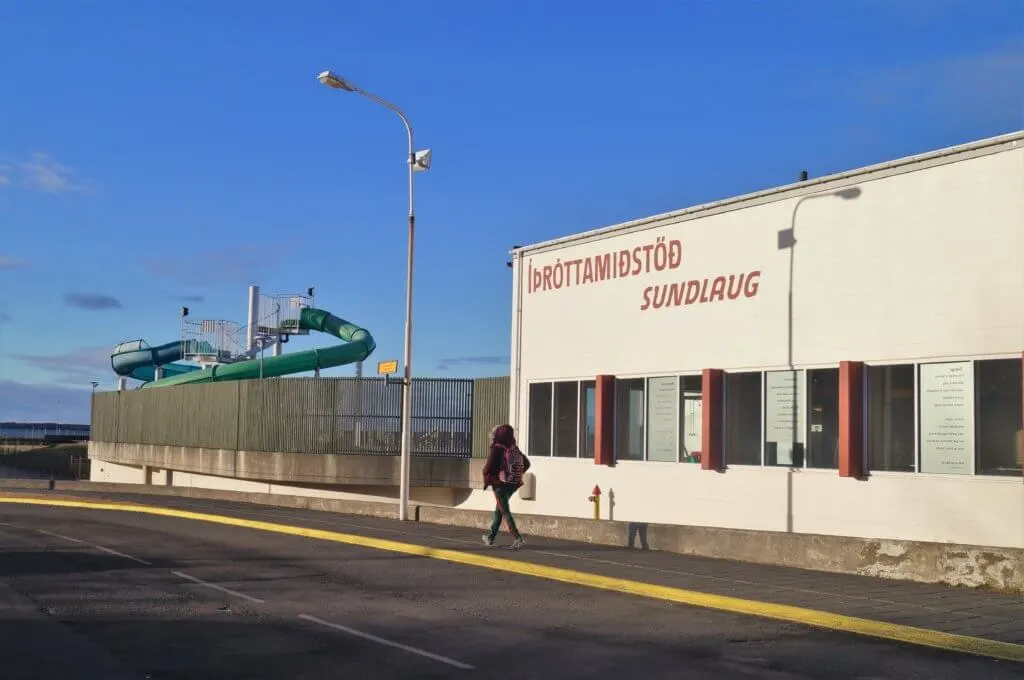 There are lots of geothermal swimming pools dotted all over Iceland. Cameras are not allowed inside.
It's then a one hour drive to the centre of Reykjavik, via the free tunnel. Spend your last hours wandering along the sea front and check out the concrete masterpiece of Hallgrímskirkja. If you need to escape indoors from the weather, head to the Viking Maritime Museum or Saga Museum.
If you do have longer in Reykjavik, check out our post –Things to do in Reykjavik with kids.
Ensure you leave enough time to get back to Keflavík Airport, allowing for the rush hour (4-6pm).
If you're flight leaves the next day, we recommend staying at Guesthouse Keflavík. It's a great budget option for families.
Day 5-10: 10 day Iceland itinerary option
If you have got the time to extend your Iceland with kids road trip to 10 days, then we recommend venturing up to Northern Iceland.
On Day 4, instead of heading back to Kast Guesthouse, travel onwards to Stóra-Ásgeirsá for the night. Then follow this North Iceland itinerary from Day 3.
---
More tips for visiting Iceland with kids
Don't bother taking cash with you to Iceland or getting cash on arrival. Iceland is a cashless society and your card can be used (virtually) everywhere.
Pick up food/snacks whenever you see a supermarket as they are few and far between. Or even better, bring them with you from home.
Bring a reusable water bottle to fill up with water from taps (perfectly safe to drink).
Don't try and cram too much in to your day as little ones can get overtired, especially in the fresh cold air.
Wear layers and make sure the kids are wearing good hiking boots.
---
Where would we be without our Lonely Planet Guide? There's also a specific Iceland Road Trip edition.
Sale
Sale
We also recommend you purchase a good Iceland road map (click here), in case your tablet or Google Maps fails.
You may also like to read:
How to save money on a family trip to Iceland
NORTH ICELAND ITINERARY: a 7 day family road trip
Things to do in Reykjavik with kids