Iceland is one of the best natural playgrounds for kids and a world schooling Geography lesson for all ages. On our 5 day Iceland road trip, we fell head over heals in love with the country and managed to steer away from the tourist crowds.
Disclaimer: This post contains affiliate links. If you click to purchase, it is at no additional cost to you, and I receive a small commission.
We also discovered ways to save money on a family trip to Iceland, despite it's reputation as an expensive country, and discovered so many things for kids to do in Iceland. So much so, we returned to Iceland exactly a year later to do a North Iceland itinerary. Yup, we LOVE Iceland.
Whilst there are a whole range of adrenaline pumping activities on offer in Iceland including ATV tours, river rafting, glacier walks, and volcano tours, many of these have a minimum age limit of at least 10. Therefore this list I've compiled is aimed at parents with young kids (toddlers up to age 10), including some free and cheap things for kids to do in Iceland.
But without further ado, here are our top 20 things for kids to do in Iceland.
1. Hit the beach
The beaches of Iceland aren't necessarily your standard sunbeds and swimwear destination. But with your kids wrapped up in layers, the dramatic beaches battered by the harsh North Atlantic are fascinating to explore. Many beaches are black from the volcanic rock, either as the perfectly smooth pebbles found at Djúpalónssandur or in fine sand form such as at Diamond Beach, where there are also shimmering shards of ice to marvel. But if you're looking for an endless expanse of golden beach, head to Rauðisandur Beach on the remote West Fjords.
2. Swim in a geothermal pool
Whilst the Blue Lagoon and Secret Lagoon are top tourist spots for a dip in a geothermal pool, we recommend heading to one of the many local swimming pools found in most towns across the country. Not only are these a much cheaper option, but it's the best way to mingle with the locals, who will happily chat away with you in hot tub about how wonderful their country is (we are in total agreement).
One of our favourites is Borgarnes Swimming Pool, just a couple of hours north of Reykjavik. Entry is IKR900 per adult (approx. £5.70) and the boys were FREE (although their website does state IKR300 for children). There are kids' pools and slides, plus free arm bands for children should you need them. Ensure you follow the correct etiquette on entry to pool and wash thoroughly – yes, that does mean getting naked in the shower and washing your bits with soap in front of everyone!
However, if your looking for something a bit more special than a swimming pool, but don't want the expense of the Blue Lagoon, check out these Blue Lagoon alternatives. One of favourites is Geosea in Húsavík . The views from the baths looking over the water to snow capped mountains are superb.
Alternatively, you may find that your accommodation has its own outdoor hot tub that takes water from geothermal springs. Try Stóru-Laugar or Stóra-Ásgeirsá.
3. Hiking
This is the best way to explore Iceland's stunning landscape and it's free! Some of our favourite hiking spots were along the Snæfellsnes Peninsular on our first 5 day Iceland road trip. Park up your car and just follow the footpaths. Don't forget the snacks and make sure your kids are wearing good walking boots.
4. Play by a waterfall
Iceland is known for its abundance of spectacular waterfalls. You will hear them before you see them. There are ones you can walk over (Kirkjufellsfoss ), ones you can walk behind (Seljalandsfoss), one with a rainbow (Skógafoss), and others that are just huge (Goðafoss). Whilst the waterfalls are impressive, my boys enjoyed those more where they could play in the river and over stones, such as at Öxarárfoss in Thingvellir National Park.
5. Check out Reykjavik's kid-friendly museums
All travellers to Iceland seem to find themselves in Reykjavik at some point, whether it's using the city as a base, or just passing through on the way to or from the airport. It's a fascinating place to explore in its own right, with lots to keeps kids entertained, including kid-friendly museums (Saga Museum or Maritime Museum), watching a children's concert at Harpa Concert Hall, and an afternoon spent at the recreational area of Laugardalur. Check out our guide to visiting Reykjavik with kids.
6. Ride an Icelandic Horse
The native Icelandic horse is iconic. Even in the harshest climes, you will see these stoic creatures dotted around the lower hills. At Gauksmýri Lodge, you can experience these beautiful creatures up close with a family horse riding lesson. Depending on experience, you can enjoy a short riding lesson in the stables or head out onto a hack in the open. We also got to learn some interesting facts about the Icelandic horse. Did you know that it has two more gaits than other horses? Amazing!
7. Watch boiling water shoot out of a geyser
The hot springs of Geysir were a huge highlight for my Go Jetters fans (the Strokkur Geyser features in the first series). Thankfully there was no Grand Master Glitch to be seen, and the main geyser (Strokkur) was free to shoot boiling water up in the air at any given moment. Very exciting to witness. The geyser blows every 6-10 minutes, sometimes up to 40 metres high. You can also see them at Gunnuhver Hot Springs.
8. See the Northern Lights
Whilst everyone who visits Iceland has this on their bucket list, only a lucky few actually get to witness the spectacular Aurora Borealis. Many suggest driving out into the wilderness late at night armed with blankets and a flask of hot chocolate, or even taking a tour. This isn't really ideal if you're on an Iceland family holiday with very young kids.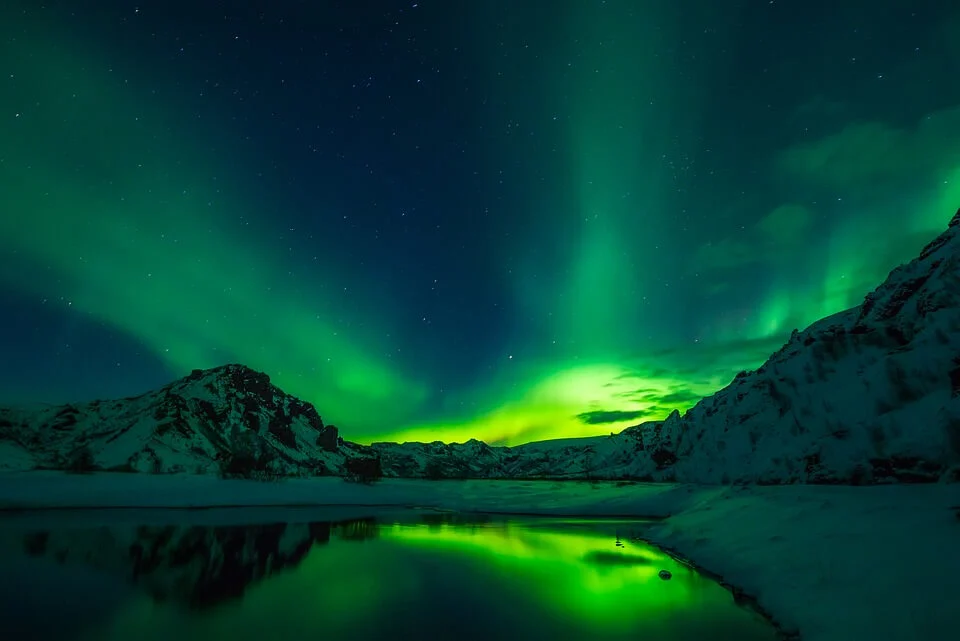 Instead, stay at accommodation in isolated areas away from light pollution, ideally with large windows and a Northern Lights wake-up call (when the front desk can call you in the night no notify you of sightings). You can then wake your kids up to see them if it's worthwhile. Our stay at Kast Guesthouse offered just this. Although the aurora during our visit wasn't obvious to the naked eye and therefore not worth waking the boys up. Next time.
9. Camp under the midnight sun
If you're visiting in the warmer summer months, hiring a campervan or bringing your own tent is a great way to explore the country, get closer to nature, and keep costs down. And if your kids are anything like mine, they love camping!
In the summer months, due to the proximity to the Arctic Circle, the sun doesn't fully dip below the horizon. This does mean lots of daylight hours to fill, and it can be very difficult to get young kids to sleep, especially if you're in a tent. Try lying blankets and towels over the top of the tent to block out the light whilst you get the kids down.
You can even wild camp in Iceland. However, do remember that weather in Iceland is very unpredictable and you need to be prepared. Also, make sure you have a camping stove as open fires are not allowed in Iceland.
10. Eat hotdogs
Iceland's de facto national fast food is the hot dog, and was a winner with our boys. They are everywhere! You'll find hot dog stands in most towns and cities, and also at petrol stations.
Do as the locals do and order with everything – raw white onions and crispy fried onions, ketchup, sweet brown mustard called pylsusinnep, and remoulade, a sauce made with mayo, capers, mustard, and herbs. If you're a meat eater, you'll be happy to know that these hot dogs are made with organic meat. However, being a vegetarian myself, it was disappointing to not find a vegetarian hot dog.
Do as the locals do and order with everything – raw white onions and crispy fried onions, ketchup, sweet brown mustard called pylsusinnep, and remoulade, a sauce made with mayo, capers, mustard, and herbs. If you're a meat eater, you'll be happy to know that these hot dogs are made with organic meat. However, being a vegetarian myself, it was disappointing to not find a vegetarian hot dog.
11. Spot seals on the beach
The Vatnsnes Peninsula in Northwest Iceland is perhaps the best and most well-known place to go seal watching. Driving around the peninsula there are road signs with pictures of seals to indicate good viewing spots. The best viewing times are two hours before and after low tide (check here for low tide) and if the sun is out, you will have a better chance of spotting them. Remember they are wild animals, so keep your distance and stay quiet. Be extra cautious in the summer and autumn when it's pupping season.
When in this area, make sure you check out the Icelandic Seal Centre. It's a lovely little museum that looks at the history of seals in Iceland with fun displays, hands-on activities, and there's even a little kids corner.
12. Whale Watching
Iceland is one of the best places in the world for whale watching, and you have a good chance of spotting an orca (also known as a killer whale). The best time of year to see whales around Iceland is from April to September with the peak season being June, July and August. There are whale watching excursions all over the country, and some even operate through the winter. The tours are available to all ages, and kids under the age of 6 are often free. Just be weary of sea sickness as the waters around Iceland are far from calm.
Check out our experience of whale watching from Husavik with North Sailing.
13. Puffin watching
Iceland has the largest puffin population in the world and there are puffin colonies all over the country where you can visit and observe the birds in their natural habitat. You can combine and whale and puffin tour with Hey Iceland (children under the age of 6 are free).
14. Dog sledding
Become a musher for the day near Akureyri in Northern Iceland and go dog sledding! Children aged 7 and over will get their own sledge, whereas children between the ages of 4 and 6 can sit on their parent's sledge (only one child extra per slegde). This activity is for the colder months when there is snow. However, in the summer months you can try dogscootering (scooter pulled by huskies)! Check out this review from Ladies What Travel.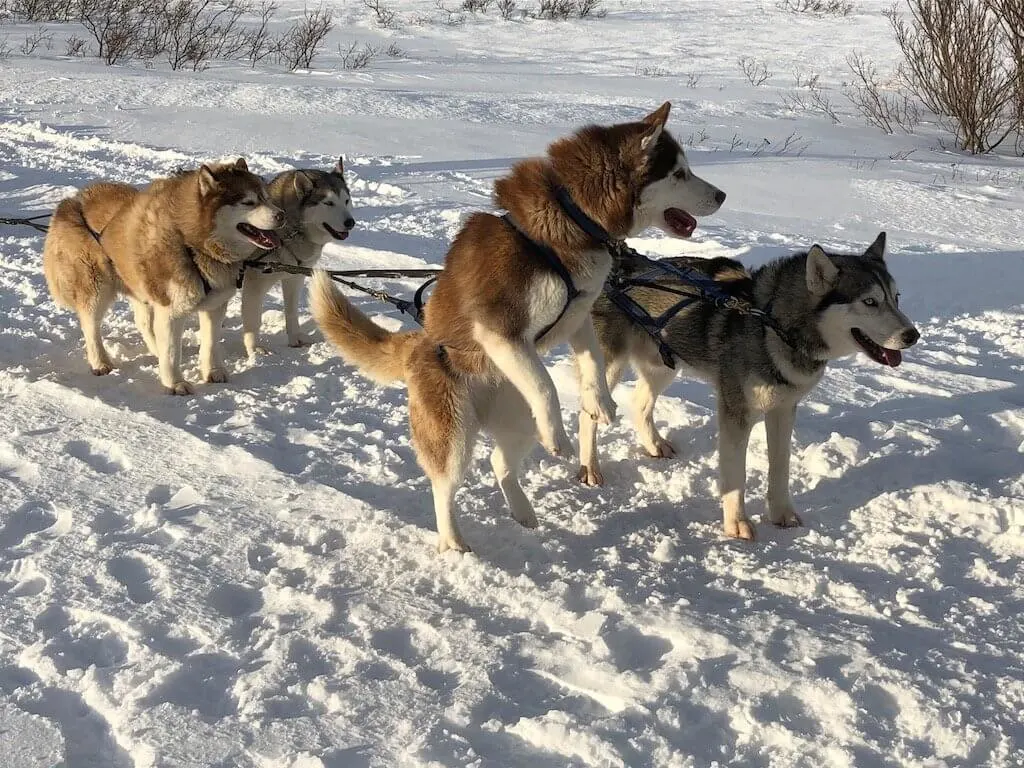 Husky sledding is expensive though at can cost £500 for a family of four. Instead, you may want to consider doing a kennel visit. It's much cheaper and provides little ones with a more hands on experience.
Check our our husky kennel visit with Snow Dogs.
15. Discover plane wrecks and ship wrecks
The tempestuous weather and rough seas of Iceland have made the island home to many a wreckage. The most famous of these is the DC3 Plane Wreck which crashed into Sólheimasandur on Wednesday, November 21st, 1973. Amazingly, no one was injured in the crash. There is also the shipwreck remains of a fishing trawler from Grimsby (Epine GY7), scattered across the beach at Djúpalónssandur, left to remember the fourteen men who lost their lives on that tragic day of 13th March 1948. There are many others scattered across the island, bringing these tragic stories to life.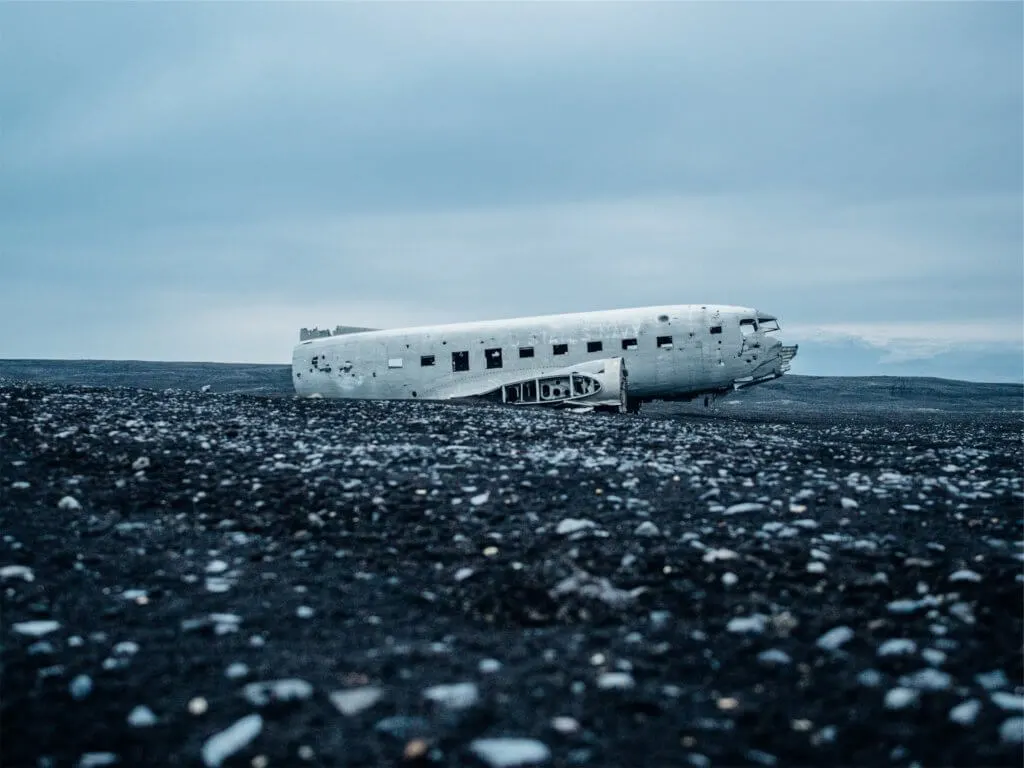 16. Descend into a lava tunnel
Grab a hard hat and head torch, and descend beneath the earth's surface to explore a lava tunnel on a guided tour. If your kids are under the age of 12, you can still venture underground on a Standard Lava Tunnel Tour at Raufarhólshellir (minimum age 3).
This is a one hour tour and with good accessibility as a footbridge and several paths have been built over the roughest terrain. Wear warm waterproof clothing. It's very cold down there and water drips down from the ceiling. If you visit during winter, you'll see ice sculptures formed inside the entrance of the cave. And don't worry, it's very safe – this was formed by an eruption which occurred 5200 years ago and not likely to happen again any time soon!
17. Stay on a farm
One of our favourite stays in Northern Iceland was at Stóra-Ásgeirsá; a working farm and family-friendly home, ran by a farmer / dad / singer-songwriter / host called Magnus. Our boys got to work in the stables in the morning, feeding the horses and goats, as well as sweeping up the hay. There are some great short hikes in the area, or you can even try horse riding. But the highlight for us was having a dip in the hot tub next to the waterfall under a starlit night sky.
18. Run through smoking fumeroles
The Námafjall Geothermal Area located to the east of Lake Mývatn is an extraordinary lunar-like landscape. Here you will find belching mud pots, smoking fumeroles, and sulphur crystals of all different colours. It also smells a lot like eggs here. The area is free to visit and our boys spent hours running in and out of the steam escaping from the rocks. A magical playground for little ones!
19. Hunt for trolls
Legend has that trolls live amongst the lava stacks and caves of Dimmuborgir by Lake Mývatn. These trolls are known as the 13 Yule Lads, who on the thirteen nights before Christmas terrorise Icelanders, each with their own strategy after which they were named (such as Spine Licker, Sausage Swiper, and Door Slammer). The best way to find them is to walk the path to Hallorflot and shout loudly "Jolacveinn!" We didn't find any trolls. But it's a fascinating place to explore with kids.
20. Walk INTO a glacier
With Into the Glacier, you can walk into man-made tunnels carved into Iceland's second largest glacier, Langjökull, and it is incredible! Half the fun is the drive up the glacier in a specially modified glacier vehicle. The tour consists of moving from one man-made chamber to the other, each one with its own theme and stunning lighting features (which has won design and style awards). The sheer majesty of knowing you have this incredible force of nature sliding slowly above your head, with 40 feet of solid ice as your ceiling is amazing, and seeing all the different colours of ice and the layers from season to season is fascinating. And kids will love licking the walls. Yes – it's allowed! Allow four hours for the tour if visiting in the winter months, three if in the summer. Read about our glacier experience here.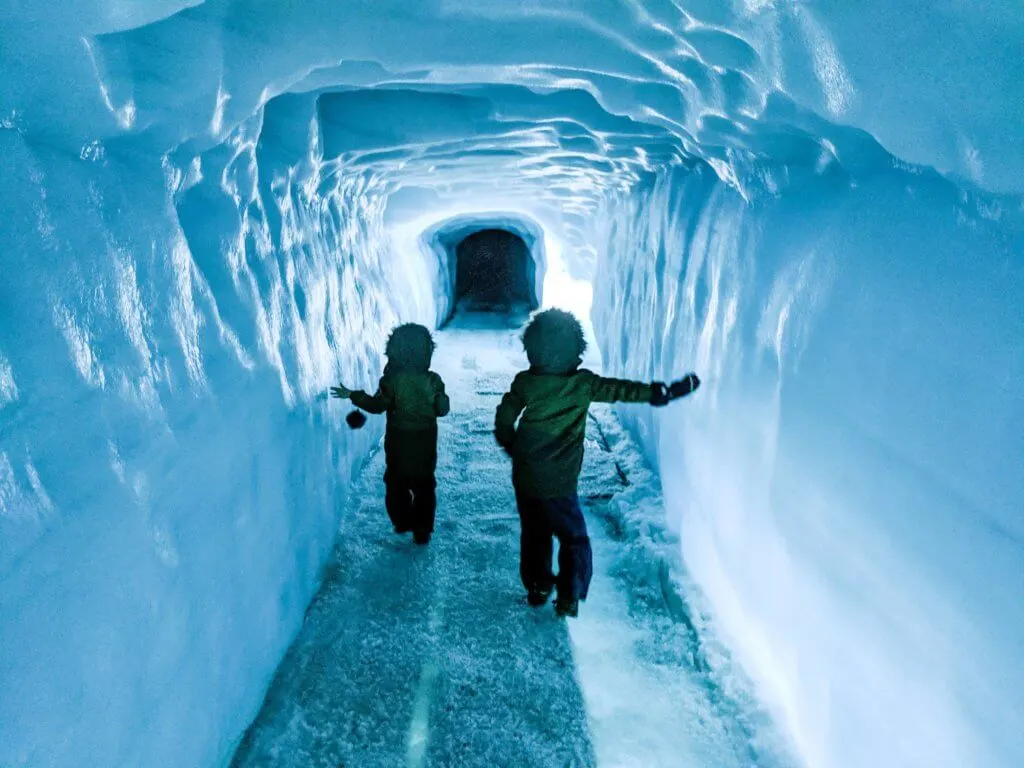 ---
You may also like to read:
NORTH ICELAND ITINERARY: a 7 day family road trip
ICELAND WITH KIDS: a self-drive itinerary
How to save money on a family trip to Iceland