Holding our breath, we tiptoed quickly across the snow, whipped off our dressing gowns, then let out satisfying sigh as we slipped into the hot tub under the night sky. The hot tub at Stóru-Laugar is open 24 hours a day, as fresh water pumps in from the surrounding natural geothermal springs, hovering around a toasty 39°C. I was grateful we'd brought a beer with us to cool down. This was a perfect stop on our North Iceland itinerary!
Disclaimer: TraveLynn Family received a two night complimentary stay at Stóru-Laugar, booked through Hey Iceland, in exchange for coverage on our social media and blog. As always, theses are all my own words.
We spent two nights at Stóru-Laugar, in the small village of Laugar, as part of our North Iceland itinerary. This cosy guesthouse is a thirty minute drive from Húsavík, which is a good place for a whale watching tour, and the geological wonders of Mývatn are a twenty minute drive away.
There's a petrol station, swimming pool and restaurants in Laugar. However, we really only used Stóru-Laugar as a base on our road trip and didn't get a chance to try these out.
Our family room
We had a ground floor family room with ensuite bathroom (with shower, no bath), a double bed, and a pull out double sofa bed. It felt a novelty to be staying in a spacious room, and the little kichenette right outside our door (with kettle, teas and coffees, large fridge and a microwave) was very handy.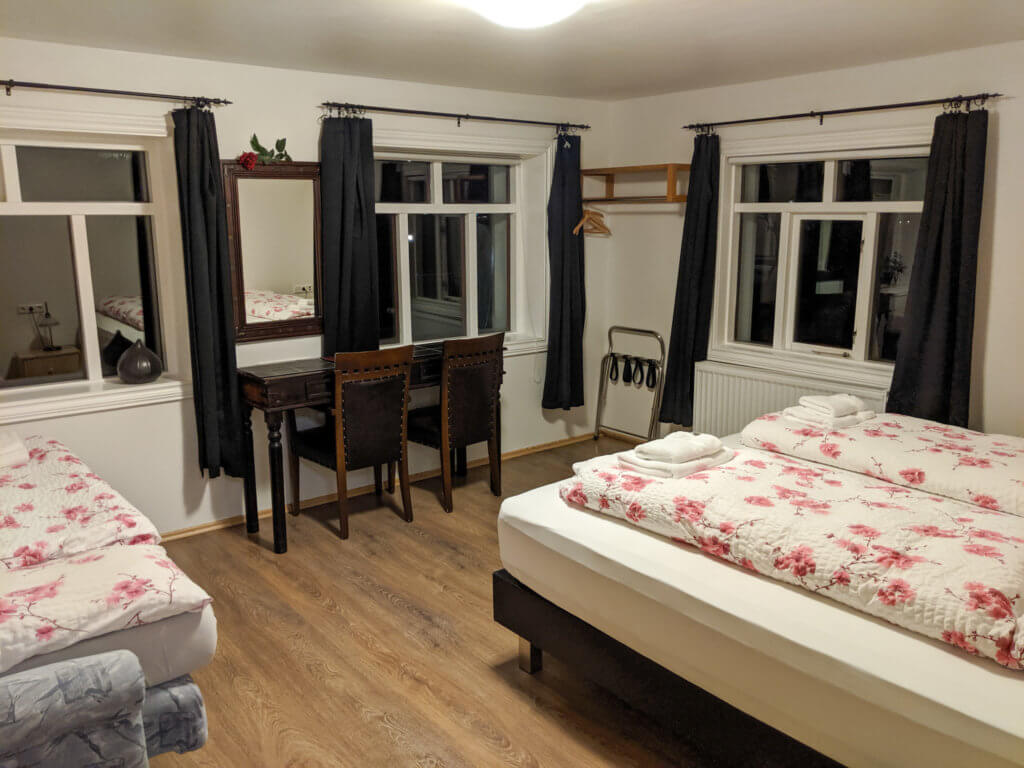 Check out booking.com for more photos of the various rooms.
Breakfast
Our boys were very impressed to see pancakes on offer at breakfast and smuggled the chocolate sauce to our table for multiple helpings.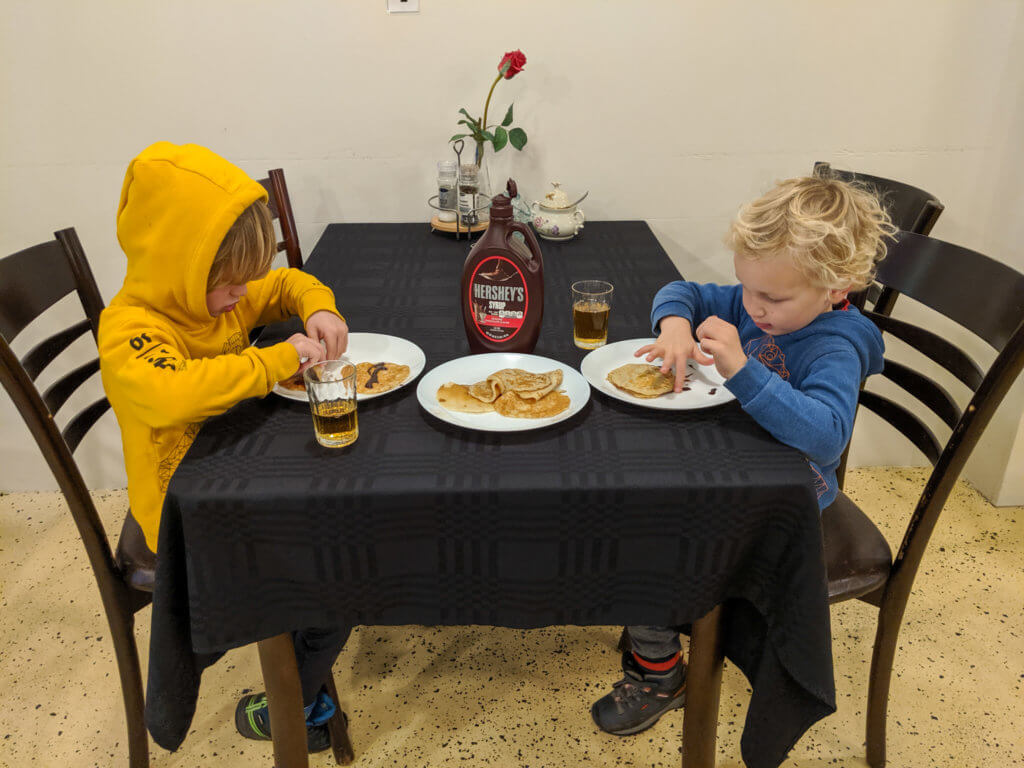 In addition to pancakes, there are the usual cereals, fruits, meats and cheeses, yogurts, and fresh juices. There's also a coffee machine for those in need of a decent coffee.
Breakfast is served in the main reception area, which is in a separate building to the accommodation.
The hot tub
This was such a special treat! It's totally free for guests and open 24 hours a day. Unfortunately the Aurora Index was low and the night sky cloudy for both nights we stayed at Stóru-Laugar. But it would be a wonderful spot to watch the Northern Lights!
The hot tub consists of a long concrete box and is the perfect depth to sit in. Wooden slats act as a lid. Just roll these back when you want to get in (they are heavy, so be careful of little fingers), and once you're finished, just roll back over again.
There is little lighting to the hot tub and around, so you may want to take a torch if having a night-time dip. Bath robes are provided for adults in the room and we hung these on the 'Hot Tub' sign. Flip flops would also be a good idea, but we didn't have these. Instead we braved the ice and snow bare foot! Although it is only 10 metres from the front door of the accommodation to the hot tub.
What to do in the area
Despite feeling like you're in the middle of nowhere, there are actually lots of things to do in the area.
Húsavík is just a half hour drive away, and here you can book on to a whale watching cruise before a long soak at the geothermal baths of Geosea. Also close by are the huskies at Snow Dogs where you can experience a husky sledding tour or a kennel visit.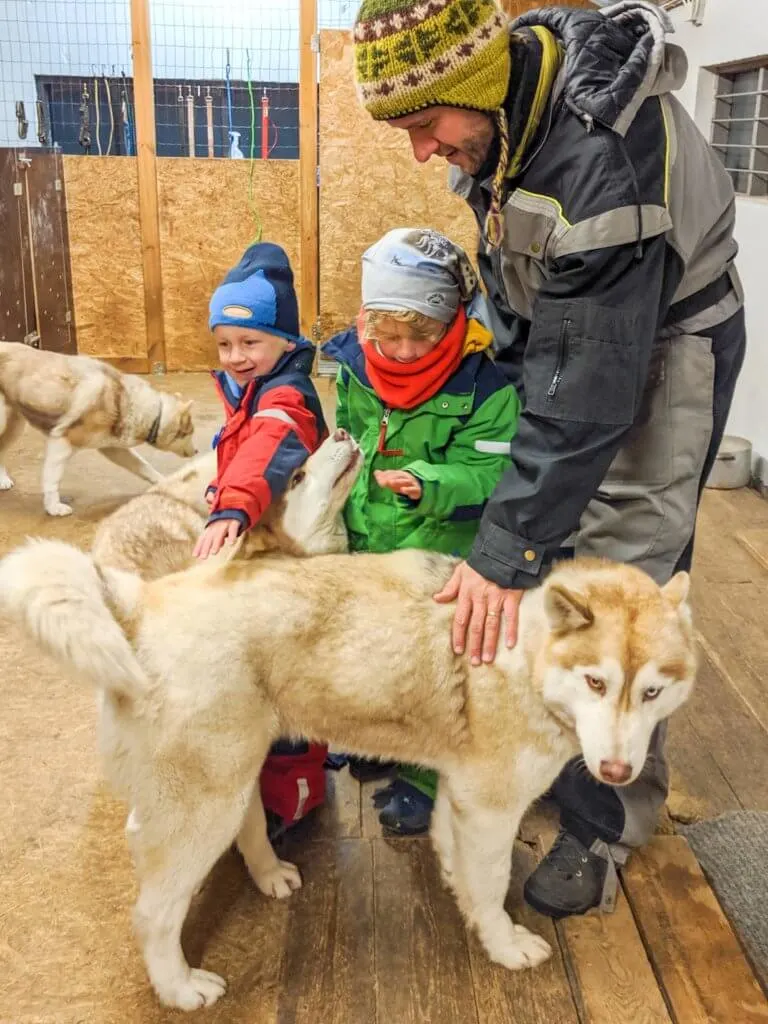 Stóru-Laugar is also a good base for visiting the geological sites (including craters, smoking fumeroles, and lava stacks) around Mývatn. There is a road that takes you right around this lake. Check out Day 6 of our North Iceland itinerary for more details.
To book Stóru-Laugar
Head to the Hey Iceland website to book and find out prices. Hey Iceland also have a range of other family-friendly stays in Iceland.
If you're looking for accommodation enroute back to Reykjavik, we very much recommend doing a farm stay at Stóra-Ásgeirsá, which also has an outdoor hot tub (next to a waterfall) and a singing host!
---
You may also like to read:
NORTH ICELAND ITINERARY: a 7 day family road trip
Geosea Húsavík REVIEW: visiting geothermal sea baths in North Iceland
SNOW DOGS kennel visit: a family friendly husky experience in Iceland