It was still dark outside as we munched on our warm oats and toast for breakfast. It wasn't early. Just before 9am. But the sun hadn't yet peeped over the horizon here in Iceland. There was no need to rush out and start our farm chores yet. So we sat back on our chairs in the family lounge, and listened to Magnus (the owner) sing one of his compositions. He's actually very good!
As soon as Magnus struck the last chord we clapped and whooped. Then our six year old jumped up to announce, "It's time to work!" He was right. So we all wrapped up in our layers and headed out to the stables.
Disclaimer: TraveLynn Family received a two night complimentary stay at Stóra-Ásgeirsá, booked through Hey Iceland, in exchange for coverage on our social media and blog. As always, theses are all my own words.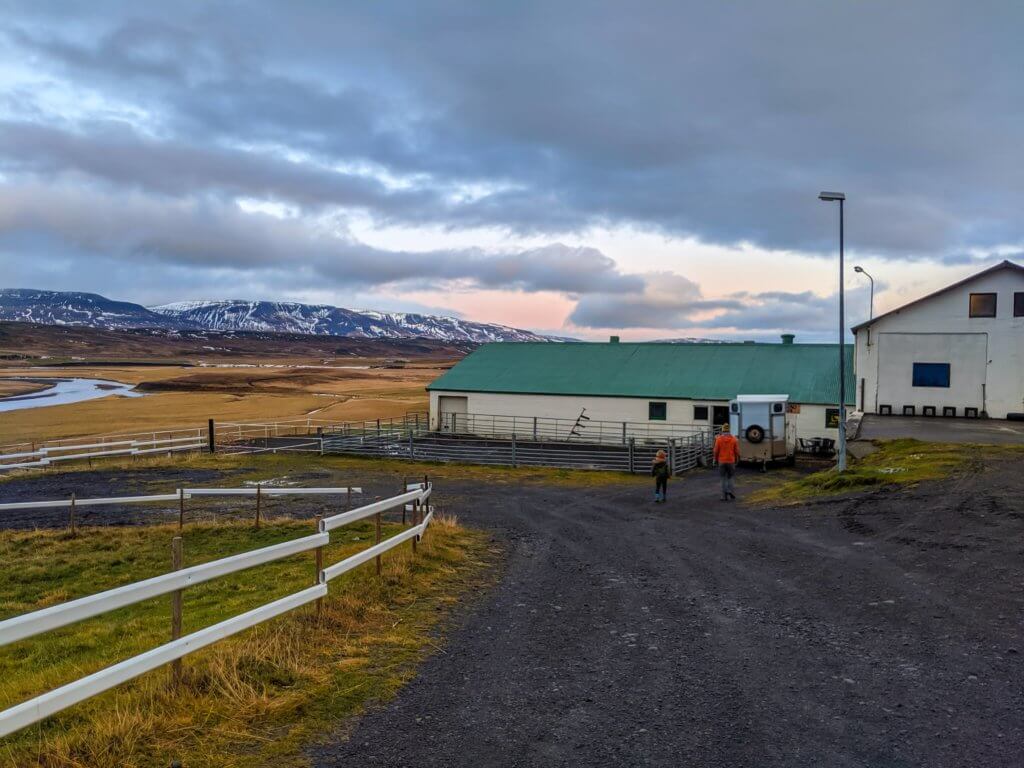 During our recent road trip around Northern Iceland, one of our favourite stays was at Stóra-Ásgeirsá; a working farm and family-friendly home, ran by a farmer / dad / singer-songwriter / host called Magnus.
The location of the farm is ideal for travellers heading towards Northern Iceland from Reykjavik – just off Route 1 and about 3 hours drive from the capital. It's also a great place to base yourself for a day or two, break up the driving and explore the surrounding area, which includes the spectacular 711 loop road around the peninsular.
A home from home
There's a wonderful homely feel to Stóra-Ásgeirsá, partly helped by untidiness of the family communal area. I do mean this in a good way. There is no pretence to visitors. We were welcomed into the family home as it is, and that felt very special. Our kids all played together, and we all mucked in with laying the table and clearing up at meal times. But we still had the freedom to go off and do our own thing.
The accommodation at Stóra-Ásgeirsá
Accommodation is set up in a building which doubles up as Magnus' own home. Breakfast is served in the communal dining room and there is also the opportunity to use his kitchen if you need to make a quick snack.
Each of the four guest rooms are modestly decorated in common with other properties throughout the country – modern, clean and minimalist. The basics are here but don't necessarily expect luxury. The four rooms available all share a bathroom and shower, which was fine for us as we visited during a quiet time, but it may require some morning-routine coordination with the other guests in the high season.
Breakfast and dinner
We had a lovely, homely breakfast each morning, including bread, cereals, eggs, oats, coffee, tea and juices; a very hearty meal which set us up perfectly for the day.
During busier times, Magnus can also cook an evening meal which is usually served in the bar/restaurant in a separate building. It looked a great place to spend a communal evening and there was even a stage setup to enable Magnus (and musical guests) to showcase tunes. We got a taster during breakfast one morning and it was fabulous.
What do to on the farm
Our boys (aged 4 and 5) absolutely loved feeding the horses and goats, and also helping to sweep up the stables. Magnus will be happy to find some odd jobs for kids to do. We also took a walk around the farm to meet the sheep and horses.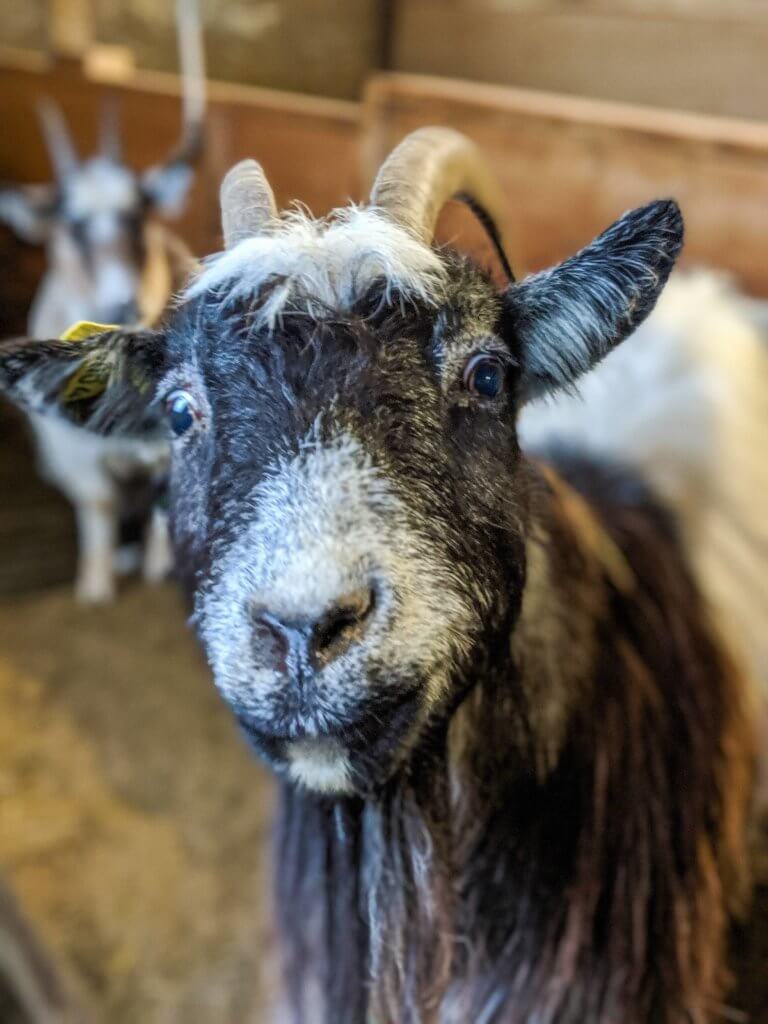 Horse riding is also offered at the farm for an addition cost, but we didn't get the chance to do this. Maybe next time.
The true highlight for us though has to be wallowing away in the hot-tub overlooking a small but beautiful waterfall, under the starlit night-sky. We spent a lot of time in geo-thermal pools during our stay but this one topped the lot. Give Magnus some notice and he can fire it up for you as well. A perfect way to end the day.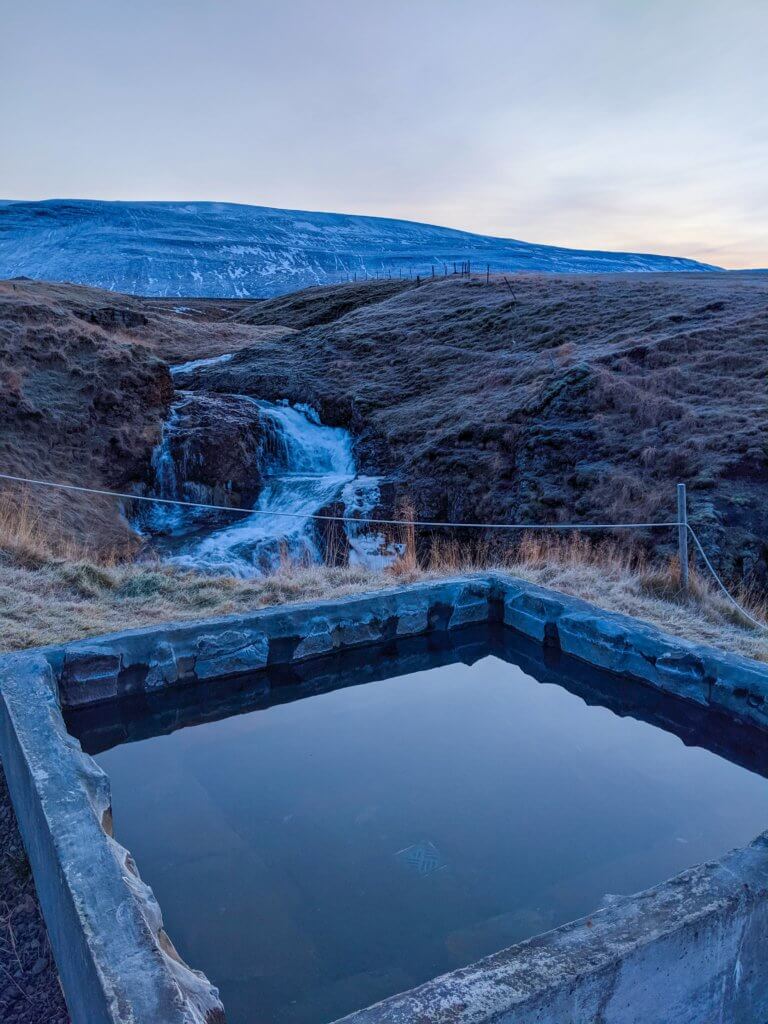 Also make time to enjoy some lovely walks in the area, as well as visiting nearby Kolugljúfur Canyon. But if you are following Day 3 of our North Iceland itinerary, you will need a good 5 hours to do the loop up to Hvitserkur and round to the Icelandic Seal Center. Just make sure you're back in time to enjoy a beer, a sing in the bar, and a dip in the hot tub.
To book Stóra-Ásgeirsá
Head to the Hey Iceland website to book and find out prices. They also have a range of other family-friendly farm stays in Iceland, including Gauksmýri Lodge which we also stayed on our return to Reykjavik at and is very nearby.
Where can I hear Magnus' music?
Check out Stóra Ásgeirsá on YouTube:
---
You may also like to read:
ICELAND with kids: a self-drive itinerary (5 days)
How to save money on a family trip to Iceland
The BEST things to do in Reykjavik with kids