If you've travelled to Iceland once before, it's likely that you will have visited Reykjavik and the Golden Circle. This is exactly what we did on our first visit to Iceland, as well as tagging on a couple of days on the Snæfellsnes Peninsula (read our 5 day Iceland itinerary here). But are you looking to delve deeper and explore more of this fascinating country?
Disclaimer: This self drive North Iceland itinerary was put together by Hey Iceland who we partnered with for this trip. Hey Iceland provided all accommodation for us and arranged all activities. We paid for our own flights and car hire. Also, this post contains affiliate links. Should you click to purchase, it is at no additional cost to you, but I receive a small commission.
Iceland is a destination that deserves more than one visit. It's cinematic landscapes of snowcapped peaks, moonlike lava fields and gushing waterfalls capture the imagination of every outdoor lover, enticing you to return. Indeed there are so many things to do on an Iceland family holiday, that you can't do it all in one trip.
If you're looking for even more epic scenery, want to meet huskies and spot humpback whales, and want to experience a more remote Iceland and true Icelandic hospitality, then you will want to follow this 7 day North Iceland road trip itinerary. This is also a good itinerary to follow if you're planning a drive from Reykjavik to Akureyri.
Check out our highlights in this video (click to subscribe to our YouTube channel):
When to visit North Iceland
We visited North Iceland at the end of October / beginning of November. This is the start of winter and temperatures hovered just below freezing. Check out our suggestions of what to pack for Iceland.
For us, this was the perfect time to visit as it falls within the UK October half term, there are still 8-9 hours of daylight, and there are fewer tourists. However, you ideally need a 4WD at this time of year as even the main Route 1 can be covered in snow. There is also a good chance of seeing the Northern Lights.
The summer months between June and August are very popular though for a reason. Endless daylight means you can fit more into your day (although not always a good thing when travelling with young kids), and it's a good time to spot whales and puffins. A 2WD is also fine for getting around. But accommodation does get booked up and prices peak.
During winter, some minor roads shut, but there are fantastic winter activities on offer including skiing, husky sledding, snowshoeing, and visiting ice caves. All of which you can do in the North. The dark winter months also provide the best chance of seeing the Northern Lights. Plus, it doesn't actually get as cold as you may think. Even in the depths of winter, temperatures rarely dip below -5°C.
7 day self drive North Iceland itinerary
Do note that some of the activities in this North Iceland itinerary require an entrance free. Whale watching, geothermal pools, horse riding and husky visits are relatively expensive and if you're looking to travel Iceland on a budget you may need to pick and choose your activities.
Also, this Iceland driving tour starts in Reykjavik and drives up to the North of Iceland, going clockwise along the main ring road (Route 1). It is possible to take a flight from Reykjavik to Akureyri in the North, and start your trip from there. But if you're budget conscious and want to visit a couple of sights in the West of Iceland enroute, this North Iceland itinerary works well.
The accommodations suggested in this self drive Iceland itinerary are all ones that we stayed as a family of four. Breakfast is included at every stay, but dinner needs to be booked in advance if you wish to dine at the accommodation. Unfortunately, none of these accommodations really include a kitchen. But all had a kettle, and some had a microwave. We brought a lot of food from home (it's cheaper than buying in Iceland) and we even brought along with us an electric sandwich and waffle maker.
Day 1: Arrive to Keflavik
Where we stayed: Guesthouse Keflavík
Click here to check prices and book.
Our flight arrived early evening, so we stayed at an airport hotel. If you're flight arrives earlier that day, take the opportunity to head into Reykjavik, which is a 45 minute drive away. Check out our post on the best things to do in Reykjavik with kids.
Note that the Guesthouse Keflavik is run by Hotel Keflavik, across the road. This means that you check in and have breakfast at Hotel Keflavik.
Day 2: Hot springs and waterfalls
Where we stayed: Stóra-Ásgeirsá
Click here to check prices and book.
Bypass Reykjavik and follow the road North along Route 1. It's not long until you're away from the city and driving though the vast open landscapes typical of Iceland.
To break up the journey North, stop at the most powerful hot springs of Icleand – Deildartunguhver. The neighbouring Krauma Spa is fed by the waters of this spring and definitely worth a visit. There are five relaxing natural goethermal baths situated outside, two steam rooms, a plunge pool, and a relaxation room complete with roaring fire. Kids are very welcome here and under 12s are free. Adults prices work out about GBP24 per person.
Stop briefly to admire the churches at Reykolt, before driving on to view the impressive waterfalls of Hraunfossar and Barnafoss.
Return back to Route 1. Don't be tempted to take the 525; it's untarred, in bad condition, and impassable in winter months. It's a two hour drive to tonight's farm stay accommodation at Stóra-Ásgeirsá.
Day 3: Farmer for a day
Where we stayed: Stóra-Ásgeirsá
Click here to check prices and book.
Breakfast takes place in the family dining room and if you ask Magnus (the owner), you may get a song or two played to you before starting work on the farm. Our boys loved feeding the goats and horses, as well as sweeping out the stables.
Once your chores are complete, hop in the car to explore the region. Take the 716 and 717 north past Vesturhópsvatn and stop at the Hvitserkur (a large basalt crag rising for the sea). Try spotting seals across the estuary or at Seal Beach (further around the 711). Then continue along the loop to visit the Icelandic Seal Center at Hvammstangi to learn about the history of seals in the region.
On return to the farm in the late afternoon, the animals will need to be fed again. Then enjoy a hearty dinner cooked by Magnus (inform in advance if you're vegetarian) and finish your day in the outdoor hot tub by the waterfall.
Day 4: The road East and huskies
Where we stayed: Stóru-Laugar
Click here to check prices and book.
It's a stunning drive today across to Akureyri through impressive mountain ranges. Take a brief stop at Víðimýrarkirkja to see one of the few preserved turf churches in Iceland.
In Akureyri, visit the Lutheran church (Akureyrarkirkja) and take a stroll down Hafnarstræti, perhaps stopping for a hot chocolate. The Botanical Gardens are worth a visit, but if you want to let the kids burn off some energy, head to the swimming pools and water slides at Sundlaug Akureyrar. Or if you're after a free activitiy, head to the forest at Kjarnaskógur where you'll find a playground (click here for location of playground).
Your next stop is the thundering waterfalls of Goðafoss. Allow a good hour here to walk to either side of the waterfall; there are well marked footpaths.
Finish the day with meeting the huskies at Snow Dogs. You can book in to go husky sledding, but it is pricey. So we opted for a one hour kennel visit where we got to meet the huskies, feed them and play with them. It was much more hands on and personal, and worked perfectly for our two young boys; you couldn't wipe the smiles off their faces!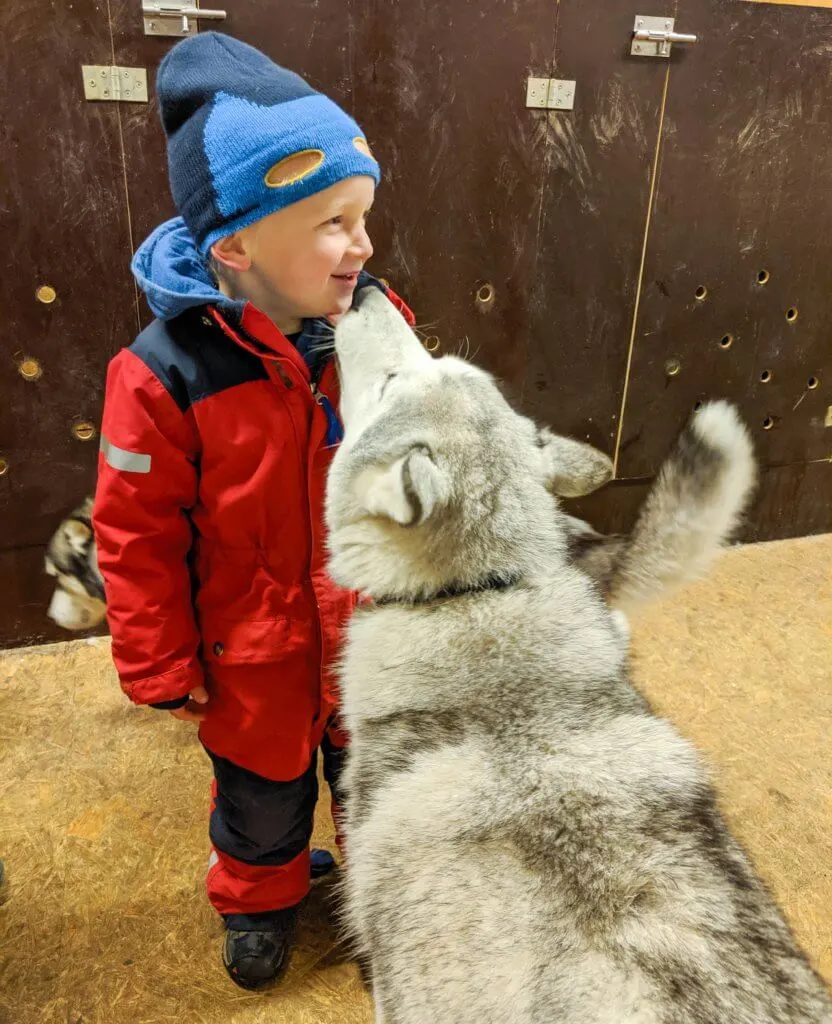 It's then just a 30 minute drive to tonight's accommodation, where you'll stay for two nights.
Day 5: Whale watching
Where we stayed: Stóru-Laugar
Click here to check prices and book.
Whale watching tours run from March through to November from Húsavík, and puffin tours run from May through to August also from Húsavík.
We went on a three hour whale watching tour with North Sailing and we managed to see a humpback whale and a minke whale up close! Take sea sickness pills or wear travel bands before embarking, and dress for the cold. North Sailing provided us with warm suits to wear over our outdoor gear to keep us warm.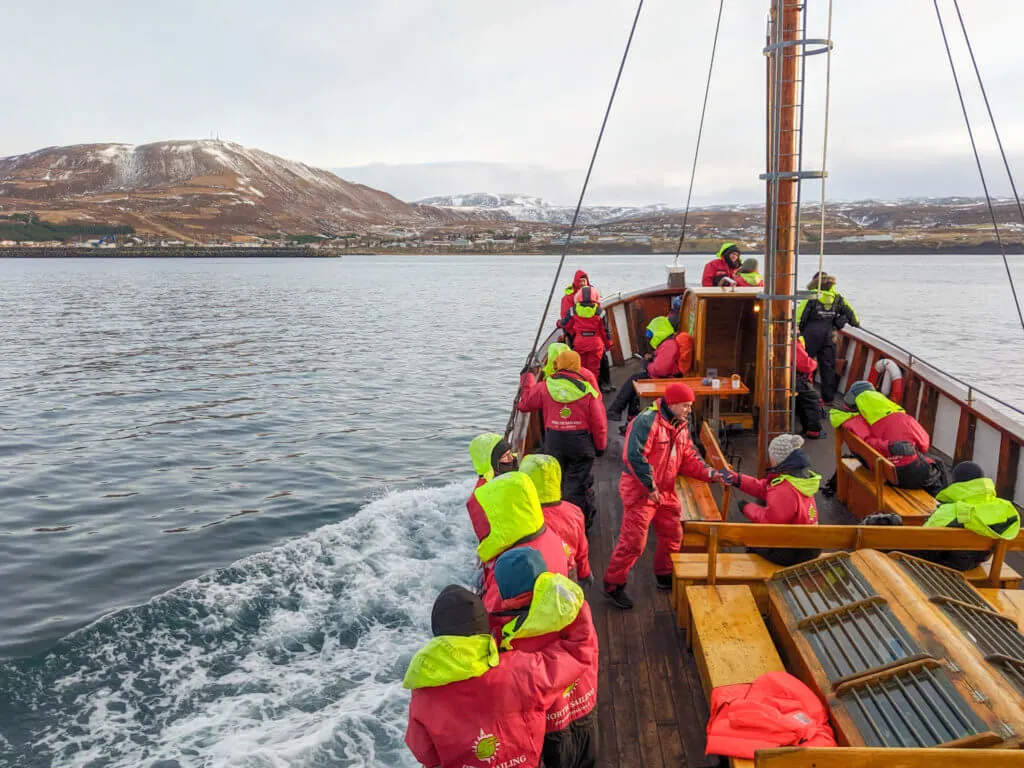 After your whale tour, visit the nearby geothermal baths of Geosea that overlook the bay. We ended up spending three hours here. But if you still have time, take a little drive to explore the geological features of Ásbyrgi, Hljóðaklettar, and Dettifoss waterfall, before returning back to Stóru-Laugar for the night. Make sure you leave enough time to use the outdoor hot tub at the accommodation.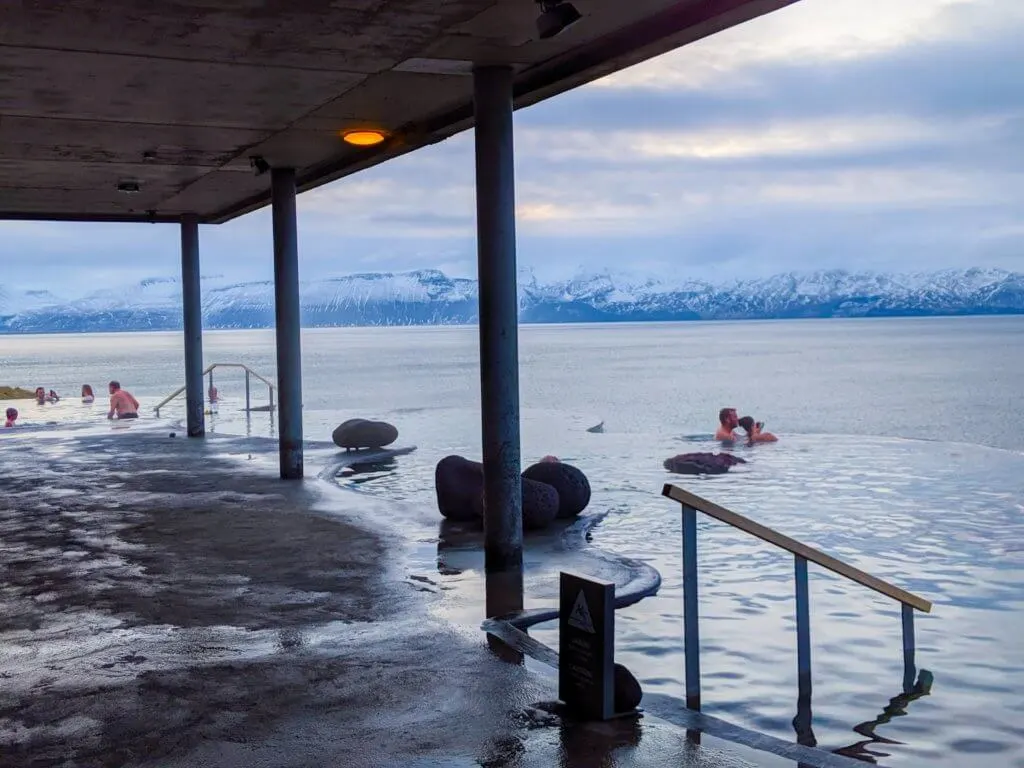 Day 6: Mývatn and horse riding
Where we stayed: Gauksmýri Lodge
Click here to check prices and book.
Get an early start to drive the circuit around Mývatn, which is a large a volcanic lake. First stop at Skútustaðagígar to enjoy the short circuit walk around the pseudo craters; formed by gas explosions triggered by boiling lava flowing over the wetlands.
Next stop are the unusually shaped lava formations of Dimmuborg, which were allegedly the home of some nasty trolls. There are a series of waymarked paths to explore the area.
Following the Route 1 East slightly, you will come across the other-worldly landscape of Námafjall. This is a fascinating and very active geothermal area, where you can see smoking fumaroles and belching mud pots, surrounded by sulphur crystals of many different colours.
If you have a day spare, spend the afternoon at Mývatn Nature Baths bathing in its milky blue waters. It's perhaps the best Blue Lagoon alternative in Iceland. But if you need to stick to a 7 day North Iceland itinerary, it's time to get back in your car and begin the drive back from Akureyri to Reykjavik. It's a 3.5 hour drive to Gauksmýri Lodge; the accommodation for tonight. If you arrive before 5pm, you can fit in a family horse riding lesson!
Day 7: Into the Glacier
Where we stayed: Guesthouse Keflavík
Click here to check prices and book.
To break up the 3 hour journey back to Keflavik, book on to the fantastic Into the Glacier tour. It's a man-made tunnel into Iceland's second largest glacier and it is incredible! Half the fun is the drive up the glacier in a specially modified glacier vehicle. Allow four hours for the tour if visiting in the winter months, three if in the summer. Read about our glacier experience here.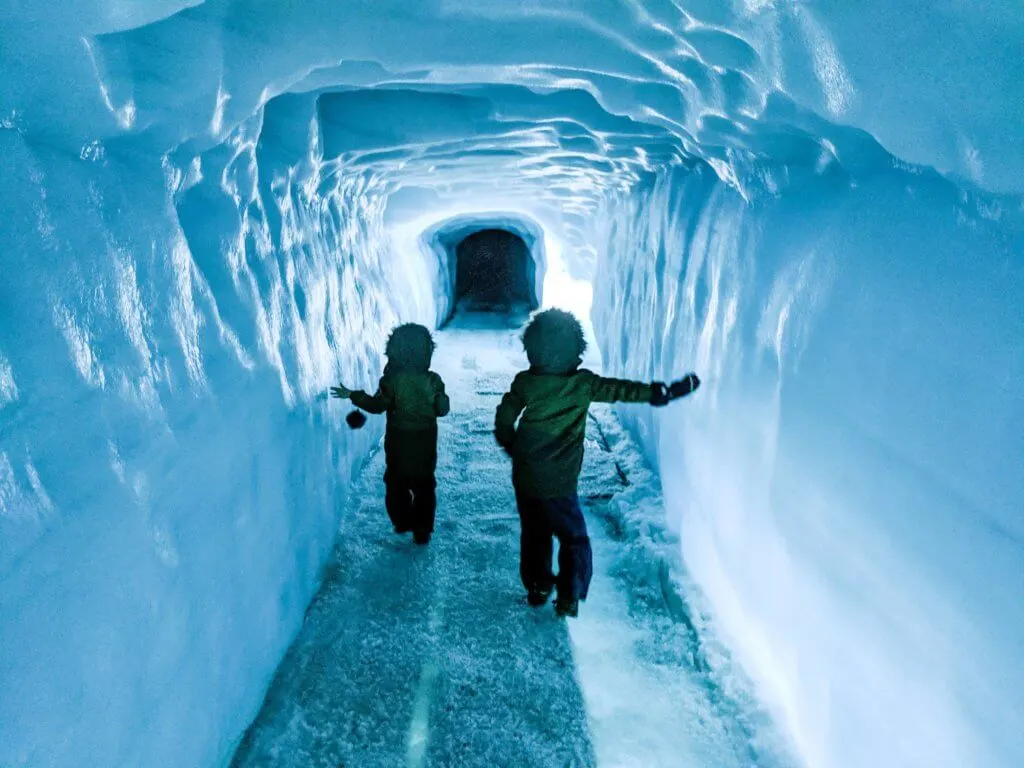 Day 8: Head home
We had a late morning flight. But if time allows either head into Reykjavik or visit 'Bridge Between Continents' where you can walk from the European to North American plate and back again. Check out Day 1 of our 5 day Iceland itinerary.
Hey Iceland self drive tours
This North Iceland itinerary was initially put together by Hey Iceland. If you book one of their self drive tours, you are given a free tablet to follow your personalised day-to-day itinerary. The tablet gives you recommendations along the way, and helpful information regarding driving conditions, weather forecast, and also comes with inbuilt WiFi, so you can still be connected to the world when you're out in the sticks.
It take the stress out of having to do your own routing and navigation and we absolutely loved it. We also used it for our 5 day Iceland itinerary the previous year. Read more about the Hey Iceland self drive tablet here.
---
You may also like to read:
Things to do in the Peak District with kids
Best family walks in the Peak District
Best kids hiking boots