Iceland is well known for its glaciers, the majestic sheets of ice which cover large areas of land. Whilst most people have heard of them and will have seen pictures from above, not many are able to say they have ventured onto them, let alone been inside. Almost by definition, they're inhospitable places, hard to reach and difficult to appreciate if the weather turns bad.
Disclaimer: TraveLynn Family received a complimentary tour with Into The Glacier, booked through Hey Iceland, in exchange for coverage on our social media and blog. As always, these are all my own words. Also, this post contains affiliate links. Should you click to purchase, it is an no additional cost to you, but I receive a small commission.
So what if I told you that in Iceland there is a place where tunnels have been carved into the glacier and you can actually walk inside? It's an absolute must do if visiting Iceland with kids.
On our recent road trip around North Iceland, we were delighted to be invited by Into The Glacier to venture inside Iceland's second largest glacier – Langjökull. This glacier tour nicely breaks up the drive between the North, where we were staying at Gauksmýri Lodge, and Reykjavik.
Getting to the glacier tunnel entrance
The trip starts at Húsafell center which is the winter meeting point. Note that in the summer you need drive further along the access road to the summer meeting point – Klaki base.
We were warmly greeted in the cosy office and reminded that we needed to wrap up warm. As you spend most of your time inside either the vehicle or the glacier itself, you don't need to go overboard on the clothing, but make sure you have your usual winter outdoor gear of hats, gloves, scarves and a warm coat. We were also wearing thermals. Interestingly, inside the glacier the temperature is a constant 0°C/32°F and is not affected by seasons or outside conditions.
It's also worth remembering that there are no snacks or drinks provided so take your own supplies. There is a small shop and bistro in the same complex if you need to stock up. If you are travelling with a baby or toddler we suggest you take a carrier for them, rather then a pushchair.
One of the real highlights of the trip is the journey to the glacier entrance in a HUGE all-terrain vehicle, complete with mammoth self-inflating tyres, ladder to climb onboard and enough GPS equipment to launch a North Pole attempt. The boys loved climbing onboard, although note that the windows can get steamed up in colder months and vision may be limited.
The journey to the glacier tunnel entrance takes just over an hour in the winter (less in the summer). Along the way a knowledgeable guide chats on the microphone giving you insights into the glacier, its history and also depressing future. More on that later.
Walking inside the glacier
You enter the man made tunnels via a slightly uninspiring metal tube, but rest assured that it gets better as you go along.
The tour includes hire of crampons which is useful as the floor is (of course!) icy so it can be a bit tricky to walk, but the crampons certainly help and the pace of the tour is very sedate. Our two boys were sometimes able to lead the way with the guide which they loved.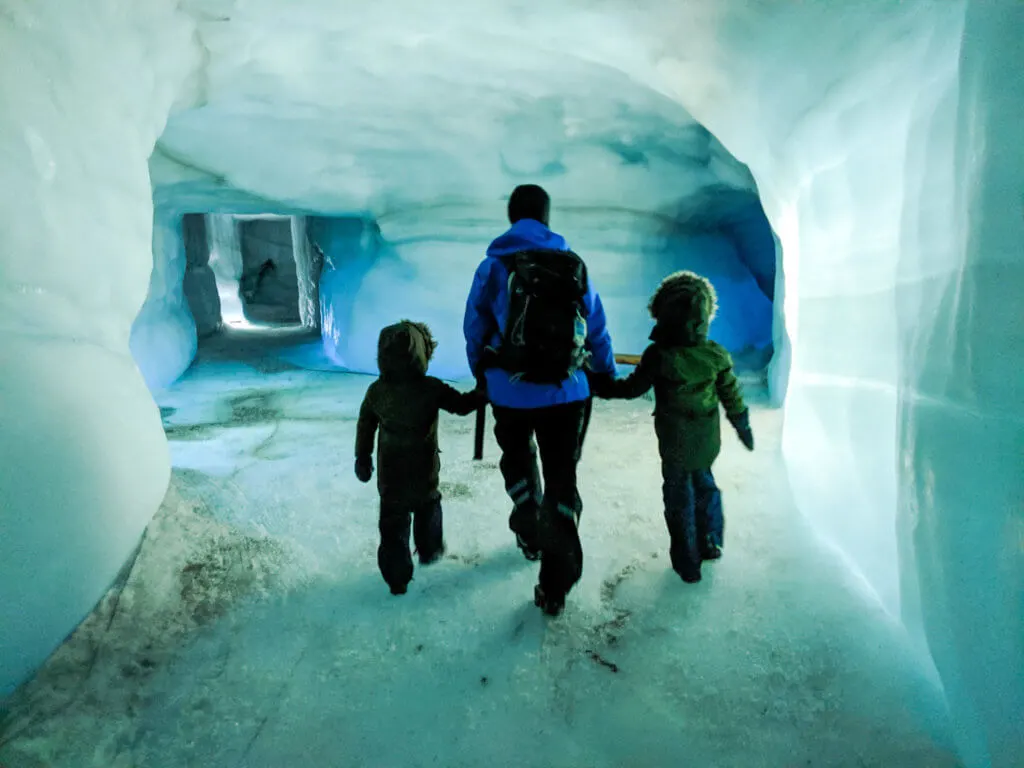 The tour consists of moving from one man-made chamber to the other, each one with its own theme and stunning lighting features (which has won design and style awards). The sheer majesty of knowing you have this incredible force of nature sliding slowly above your head, with 40 feet of solid ice as your ceiling is amazing, and seeing all the different colours of ice and the layers from season to season is fascinating.
Some people have asked if we felt claustrophobic inside the tunnels. In all honesty, this never occurred to me on the tour and is not something any of us suffer from. The tunnels do feel large and airy. But if you do suffer from claustrophobia, this tour may not be for you as you are inside the tunnels for over an hour.
The future of the glacier
The discussions at the end of the tour, before heading back down to base, are around the future of the glacier and the damage climate change is having on its size and life-expectancy.
It is a sad fact that Iceland's glaciers are melting as a result of global warming; Langjökull glacier is shrinking rather rapidly. Calculations tell us that Langjökull glacier, which is currently an astounding two hundred billion metres cubed in volume, will sadly disappear in about 80 years. 80 years?!
Looking at the positions on the display maps of where the foot of the glacier was just ten years ago, to now, is in itself very disturbing and very sobering.
---
You may also like to read:
ICELAND with kids: a self-drive itinerary (5 days)
How to save money on a family trip to Iceland
The BEST things to do in Reykjavik with kids