Iceland is known for its breathtaking beauty but also its extortionate prices, especially in Reykjavik. Despite a tourism boom in recent years (a reported 60% growth in 2016), there are actually signs that this growth has eased off significantly (Telegraph), partly due to the rise in the value of the Icelandic krona. And if you're planning a family trip to Iceland, cost is always a massive factor when deciding on a destination.
Disclaimer: This is a collaborative post with information drawn from different travel bloggers. Furthermore, this post contains affiliate links. Should you click on a link to purchase, it is at no extra cost to you, but I get a small commission that goes towards the running of this blog.
However, cheap flights with EasyJet are still tempting UK families, and after our 5 day Iceland road trip, we realised that it is still possible to keep to budget on a Iceland family trip. After all, so much of the natural wonder of Iceland is free to explore! So much so, we returned exactly a year later to do a North Iceland itinerary.
TIME YOUR VISIT RIGHT
Go out of season
If you visit Iceland outside of the main tourist season, then you'll be able to get more value for money on your trip. Flights and accommodation can be substantially more expensive over busy periods, such as summer and Christmas, so if you avoid these times it can save you a fair amount of cash! There are plenty of must see sights in Iceland, which can be visited no matter what time of year you visit! If you're looking to save money, the cheapest months to visit Iceland tend to be May and September.
(Sam and Natalia, Something of Freedom – follow on Instagram)
Travel before your kids are 7
Families with young children never pay full price admission fees for their kids. We didn't find any admission fees charged for kids under age 7. Fees for special tours and attractions such as the Blue Lagoon, the Lava Tunnel and Hallgrimskirkja observation deck are charged only for visitors over age 13. Fees charged for children aged 7-13 at tours, museums, public pools or buffets are usually half price of less the adult fees.
(Catherine, We Go With Kids – follow on Instagram)
BE CLEVER WITH FOOD & DRINK
Bring food from home
We booked a hotel that had some kitchen facilities and took some food from home! This meant we were only buying the perishables in Icelandic supermarkets and limiting our food costs. We planned meals and lunches before we went and this way we kept our costs down.
(Leona, Wandermust Family – follow on Instagram)
Shop at Bonus
If you're self-catering and need to buy food in Iceland, you've got to be careful where you you go, as you can be caught out by high prices in many grocery shops too. Bonus is a large supermarket chain that sells pretty much everything you'll need. There are stores all over Iceland and they have generally the best prices. You won't miss a Bonus shop – just look out for the huge pink pig logo.
You'll have to factor shopping into your daily schedule though, as Bonus stores don't open until 10am or later and usually close by 6.30pm. Don't get so distracted by Iceland's beauty that you forget to shop!
(Emily, Kids and Compass – follow on Instagram)
Avoid convenience stores
On our first night in Reykjavik we got in late, we were tired and hungry so we headed to the first shop we could find, a little convenience store just up from our apartment to pick up a few things to get us through till we could find a supermarket. This would turn out to be a huge lesson for us and the prices of food in Iceland! It was crazy expensive ($6.00 Australian dollars for a small bag or Doritos and $7.50 for a 1.25L bottle of Pepsi!) We thought it was expensive until we found a scanner in the local Bonus supermarket and realised just how much we paid! So our best tip is AVOID THE CONVENIENCE STORE!
(Bec, Wyld Family Travel – follow on Instagram)
Bring your own grocery bags
Grocery stores in Iceland charge for bags and since the country is already so expensive, this is an additional expense you may not expect. If you are from Europe, this may sound normal to you, but in other parts of the world including much of North America, this is not standard practice. Buy a cheap cloth bag back home and roll it up and pack it in your suitcase. They will help you save the earth and save a little money during your time in Iceland!
(Victoria, Follow Me Away – follow on Instagram)
If you do eat out, get take out
Most restaurants have a take-out menu with significantly lower prices than their dine-in equivalents, and visitors can avoid the hefty service charges by ordering takeaway. During our family's 10-day Ring Road trip, we enjoyed take out pizza, fish and chips and hot dogs without paying the break the bank dine-in cost.
(Catherine, We Go With Kids – follow on Instagram)
Drink tap water
A great way to keep your trip costs down in Iceland and help the environment at the same time is to bring a reusable water bottle with you and drink the tap water! The tap water in Iceland is safe to drink and as a lot of the water source comes directly from natural springs it is also incredibly delicious. Given Iceland is notoriously expensive, not buying bottled water is a great way to save money while visiting this beautiful country!
(Michael, The World Was Here First – follow on Facebook)
Buy duty-free
You can save a lot of money on alcohol in Iceland by buying it at the duty-free shop at Keflavik airport. Customs limits the amount of alcohol you can bring into Iceland to 1 liter of spirits plus 1 liter of wine OR 1 liter of sprits/wine plus 6 liters of beer OR 2.25 liters of wine. That's for adults 20 years or older. Since taxes on alcohol in Iceland are high, expect to save around 700 ISK on 6 packs of beer and over 5000 ISK on bottles of liquor. Cheers to cheap alcohol in Iceland!
(Bertaut & Alexis, World Travel Adventurers – follow on Instagram)
SELECT ACCOMMODATION CAREFULLY
Stay in Air BnBs
When I looked at hotel prices in Iceland I was in shock so I investigated Airbnbs more thoroughly. I found not only could I get them much cheaper than hotel rooms (especially if you would need two rooms) but in many cases they were really special places. Once we stayed in a quaint cottage with a grass roof, and another time in a very fancy designer-home on a lake. My very favourite was a cabin at the foot of Mt Kirkjufell in the west of Iceland, one of the most beautiful spots of all. Airbnbs in Iceland are not only a great budget saver but a way to really see places you otherwise wouldn't.
(Amanda, Not A Ballerina – follow on Facebook)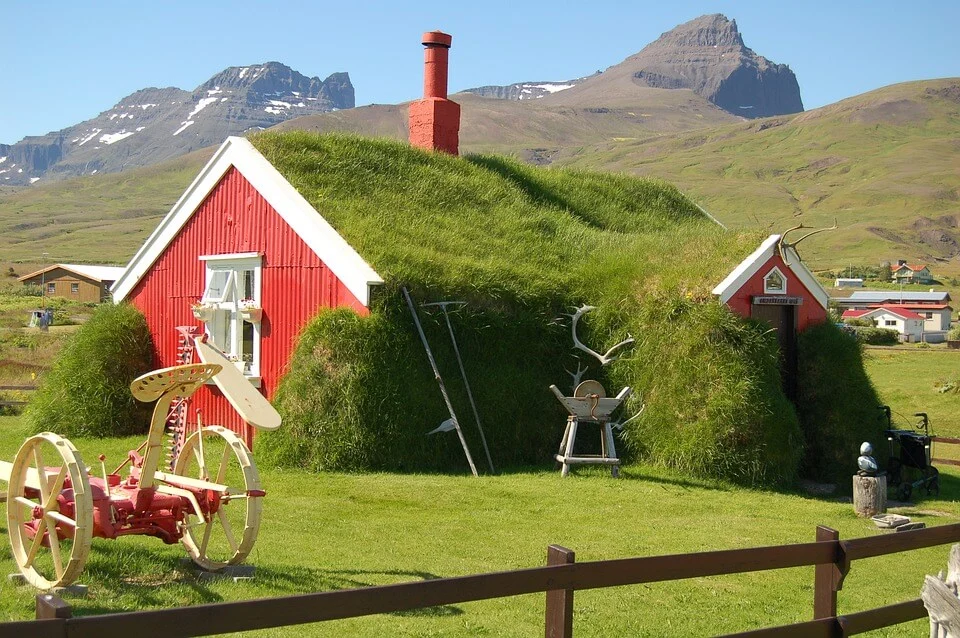 Rent a campervan
For those outdoorsy types, bundle your vehicle, lodging and meals into one economical package by renting a campervan! Not only will you save money, but this allows for opportunities to experience Icelandic life and culture more intimately by shopping for groceries at the supermarket and swimming at local public pools. Furthermore, campgrounds are in gorgeous locales, and you can wake to remarkable beauty right outside your van doors (no cost for kids at campgrounds)! And if all the stars align, your family just may grow closer together, with a trip to last a lifetime in the memory banks!
(Valerie, Wanderlust Wookies – follow on Instagram)
We'd love to travel Iceland in our Mazda Bongo!
Stay in YHAs
We booked to go to Iceland just before we got married so wanted to do the trip as cheaply as possibly. We joined the youth hostel association and booked into youth hostels all the way round the island. All the rooms were doubles rather than dorms and many were en suite. We saw loads of mainly Japanese families using the youth hostels and cooking for themselves to save money. There was only one youth hostel we decided we couldn't stay in, and we should have trusted the reviews. Definitely a great way of doing Iceland more cost effectively.
(Karen, Mini Travellers – follow on Instagram)
CONSIDER HOW YOU'RE GOING TO GET AROUND
Self-drive rather than paid excursions
At first glance hiring a car in Iceland may seem expensive but when you compare it to booking a place on a few paid excursions it really is the better option. You can keep the cost of car hire down by shopping around and checking out reviews. A few car hire companies are based at the old army base, which makes them cheaper again. Remember Iceland is a small country and nothing is very far away so it really won't inconvenience you at all.
If you are feeling nervous about driving in Iceland my advice to you is don't! It's really straightforward and there really aren't many cars on the road. Your biggest challenge will be the weather, but as long as you are cautious you will be fine. I navigated heavy snow drifts during my trip to Iceland and honestly it was fine.
With a hire car you will also cover a lot more ground and see more sights than taking paid excursions which makes it better value for money again. You are not at the mercy of timed stops or waiting for 60 people to get on and off a coach at every stop.
(Zena, Zena's Suitcase – follow on Instagram)
Download maps.me to your phone
Hiring a car abroad anywhere gets expensive once you start adding on things like insurance and GPS. But in Iceland, where your purse strings will be really stretched, it's important to make savings wherever you can. Starting with your car hire. I suggest you decline the fancy GPS at a mouthwatering €13/day and instead download the free phone app maps.me. If you download the Iceland map, you will have GPS directions on your phone available to you without any internet connection. I bring a phone holder which clips into the air event and voila, GPS for free! On a weeks road trip in Iceland, this will save you €91!
(Leanne, The Globetrotter GP – follow on Facebook)
Check car insurance and credit card insurance company to see if you're covered on rentals
When renting a car in Iceland, it is advised to take full car rental insurance including the ash and stone coverage. This can actually close to double the cost of the car! It pays to call your insurance company or credit card first to see if they offer any insurance on car rentals so that you can waive purchasing the insurance on-site. It is surprising how expensive it is to rent a car in Iceland.
(Tamara, We 3 Travel – follow on Instagram)
BE SELECTIVE WITH YOUR ACTIVITIES
Find free activities
Iceland can be hard on your wallet, but one of the most wonderful aspects about travelling in Iceland is that the outdoor activities are endless and free. If you are on a tight budget, rather than taking a tour there are so many incredible hikes and famous waterfalls to visit that won't cost you a penny (ensure your kids have good footwear and check out this guide for the best children's walking boots). Some of our favourites were hiking from Arnastapi to Hellnar and getting up close to the famous Kirkjufellsfoss waterfall.
(Celine, Family Can Travel – follow on Instagram)
Book last minute tours in Reykjavik
If you decide that an organised tour is what your holiday needs, get the best price you can. Stroll down Reykjavik's main street once a day and you'll pass all of the big travel agents and tour operators. They all post great last minute deals in their windows or on sandwich boards outside to catch walk-in business. You'll get the very best last minute bargains to see the Golden Circle, go whale watching or whatever tempts you.
(Danielle, Live In 10 Countries – follow on Twitter)
Go to local pools and skip the Blue Lagoon
Visiting geothermal pools is one of the best things you can do in Iceland with children. But unless you're prepared to spend a week's salary on one pool, a family visit to the famous Blue Lagoon is not really the best option. You may have heard about the Secret Lagoon, Myvatn Nature Baths, or Fontana Wellness Lagoon – these are all fantastic Blue Lagoon alternatives – and although much cheaper than the Blue Lagoon, they can still be rather pricey.
I have good news for you though. A soak in warm geothermal waters in Iceland can be much more affordable than you think. And you don't have to share a pool with hundreds of strangers. Visit local swimming pools! They are plentiful all over Iceland and they are always heated, often with at least a few hot tubs in different temperatures. Some public swimming pools even have saunas, water slides, or special heated pools for babies and toddlers.
Prices vary per location, but in general shouldn't cost more than USD 5-10 for an adult, often free of charge for kids.
(Jurga, Full Suitcase – follow on Instagram)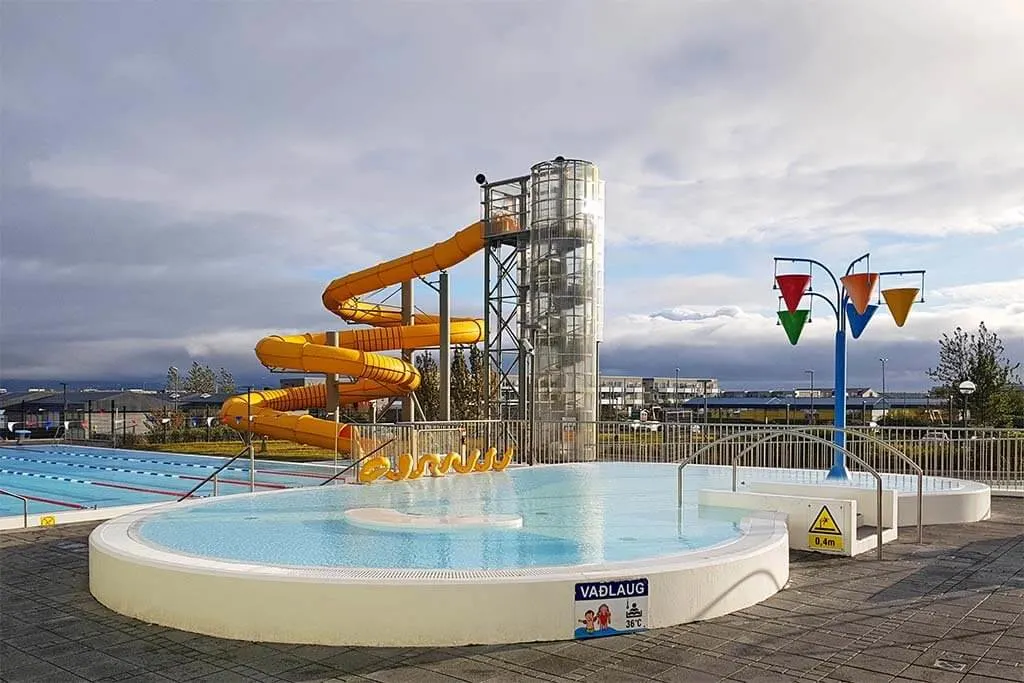 REYKJAVIK
If your planning to spend some time in Reykjavik with kids, check out out post: Things to do in Reykjavik with kids.
Get the Reykjavik City Card
The Reykjavik City Card is an awesome way to save money on attractions that families will love. This card gives you unlimited access to 8 museums, 5 art galleries, 8 swimming pools, and the Reykjavik zoo for 24, 48, or 72 hours, and free use of city buses. I bought a 24-hour Reykjavik City Card, and used it for 4 attractions, which would have cost double otherwise!
The Reykjavik City Card is available at the Official Tourism Centre in Reykjavik, and many hotels. Prices start at ~ $35 USD for an adult for 24 hours, and $15 USD for a child.
(Nina, Nina Near and Far – follow on Instagram)
Or if you really want to save… avoid Reykjavik altogether!
One sacrifice worth making to truly enjoy Iceland on a budget is avoiding Reykjavik city altogether. The main reason for this is to avoid the temptation of the restaurants and bars where prices for just a burger with crisps [not chips/fries] can set you back £19! Although there are happy hours, a beer can set you back £8 and a glass of wine £11 in Reykjavik too. (Gemma, Two Scots Abroad)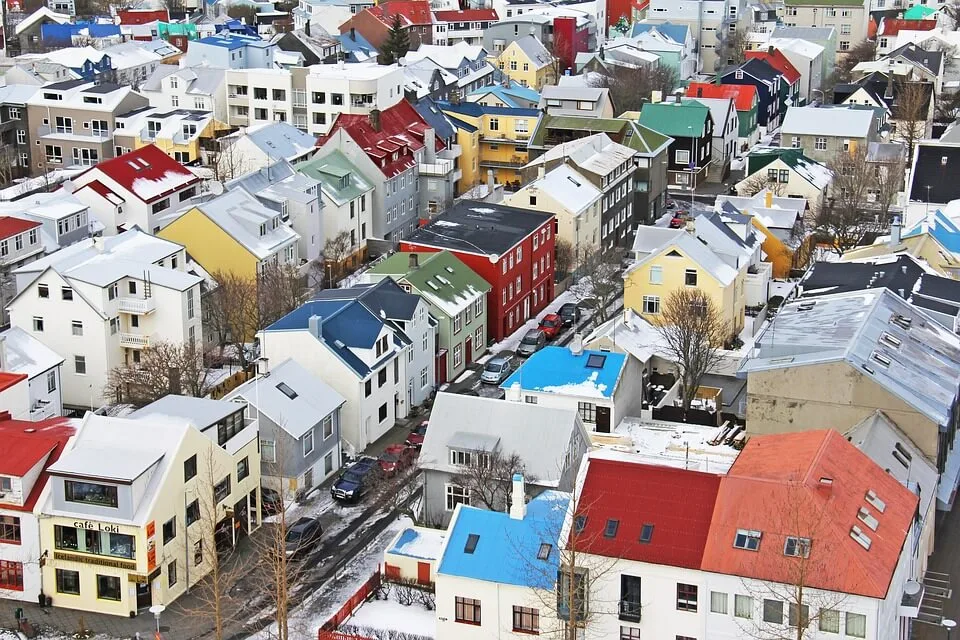 TRAVEL GEAR
Make sure you have all the right travel gear with us before we go and purchasing clothing whilst in Iceland is a very expensive option. Those natural woollen Icelandic jumpers look very cosy, but they will set you back at least £100. Pack layers (including thermals), good quality waterproof jackets (we love these 3-in-1 jackets from Mountain warehouse) and trousers, as well as waterproof hiking boots and woolly hats and gloves.
Check our our packing list for Iceland.
(Jenny, TraveLynn Family)
---
You may also like to read:
5 Day Iceland Itinerary with kids
The BEST Blue Lagoon alternatives in Iceland
What to pack for Iceland