Wondering what to pack for Iceland in October? Read on…
With fewer crowds and 8 hours of daylight, October is a great time to visit Iceland with kids. Plus, there is a good chance you will see the Northern Lights! Just be prepared for the cold.
We have been to Iceland in October twice. First on a 5 day Iceland road trip and then on a 7 day North Iceland itinerary. Both times we were armed with thermals, warm jackets, and woolly hats and gloves. Read: How to save money on a family trip to Iceland.
Disclaimer: The Boostapaks, Thule Carry-on and Mountain Warehouse gear were gifted. However, as always, these are all my own words and I wholeheartedly recommend these products to my readers. This post also contains affiliate links. Should you click on a link to purchase, this is at no extra cost to you, although I get a small commission that goes towards the running of this blog.
With Easy Jet's current luggage regulations, it is very doable to pack enough clothes in carry-on only for a 5 day visit to Iceland. We even managed to fit in food, and some crafts for the boys!
Here are our suggestions for what to pack for Iceland in October:
Luggage
I took my Thule Subterra Carry-on with it's magical compression panel to squeeze in as many clothes as possible. Hubby took a standard 40L rucksack, which was also used as our day-pack.
For the boys, we had to consider car seats. Our options were to hire them in Iceland at an additional cost, or take ours from home and check them in to the hold at Luton (this seemed such a faff, especially with the guaranteed queues at Luton). Thankfully, there was an even better idea. Trunki got in contact with us and sent us a couple of Boostapaks!
The Boostapak is a travel car seat, which doubles up as a funky backpack for the boys to carry. It's safety certified to the very highest standard and can be used for kids aged 4-12 (or weighing 15-36kg). Whilst there's no head support (which isn't ideal if they want to sleep), it was perfect for our 5 day road trip as we were often only driving for 15-30 minutes at a time. The Boostapak fits in to the car really easily using the seat-belt (check this YouTube video for how to install them), and the hard shell, which acts as the seat, protects anything packed inside. Plus, they are super handy as a spare car seat for ferrying their mates around on playdates back at home, and can even be used as a booster seat at restaurants or the theatre.
Clothing
In the first few hours of arriving in Iceland, we experienced rain, sun, snow, hail, wind, and even saw a rainbow. The weather in Iceland is notoriously unpredictable and constantly changing. It's best to be prepared by packing and wearing layers.
Waterproof jackets and trousers
We were gifted these 3-in-1 waterproof jackets in the photo below from Mountain Warehouse and they were perfect. The waterproof outer-layer can easily be zipped off to reveal a fleece, or wear the waterproof separately. There is also a packable hood and lots of nicely sealed zips. Plus, these jackets are fully waterproof with taped seams and a double storm flap, and nicely breathable.
Check out the links here to view more about our jackets: Mummy's jacket, Daddy's jacket, the boys' jackets. We have used Mountain Warehouse gear for years as the products are great quality and they always seem to have some sort of sale on.
We also all packed waterproof trousers, again from Mountain Warehouse.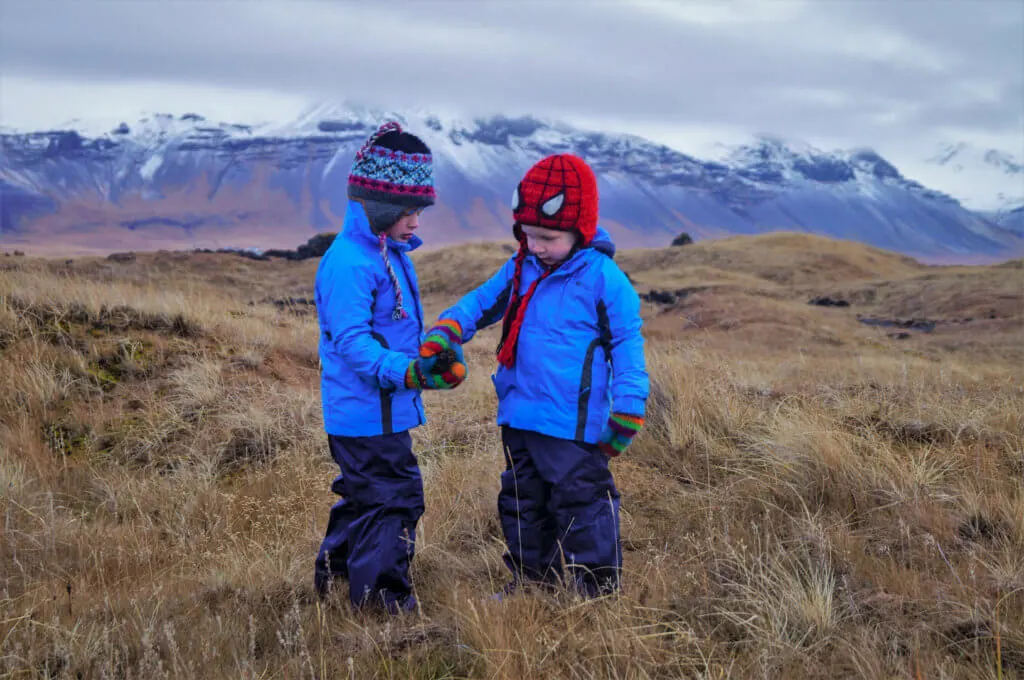 Layers underneath our coats
1 Long-sleeved thermal top and bottoms each (these ones are great for kids)
2 T-shirts each (wear one, pack one)
1 warm jumper each
Tracksuit bottoms for the kids (2 pairs each – wear one, pack one)
Winter hiking trousers for parents (I wore these from Mountain Warehouse)
Underwear (enough for your stay to avoid hand washing)
Woolly hat and gloves (ideally fleeced lined) and scarf.
Hiking boots
Sturdy, waterproof hiking boots are a must for parents and also kids, especially if you want them to cover good distances (wellies will not do!) We all wear KEEN hiking boots. You can read our full review here.
Swimming gear
Don't forget your swimwear and towels for those geothermal pools! Indeed a dip in a geothermal pool one of the best things to do in Iceland with kids!
If you're flexible on packing space, a Dryrobe is actually really handy for Iceland, not only for keeping warm out of the pools, but for when you're jumping out of the car for a viewpoint and need a warm and waterproof cover quickly. Now Dryrobes can be quite pricey, so check out these best Dryrobe alternatives.
Food
To save some money on grocery shopping, we packed food from the UK. The current ruling for taking foods into Iceland is that you may bring up to 3kg of food, but no raw eggs, raw meat, or milk. We packed biscuits, pot noodles, tortellini, cereal bars, lollies.
Electronics
You may need a European plug adaptor (Iceland uses 2-pin plugs), and we always travel with an extension cable so we can charge multiple items from the same socket.
Cameras
Obviously pack your camera, and ensure you have a spare battery and memory card (your camera will be getting a lot of use!) You may also want to pack a tripod for those epic shots of the Northern Lights.
However, for shots next to the spray of waterfalls or in geothermal pools, or when it's raining or you're taking part in something active, you will need an action camera and we love the GoPro for family travel adventures.
Stuff for the kids
We rarely pack toys for our boys; they take up valuable packing space and are played with for all of 5 minutes. But we always take some crafty things. For this short trip to Iceland we packed for them: coloured pens, glue, paper, a CBEEBIES magazine each, and their Amazon Fire Tablets loaded with books, TV shows and games.
Medical and toiletries
Remember that if travelling with carry-on only, all liquids need to be 100ml or less and in a clear plastic bag to go through airport security. If you're staying in hotels or B&B, shower gel and shampoo will be provided. So you really only need toothbrushes, toothpaste, deodorant, hairbrush and any other personal items you deem necessary.
We always take a medical kit wherever we travel which includes Calpol, plasters, antiseptic cream, paracetamol and diarrhoea relief tablets. There are no mosquitoes in Iceland so repellent is not necessary.
Miscellaneous
The tap water in Iceland is safe to drink, so pack a reusable water bottle.
You will need to pay extra for shopping bags in supermarkets, so pack some reusable and foldable shopping bags.
---
You may also like to read:
5 day Iceland itinerary with kids
How to save money on a family trip to Iceland
Best things to do in Iceland with kids
Check out this post if you're looking to head to Iceland in December.