Are you considering buying a GoPro to record your family travel adventures? With the type of travel we do with our boys, I'm always cautious of travelling with expensive items; worried that they will break or get lost before I've got any use out of them.
*ao.com gifted me a GoPro HERO7 in exchange for this blog review and coverage on my social media. This post also contains affiliate links. Should you click to purchase, it is at no additional cost to you, although I earn a small commission.
My husband bought me a low-end drone about a year ago. I lost control and flew it in to a tree. It broke beyond all repair and I decided that there are too many people posting drone shots on Instagram anyways. That's so 2018, right?
And would you believe that I dropped my phone in a beaker of wine whilst camping in Africa? Thankfully it was a cheap phone, and hubby had his so we could still access Google Maps for navigation, and I had my DSLR for photography. But you see, things happen when you travel, and you can't always blame the kids…
An action camera was also something I'd always wanted, but could never justify the expense of getting a GoPro when surely I would only be using it for water based photography anyways? I've tried alternative action cameras that are cheaper, but the photo quality was disappointing.
So when ao.com got in touch and offered me the GoPro HERO7 Silver in return for an honest review and social media coverage, I leapt at the chance.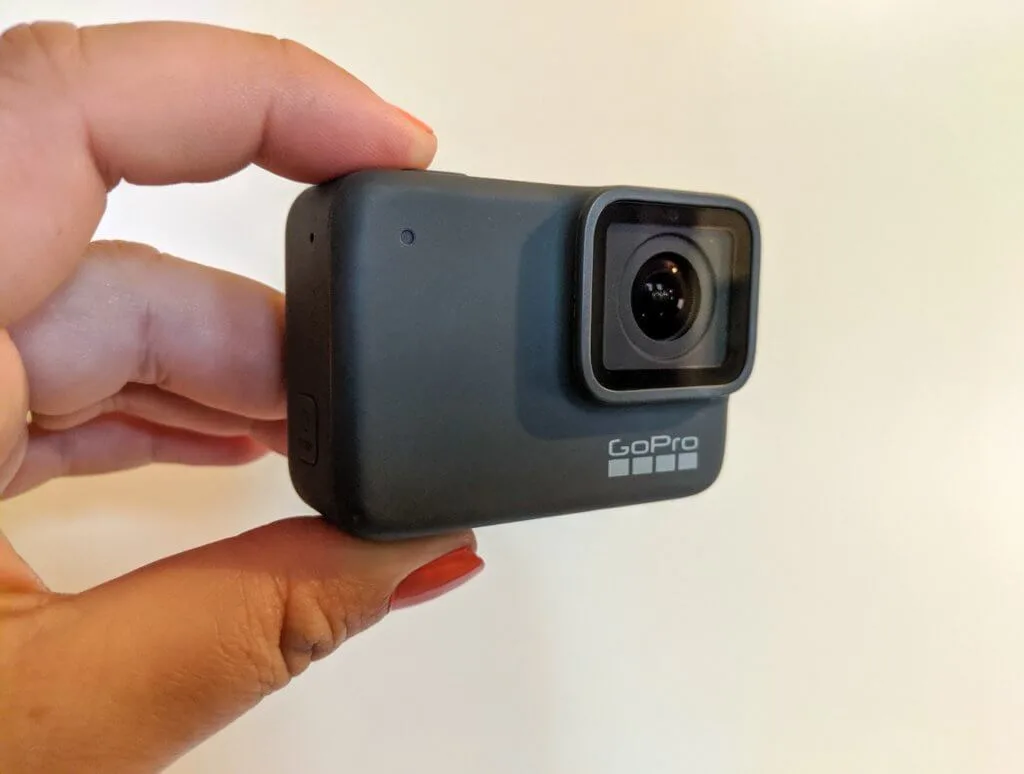 What did I think of the GoPro HERO7 Silver?
Seriously, how did we ever travel before without one?! I absolutely LOVE it!
I took it on our summer road trip and as we were swimming in the sea, or a lake, or a pool every single day, there were plenty of opportunities to try it out in water. You don't need an extra waterproof cover for the GoPro at all when using it water. Just switch it on and go!
I love the quality of the photos and the video also turned out brilliantly! Here's a video I tweeted of me zooming down a waterslide at Les Alicourts, France. This was uploaded directly to Twitter from my GoPro using the free GoPro App.
The GoPro HERO7 settings are accessed via touch screen and it's very quick and easy to flick between functions. You can even access them with voice commands!
BUT… there's now the GoPro HERO8! Check out what Stoked For Travel has to say in their review of the GoPro HERO8.
The GoPro App
There's a free mobile app you can download to your phone. This connects your phone to your GoPro by bluetooth. Here you can save your favourite GoPro media to you phone, or upload directly to social media. Or even create little videos using the QuickStory function (the app also creates some automatically for you and sets them to music!)
This app makes it super easy to share and edit your media.
What about the GoPro HERO7 Black or GoPro HERO7 Black?
There are three versions of the latest GoPro HERO7 – Black, Silver and White. The Black is the top of the range, the White more basic, with the Silver in between. For me, and as a blogger where image quality is important for my work, I was very happy with the GoPro HERO7 Silver, and the Black version costs a fair bit more.
However, I haven't actually tried the White or the Black, so I'd be interested in hearing from anyone who has.
This is the functionality description of each from the ao.com website: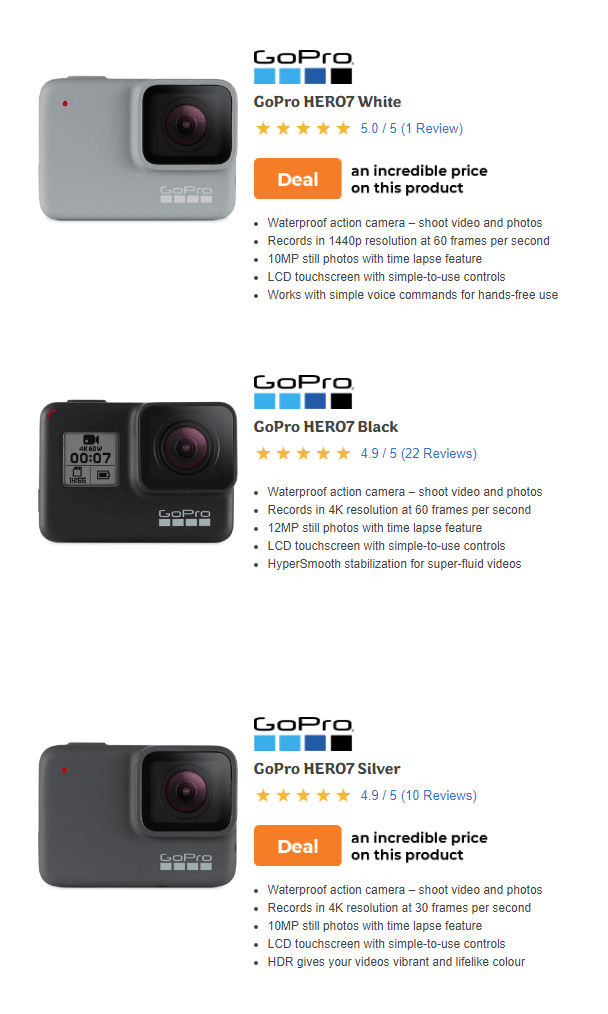 But is the GoPro only for water based activities?
Well this is what I believed initially, but the distinct fish eye lens feature of GoPro images and video means that you can capture more in a shot. So it's great for getting a big party of people into a selfie, or for condensing a panoramic landscape into a standard landscape photo.
And now I've got to grips with the functionality, I want to get a bit more experimental; attaching it to the boys helmets for bike rides, taking it bouldering or on zip wires. It means that recording our adventures can get a lot more creative.
Do I recommend the GoPro for family travel?
Well it may not surprise you to hear, but YES! It's so small, and takes up barely any space in my backpack, protected in an old walking sock (although there are proper cases you can purchase). Plus, as it's so robust, I don't have any concerns of it breaking, and it wouldn't matter if I dropped it into a beaker of wine (like I did my phone!)
I just need to remember to keep it charged as the battery does drain rather quickly, especially when you are connected to the app for uploads and editing.
And I'm not the only one that think's the GoPro is fantastic for recording family travels:
I use Hero 7 due to its internal stabilisation, which meant we could get rid of the gimbal handle. It's been a game change to get smooth footage, especially where kids are involved and move quickly.

Karen from Travel Mad Mum
With two kids running around Europe, kayaking, canoeing, parasailing and biking adventures, the Go Pro Hero 7 Black is our go to gadget. The stability and clarity is unparalleled. Chasing after kids or diving into the water, videos retain an incredible smoothness while still shots capture in rich color.

Diana from The Elusive Family
Our Go Pro Hero 6 is essential packing when we travel. We love that it's so small and light it takes up no room at all in our day pack, but delivers the most phenomenal images. We love the wide angle lens for capturing the whole scene, and when kids are on the move (always!) burst shots make sure we can capture the perfect moment, without blur or eyes shut! Best camera we've invested in – and no problems letting the kids use it too.

Keri from Our Globetrotters
Purchasing a GoPro for family travel through ao.com
It is super easy ordering a GoPro online through ao.com and there are also lots of accessories such as wrist straps, sports kits, and extension poles if you wanted to add them on.
ao.com offer delivery 7 days a week, including weekends, on all items. You can even choose a delivery that suits you.
---
You may also like to read:
Microscooters review
How we afford to travel with kids
How to take better travel photos of your kids