I'm generally not one for expensive jewellery or fancy clothes. If you really want to treat me, it would be with travel gear – camera equipment, camping equipment, or good quality luggage (Santa, I hope you read my blog?) Now we're back in the UK and planning for short European adventures, I figured the fraying backpack that I've lugged around Asia and Africa just won't do. This travel mum needs a bit of style in her life! So I was over the moon when Thule gifted me their sleek and hard-wearing Subterra Thule carry on to review. It's just what I was looking for.
Disclaimer: I was gifted this case in return for an honest review. This post does contain affiliate links. Should you click to purchase, it is at no additional cost to you, but I receive a small commission.
Click here to purchase your Thule Subterra Carry on.
What I love about the Thule Subterra carry on
First and foremost, the important thing is that its size complies with the carry-on requirements for most airlines. For short breaks, we always limit ourselves to carry-on only. It's also the perfect size for a weekend away somewhere closer to home.
It is also extremely sturdy and hard-wearing due to its durable exoskeleton and molded polycarbonate back panel. And the waterproof material is handy for those inevitable drink spills at the airport (guaranteed, every single time).
The compression panel
But, the best bit is the compression panel inside to maximise packing space and minimise wrinkling. I've not actually seen this before; such a clever design. The actual panel is then handy for storing any flat documents or, more importantly, art work from your kids that need to keep safe and flat before mounting on the wall at home. April Golightly has a great post about what to pack in a carry on.
The two separate compartments inside the case, mean that you can keep your clean, pressed clothes on one side underneath the compression panel, and shoes and laundry can be zipped away on the other side.
As well as…
On the top at the front, is a zip which opens a protective compartment to store travel documents, sunglasses etc. and is also big enough to store the kids' tablets (because what parent travels without them?)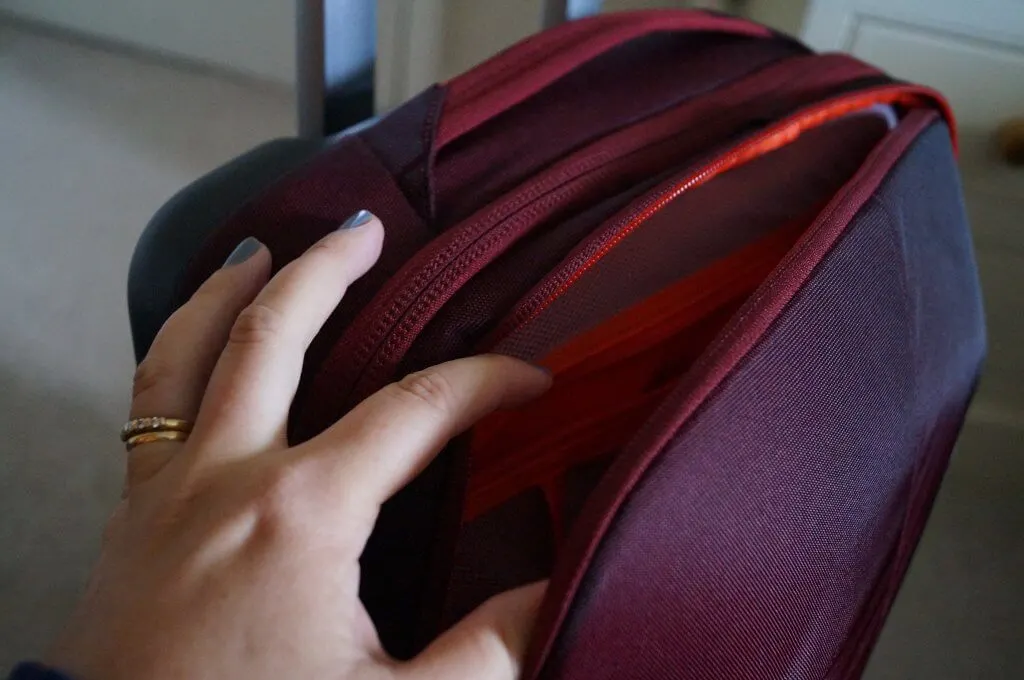 In conclusion
I absolutely love my Thule Subterra carry-on and now a year on, I've used it for almost every European trip. Recently it's been to Iceland, Italy, France, Spain, Germany, and also staycations within the UK. And the reason why I chose to travel with this case over any others is because the compression panel means I can fit so much more in.
Click here to purchase your Thule Subterra Carry on.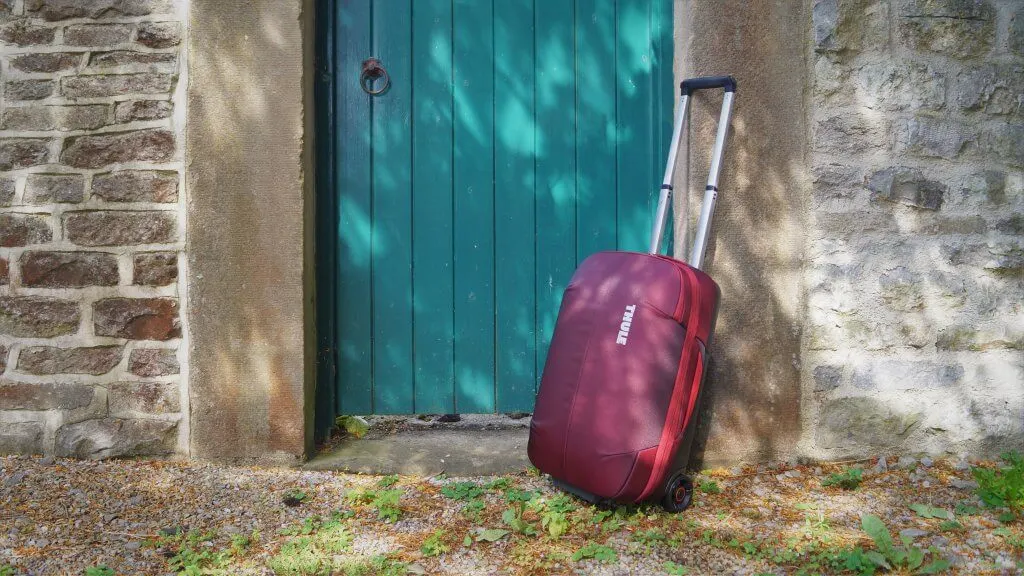 Technical specifications of the Thule Subterra Carry on
The Thule Subterra Carry-on comes in dark shadow (dark grey), mineral (dark teal) and ember (maroon).
| | |
| --- | --- |
| Dimensions | 55 x 35 x 23 cm |
| Weight | 3.18 kg |
| Volume | 36 L |
| Colour | 800D nylon |
To find out more, head over to the Thule website.
Head over to The Discoveries Of for a comprehensive review of alternative carry on luggage. You may also want to check out this guide for: 10 Amazing Carry On Bags for Women
---
You may also like to read:
Keen walking boots REVIEW: for kids and parents who love the outdoors
A winter weekend in Ghent with kids
Copenhagan with young kids