With its cobbled streets and fairytale charm, the compact medieval city of Ghent is often overlooked by travellers who make a beeline for Bruges. But less than a 25 minute train journey away from its dominating neighbour, travellers are discovering the quaint canal-side architecture, edgy art scene and quirky bars of Ghent.
Disclaimer: This post contains affiliate links. If you click to purchase, it is at no additional cost to you, and I receive a small commission.
It's a very family friendly city, it's one of our favourite European city breaks, and there really is so much to do in Ghent with kids! You can visit Gravesteen (the castle), take a boat trip around the central district, climb the Belfry on a clear day for panoramic views, or visit one of the superb museums designed with families in mind. Read on for more ideas of things to do in Ghent with kids…
Should I visit Ghent or Bruges with kids?
This is a question almost everyone asks when considering a visit to Belgium. Of course it would be great to combine the two. But if you only have time for one weekend, you have to choose between the two.
Bruges is a fairytale destination with its cute houses, beautiful bridges spanning the canals, and quaint restaurants spilling out on to the pavements. It's also very very busy with tourists, and accommodation prices reflect this. Ghent on the other hand is much smaller that Bruges, receives far fewer tourists, and due to the many students living there, it has an edgier feel to it.
We have visited both Bruges and Ghent with kids, and Ghent easily gets our vote. We always prefer places that are less touristy, and Ghent retains a fairytale charm with its castle, canals and architecture, but it has an authenticity that I believe Bruges sorely lacks. In fact I've even heard Bruges referred to as a 'medieval Disneyland'.
I don't want to put you off visiting Bruges with kids. It really is a beautiful city and by all means make up your own mind. But if you are asking me whether you should visit Bruges or Ghent for a family weekend? I recommend Ghent.
Getting around Ghent with kids
Ghent has a small-town feel and we found it very easy to navigate, meaning that we didn't need to jump onto the frequent trams which glide (sometimes a little too close for comfort) around the city. Alongside the trams, there are also buses and water-taxis to choose from if you don't fancy walking.
If you're visiting with Ghent with a toddler or baby and wondering if you can take a buggy to Ghent, well you sure can! We visited Ghent when our youngest was just 18 months old and we found it easy to navigate the city with a buggy, just a little bumpy with the cobblestones.
Get the Ghent Citycard!
If you are looking to travel about on the trams and buses, and visit some of the museums in our suggestions of things to do in Ghent with kids below, you MUST get the Ghent City Card (known as CityCard Gent). We were gifted one by Visit Gent and in all honesty this card added to our enjoyment of the city as it covers so many things to do and saves you money, including all trams and buses in the historic centre, boat trips and a one-day bike rental.
The CityCard is easily picked up at the Tourist Office downtown (click here for location) and is €36.00 for 48 hours or €42.00 72 hours. You really only need it for the adults though as kids under the age of 18 get into all the museums in Gent for free!
Top 10 things to do in Ghent with kids
1. Gravensteen
An absolute must do for family visit to Ghent is a trip to Gravensteen, the 'Castle of the Counts' overlooking the city. The boys really enjoyed it here with it being a great combination of ancient ruins, weaponry, and a torture chamber! There are a few tricky staircases so you'll need to leave the buggy at reception but the rest of it is fairly child-friendly. We visited at Christmas and the highlight was seeing the medieval dungeon transformed into a Christmas room, complete with soft cushions, classical music and a Christmas tree.
There is an audio tour available, but as we were visiting Ghent with a toddler, we decided against is and instead made up our own stories inspired by what we could gleam from information boards.
2. Climb the steps up to the top of Ghent Belfry
On a clear day, head to Gent Belfry, a recognised UNESCO World Heritage site, for fantastic city views. Look out for the dragon, which has been up on the tower since 1377, and keeps an eye on the city as well as being the symbolic guardian of the belfry. This is another attraction free on the CityCard Gent and also free to all children. It is open 10 am to 6 pm every day (except Christmas day and New Years Day).
3. Boat trip
If you've purchased the CityCard Gent, it includes a free boat trip around the central district, which we enjoyed but it could perhaps have covered a greater distance at a less sedate pace for it to be truly something we'd recommend – the boys were becoming a bit restless by the end. But, it's free with the card and certainly a relaxing way to spend forty minutes and see the city from a different perspective.
4. Design Museum
We initially found the Design Museum slightly too formal for our group, but it got better as we went around and our eldest had a great time trying to find the tiny Playmobil figurines dotted around the museum, happily ticking them off on his checklist. Both boys finished the visit by rolling around for fifteen minutes on a huge structure made of wool!
5. STAM (Ghent City Museum)
An interactive, hands-on museum to discover the history of Ghent. Check out the gigantic aerial photograph of Ghent superimposed on the floor that you are allowed to walk all over. Our boys also loved the Lego corner, where they were invited to build their own city of Ghent.
6. Eat waffles!
You will smell them before you see them. It's impossible to walk past without buying one. There's always hot chocolate sauce on hand to generously pour over them.
7. Hire bikes and check out the street art
The artwork in and around Ghent is forever changing as this is a city where street artists are free to decorate as they please. Pick up a free Concrete Canvas Tour map from the Information Centre and follow the 14.5km self-guided tour, or join a bike tour. CityCycling.Gent offers bike tours just for families. They do a tour led by a local at 10 am, so the city is nice and quiet. Kids who are 1.5 metres tall and can cycle well can hire a special kids' bike. For the little ones, child seats (up to 22 kg) are available upon reservation.
8. Visit Blaarmeersen Sports and Recreation Park
If you need to escape the city and let the kids run around freely head to Blaarmeersen Sports and Recreation Park. Here you will find green open spaces set around a lake, with a small beach, cycle track and playground. There's also a campsite here if you're visiting in the warmer months.
9. Schoolhoeve De Campagne
Just a 15-minute drive west of the city you will find this lovely children's farm with sheep, goats, rabbits, donkeys, pigs and much more. There's also a good playground. Check out their website for opening times and ticket prices.
10. Playgrounds in Ghent
The playground at Blaarmeersen Sports and Recreation Park is the biggest, but there are also lots of playgrounds dotted in and around the city (see map below). There is also an indoor playground here, which may be needed for a rainy day. And if you're looking for a kids' swimming pool in Ghent, head to LAGO Gent Rozebroeken.
Visiting Ghent with kids in summer
With its long summer days and restaurants spilling out on to the pavements, Ghent comes alive in Summer. Although it is also when visitor numbers to the city increases.
There are summer events (such as Gent Jazz festival in July), buzzing markets and neighbourhood parties across the city at this time of year. And if you need to cool off, head to Blaarmeersen Sports and Recreation Park for a swim in the lake. Make sure you take a picnic with you to enjoy on the grassy banks.
Visiting Ghent with kids in winter
Time your visit between the winter months of November and January for the Gentse Winterfeesten, a Winter Festival embracing all things Christmassy and cold; sparkling light displays, traditional festive markets selling both local and international foods as well as craft treats, an ice-rink under the City Pavillion, an ice grotto to meet Santa, thrilling fairground rides and a giant Ferris wheel affording panoramic views of the city and beyond.
Take a visit to Gravesteen during the festival and you will see rooms of the medieval castle, which showcases weaponry and torture devices, transformed into a Winter Wonderland with balloons on the ceiling, piles of presents and snow scenes. We particularly loved the medieval dungeon transformed into a tranquil Christmas setting complete with carols and Christmas Tree.
As you walk around the city centre, pick up a hot chocolate or waffle from a street stall to warm you up. You will smell the waffles before you see them!
Mummy Travels also visited Ghent in winter, you may want to check out her guide too.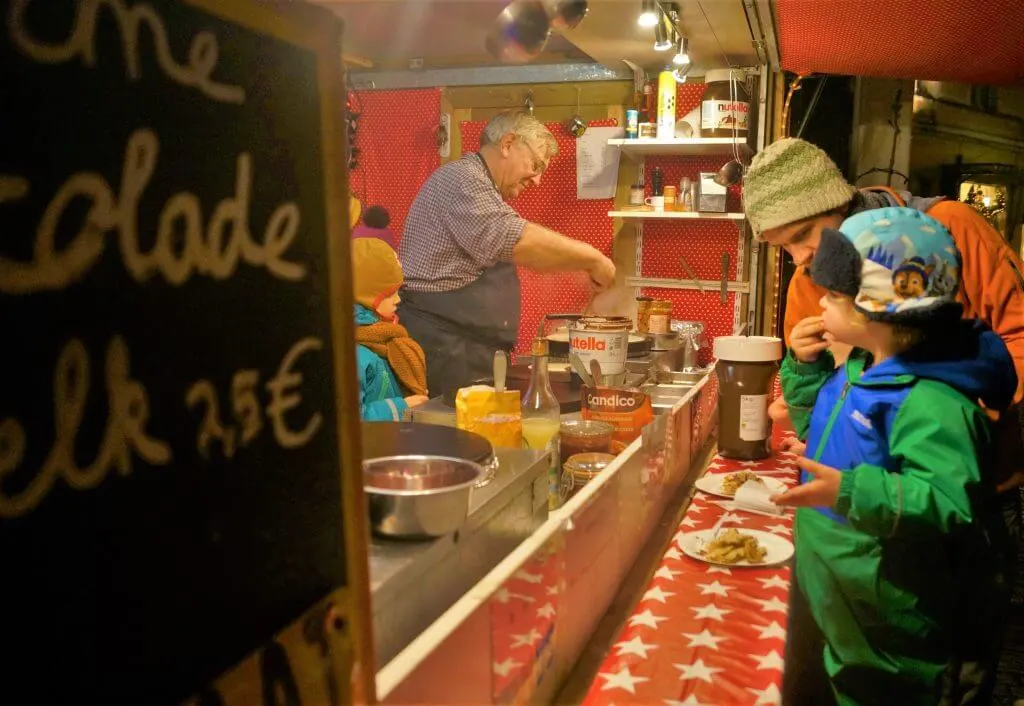 Family hotels in Ghent
We recommend staying at the fantastic Ghent Marriott Hotel, located on a street called Korenlei, right in the heart of the historic part of the city. At one time all the country's produce (including corn, hence the street name) had to pass through this area and the result today is an insta-worthy, picturesque location, right on the river and only a short walk to all of the city's attractions.
Click here to find out more about Ghent Marriott Hotel and check availability.
The Ghent Marriott Hotel is a bit of a splurge, so you may want to consider these other options include:
Getting to Ghent
The closest airport is Brussels. So if your only choice is flying, you may consider combing a day or so in Brussles with a family trip Ghent. It is then a 45 minute train journey from Brussels to Ghent.
Alternatively you may want to take the Eurostar from London St Pancras International to Brussels, and then change to a local train to continue to Ghent.
However, if you live in the South East of England, you may consider doing as we did and taking your car on the ferry from Dover to either Calais or Dunkirk (1.5 hour and 2 hour crossing respectively). From Dunkirk, it's just an easy 1 hour 15 minute drive to Ghent ( just head east along the A16, then join the E40 and stay on it until you reach Ghent), and if you are staying at the Marriott, underground parking available at the hotel.
---
You may also like to read:
The BEST Alternative European city breaks with kids
Nuremberg with kids: top 10 things to do
Lisbon with kids: a winter city break