Your ultimate guide to a weekend break in Lisbon with kids, including a day-by-day itinerary, where to stay, and how to get around.
Feeling the warm sun on my face, my toe tapping to the buskers behind me, I couldn't help but feel a little smug that we were visiting Lisbon in December. I was sat on the steps of the Tagus River at Comércio Plaza, whilst the boys chased the waves lapping up the steps, dodging tourists with their selfie-sticks.
This post also contains affiliate links. Should you click on a link to purchase, it is at no cost to you, though I receive a small commission that goes towards the running of this blog.
Check out our video of what we got up to in Lisbon with kids.
Admittedly the warm winter sun and bright blue skies provided the perfect filter, but Lisbon was a city I instantly fell in love with; cobbled streets connecting grand architecture, restaurants spilling out onto expansive plazas, and brightly coloured buildings framed by terracotta rooftops. Everything I want from a European city break. Plus, we found that there is so much to do in Lisbon for kids! The Oceanarium and Science Museum were a huge hit, but also riding the trams and metro, as well lots of open, pedestrianised squares for running and chasing pigeons. Plus, Lisbon is considered one of the most instagrammable places in Europe on a river cruise!
If you're visiting Lisbon with kids, you should kind some inspiration here. There is particularly lots to do in Lisbon for toddlers.
Our Lisbon with kids itinerary
We usually embrace slow travel and generally like some downtime of an afternoon. Not this time. The boys were on form this weekend and were happy to keep going and going (Portuguese ice-cream must contain magic beans, and it was also the first time they wore their hiking boots for a city break). Plus, there is really so much to do in Lisbon with kids, that we wanted to cram in as much as possible!
We flew in to Lisbon in December on a Thursday morning, arriving at our hotel just before noon, and left on a Sunday morning. So we had 72 hours across 4 days.
Day 1 – Soak up the history
As we arrived at our hotel just before noon, our first day started around lunch time…
Begin your Lisbon family adventures in the heart of the old town at Comércio Plaza. If the sun is shining, head down to the steps on the river and soak up the atmosphere, before enjoying a short wander along the waterfront.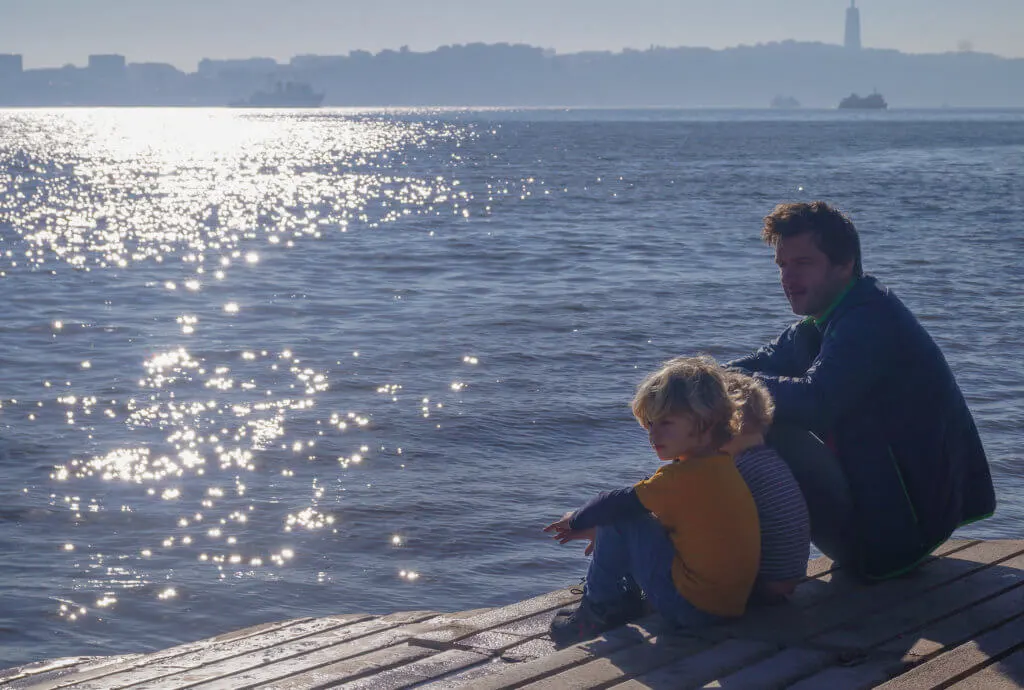 Head back to the Comércio Plaza and through Arco da Rua Augusta to stroll along pedestrianised Rua Augusta towards Rossio. Give in to temptation and stop for a drink at one of the many restaurants spilling out on to the cobbled streets.
Take tram No.12 from Praça da Figueira towards São Jorge's Castle (it's a short walk up hill from the tram stop) to marvel the impressive views across the old city and over to the Tagus River and beyond, before exploring inside the castle. Unintentionally, we timed our visit perfectly with sunset.
We had wanted to have dinner in the area, but found restaurants closing. So instead we took a very crammed tram back to Comércio Plaza and found a restaurant along Rua Augusta.
Day 2 – Visit the 'new' Lisbon
The former industrial area of Lisbon was transformed into Parque das Nações for Expo98 and has been completely transformed into a modern and pedestrianised recreational area.
Just a 15 minute walk from our hotel, is Lisbon's Oceanarium. This aquarium is considered one of the best in the world, and a must if visiting Lisbon with kids. The marine life seem to be very well looked after and it's thrilling watching the sharks and rays brush past with just a sheet of glass separating you. They also have penguins, puffins, and some extremely cute otters. However, get there early. It was too busy for us and we left earlier that we would have liked as it felt rather claustrophobic.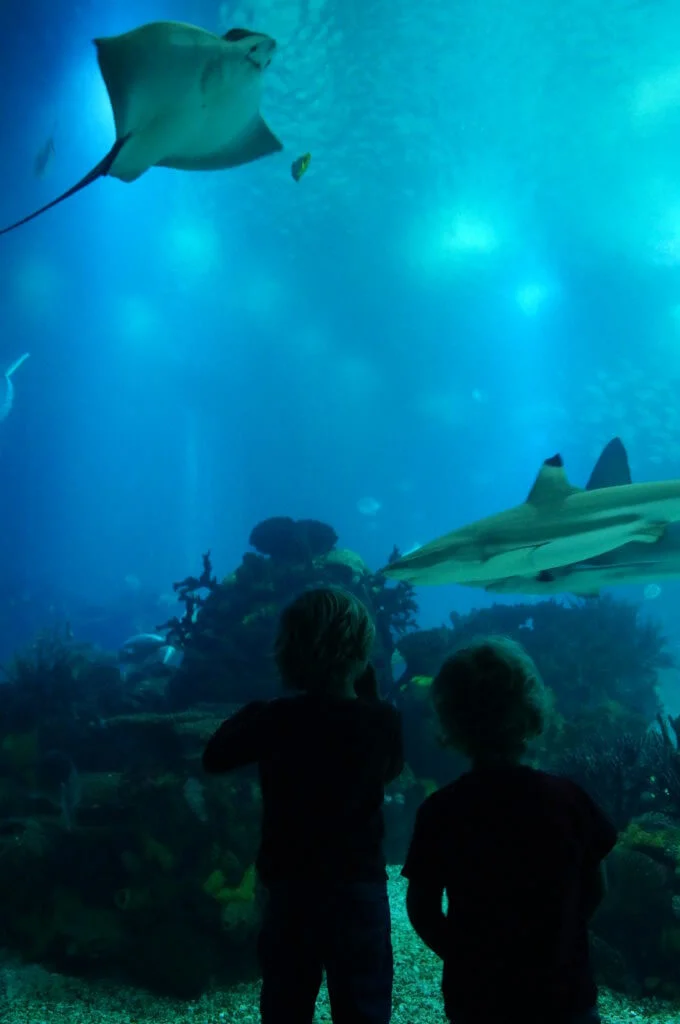 Almost next to the Oceanarium is Pavilhão do conhecimento (Science Museum). This is honestly the BEST kids science museum we have ever been to. This museum is all about learning through play, and extremely fun play. We spent a good few hours here, and there are friendly staff on hand to help kids work out how to to do things. My boys particularly loved playing with the wheels and cranes in the building area, driving the car with square wheels, creating flowers out of their heads through dance, and programming a robot around a maze. This would be our absolute must do if visiting Lisbon with kids.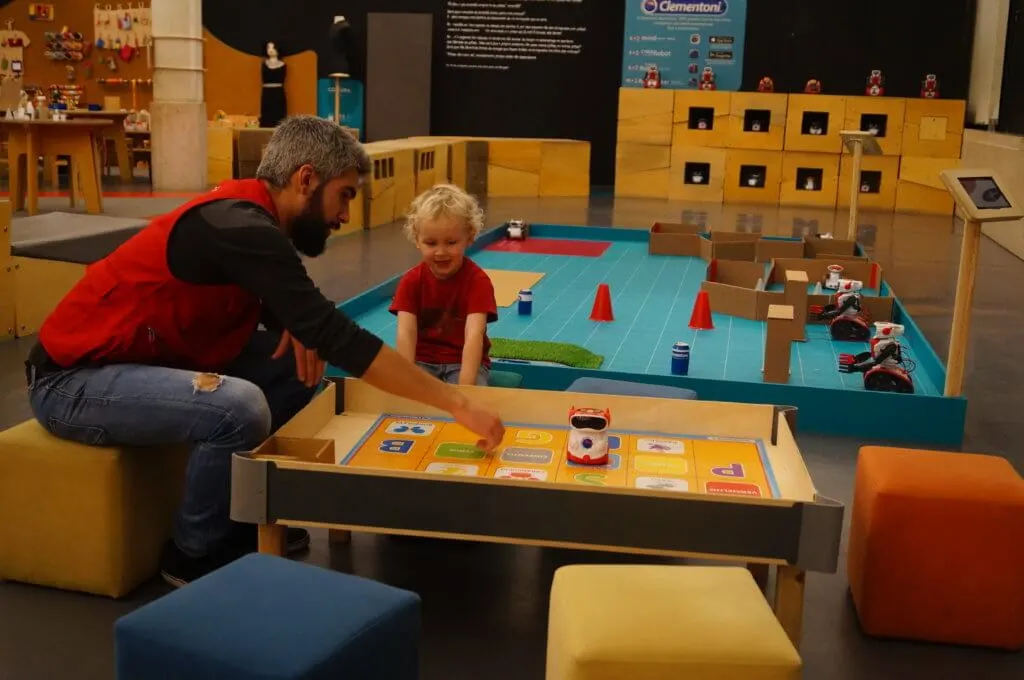 Then for some chilled time, enjoy the cable car ride along the river and back again, before jumping on Bus no728 from here to Comércio Plaza. Walk along Rua Augusta and select a spot for an early dinner.
Day 3 – Sintra and Belém
A 40 minute train journey from Lisbon (we took the train from Oriente) transports you to the fairytale-esque town of Sintra, complete with ornate castles and pastel-washed alleyways. We only had a couple of hours to wander around and unfortunately missed out on visiting the 'must-see' Pena Palace as buses were full and the boys were apparently too young to ride tuk-tuks.
Tip 1: Get there early!
Tip 2: Don't wait for a bus into the town. It's a lovely walk and only about 15 minutes.
Tip 3: Escape down the alleyways to avoid the crowds. You'll have those instagrammable walls and doorways all to yourself.
Check out more info about doing a day trip to Sintra here.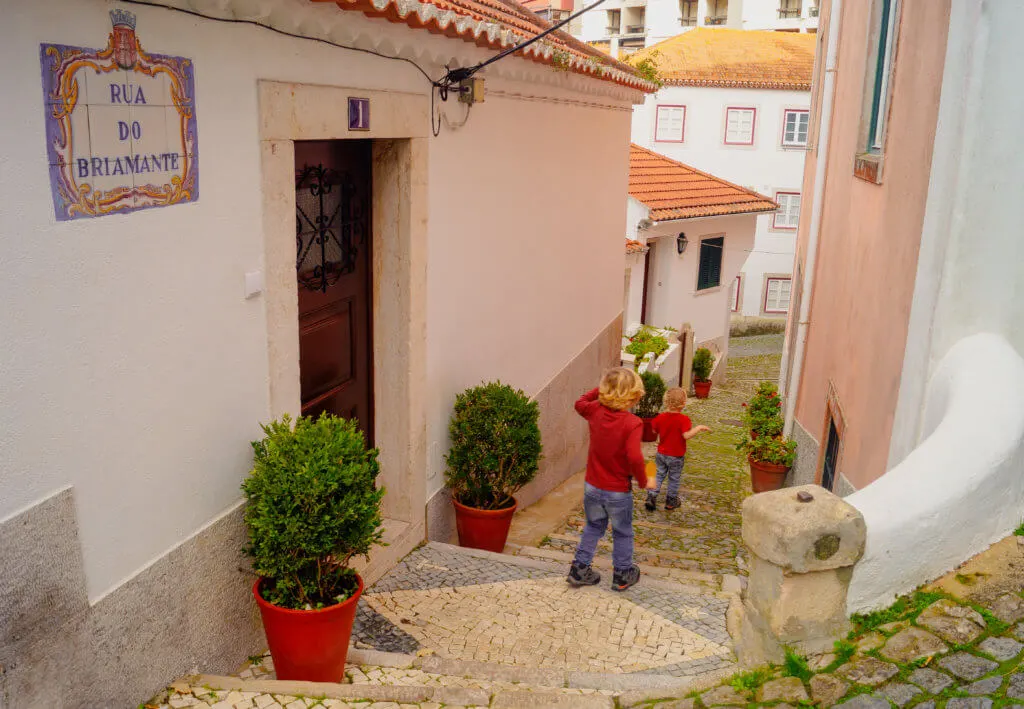 Back in the city, as we were visiting Lisbon in December, we visited Wonderland Lisboa to soak up some Christmas cheer. Being brutally honest, rides are over-priced and there were long queues. However, I don't think that's very different to any other Christmas markets across Europe. But we all loved the views from the top of the ferris wheel, even if the cabin did feel like a sauna in the winter sunshine.
Take the metro back to Comércio Plaza (we keep ending up here!) and board the Yellow Boat Tour to Belém. Do check the website for times as the boat only runs four times a day in winter. It's lovely seeing the city from the water and many people opt to stay on the boat to return to Comércio Plaza. However, we jumped off to take a closer look at the impressive Belém Tower before walking along the waterfront and then catching a tram back to Comércio Plaza.
And whilst we found ourselves back at Comércio Plaza yet again, we felt it suitable to enjoy dinner for a third night in a row along one of Rua Augusta's side streets. If visiting Lisbon with toddlers, this area is perfect for dining as you can sit outside and it's pedestrianised for your little one to wander around close to the table.
Day 4 – Return home
Our flight back home departed at 10:20 am. We therefore only had time for breakfast, before catching the 15 minute metro to Lisbon airport. If you are departing from Terminal 2, allow enough time to get the transfer bus as the metro takes you to Terminal 1.
If you have more time…
Check out this extensive guide for: things to do in Lisbon. But if you're visiting Lisbon with kids, we also recommend a visit to the Puppet Museum or Lisbon Zoo.
Where to stay in Lisbon with kids
We stayed at TRYP Lisboa Oriente Hotel and we would certainly recommend it to those visiting Lisbon with kids. Check out the tripadvisor reviews.
The location is fantastic for the Oceanarium and Pavilhão do conhecimento (Science Museum), and there is a massive supermarket in the mall across the road. Plus, it's only three stops away from the airport. However, we only spent half a day at these places and seemed to gravitate more towards Comércio Plaza and its surrounding streets. To get to Comércio Plaza you either have to take a bus or the metro (including a change). Although this wasn't too much of a problem as my boys loved riding the public transport.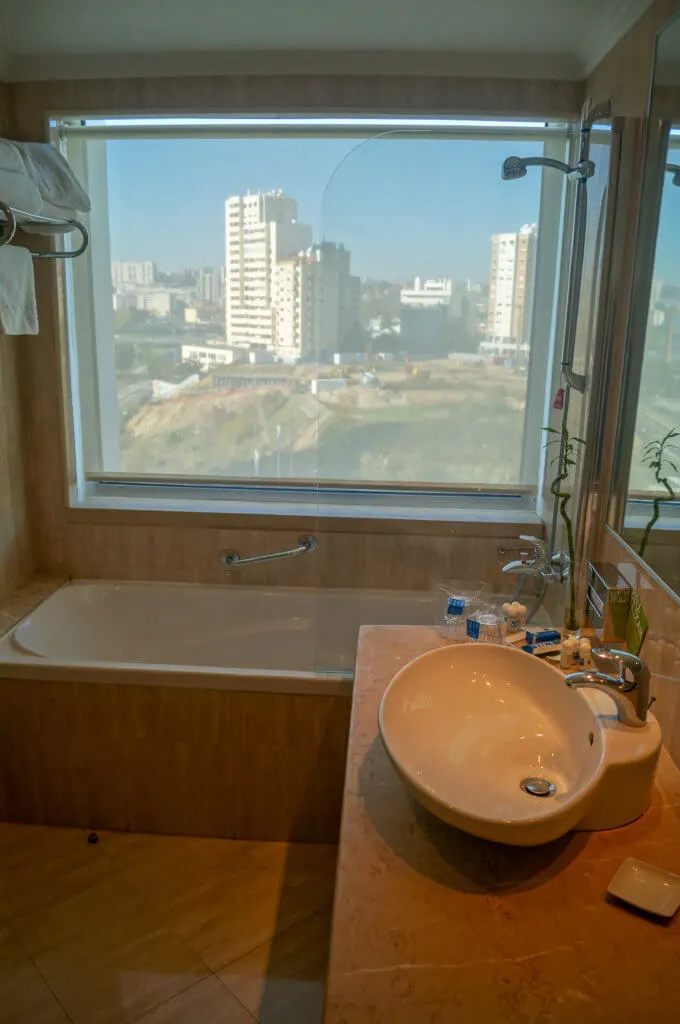 We had a family room on the 10th floor overlooking the Oriente train station; my train-obsessed boys loved this, although personally I would have preferred a river view. Rooms are modern, clean and a good size. There's a fridge in the room, although unfortunately no coffee and tea making facilities. We had a double bed and a bunk bed for the boys. Do note that the sides of the beds in the bunks aren't entirely safe, as there are big gaps where they could fall out. We filled these gaps with pillows and bedding, which worked, but wouldn't be ideal for very young children.
A buffet breakfast is provided, including a full English, pancakes, omelettes, breads, meats, cheeses – it really is an impressive spread! Although do note that the hotel is popular with tour buses and so breakfast does get busy at all times.
Getting around Lisbon with kids
We advise getting the Lisboa Card for unlimited free travel by bus, metro and tram. You can get this for 24, 48, or 72 hours. The card also includes free or discounted entry to many museums and attractions, and also free travel by train to Sintra and Cascais.
It is very easy to navigate the public transport system and signage is very clear. Plus, we never seemed to be too far from a metro, bus or tram stop; and rarely had to wait long.
Be warned though that from our experience, Lisbon public transport gets extremely busy, especially around rush hour. We were lucky on a few occasions to actually get a seat. If travelling with babies and toddlers, I would imagine that getting a pushchair on and off would be hard work. Consider taking a carrier.
Getting to Lisbon
We flew direct from Manchester, UK, to Lisbon in December with easyJet. It's a 2 hour 50 minute flight.
Manchester airport is only a one hour hour drive from our home and we left our car at the airport using the Meet & Greet option booked with Holiday Extras. This is super easy. Drive to the Meet & Greet drop off following the signs (M+G), pass through the inspection area that automatically scans your car to record its condition, park up, drop keys into the machine, and walk the 2 minutes into the terminal. On return, pick up your keys from the collection point in arrivals and you will find your car parked in the short-term car-park. It was 15 minutes from walking off our flight to stepping into our car and driving home.
---
Where would we be without our Lonely Planet guide book?
You may also like to read:
Nuremberg with kids: Top 10 things to do
Lanzarote with kids: off the beaten track
Best château to visit in the Loire with kids