I was dragged around many a châteaux in France by my parents as a child. I remember lots of old rooms with big paintings of men on horses and in all honesty, it was rather dull. All I wanted to do was get back to the campsite to meet up with my new friends and jump in the pool. So why do we keep returning almost thirty(ish) years later to the Loire with kids to do exactly the same thing?
This post contains affiliate links. Should you click to purchase, it is at no additional cost to you, but I receive a small commission.
Well, with age comes a better appreciation of history and architecture, and I've grown to love the French châteaux. Plus, many of the chateaux in the Loire have diversified and there are a few that cater brilliantly for families. It's all about finding the right one. So here are the three best Châteaux to visit in the Loire with kids, according to TraveLynn Family. With these choices you may even find time to admire the architecture and marvel the grounds with a minimal amount of whinging 😉
If you are planning a camping road trip around France make sure you check out our recommendations for the best family campsites in France.
Château de Cheverny
Kids will love watching the feeding of the hounds at 11:30am each day, before finding the LEGO structures hidden around the rooms of the chateau's interior. Take a picnic down to the river before finding your way through the maze. If you manage to find your way out, reward yourselves to some home-made ice-cream at Cafe de l'Orangerie.
'Château de Marlinspike' in The Adventures of Tintin was based on Cheverny. There's a permanent Tintin exhibition on site, which may be the closest you get to walking through the comic book. You do have to pay extra to visit however.
Check the Château de Cheverny website for up to date opening time and entry prices.
Château du Clos Lucé
This is the place where Leonardo da Vinci spent his final years. It's not the most architecturally stunning Château in the region, but kids will love playing with Da Vinci's inventions in the gardens. Head for a wander around the manor before heading to the gardens, as it will help parents explain the inventions when the kids start questioning.
Check the Château du Clos Lucé website for up to date opening time and entry prices.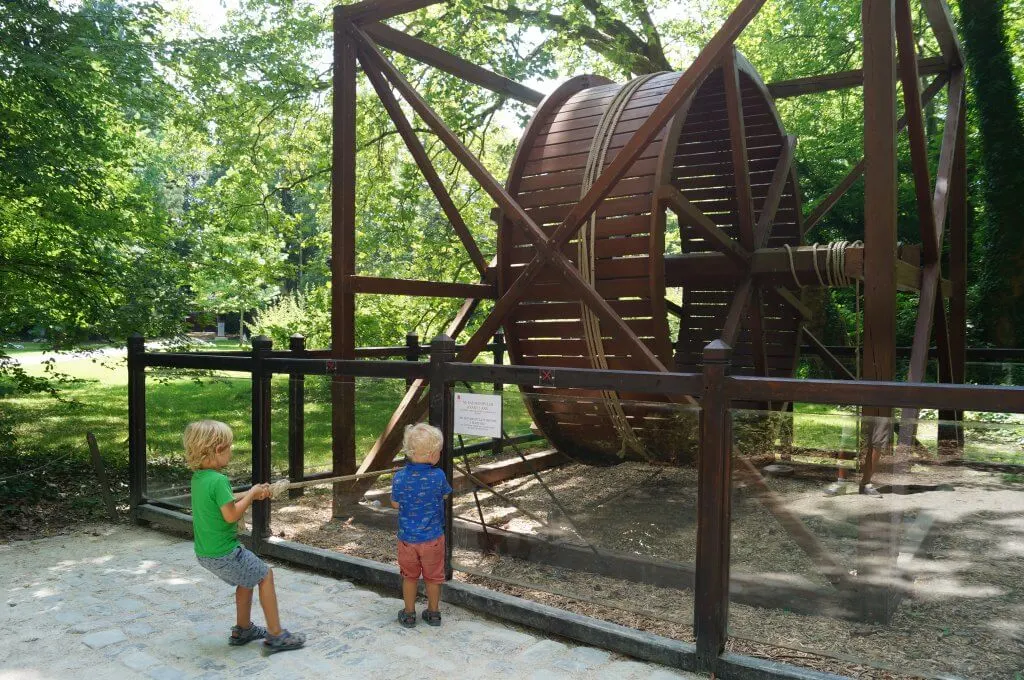 Château du Rivau
This is a fairytale castle to ignite imaginations of all ages. The gardens are especially enchanting with giant's legs walking through the trees, turrets to climb, and a very late white rabbit at the end of a maze. There's also a garden of potions and be sure to look for the dwarfs hiding in their mushroom houses before venturing to the playground. If you're visiting during the French school holidays, check the website for kids activities.
Check the Château du Rivau website for up to date opening time and entry prices.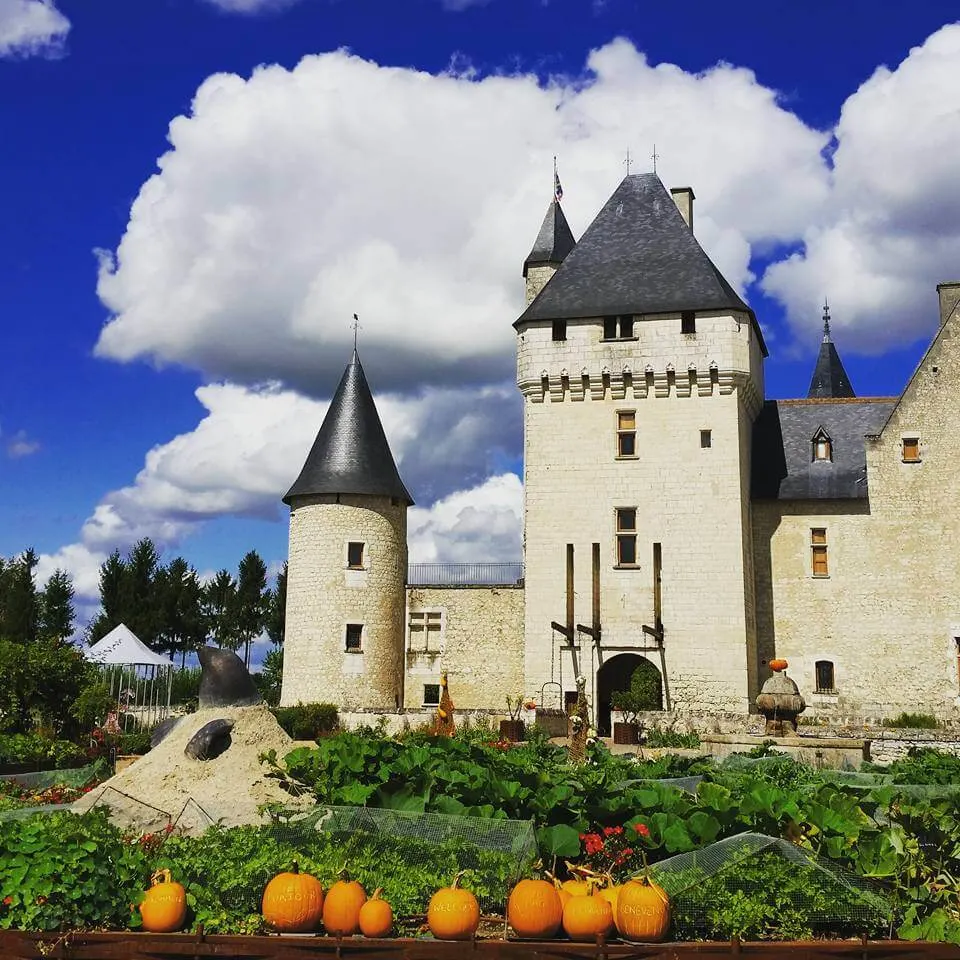 How about family camping at a chateau?
There are a handful of chateaux in the Loire that offer camping. But the two best ones are Le Château de Chanteloup Campsite and Camping Château des Marais.
Le Château de Chanteloup Campsite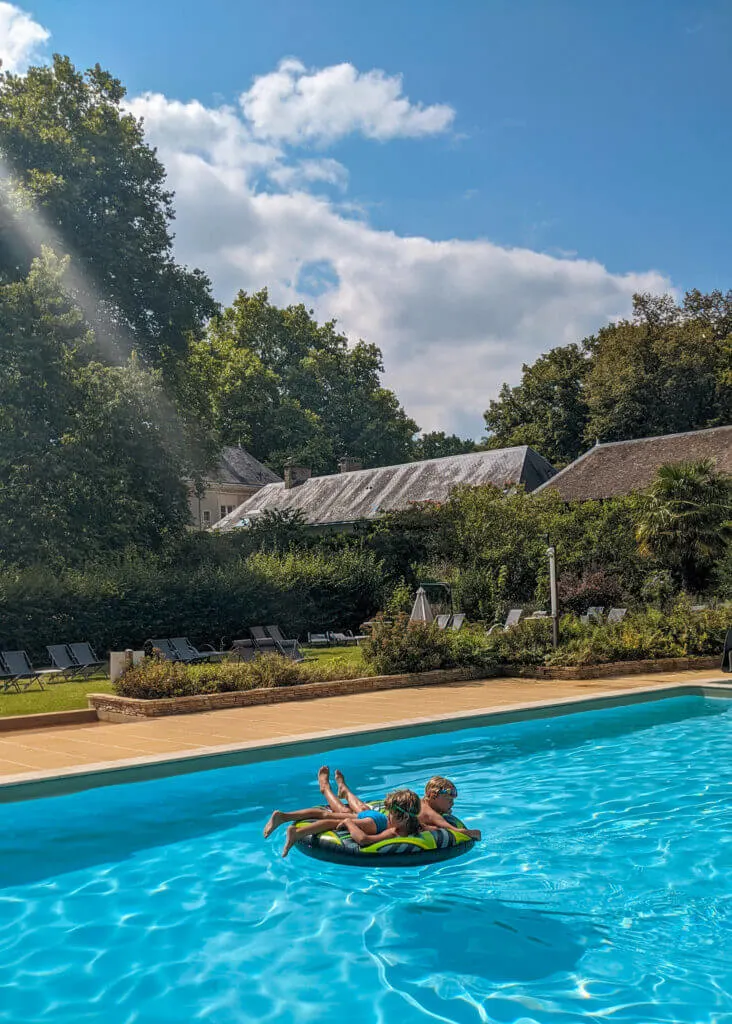 Le Château de Chanteloup Campsite, set in 50 acres of parkland is one of the most idyllic and peaceful campsites we've ever stayed (it was the last campsite on our 6 week campervan trip in France in 2021). It offers pitches for tents and motorhomes with EHU, as well as a few glamping tents and apartments. There is a lovely pool area surrounded by greenery with a main pool and a separate pool for small children. Next to the pool area there is an excellent wooden playground and even a mini village with several wooden playhouses. For older kids, there are sporting facilities including football pitches and volleyball courts as well as an outdoor gym. If the weather isn't great, there is a beautiful games room inside the château and a separate reading room.
All of the sanitary facilities are spotless, and the onsite restaurant offers a great choice of meals in a lovely setting or there is a takeaway pizza kiosk.
The grounds are extensive so you will never feel like the campsite is busy. You are encouraged to explore the grounds (there are 21 hectares to explore!), either by taking walks in the woods, boating on the lake or biking.
Camping Château des Marais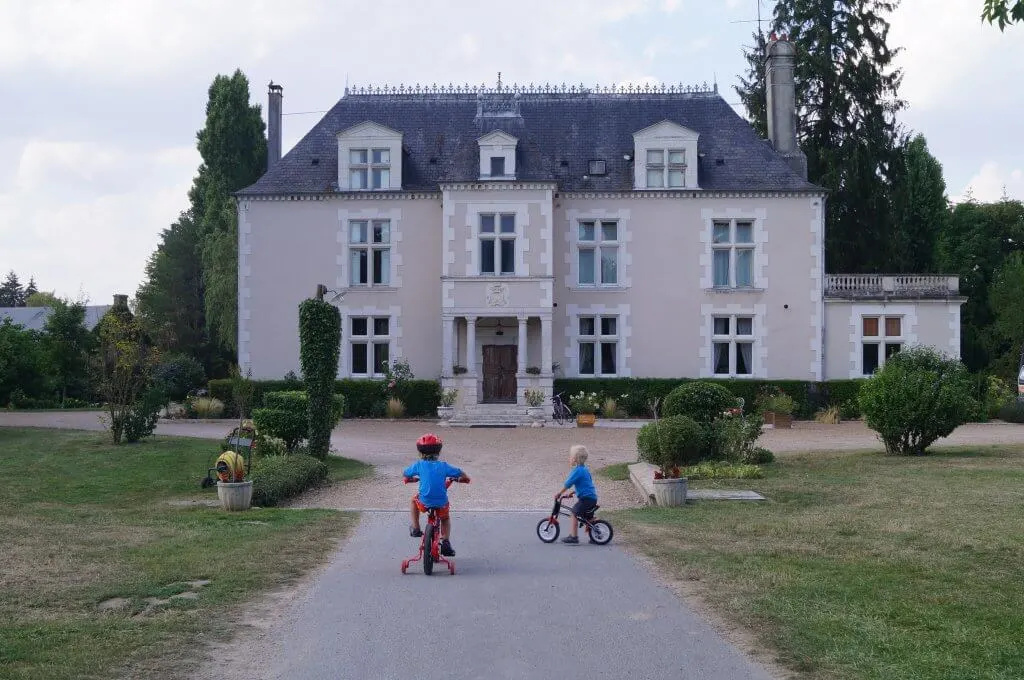 We have stayed here with with Canvas Holidays in one of their pre-erected Maxi-tents, which has beds, cooking facilities and dining area (a bit like glamping), and have also visited independently in our Mazda Bongo. The campsite itself is set in the grounds of an old manor house and has a fantastic swimming pool complex with slides galore! There are also playgrounds, an onsite shop and restaurant, as well as kids clubs.
What we like about this campsite, is that it's not too big, although expect to stay up late as the whole site is lively with families playing until 11pm in the high season (but that is pretty standard across France). There's a fantastic cycle path from the campsite to Chateau Chambord.
Another good campsite option in the Loire with kids is Les Alicourts. This is a huge site with waterslides, loads of activities, and everything you need on site. However, it's quite a drive from the main chateaux.
How to get there
For us, the easiest way to get to the Loire is to take the ferry from the South of England and drive through Northern France. The Loire is only 4.5 hours from the Calais and 3.5 hours from Le Havre. Alternatively you can fly in to Tours Airport, or even Paris (which is just 2 hours away). We strongly recommend visiting by car as it's the easiest way to get around (this may mean hiring at the airport and you will need to consider car seats). Otherwise, bikes are a fantastic way to get around as the area is very flat.
The Loire Valley makes for a lovely week-long break, but your could also combine it with a visit to Paris with kids, and/or Chateau de Versailles. Check out this post for other week-long holiday ideas in Europe.
---
You may also like to read:
France road trip itinerary for a summer of family camping fun
Les Alicourts Canvas Holidays REVIEW
Places to visit in Europe in Summer to avoid the crowds