2021 was another summer of uncertain travel due to the global pandemic. Travel restrictions were changing constantly and it was exhausting keeping on top of all the various rules between countries. But road trips are what keep our soul alive and whilst many families opted to stay in the UK, we decided to take the plunge and head over to France in our Mazda Bongo camper for the entire school summer holidays.
Disclaimer: In return for an honest review published to this website and social media coverage during our trip, Eurocamp Independent provided complimentary camping and Eurocamp provided a complimentary one week stay in one of their chalet. As always, these are all my own words. Also, this post contains affiliate links. Should you click to purchase, it is at no additional cost to you, but I receive a small commission.
Well not quite the entire summer holidays. The boys' bubble burst at school just a week before we were due to sail. So we had to isolate, and move our ferry crossing back a week to keep in line with French rules (so that we knowingly had not been in contact with a covid case in the past 14 days).
If you've been following our blog for a while, you know that we love France; not just for the weather, culture and wine (of course!), but France really does have some of the best family campsites in the world.
In the years that we have lived in the UK, we venture over to France at least once per year. In 2020, despite all the restrictions, we managed a two week France road trip to the Loire and the Vendee (click here to read about that trip). And in 2019, which was pre-Bongo, we spent a month travelling around France with our Vango air tent (click here to read about that trip). And there have been many more trips before this and in between.
But this 6 week camper road trip in France was the longest we've spent in France in one go, and was honestly the best. After 18 months of restrictions, lockdowns, tiers, and school closures, we had a renewed appreciation of travel. I cried when we finally arrived to Dover Port for the ferry to Calais. I cried again when we cycled through the Alps on that first day. I cried again when I saw my boys on stage singing French songs with their new French pals from kids club. And I cried again on the ferry home, knowing how lucky we had been to have experienced such an amazing summer together, and that travel was still uncertain for the foreseeable.
Jumping through all the hoops to get to France (and back!) and dealing with all the pre-trip anxiety as we witnessed Boris and Macron bicker on the news, was absolutely worth it.
READ: Top 10 tips for driving through France
Our 6 week camper road trip in France
We're a family who embrace slow travel and tend to only spend around a week at each campsite.
Both us parents were working on occasion during this trip (we both work remotely) and so this style of travel meant the kids could go to Kids Club, plus we really got to know a place well and feel at home there.
If you do plan to work in France from overseas, then don't forget the VPN for travel.
Week 1: The Alps
Camping at: Camping la Rencontre du Soleil
Surrounded by 3000+ metre jagged peaks, in the heart of The Alps, a stay at the quiet Camping la Rencontre du Soleil is all about the views. The local village of Le Bourge-d'Oisans and the challenging switchbacks up to Alpe d'Huez often feature on the Tour de France, and during the winter, this is a premier skiing destination.
Does this mean you need to be a super fit mountain biker to fully appreciate these views? Not at all. Directly from the campsite are traffic-free, FLAT, cycle paths along the Romanche river that are perfect for kids, affording absolutely jaw-dropping views with snow capped peaks even in the height of summer.
Or if you want to experience some altitude hiking without an epic uphill struggle, drive the 25 minutes up to the cable car station at Alpe d'Huez and ride up to the summit of Pic Blanc at 3330 metres. Just incredible.
Camping la Rencontre du Soleil is a small, quiet campsite, and the perfect base for adventure loving families. Onsite there is a small swimming pool (no slides), a ball court, a restaurant (also serving takeaways, including amazing pizzas), small playground and a kids club.
Week 2: Languedoc-Roussillon
Camping at: Les Sablons
Situated on the sun-drenched south coast of France's Rousillon, close to the historical city of Béziers, Les Sablons is more of a village in its own right, than a campsite. There is everything you need on site to never have to leave, from a well stocked SPAR supermarket, a bar and restaurant, a swimming pool complex with waterslides, a huge play area and direct access to the beach. There is also an abundance of activities laid on throughout the day to keep all ages busy.
But if you can tear yourselves away from the onsite facilities, there is a fantastic cycle path (flat and traffic-free) along the Canal du Midi, which is easily accessed from Les Sablons. Stop at the locks along the canal to watch the boats passing through, pop into the quiet and pretty village of Portiragnes, or cycle the 14km all the way to Béziers.
But what kept me very happy was our private washblock! On the corner of our spacious pitch we had a shower, toilet, large fridge-freezer and wash basin ALL TO OURSELVES! This is the absolute height of Bongo camper luxury, and something we've only experienced before in camping in Namibia.
Week 3: Languedoc-Roussillon
Camping at: Camping de la Plage, Sainte-Marie
With the name Camping de la Plage, you can take a reasonable guess that this campsite is right on the beach. And what a beach it is; an endless stretch of sand hugs the gently lapping Mediterranean shoreline, backed by swaying palm trees, and views of the Pyrenees marking the Spanish border in the distance. Plage de Sainte-Marie is accessed directly through a security gate from the campsite, and further along to the right are a selection of beach bars and restaurants radiating that holiday in the sun vibe.
The campsite itself continues the chilled out vibes from the beach. It's a medium sized site, and in places it does feel rather dated, although this fits with its laidback charm. We found the staff here particularly friendly. And the pool area is fantastic.
Week 4: Atlantic Coast
Camping at: La Cote d'Argent Campsite, Hourtin-Plage
Situated in a shady pine forest that lines a seemingly endless stretch of a powder-soft sand buffeted by the Atlantic waves, the location of La Cote d'Argent Campsite is pretty perfect. Spend your days surfing or jumping in the waves, or hop on your bikes and enjoy the traffic-free cycle paths that weave through the pine forest to inland lakes. But do allow for some days onsite, as kids will love the pirate waterpark, the huge playground, and there's also a great Kids Club onsite (for age 6+).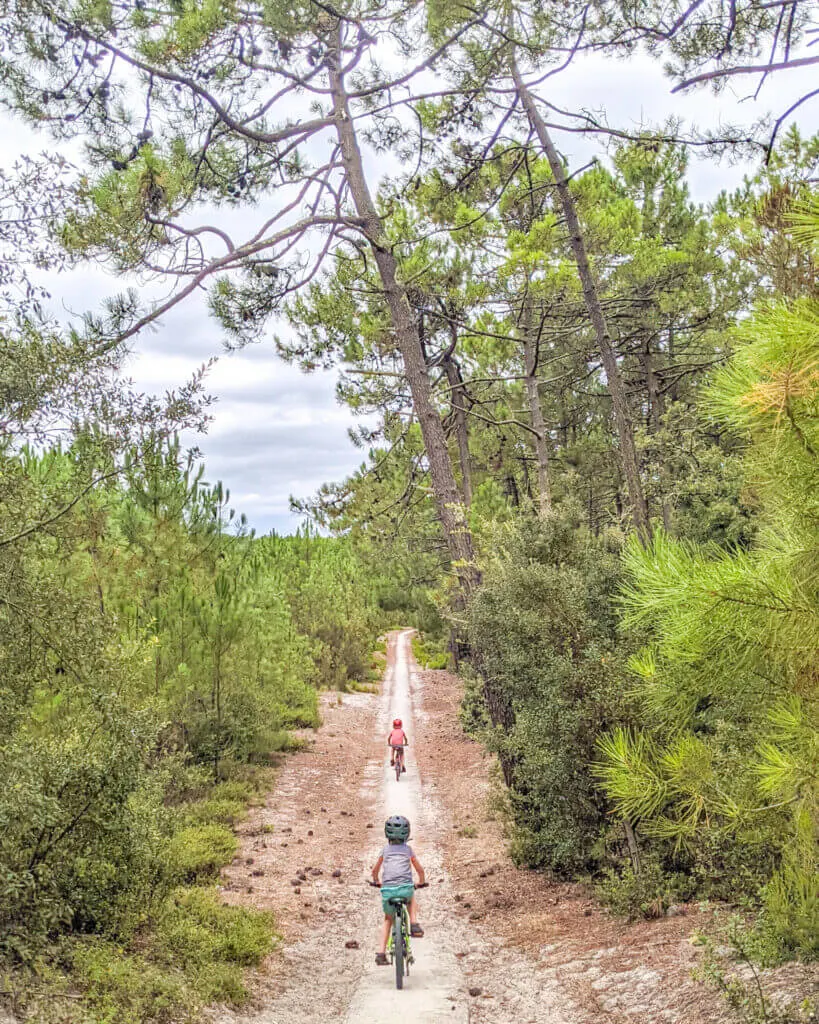 Week 5: Dordogne
Camping at: Le Moulin de Paulhiac Campsite, Dordogne
Sometimes a campsite takes a while to grow on you, and sometimes you love it as soon as you pull in. Le Mouline de Paulhiac Campsite in the Dordogne of Southern France definitely falls into the latter category.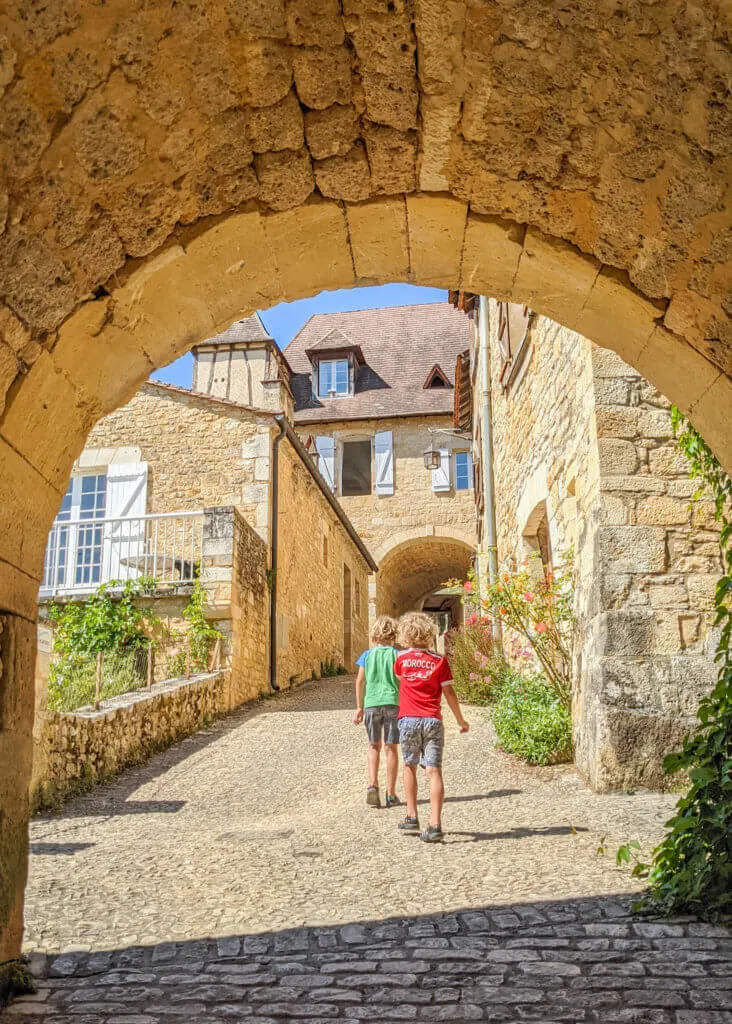 Set in a quiet valley along the meandering River Céou, Le Mouline de Paulhiac Campsite is a medium/small site offering a relaxed pace, large and shady pitches, and a lovely sized swimming pool with water slides and splash park. There's a restaurant onsite that overlooks the playground (very hand for parents wanting an extra drink in peace) and the river is a fantastic place to take your inflatable and slowly float down the river from one end of the campsite to the other.
Geared to younger children (aged 8 and under), Le Mouline de Paulhiac Campsite is a very relaxed site where your days are spent lounging by the pool or on the river, and visiting quaint local towns and villages.
Check out our guide to visiting the Dordogne with kids
Week 6: Loire Valley
Camping at: Le Château de Chanteloup Campsite, Loire
Ever fancied camping in the grounds of a French chateau? There are a handful of campsites in the expansive Loire Valley where you can do just this, but Le Château de Chanteloup Campsite set in 50 acres of parkland is perhaps the most idyllic and peaceful of them all, and with it's woodland playground and summer kids club, it's a great French campsite for families.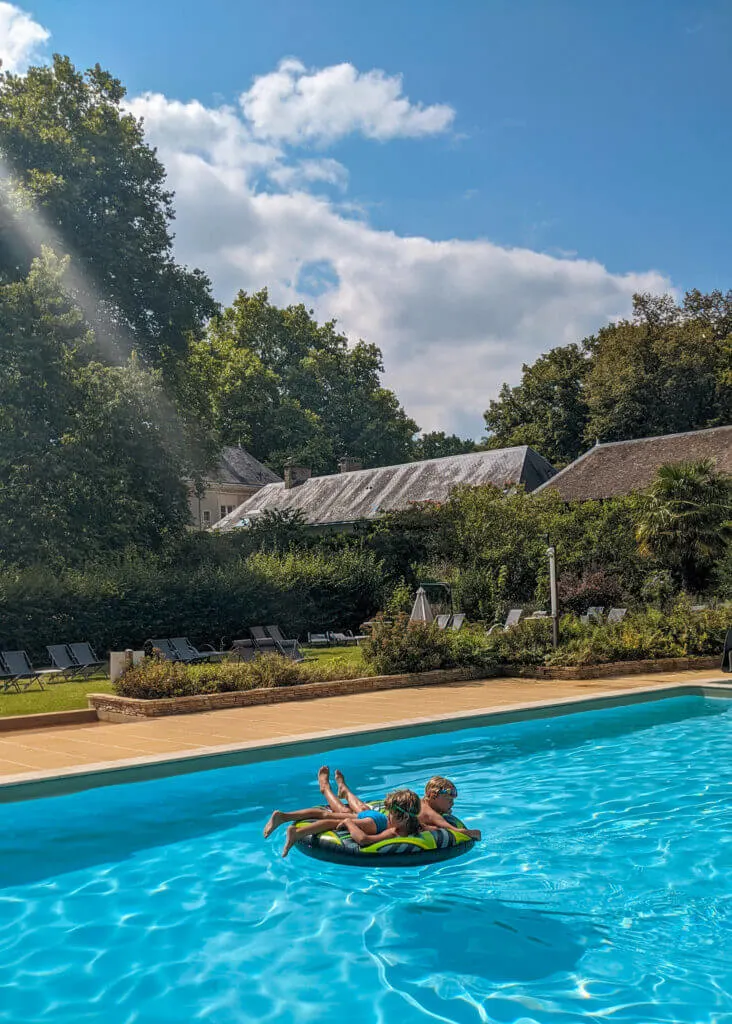 This was the final stop for us on our 6 week road trip around France in our Mazda Bongo camper. We stayed 5 nights from the 30th August, right at the end of the summer season. By the time we had arrived, the autumn leaves had begun to fall from the towering oak trees and summer kids club was finished for the season, but the afternoons were still beautifully warm for a dip in the pool and the restaurant remained open.
This is a beautifully quiet and idyllic site. I'll be honest, on arrival I was a tad nervous that our two boys (age 6 and 7) were spoiling the peace for some older campers without kids. But with all the woodland to explore and the fantastic playground area, there is more than enough space for kids to burn off some energy.
The facilities here are excellent and in keeping with the chateau. You will find a swimming pool, woodland playground, basketball court, rowing boats on a small lake, table tennis, and even goats!
Check out our guide to visiting the Loire with kids
Want to extend this trip and head into Spain?
Check out our Northern Spain road trip itinerary, which goes from Santander to Barcelona and the Pyrenees.
FAQ of this trip
I received so many questions about this trip. Click here to watch the Insta-live where I answer the following questions:
1. Which ferry crossing did we us and was it expensive?
2. How did we choose campsites and where to go?
3. What was our favourite campsite?
4. How did we work on the road?
5. Kids clubs – how much were they? How did our boys cope with being the only British kids?
6. How much did we spend? Fuel, campsites, food.
7. How much in advance did we book?
8. How do we fit everything into the bongo?
9. How did we deal with the heat and mosquitoes?
10. What are the toilets like on site? Can people hear you having a poo?
11. What did we do about buying and cooking food? Any tips on good meals that all the family like?
12. How do we live in such a small space and not wind each other up?
13. What items could we not have done with?
14. What would we do if we broke down on the road?
15. Do we really like the French 'mega campsites' after Africa?
16. Did we miss friends and family being away for so long?
---
You may also like to read:
Road trip from Calais to the Pyrenees and back
All about our Mazda Bongo Camper
The BEST family campsites in France