Sometimes a campsite takes a while to grow on you, and sometimes you love it as soon as you pull in. Le Mouline de Paulhiac Campsite in the Dordogne of Southern France definitely falls into the latter category. This was our fifth stop on our France '21 Summer road trip in our Mazda Bongo camper, and this site without doubt earns a place in our top family campsites in France.

Disclaimer: TraveLynn Family were provided a complimentary stay at Le Mouline de Paulhiac Campsite through Eurocamp Independent in exchange for this honest review and social media coverage. As always, these are all my own words. Also, this post contains affiliate links, should you click to purchase, it is at no additional cost to your, although I receive a small commission.
Set in a quiet valley along the meandering River Céou, Le Mouline de Paulhiac Campsite is a medium/small site offering a relaxed pace, large and shady pitches, and a lovely sized swimming pool with water slides and splash park. There's a restaurant onsite that overlooks the playground (very hand for parents wanting an extra drink in peace) and the river is a fantastic place to take your inflatable and slowly float down the river from one end of the campsite to the other.
We stayed 6 nights at the end of August, the very end of the high season. By the end of our stay (for the last two days), the restaurant was closed (including the day-time snack bar), the bouncy castle was permanently down, and Kids Club had finished for the summer; it very much felt like they were getting ready to close. Whilst we originally thought that we'd enjoy it being so quiet, this end of season vibe almost felt like we'd overstayed our welcome. The campsite does remain open until mid-September, but do bare this in mind if you are looking to visit from 30th August.
The campsite
Geared to younger children (aged 8 and under), Le Mouline de Paulhiac Campsite is a very relaxed site where your days are spent lounging by the pool or on the river, and visiting quaint local towns and villages.
We received a wonderfully warm welcome on arrival, with everything explained to us clearly; such as ordering our breads for the next day using an app (very cool!), and that you need to order your takeaways before 5pm that day. A lovely laid back restaurant overlooks the swimming pool and playground areas (pre-book your table for evening meals).
There is a central washblock with everything you need (including family shower cubicles, baby baths, and washing machines) that is cleaned regularly.
Camping pitches
Perhaps one of the loveliest pitches we've camped at in France. Pitches are large, grassy and shady. Plus due to the hedgerows on three sides, there is lots of privacy. Even in the height of summer, the ground was soft enough to get tent pegs in easily.
We had a pitch on the edge of the site and had open fields to look out onto.
The swimming pool
The swimming pool area is a good size as you can always keep an eye on your kids if they're confident swimmers. Our boys loved the three slides; there was never a queue and we always managed to find a lounger (although we tended to visit the pool between 12 and 2 when it's generally quieter).
There is also a separate covered pool and a small splash park. For a small site, the swimming complex offers a lot.
Also, the lifeguards seemed more relaxed here than we've seen at other family campsites in France; inflatables were allowed in the main pool and 'normal' swim shorts (as opposed to budgie smugglers) were worn by men.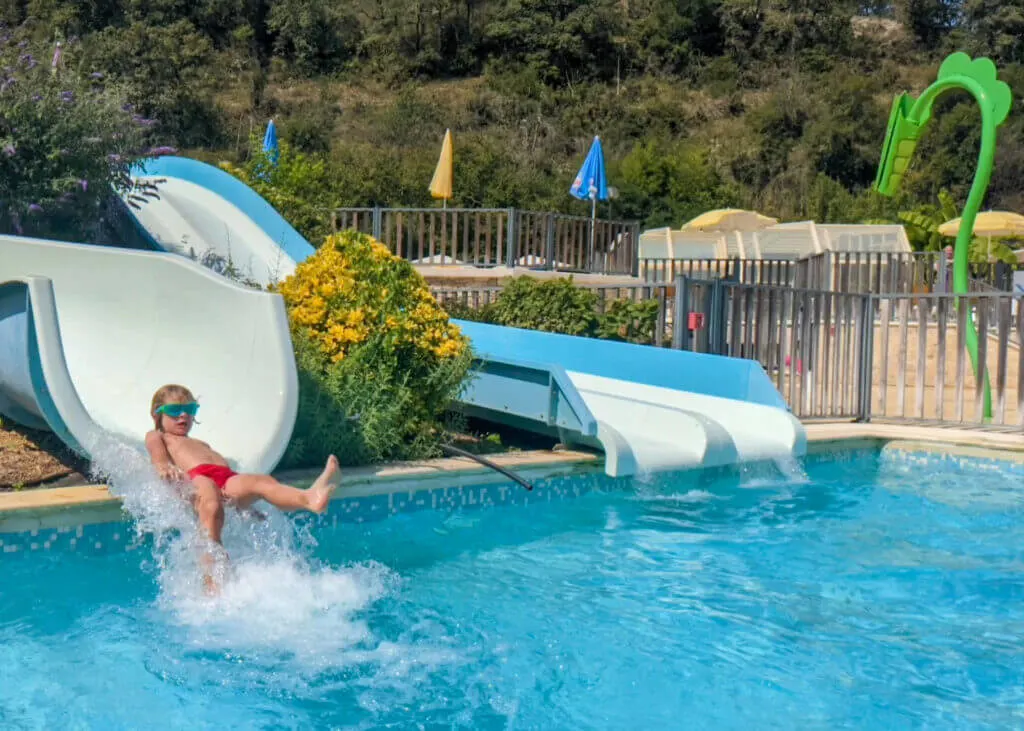 Playground
The playground is for kids aged 10 and under, with a climbing frame house and roundabout. This is overlooked from the restaurant terrace.
In the same area are table tennis tables, basketball hoops, and a bouncy castle (which is actually accessed through the swimming pool).
Kids Club
Kids Club runs most weekdays from 10:30 to 12pm (although check days with reception as it was only running for a couple of days during our visit at the end of August). Pre-book your kid's place at reception. As this site is geared more to younger kids, the Kids Club is on the tame side, but our crazy boys (age 6 and 7) attended a couple of sessions and really enjoyed it. The Kids Club leader spoke excellent English.
WiFi
Paid WiFi is available onsite. However, we found the internet connection on our phone to be great (although we had to fiddle around on network providers when we first arrived).
Things to do in the area
This was our fifth visit to the Dordogne with kids, so we didn't feel the need to do lots of sightseeing over our 6 day stay. Check out our guide for things to do in the Dordogne with kids here.
During this visit we enjoyed the stunning cycle path along the River Céou to Castelnaud (pick up a cycle map from reception). There are some lovely wild swim spots along the way, and once you reach Castelnaud, park up your bikes in the little main square and walk up the hill to the Chateau; it's a steep climb, but the views are stunning and it's such a pretty town.
A canoe along the Dordogne River is also a must. We started in Vitrac and paddled the 12km downstream to Castelnaud, and then a bus brought us back to the start again. You can stop off along the way at little beaches along the river. There are even a couple of snack bars (bring cash). Through the campsite we got 10% off with Canoe Loisirs, so it was €52 for the four of us in one canoe for 2.5 hours. Minimum age is 5 and you don't need to book, just turn up at the start point in Vitrac (click here for location) before 3pm. Paddling is pretty easy going as you're going with the current. So lots of opportunity to sit back and watch the beautiful views drift by. It really is such a perfect way to explore the Dordogne with kids.
Final thoughts on Le Mouline de Paulhiac Campsite
Over the years since the boys have been born, we've visited over twenty campsites in France, and I would go as far to say that Le Mouline de Paulhiac Campsite is easily one of our favourite.
It's a beautiful location, the staff are wonderfully friendly, the pool was perfect for our boys, they loved Kids Club, and floating along the river by the campsite in our inflatables was the icing on the cake. Oh and there are go-karts too. But do bare in mind that if you visit from the 30th August, most of the facilities are closed.
How to book Le Mouline de Paulhiac Campsite
Head over to the Eurocamp Independent website to check availability, pricing, and to book a camping pitch. The advantage of booking through Eurocamp Independent is that during these uncertain times, they act as a central point to change any bookings; we found this particularly useful with having six different campsites booked for this summer trip, as we had to change plans so many times on the run up to leaving due to regulation changes and bubbles bursting at school.
---
You may also like to read:
Things to do in the Dordogne with kids
Eurocamp in the Dordogne: Camping Le Port des Limeuil
All about our Mazda Bongo 4×4 camper