I've been a Eurocamper since the age of ten. Growing up, Eurocamp was our regular family holiday to France and I fondly remember hot summer days spent exploring grand chateaux, quaint villages, and wine tasting (well watching my parents wine tasting), before heading back to the Eurocamp parc to jump in the pool and join in the kids' club activities (I still recall choreographing a rather impressive dance routine with my new pals to Take That's 'Pray' for a talent competition). Eurocamp is a tradition I've continued since becoming a Mum, and our recent trip to Camping Le Port des Limeuil, a small campsite by the Dordogne River, marks our fourth TraveLynn Family Eurocamp holiday!
TraveLynn Family was offered a complimentary one week stay at Camping Le Port des Limeuil with Eurocamp, in return for coverage on my social media and a blog review. Eurocamp also paid for our return P&O Ferry crossing between Dover and Calais.
Now we're normally ones for intrepid, independent travel. But once a year, we book in to a Eurocamp holiday in France. This is our chilled holiday week where routine flies out the window and the days flow as freely as the wine. We love the ease of throwing our stuff into a car, catching the ferry across to Calais, and then cruising down the French motorways to arrive at a holiday park where everything is set up for you. Eurocamp was glamping, before glamping became a thing.
Click here if you're looking for things to do in the Dordogne with kids.
Perfect for young families
Beautifully situated at the confluence of the Vézère with the Dordogne River, Camping Le Port des Limeuil is one of the smaller Eurocamp parcs in the region, and we purposefully picked it for its size and location. This leafy parc has a more peaceful vibe than larger parcs nearby, and although it lacks the thrilling spaghetti of waterpark slides, it makes for a more relaxing holiday for parents with young kids.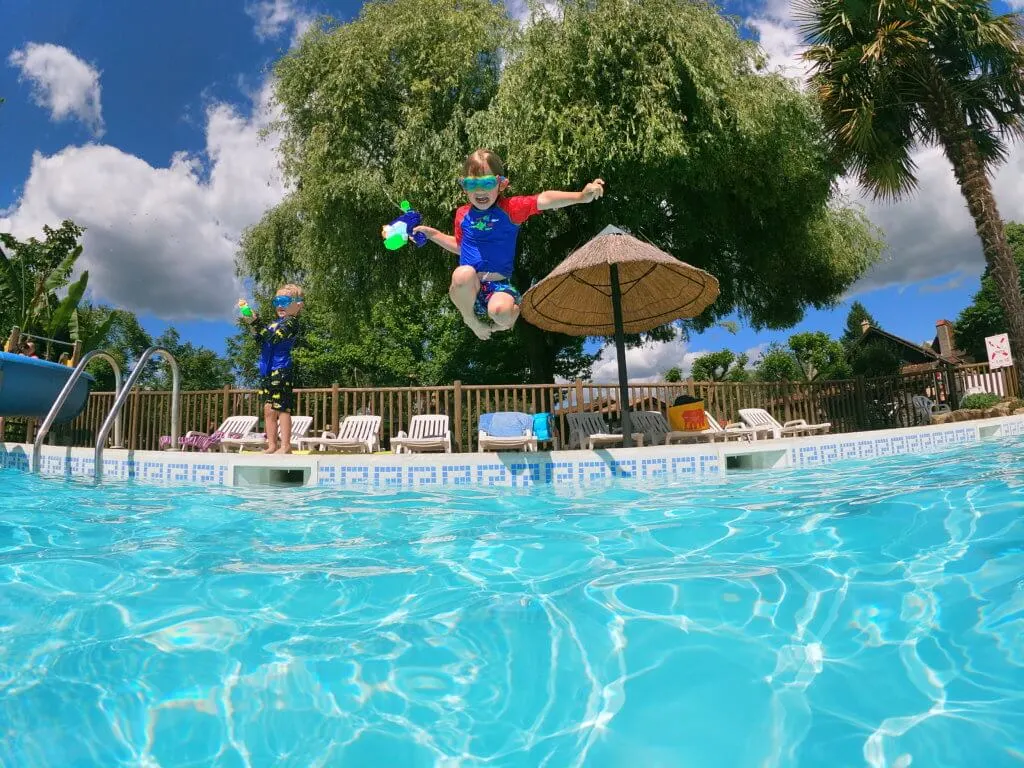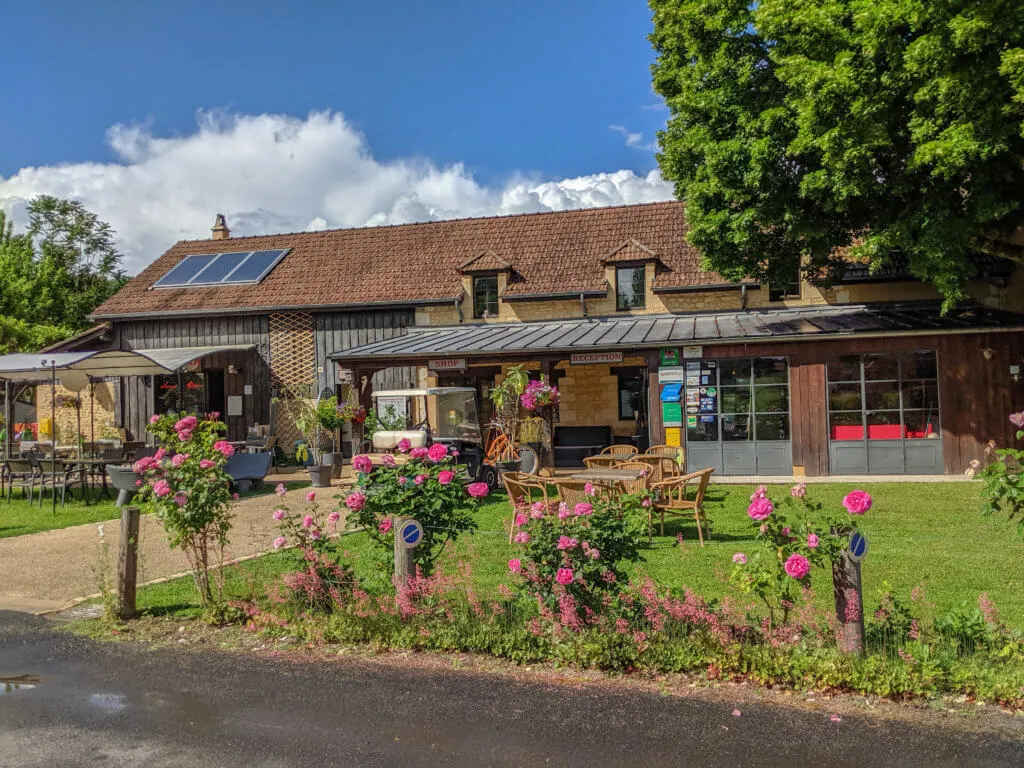 Our days always started with a walk to the onsite shop where the boys would practice their French by ordering fresh croissants. These would be gobbled down before mounting their bikes to race around the campsite. There are also two playgrounds on site, complete with trampoline, and of course the swimming pool with slide and toddler pool.
But our favourite spot was down on the pebble beach, wading in the river and throwing stones. It's an extremely picturesque location and perfect for an afternoon picnic.
Camping with convenience
This was our first time however, NOT sleeping in a Eurocamp tent. Instead we had a three-bed Espace with outside decking, and we certainly appreciated the sturdier walls with the indecisive May half term weather. Plus with a fully-fitted kitchen, comfy beds, an aircon/heating unit, large sofa, and a hot shower, it's a home from home.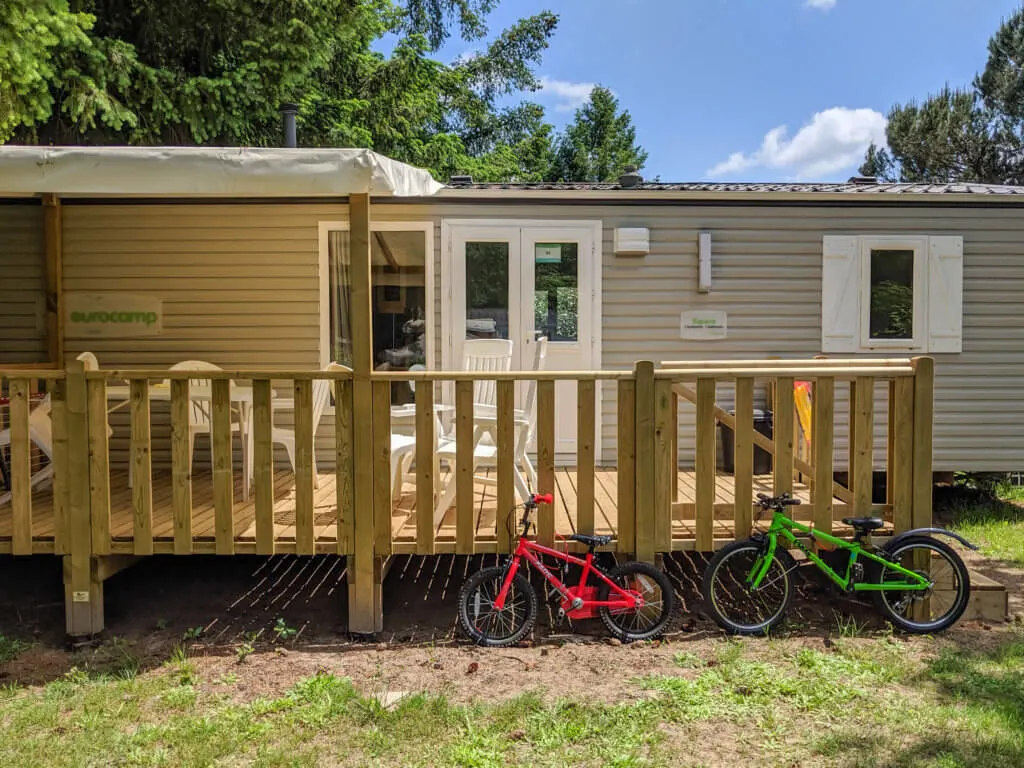 The spacious outside decking complete with plastic outdoor furniture is perfect for parents to share a bottle of local wine once the kids are asleep and, with the surrounding hedges, our site felt private. Although I was rather envious of the Eurocamp Safari Tents that overlooked the river and boasted a large grassy area (with playground) in front of the pitches for kids to play.
Limeuil
Sitting perfectly across the Dordogne River is picturesque Limeuil, one of the most beautiful villages in France. Cobbled streets wind up through the honey-coloured houses hiding amongst the fortified walls, and narrow alleyways invite you to quaint doorways dressed in colourful bloom.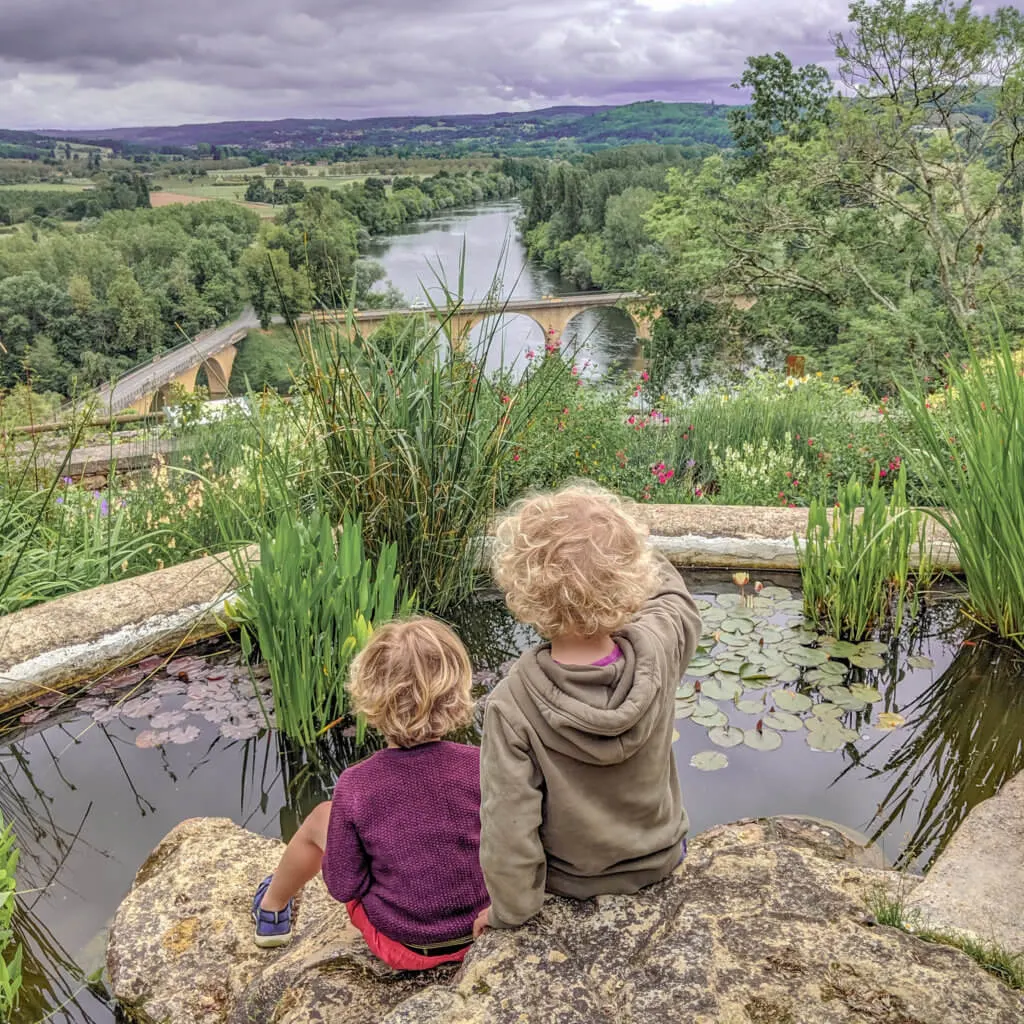 At the top of the mound is Les Jardins Panoramiques de Limeuil; beautifully designed gardens featuring lots of activities for kids – yoga stretches, watching bees in their hives, nature quizzes, potion making – and the views over the surrounding countryside and back over to the campsite are sublime. Our boys spent hours exploring these gardens, and we mostly had them to ourselves.
Kayaking along the Dordogne River
Adjacent to the campsite, you'll also find kayak and canoe hire at Aquafun. The river has a steady current, so paddling requires little effort and you can cover a good distance in a short space of time. You can be driven further upstream with the aim of paddling back to the campsite, thus avoiding any exertion working against the flow.
Unfortunately kids under 5 are not allowed to use the kayaks or canoes, and this is the same for all similar companies in the region (we did ask around). However, we found a way around this and it was tremendous fun. A must for anyone visiting the region.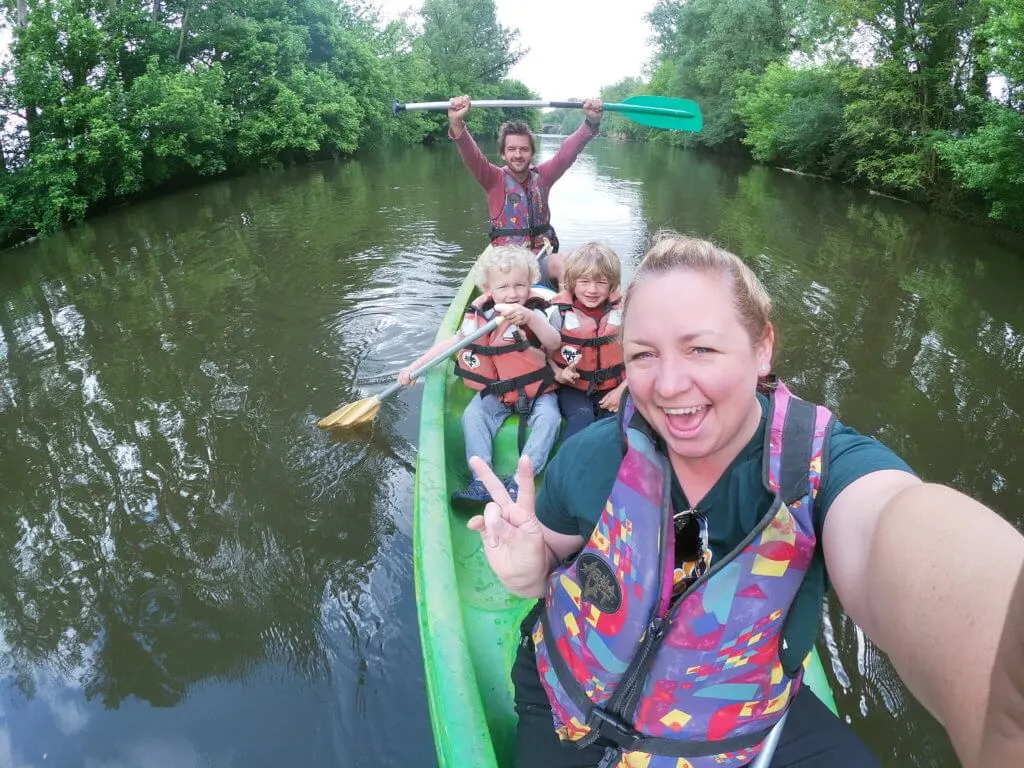 ---
Extras to bring
Although Eurocamp provide most of what you need, including linen and beach towels (if you pre book), I do recommend taking a table cloth so meal times feel a bit more 'French' and, your pillows from home (the ones provided are rather flat).
Getting there from the UK
We always opt for the Dover-Calais ferry crossing. This is the shortest ferry crossing, although means longer driving in France; but we take advantage of an overnight stopover with family who live close to Dover.
It's then an eight hour drive from Calais down to the Dordogne. We tend to take the route around Paris, although I know many regular visitors to the region who swear by the route via Rouen to avoid the complicated and often congested Paris ring road system.
We have in the past stopped off in the Loire Valley on the way down. But now the boys are that little bit older and well trained in long road trips, we took on the challenge of driving straight down from Calais. With short regular stops, it was very doable.
Alternatively, you can get the ferry from Portsmouth for a shorter drive, or even fly in to Bergerac and hire a car.
Have you done a Eurocamp holiday in the Dordogne? I'd love to hear about your experience! Let me know in the comments below.
---
You may also like to read:
Best Châteaux to visit in the Loire with kids
A family-friendly cottage in the Vendée: L'Ecurie Holiday Home REVIEW
35 ALTERNATIVE European city breaks with kids