With the name Camping de la Plage, you can take a reasonable guess that this campsite is right on the beach. And what a beach it is; an endless stretch of sand hugs the gently lapping Mediterranean shoreline, backed by swaying palm trees, and views of the Pyrenees marking the Spanish border in the distance. Plage de Sainte-Marie is accessed directly through a security gate from the campsite, and further along to the right are a selection of beach bars and restaurants radiating that holiday in the sun vibe.
READ: Essential tips for camping in France
So far on this 2021 French road trip, we've been camping in our Mazda Bongo camper through Eurocamp Independent. However, for Camping de la Plage, we were invited to stay in one of Eurocamp's 3-bedroom Azure chalets (with air-con). This is a great option if you would like to experience one of the best family campsites in France, but you don't have all the camping gear, or if camping just isn't your thing, as everything is provided for you (shower, toilet, kitchen and utensils, plus an indoor and outdoor dining area). For us, it was a lovely change of pace and felt like a bit of relative luxury for a week of our summer travels.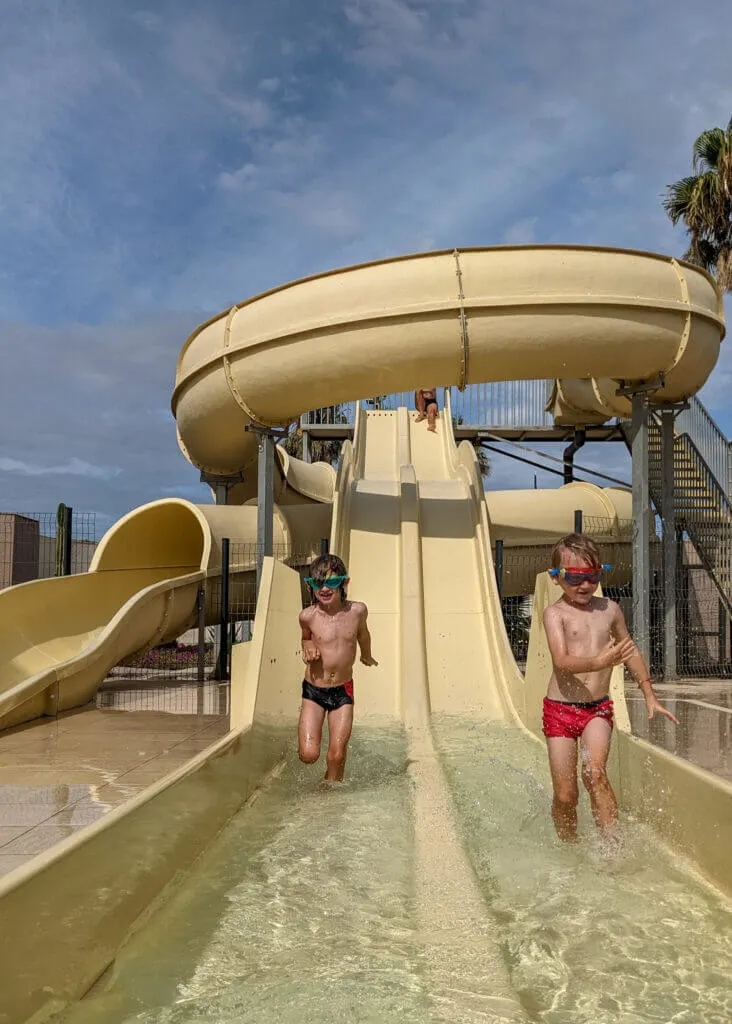 The campsite
The campsite itself continues the chilled out vibes from the beach. It's a medium sized site, and in places it does feel rather dated, although this fits with its laidback charm. We found the staff here particularly friendly.
Onsite there is the usual bar / restaurant / takeaway, swimming pool, campsite shop (selling fresh baguettes and croissants each morning), and a laundrette. Do note the the restaurant doesn't start serving until 7pm, though the snack bar is open all afternoon.
There is also a ball court and crazy golf. However, it should be mentioned that the playground is very disappointing; consisting of a very small climbing frame and a bouncing rocker, both aimed at toddlers. The play area generally could do with some maintenance, but with a fantastic swimming pool and stunning beach, this really wasn't a problem for us.
The swimming pool
And let me tell you about this fantastic swimming area. This was absolutely perfect for us. It's a spacious area with a large swimming pool and two slides. Due to the size, you can always keep an eye on the kids, but the slides, along with the jets and bubbles in the main pool, provide enough extra interest for the kids.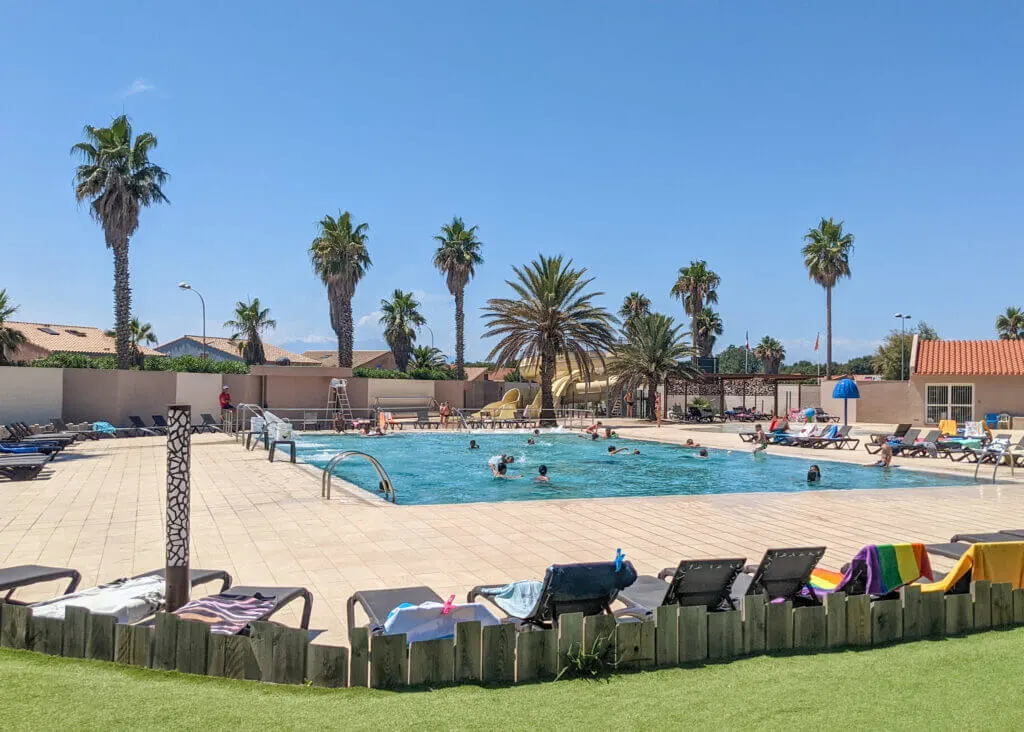 Kids Club
The campsites offers a Mini Club for kids aged 5-12 that runs 10am-12pm and 3pm-5pm Monday to Friday, as well as evening entertainment. This is separate to Eurocamp; there is no specific Eurocamp kids club here.
I really cannot speak highly enough of the staff at the Kids Club. Our boys (age 6 and 7) were the only English speaking kids there, so I wasn't too sure that they would enjoy it. But the staff went out of their way to include them in all activities (even sending me audio clips of the French songs they were learning to help the boys) and they absolutely loved it! They started out with just morning sessions, and as the week went on they wanted to go to every session possible. Both boys even ended up being in the mid-week show, dancing and singing French songs on stage!
The Beach
The beach is the biggest draw to Les Sablons. It's a stunning stretch of coastline, although it can get busy in the summer months. The sea is great for little ones here as it's not too rough, although it does get deep rather quickly.
WiFi
WiFi is free onsite, although it can be rather patchy. But we found the 4G+ access from our phones to work very well.
Eurocamp's 3-bedroom Azure
In the South of France in the height of summer, the air-con was very much appreciated. And after camping in our Mazda Bongo for a couple of weeks, it was a novelty to live for a week in a 'house' with kitchen/diner and shower etc.
The use of space is very clever and the beds comfortable. The 3-bed Azure sleeps 6. You can pay extra for linen to be provided for you, but even if you take this option, we suggest bringing your own pillows from home as the ones provided are rather thin.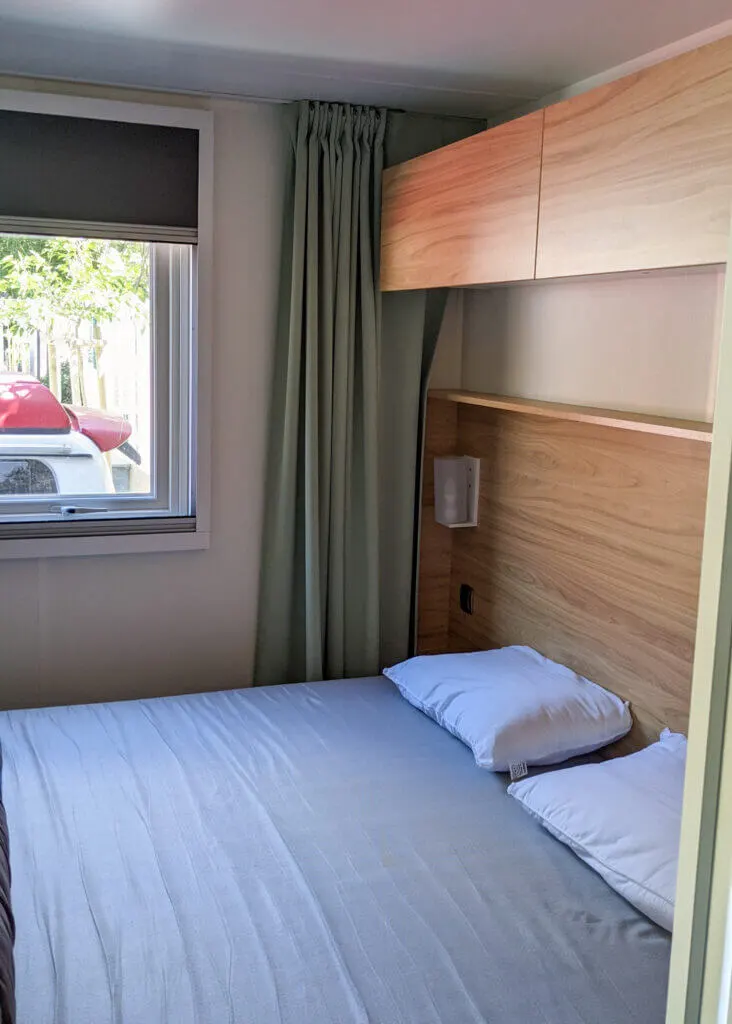 And whilst the kitchen (with oven and microwave) provides almost everything you need, we advise bringing a tea towel, washing up liquid and scrubber, and oven gloves. We also found the the frying pan provided was a bit old, and so we ended up using the Ridgemonkey that we have stored in the Bongo camper (if you're a camper, you really need a Ridgemonkey in your life – they're amazing!) Also, make sure you bring your European adaptors from home. This TravelPal adaptor is good as it also has a few USB slots in the one plug.
We also really love the blackout blinds in every room; super handy for helping little ones (and adults) sleep better.
I should also mention that the chalets don't have much green space around them, so there isn't really outdoor space by the chalet for the kids to play. They are slightly packed in, which is very different to what we experienced previously staying in a Eurocamp chalet in Limeuil.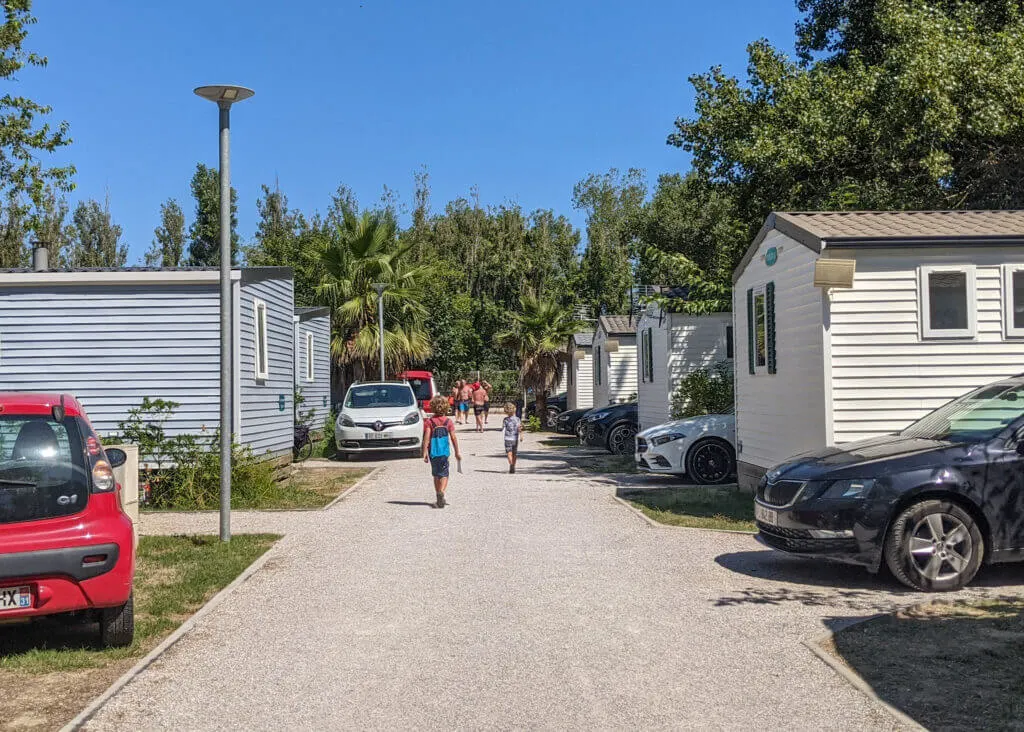 What are the camping pitches like?
Shady and private. They're not overly spacious, but each pitch is marked out with high hedgerows providing lots of privacy.
Things to do in the area
Play on the beach and swim in the Med (this is probably a given).
Cycle over to Porte Sainte Marie la Mer 66 to look at the boats.
Cycle into the main town of Sainte Marie. It's about 2.5km there and the central square is so pretty.
Visit the medieval town of Collioure – it's absolutely beautiful, but gets extremely busy, so aim to arrive early in the day to secure parking.
Visit Aqualand Saint Cyprien – and super fun waterpark.
Final thoughts on Camping de la Plage
The 7 days we spent at Camping de la Plage were blissfully relaxing. I would cycle to the campsite shop each morning for the day's baguettes and croissants, the kids would spend the morning at Mini Club, then we'd hit the pool before indulging in a late lunch. The evening were then spent cycling to restaurant or playing at the beach.
This is the place to totally unwind and relax, and as we have visited the area before as so didn't feel like we needed to tick off any tourist sites. We just let the days flow and immersed ourselves in the campsite's laid back vibe.
The Kids Club, swimming pool and beach totally made this site for us. The playground (pictured below) was the only disappointing aspect of this site.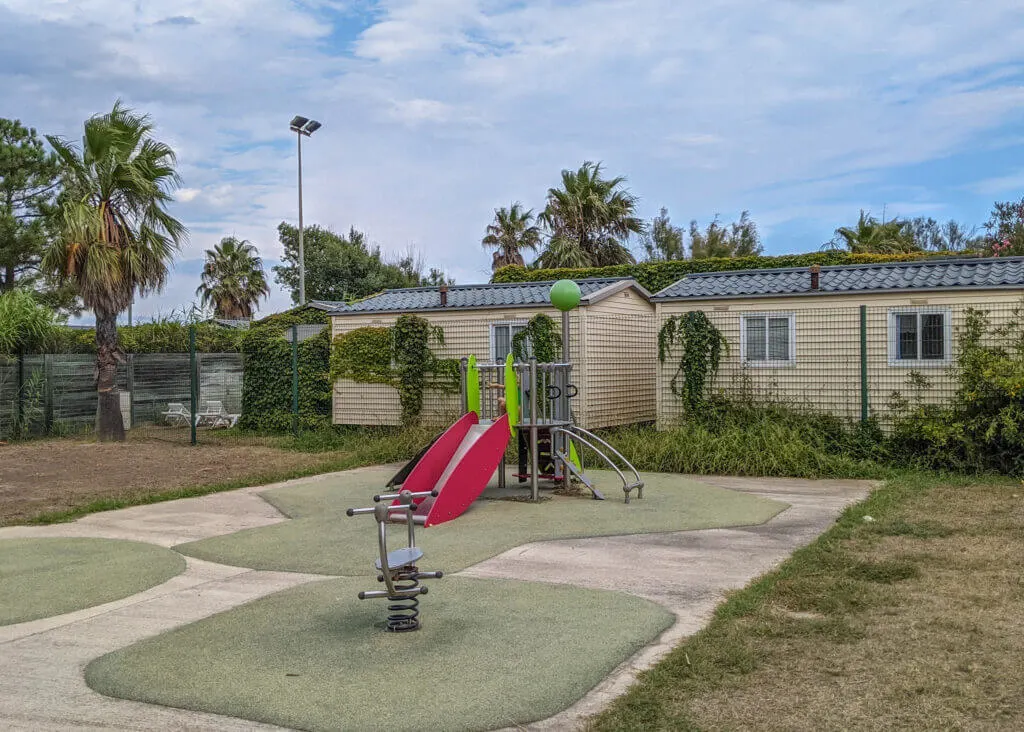 ---
You may also like to read:
All about our Mazda Bongo camper
Eurocamp in Limeuil, Dordogne REVIEW
The best family campsites in France