Heading over to the continent? Then check out these tips for driving through France including what you need to takes and dealing with tolls.
In the summer of 2020, after years of deliberation, we finally took the plunge and bought our Mazda Bongo campervan, adding one extra member to our family of four. The plan was always to take him across to the continent as much as possible, and this has led to us visiting France at least once every year since 2020.
We'd also driven through France before this, taking our trusty Citroen Picasso for road trips since 2014, so we're fairly experienced in driving through France now and have picked up lots of tips which we'll share with you in this post.
Disclaimer: This post contains affiliate links. If you click to purchase, it is at no additional cost to you, and I receive a small commission.
1. Drive on the right and speeding
Perhaps the most obvious tip (and more applicable if you're from a country which drives on the left), but remember to drive on the right-hand side of the road in France.
Surprisingly, this isn't so much of a problem when you first leave the ferry because you'll usually be joining a motorway where you can't go too far wrong. We've found the most dangerous moment arrives several hours later when you've left the motorway and need to join one of the side roads, especially as you'll nearly always have to negotiate a roundabout first.
Another risky scenario is when you leave your remote campsite and join a quiet country road with no other cars or markings on the road. With no other points of reference, it can be easy to default to the left.
Some drivers swear by these adhesive stickers, which act as a reminder when you first set off and also show you the conversions between miles per hour and kilometres per hour, handy if your speedometer either can't be converted to km/h, or doesn't display both values.
If nothing else, try to remember the most common speeds you'll see before you set off:
50kmh = 31mph (the approximate speed in villages and built up areas, keep an eye out for white rectangular signs with a red border displaying a name; these let you know you've entered a population centre and the speed limit is 50kmh)
70kmh = 43mph
80kmh = 49mph
110kmh = 68mph
130kmh = 80mph
2. Legal stuff
There are a number of items you are legally required to carry in the vehicle with you and a few which, whilst not strictly enforced, will make your life easier if you do get stopped. Keep in mind, the French police are largely anonymous to tourists and it's highly likely you'll never encounter them, unless you've broken down or done something wrong.
By law, you're required to carry the following in your vehicle, ideally somewhere you can easily access:
Reflective jackets; make sure you have one for each passenger and, if nothing else, these are the items you should be able to access from inside the car rather than, say, in the boot
Warning triangle; try to practice assembling before you set off, they can be tricky, even more so in the dark at the side of a busy motorway
Headlamp reflectors; universal adhesive reflectors which fit most vehicles. If you've ever taken the ferry to France, you'll probably have seen other drivers unfurl the huge instruction sheet of paper in a panic as the ferry doors open. Try to check your fitting position before you set off.
Technically, for UK drivers, you are supposed to be able to show your original V5C vehicle log book certificate.
Snow chains and/or winter tyres are required if you're travelling through a snow zone (denoted by road signs) in the months of November to March inclusive. Again, take a quick look at the chains before you set off, they are very tricky to fit in the dark during a snowstorm with a French police officer watching over you.
There are then a few items which aren't mandatory but, if you happen to encounter an officious police officer, your life would be easier if you could show:
Spare headlight bulbs
Alcohol breath test kit
Another legal issue to consider is the alcohol limit which is lower than the UK and regularly enforced.
It's possible to buy all of these items separately on the ferry if you forget anything but it's cheaper and easier to buy in advance as one complete kit.
GADLANE European Car Travel Kit Driving France – Emergency…
KIT INCLUDES – Eurolites Headlight Adaptors, Warning Triangle, Hi-Visibility Vest, Magnetic UK…
HEADLIGHT ADAPTORS – Convert the vehicle's beam pattern so it is suitable for left hand drive, so as…
EU TRAVEL KIT – This GADLANE euro travel kit contains all the legal essentials for travelling in…
TIDY BAG – This european driving kit comes in a canvas style carry bag, to keep everything neat and…
REQUIRED BY LAW – Mandatory for travelling to Europe
3. Clean air sticker
If you're planning to enter one of the clean air zones, you now require a Crit'Air sticker which can be ordered online via the official website. These stickers show your vehicle's environmental rating on a scale of 1 (best) to 5 (worst) and, depending on your score, the vehicle can be banned from certain locations during certain times.
Check the website for up-to-date information as it's constantly changing with more and more clean air zones added.
The process for buying the sticker is fairly easy, you need some information from the V5C form (if in the UK) to show what the emissions for your vehicle are. Make sure you apply in plenty of time, ours arrived in about a week, but it can take longer at busy times.
4. Tag for toll machines
A question we're asked often is whether to buy one of the toll tags which allow you to drive straight through the toll booths (almost) without stopping. We've been quite tempted in the past and can certainly see the appeal but we decided against it as the benefits listed below wouldn't make much difference to us:
No toll ticket to collect; if you're driving without someone sat in the passenger seat, this would be a major reason to get the tag. As you'd expect, the toll machine is on the left-hand side of the vehicle so, if there's no-one in the passenger seat, you'll need to get out, walk around to the booth, collect your ticket (or make payment), then get back into the car. This can be quite a hassle and it doesn't always make you the most popular person in the queue. We've never driven on the toll roads without two adults in the front so it's less of a problem for us, but we have had to wake the passenger up occasionally which doesn't go down well.
Quicker through the booths; yes but perhaps not as big a time saving as you might expect. It's usually only a 30 second wait at most and often only a few seconds, so it's not a massive saving on a five-hour drive. On very busy occasions, you probably do save slightly more time, but the queues are still long for all booths.
No need to carry a payment method; probably more useful for residents, as tourists will always have a credit card on them, but this is a plus point for some people in case payment fails for some reason. The payments are also visible in your online account, so it's easier to keep track of what you've spent.
It's important to note that you don't actually save any money on each toll payment, it's the same price whichever method you choose. On top of this, there is a €10 one-time activation fee and a €1.33 per month fee (charged as a one-off €16 payment), so you need to consider if these extra charges make the tags worthwhile for your trip.
5. Pack a picnic for the motorway aires
The toll roads in France can be some of the most inviting to drive on anywhere in the world but you do need to remember to take a break, even when you're trying to cover long distances in one day. Back home in the UK, service stations are rest stops of last resort, a place we only use for emergency toilet stops or when hunger strikes.
France has come up with a much more pleasant solution in the form of aires, the frequent rest areas which are dotted around the French motorway network. The come in two forms; the larger ones with petrol stations and restaurants, and (our favourite), the smaller grassy areas with a couple of toilets, picnic benches and, occasionally, play areas.
Now one of our top tips for driving through France is to pack a picnic before you set off, as stopping at a motorway aire is a lovely way to take a break and recharge everyone's batteries before you continue on your journey. They can get very busy during peak periods, try to avoid the first one you see after leaving a large population centre or around lunchtimes as they're at their busiest then. Most of the time though, you'll only see a few other people using them.
If you need to fill up with fuel, keep an eye out for the information boards a few kilometres before the larger aires; they'll tell you the price of fuel at the next stop, plus the price and distance to the next three or four aires. This is handy as the price does seem to fluctuate between the aires and there are often big savings to be found. Of course, it's always cheaper to fill up before you join the motorway, supermarkets are the cheapest place of all.
6. Black travel days
The French are creatures of habit when it comes to taking their summer holidays, with some going away in July (known as Juilletistes) and others in August (the Aoûtiens). This has led to a couple of days a year to become known as black travel days, when it feels like the whole country is on the road network.
If possible, try to check ahead and avoid the worst days, of which the first Saturday in August is usually gridlock. There is a handy website called Bison Fute (i.e. the smart bison who doesn't follow the crowd!) which forecasts the worst days based on past data. You can view the the most recent version here.
Check for black and red days in particular. As you'll see from the calendar, weekdays are nearly always green (i.e. no issues) and most summer weekends are red or orange.
It's slightly tricky to decipher at times but essentially there are two column headings for each date, Départ (traffic conditions going towards a popular region, e.g. the Mediterranean coast) and Retour (returning from a popular region). Sometimes they have a number in the column which will refer to a specific region, otherwise they just mean nationwide. The calendar also shows school holiday dates.
7. Toll vs non-toll
When you type in your destination and ask your satnav or Google Maps to work out the route, it might be tempting to take the non-toll route and save some money, especially if there isn't much time in it.
We tried it once and decided never again. The toll route was saying six hours, the non-toll route seven, and we imagined a picturesque drive through French countryside, laughing about how we'd saved fifty euros. It didn't work out like that.
French towns and villages aren't the best to drive around and through, with roundabouts, 20kmh zones, speed-bumps and traffic lights to deal with. Whilst there are some routes which might work out better, you're usually better off just sticking to the toll roads and getting the distance done. French speed limits are strictly enforced by the police and speed cameras are more hidden, so the chances of a speeding ticket are higher as well which would wipe out any savings.
You can use the official Sanef toll calculator website to work out the toll (and fuel) costs to see what you'd actually be saving. It can be expensive but, for us, it's worth every cent.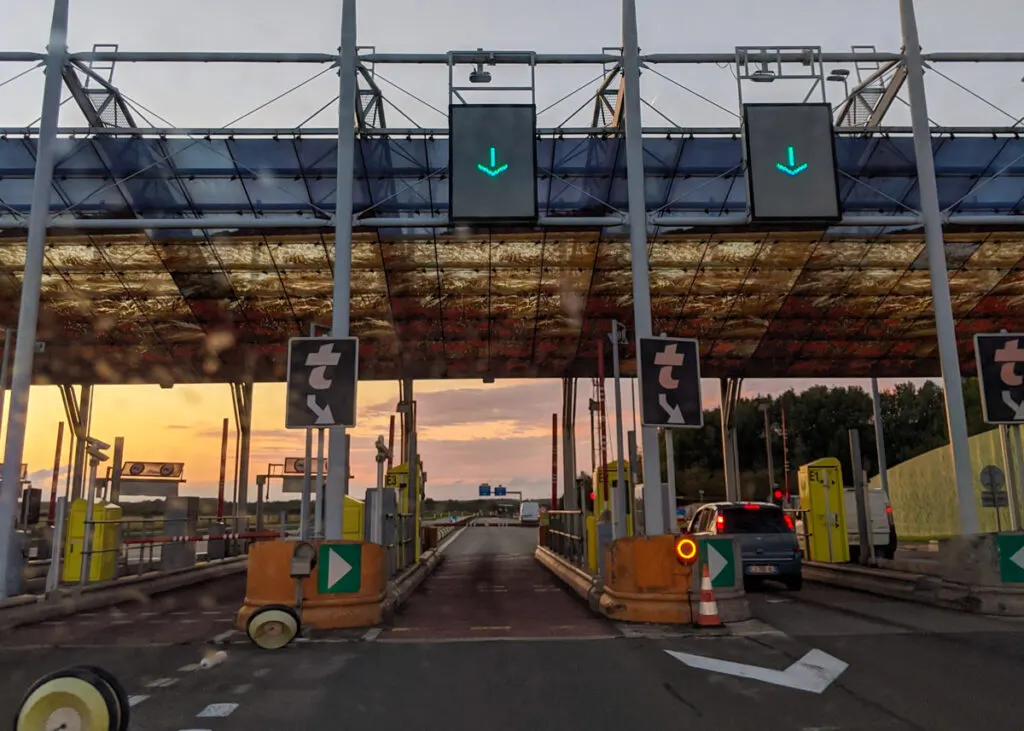 8. Avoid Paris
As you set off from Calais towards many of the tourist destinations in the rest of France, most routes will try to take you via the capital. Whilst it might be signposted 'Paris', it'd be more accurate if it instead read 'Massive Argument'.
No matter how many times we've mistakenly tried it, we always end up 'exchanging words' and getting lost on the ring road. There's also a 2m high tunnel called the Duplex which only alerts you to its height restriction as you approach the final turnoff, a major problem if you're in a campervan.
We'd strongly suggest taking the westerly route via Rouens and Chartres if you're heading towards the South or Southwest and travel via Reims for any other destinations. On paper, it'll add some time but it's more than likely in real-life you'll be quicker and avoid any major arguments!
If you do want to visit Paris, we recommend staying at Camping Parc des Roches, which is a campsite on the outskirts of Paris and has a swimming pool. Do also check out our unplanned-guide to visiting Paris with kids.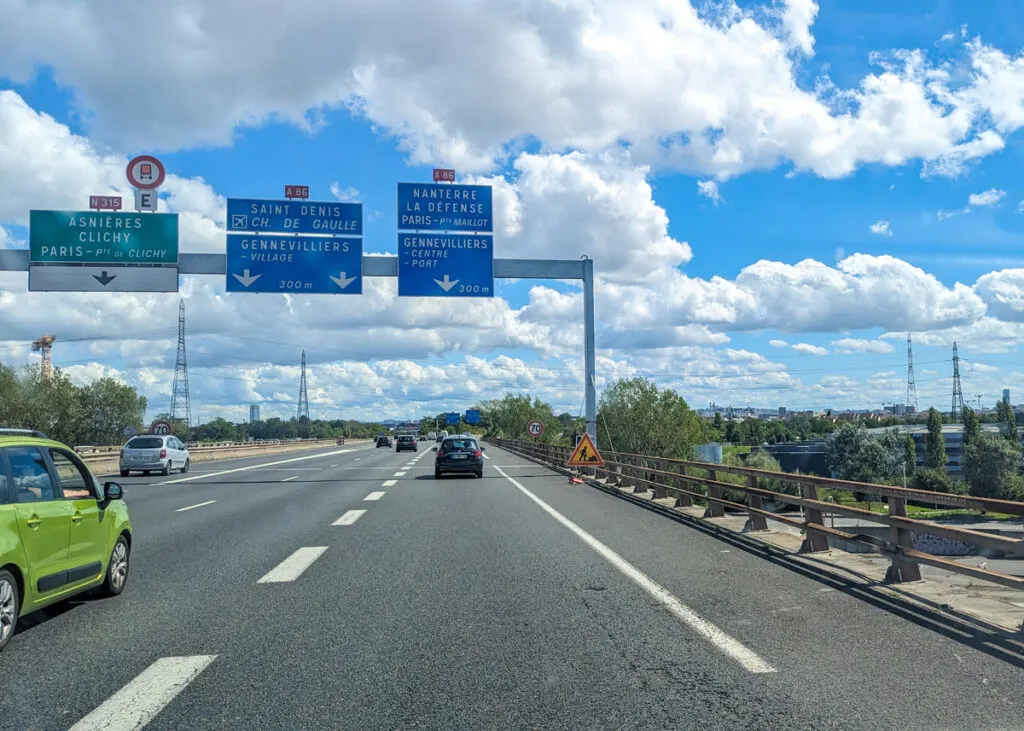 9. Insurance and breakdown cover
Make sure your vehicle insurance covers you in Europe and take a copy of it with you in case it's needed. Most applicable insurance certificates have a translated section (including in French) which confirms it's valid in the EU.
We'd also suggest taking out European breakdown cover. It can be quite expensive but, if your vehicle can't be fixed in France, you'll be faced with an enormous bill to have it transported back to your home country. Most breakdown policies will also provide a French speaker over the telephone who'll be able to liaise with the towing company and mechanics/garage etc.
10. Kids car seat rules
The rules for child car sets in France are different than in the UK, so make sure you stay up to date with the latest rules and regulations. The penalties for breaking the rules are significant. Check the official French government website for latest information.
In general, children up to the age of 10 need to use an appropriate child seat or restraint based on their weight. We've used the Hifold folding car set on recent trips to France which meets the requirements and folds neatly into our Bongo when not in use at French campsites.
Note that it's illegal to smoke in a car when a minor is onboard and large fines can be enforced.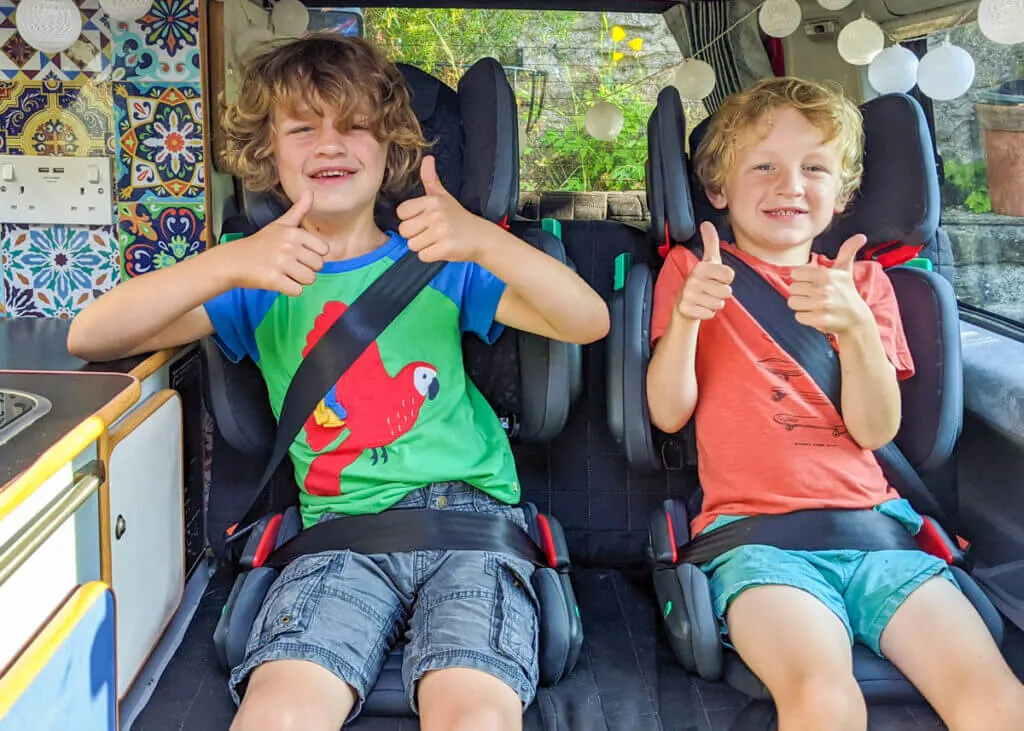 11. Driving etiquette
This section is based on our experience of the differences between French and UK drivers, but it will give you an idea of French driving etiquette wherever you're from.
Flashing your headlights means 'move', not 'after you'. Unofficially in the UK, flashing your lights on a motorway when someone wants to move into your lane means, 'please go ahead', but in France it's not understood that way. Instead people will think you're telling them to get out of your way.
Similarly, on the motorway, no-one explicitly let's you pull into the overtaking lane in front of them, you'll need to judge if the gap is big enough and then pull out.
It's very common for cars to drive very, very close to your bumper when they want to get past. It's not meant in quite the same aggressive way as it does in the UK but it's still intimidating. Best to pull over and let them pass. We once prepared to remonstrate with someone who tailgated us, only to discover it was a friendly lady in her seventies without a care in the world. It's just how it is.
When a cycle track crosses a road, you're expected to stop and let any waiting cyclists cross.
It's illegal to sit with your engine idling, so switch off your engine whenever you're stopping for longer than a few seconds.
Final thoughts
France is one of the few places in the world where we actually enjoy driving (most of the time). The well-maintained and free-flowing toll roads make for smooth sailing and we love stopping off at aires along the way for a pitstop and picnic.
Most of the rules and regulations are simple to follow, the French drivers are (again, mostly) courteous and you get used to driving on the right-hand side of the road fairly quickly.
After reading these tips for driving through France, we're sure you'll love your French road trips as much as we have, just remember to stay away from Paris!
---
You may also like to read:
Best family campsites in France
Paris with kids: a perfectly unplanned day
6 week summer road trip in France