Sat waiting to board the ferry from Dover, we couldn't help but feel rather sheepish. The UK Government had announced just 18 hours ago that France was now added to the quarantine list, and the FCO were advising against all but essential travel to France due to a big increase in COVID-19 cases. But here we were with our Mazda Bongo camper all packed up and two kids in the back that were now going to have to miss the first week and a half of the new school year, when they'd barely been in since March.
Looking around us though we weren't the only ones. There were plenty of British number plates queuing to board with their bike racks loaded up and cars full to the brim of holiday essentials. No questions were asked by border control, and a man wearing a fluorescent jacket and mask happily waved us aboard the ferry.
The announcement
The night before our planned travels, just as we were about to go to bed, a message pinged up on my phone from a friend. It was a screenshot of the latest BBC Breaking News: "France to be added to UK quarantine countries. People arriving in the UK from France after 04:00 BST on Saturday will have to quarantine for 14 days, minister says."
Bugger.
The news from the UK Government wasn't a surprise. The British media had been drip fed with strong hints over the preceding days. But there was always that nagging doubt that they may not actually go ahead with it.
Just two weeks previously, when borders started to open up again and after cancelling all our travels this year, we booked a press trip to the Southeast of France with Eurocamp Independent. With this government announcement, this trip too was now cancelled; not by us, but automatically by Eurocamp Independent.
As this was a hosted press trip (one of the perks of working as a family travel blogger), we thankfully hadn't lost any money on accommodation. Plus our ferry booking (which we had paid for) could be cancelled with a credit put to our P&O Ferries account. It was all very easy for us not to go, and in all honesty, the thought of two weeks of quarantine with the boys and not being able to leave our home at all didn't exactly fill me with joy.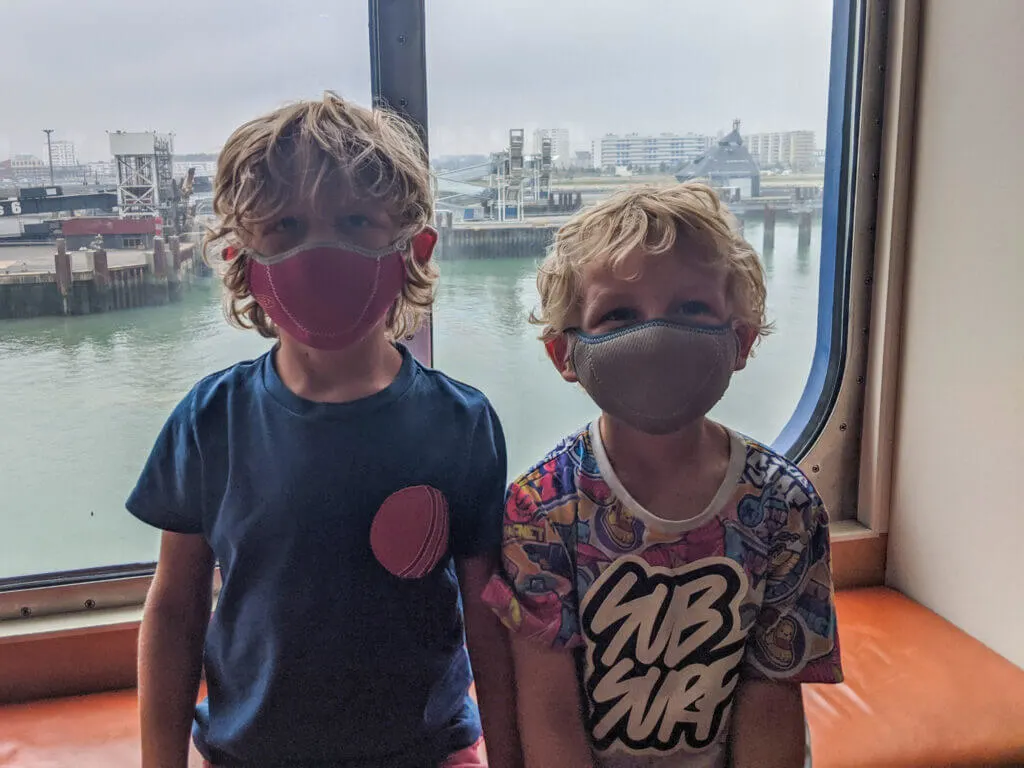 But, we could still actually go. Quarantine was possible as both Jay and I work from home. Yes, the boys would miss school, but what was an extra seven days missed in the grand scheme of things? The French family campsites were still open and we could book direct. We've travelled to France countless times and it's a country we feel comfortable navigating. We could change our route so that we would travel where we knew cases were low and social distancing was easy; we were camping and travelling in our self-contained Bongo camper after all. Also, the EHIC system means that health insurance is still covered until December.
But is it irresponsible to ignore government advice and travel to France during a global pandemic?
We decided to sleep on it.
A change of plan
I didn't sleep a wink that night. I was going through every permutation possible in my head.
We should embrace the UK staycation. That's what everyone else was doing. But everywhere was booked out or crazy expensive. UK tourist hotspots were suffering terribly from overtourism; we experienced it first-hand living in the Peak District. Plus we yearned for a totally different change of scenery. We're travellers after all.
What if we travelled to Germany or Italy instead, countries that weren't on the quarantine list? But things were changing so quickly. Who knew what the next few weeks would hold?
We could still go to France. Perhaps not venture so far south. Keep within an easy drive to Calais should we need to get back quickly for any reason. Like so many parents of 2020, we were exhausted. The constant juggle of work and homeschooling, with the kids at home 24/7 and no childcare, was utterly draining. We were on a hamster wheel, and with all that's going on in the world, this could be our only chance of a proper holiday for some time. Maybe we cut it short and come back early so the boys don't miss as much school from quarantine? But if we are going to quarantine, we may as well make the trip worthwhile…
At 4am I sent Jay a Whatsapp message. "Haven't been able to sleep, so messaging you this for the morning in case you're up before me. Let's go to France. Book a formula1 for tonight, then three nights at Chateaux de Marais". Camping Château des Marais is a lovely family friendly campsite in the Loire that we had stayed at a couple of years back. We knew what to expect, how to get there etc. It eliminated the need for a last minute campsite search.
By the time I woke up the following morning, Jay had booked a campsite for a night just South of Calais (all cheap hotels were booked out), and three nights at Château des Marais.
The holiday
We ended up staying a week in the Loire at Camping Château des Marais. Then a further ten days in the Vendée, another region we had previously travelled, staying at Camping Le Littoral. It was bliss.
Our days were spent on long cycle rides to a chateau or a beach, or playing in the swimming pool, and every night we retired to our beds in our Bongo happy and content. Arthur voluntarily tried moules for the first time, and the boys took surfing lessons. Us parents drank far too much wine, and the kids stayed up late playing 'till after the sun had set. This was a slow travel; a travel to reconnect with ourselves away from the daily grind. We weren't ticking off attractions, we only booked a few nights at a time, and just took each day as it came.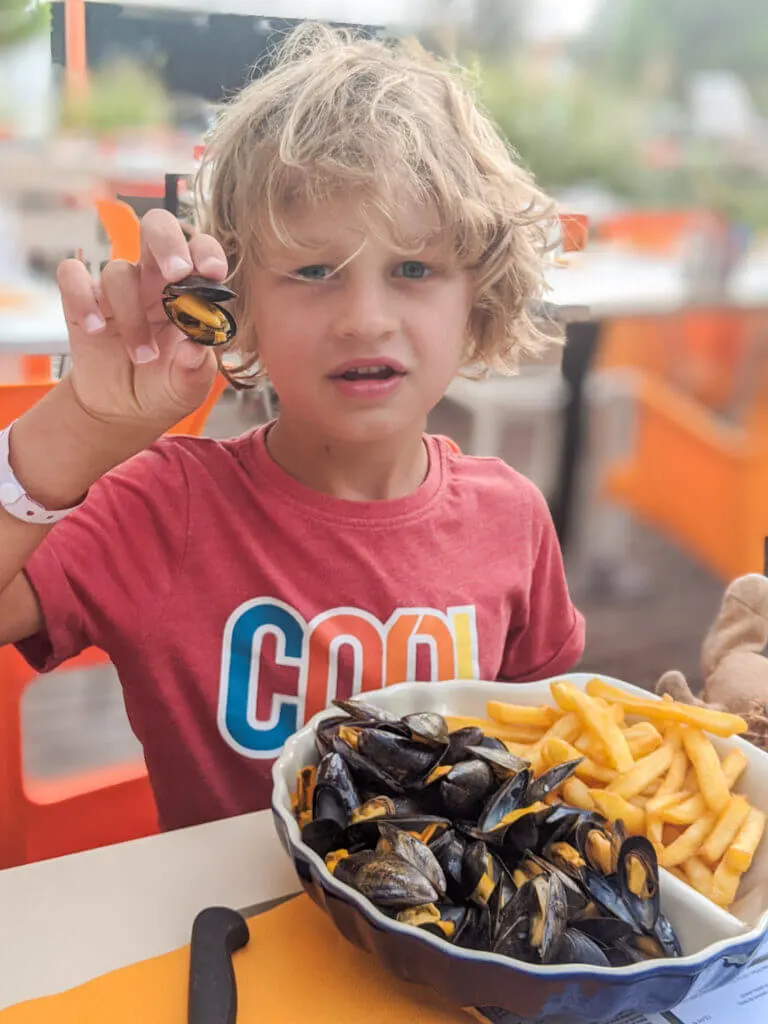 We felt safe at all times and welcome wherever we went. Regulations were similar to that of the UK with mask-wearing in shops and some public spaces. We had to pre-book our swimming pool sessions using an app so that the campsite could control numbers, and on the few occasions we ate out, we dined outside and all staff wore masks. There were a couple of places we visited where it seemed busy, but we kept our distance and didn't hang around. And when we were back at the campsite, we were self-contained on a private pitch in our camper.
For peace of mind we kept an eye on the news at home, as well as this Sante Publique France website which details the COVID stats in France. We could see that we were well away from the COVID hotspots.
Returning home
We returned from this trip feeling focused and motivated. Travel does that. It is so good for the mind and soul; it realigns and recharges you.
We're now almost half way through our quarantine and in all honesty, it's felt a breeze (so far). The kids have done more school work that they would have done in school, we've had a big clear out of stuff around the home and even done some gardening (this NEVER happened in lockdown), and everyone is getting on.
I did experience some classic 'mum guilt' on the day the boys should have returned to school. I'm gutted that they can't join their friends just yet, and I can't help but feel a little frustrated that a testing system hasn't been implemented by the UK Government for travellers. But we know there is an end point to quarantine this time and the boys will be back with their friends in no time. This quarantine feels very different to those initial overwhelming days of lockdown. We're practised at this now.
And if you're wondering whether a government official has checked up on us? Not yet.
Final thoughts
2020 has been an utterly crap year for travel, but we feel extremely fortunate that we we were able to make this trip happen. Quarantine isn't possible for everyone, but for our little family it is, and the memories made and sanity restored from the trip has made it totally worthwhile.
I wasn't intending to write anything about this trip. I was going to switch off completely and have a holiday; a holiday that we had paid for ourselves, which we hadn't actually done for a while. In fact our original plan was not to post anything to social media at all about our trip; I was fearful of a backlash from keyboard warriors that have seemingly grown in number and volume these past months.
But at the end of the day I love writing about travel and sharing our honest experiences with you. The world is closing in on itself, and for those of us who thrive on bursting our bubbles, connecting with other cultures, and expanding our horizons through travel, it's a suffocating time. Take the opportunities where you can, only book last minute, keep COVID-sensible and stay safe.
---
You may also like to read:
One-month France road trip itinerary for family camping
All about our Mazda Bongo camper
Mazda Bongo interior renovations: making our Bongo a little more 'us'