Situated in a shady pine forest that lines a seemingly endless stretch of a powder-soft sand buffeted by the Atlantic waves, the location of La Cote d'Argent Campsite is pretty perfect. Spend your days surfing or jumping in the waves, or hop on your bikes and enjoy the traffic-free cycle paths that weave through the pine forest to inland lakes. But do allow for some days onsite, as kids will love the pirate waterpark, the huge playground, and there's also a great Kids Club onsite (for age 6+).
READ: Essential tips for camping in France
La Cote d'Argent Campsite had been on our radar ever since Angharad from This Bristol Brood camped here a couple of years ago (click here to read her review), so I was confident that this was a good site, which gave us a needed boost as we were leaving one of the best family campsites in France we had ever stayed at – Camping de la Plage in the Languedoc-Roussillon region.
However, on arrival in our Mazda Bongo camper, it wasn't the smooth check in we all hoped for after a 6 hour drive. We had timed our visit with a French bank holiday and everyone had decided to arrive at the same time as us. It all felt very busy and it took half an hour of standing in line at reception until we were guided to our designated pitch. The campsite was totally booked out and there were cars, campervans and motorhomes manoeuvring and setting up everywhere.
However, once you're all pitched up and learn that you need to be organised in booking things, the location is wonderful. And despite it being a large site, away from the main pool and playground area, it always felt quiet; the shady pine trees and chirping crickets provide a calming backdrop. Plus the village at Hourtin Plage with its surf shops and casual cafes serving moules frites add to the laid back vibe; you walk through here to get to the beach.
This is a busy site, and we soon learnt that you have to book everything here in advance: the restaurant, kids club, the surf schools. Although we did find that the site was much quieter towards the end of our ten night stay. One of the reasons we came to this campsite was for the surf schools, but when we went to book the boys in for lessons on the first day, we discovered that they were totally booked up for that week! Thankfully, we managed to get the boys booked in for the last two days of our stay with Surfing Médoc.
If you find that this site is booked up, try Sandaya Camping Le Col Vert which we perhaps love just a little bit more than La Cote d'Argent Campsite.
The campsite
La Cote d'Argent Camping is fully equipped for families. This large site offers a restaurant and take-away (open from 7pm), a well-stocked Casino supermarket, an extensive waterpark, kids club, playgrounds, volley ball court, and tennis courts. You can also rent bikes and surf boards here.
As it's a larger site, we recommend bringing bikes (or at least scooters) to get around. But do note, the campsite is remarkably hilly! Gears are definitely needed for getting up and down those hills.
There are large central unisex washblocks dotted around the site. We never had to queue for the shower and there was always someone around cleaning. Large washing machines are also provided (you can buy washing tockens from reception). Make sure you stock up on loo roll as there is no toilet paper in the loos; although you can pick some up from the campsite shop if you run out.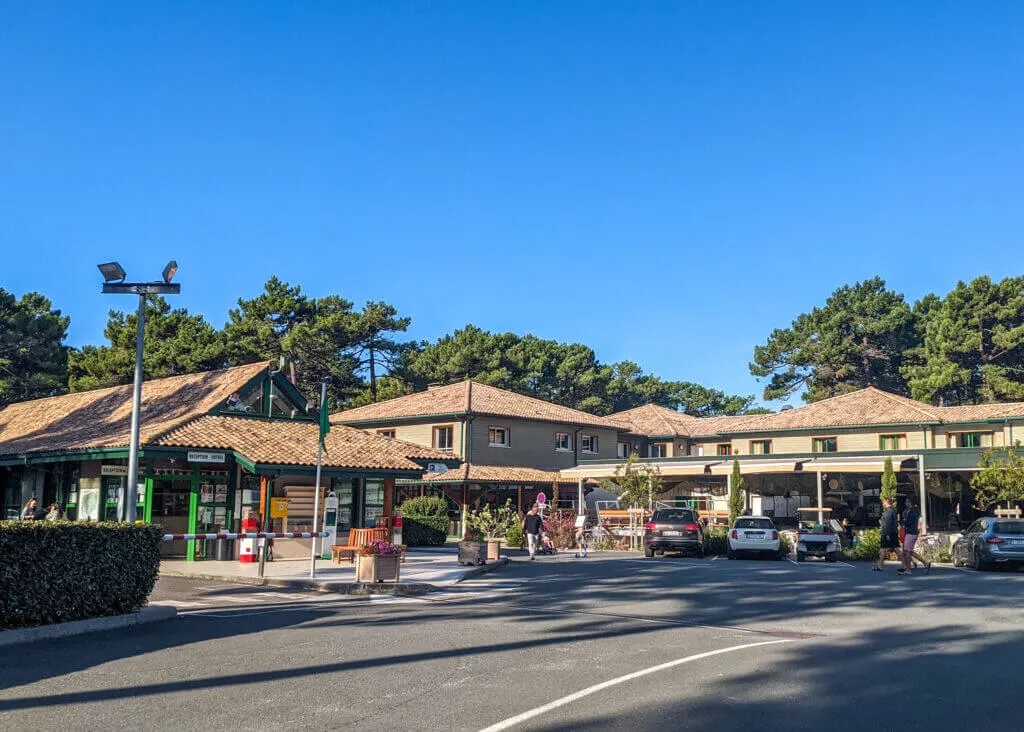 Camping pitches
Set in a series of flat terraces, the camping pitches at La Cote d'Argent Campsite are very spacious and shady. In parts, the ground is rock hard with stones, or soft with sand, so finding a place to put the pegs in can be tricky. Make sure you bring a hammock as you'll be able to tie one up between the trees.
Sap and leaves from the pine trees does get over everything, so you're camper roof in particular won't stay very clean here. We've not yet tried to get it off.
The swimming pool
The a pirate waterpark onsite and is absolutely brilliant. Jay said they are the best slides he's been on at a campsite ever (Jay is my husband, not one of my kids by the way 😉 !) But… and this is a big 'but'… the water is chilly. So if it's not a scorching hot day, play time on the slides won't last as long as it should. We ended up putting the boys in wetsuits for a couple of days when the outdoor temperature was 22°C.
Inside the same complex are more slides, a toddler section, two medium sized pools, and an undercover pool.
There are no sunbeds at all; I believe these have been removed for social distancing purposes. The concrete floor is rather uncomfortable to sit on, even with a towel underneath you.
Playground
There are two playgrounds very close to each other and they are fantastic. In the larger playground there is a huge rope climbing frame. Our boys would easily spend an hour at a time here, so parents, grab a picnic blanket and a book when you go to keep an eye on them.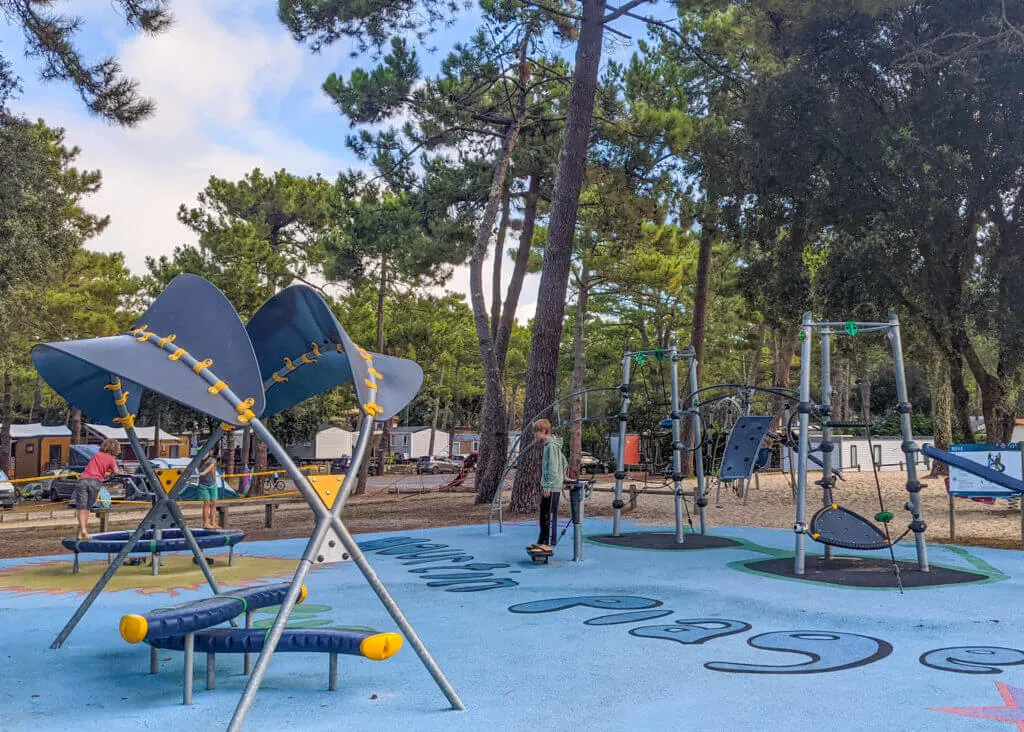 Kids Club
There's a campsite-run Kids Club every Monday to Friday (9:30am-12pm and 3pm-6pm) for ages 6+. Make sure you book in the sessions asap. We tried just turning up one day, only to find that it was fully booked. Registration takes place on the Sunday evening. Otherwise turn up to one of the morning sessions to book in for future days.
Our boys only did one full day of Kids Club and absolutely loved it. They were the only English kids there, but staff speak English, and it was a great opportunity for them to mix with kids from France, Germany and The Netherlands.
WiFi
Paid WiFi is available, but we just tethered from our phones using which had 4G+ internet access. This was generally good.
Hourtin Plage
The beach is just 300 metres away from the campsite entrance, and what a beach it is! Powder-soft white sand backs on to sand dunes, and the roar of the rolling Atlantic waves are invigorating. There's a life-guarded area for swimming. This section does get rather busy, so if you want to escape the crowds, just walk a bit further up the beach. The current is very strong here, so keep hold of little ones.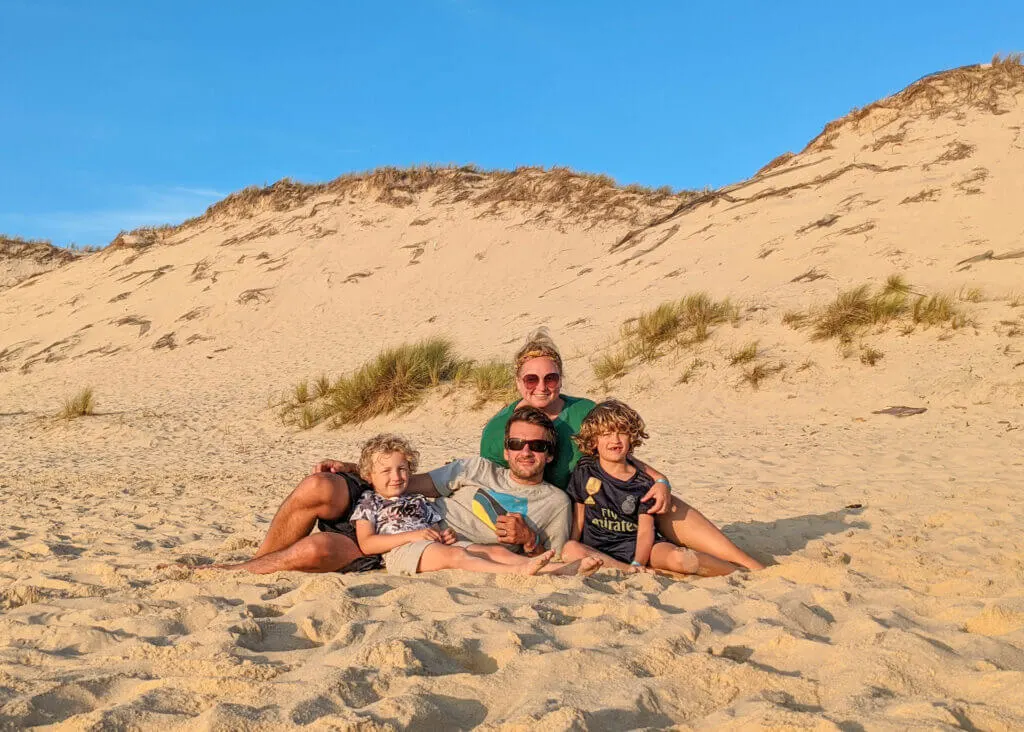 This is a popular surfer beach. There are two surf school offering lessons for kids. However, make sure you book BEFORE you arrive. We tried to book on our first day, only to find out that all classes were fully booked for that week. The boys were gutted, as it's one of the main reasons we came to this campsite. But thankfully, we were booked in to the campsite for ten nights and one of the surf schools (Surfing Médoc) had availability for two days the following week. Surf lessons were €22 per child for one hour. The boys had the best time and both were standing on the boards in the first lesson!
Just before you get to the beach there are some surf shops, cafes and restaurants. Our boys particularly enjoyed picking up a box of churros from the little café on the corner. Also – TOP TIP – the pizzas from the little café just a few doors up from the campsite are much better, cheaper, and serve all day ;-).
Cycling
Make sure you bring your bikes with you to this campsite. Not only are they handy for getting around this large campsite, but there are fantastic bike trails that weave through the pine trees. One trail starts almost directly opposite the campsite and you can follow the trails to an inland lake (with a beach). The water here is beautifully calm and quiet shallow; much easier for little ones to play here rather than on the beach.
Pick up a cycle map from the campsite reception to help find your way. Don't rely on Google Maps as the trails aren't shown correctly, and you will lose signal amongst the pine trees. Although there are signposts at most intersections.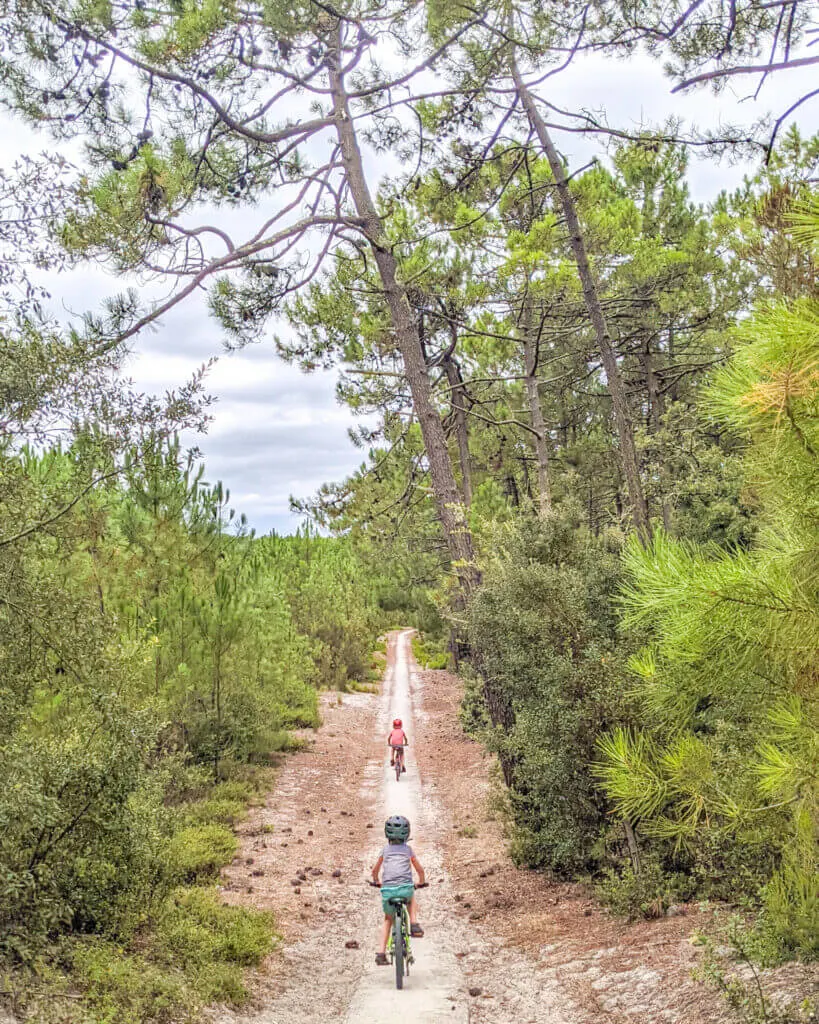 Final thoughts on La Cote d'Argent Campsite
For outdoor families who love the water and cycling, the location is absolutely perfect, and despite it being a busy site, away from the main pool and playground area, there's a laid back vibe that matches the local village. If you're visiting during the peak season, just remember to book surf schools BEFORE you arrive, restaurants a day or two in advance, and Kids Club as soon as you arrive. Once you're organised on that front, everything else slips into place and it's a wonderfully relaxing base for a holiday.
---
You may also like to read:
Best family campsites in France
All about our Mazda Bongo 4×4 camper
Our Bongo camper packing checklist