Situated on the sun-drenched south coast of France's Rousillon, close to the historical city of Béziers, Les Sablons is more of a village in its own right, than a campsite. There is everything you need on site to never have to leave, from a well stocked SPAR supermarket, a bar and restaurant, a swimming pool complex with waterslides, a huge play area and direct access to the beach. There is also an abundance of activities laid on throughout the day to keep all ages busy. Les Sablons has been added to our list of the best family campsites in France.
Disclaimer: TraveLynn Family were offered a complimentary stay at Les Sablons through Eurocamp Independent in exchange for this honest review and social media coverage. As always, these are all my own words. Also, this post contains affiliate links, should you click to purchase, it is at no additional cost to your, although I receive a small commission.
But if you can tear yourselves away from the onsite facilities, there is a fantastic cycle path (flat and traffic-free) along the Canal du Midi, which is easily accessed from Les Sablons. Stop at the locks along the canal to watch the boats passing through, pop into the quiet and pretty village of Portiragnes, or cycle the 14km all the way to Béziers.
We generally steer away from larger sites like this, but after our stay at Les Alicourts in the Loire Valley a couple of years ago, we've actually found them to be a welcome change of pace during long term travel. The various play areas across the site (pool, beach, and playground) keep the kids entertained no end, and when the kids are happy, the parents are happy, right?
But what kept me very happy was our private washblock! On the corner of our spacious pitch we had a shower, toilet, large fridge-freezer and wash basin ALL TO OURSELVES! This is the absolute height of Bongo camper luxury, and something we've only experienced before in camping in Namibia; although after posting this Instagram post, it sounds like many more sites in France (and particularly Australia) are starting to offer these facilities. In a COVID world, they are definitely a safer option.
However, this is a very busy site, especially in the height of summer. We didn't feel comfortable letting our boys go off to the playground on their own (like we do at smaller sites) as; 1: they would probably get lost finding their way back, and 2: there always seemed to be a lot of unsupervised older kids at the playground somewhat enjoying their freedom. Plus we learnt early on to visit the pool earlier in the day; 3-6pm was always the busiest time. The beach too was always busy, but it was easy enough to find our own patch to play.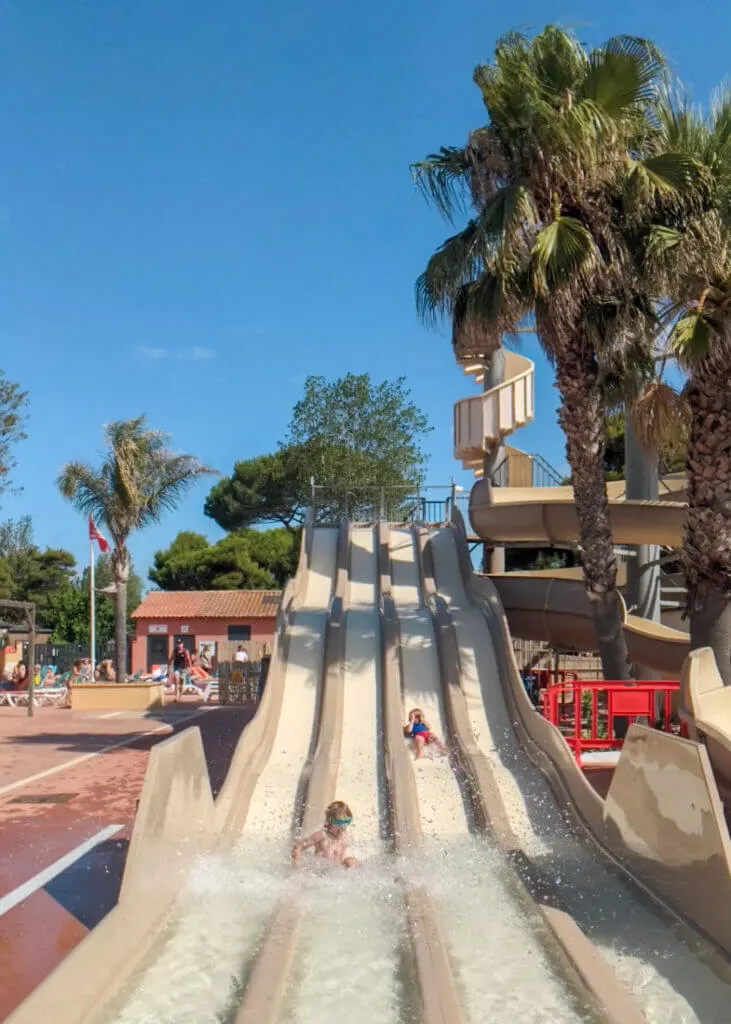 The campsite
This is one of the largest campsites we have stayed at. There are hundreds of pitches here, laid out in a grid system, which is rather easy to get lost in if you don't pay attention.
The pitch
Our Eurocamp Independent pitch was large and came with its own private washblock and EHU. Each pitch is definied by small hegderows, which are a little thin to provide any privacy. And due to the climate, the ground is very dry and sandy (tent pegs went in fine), but if it rains, everything gets quite muddy.
There are no views and you may feel rather overlooked by nearby campers. But this campsite is more about the onsite facilities rather than the chilling at the pitch.
The swimming pool
There are two separate swimming pool areas; one for families, and the other for adults only. We only tried out the family complex.
As mentioned before, the pool area does get exceptionally busy between 3 and 6pm, so it's best to visit in the morning if you want a chance of getting a lounger.
There is a big tunnel slide, and a smaller slide that takes four at a time, a huge water play area for younger kids, a toddler pool, a covered pool, and a main swimming pool.
The beach
There is direct access to Portiragnes Beach from the campsite. This is a sandy beach with a few small stones along the shoreline. There are lots of very pretty shells to be found.
The sea here is good for smaller kids as there's just a gentle wave. After about 2 metres there is a drop where kids under 7 may not be able to stand up in.
The playground
There is a huge playground area on the far edge of Les Sablons – climbing frame, two bouncy castles, football, basketball and tennis courts. There isn't much supervision going on of kids there, we were often the only parents around keeping an eye on our boys from the wooden picnic tables. Our boys would easily spend hours here playing, and there are sheltered wooden benches for parents to sit at.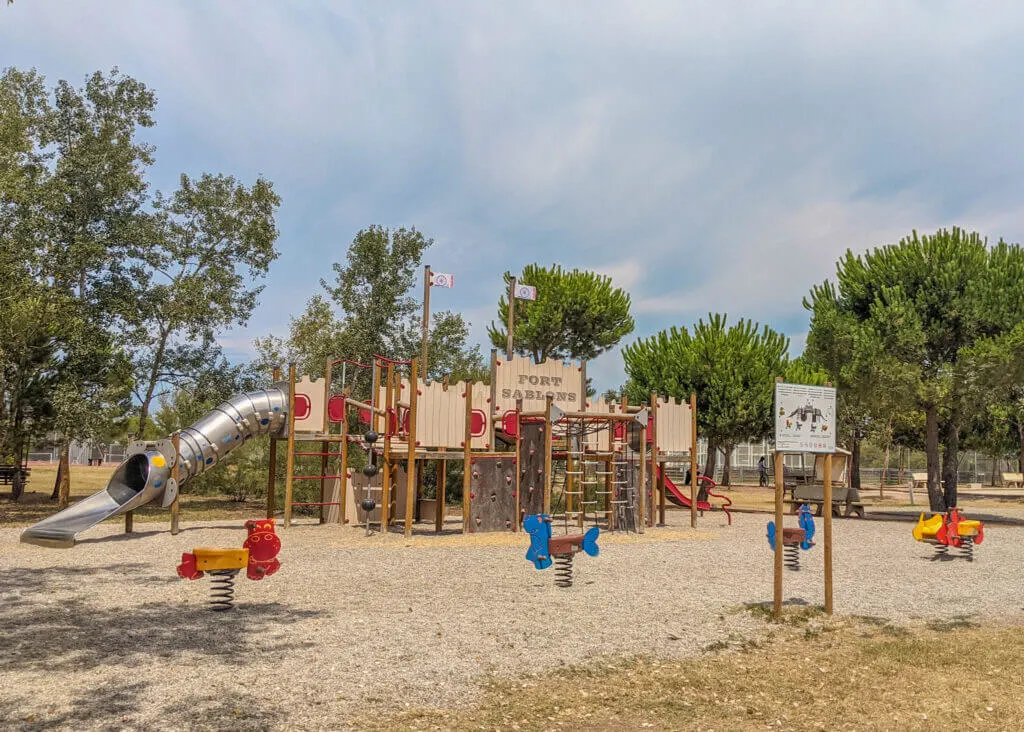 Other activities onsite
There are lots of activities on offer at Les Sablons: discos, kids club, horse riding, archery, exercise classes. However we found that there was more than enough to do without these activities and so we didn't try them out.
WiFi
Whilst we all like the idea of switching off whilst camping, in this day and age, the majority of us need good internet access for one reason or another. There is free Wifi available, although I personally found this a little slow. I was also able to get 4G+ internet access on my phone, but this too was rather slow at peak times and not really adequate if you need to work.
Social distancing measures for 2021
As we are travelling during the COVID pandemic, there are still social distancing measures in place in France, even though many of these have been lifted in the UK.
To check into the campsite, we had to show our COVID vaccine certificates.
Masks are to be worn in all closed areas (reception, shop, bar and restaurant etc).
Things to do in the area
If you can tear yourself away from the facilities onsite and the beach, jump on your bikes and enjoy a traffic-free, flat, cycle along the Canal du midi. To get to this cycle path, take a right out of the Les Sablons entrance up to the roundabout and take the road straight across the roundabout (cross the road as on the left had side is an easier cycle path to the canal path). It is 1.3km from Les Sablons entrance to the canal path.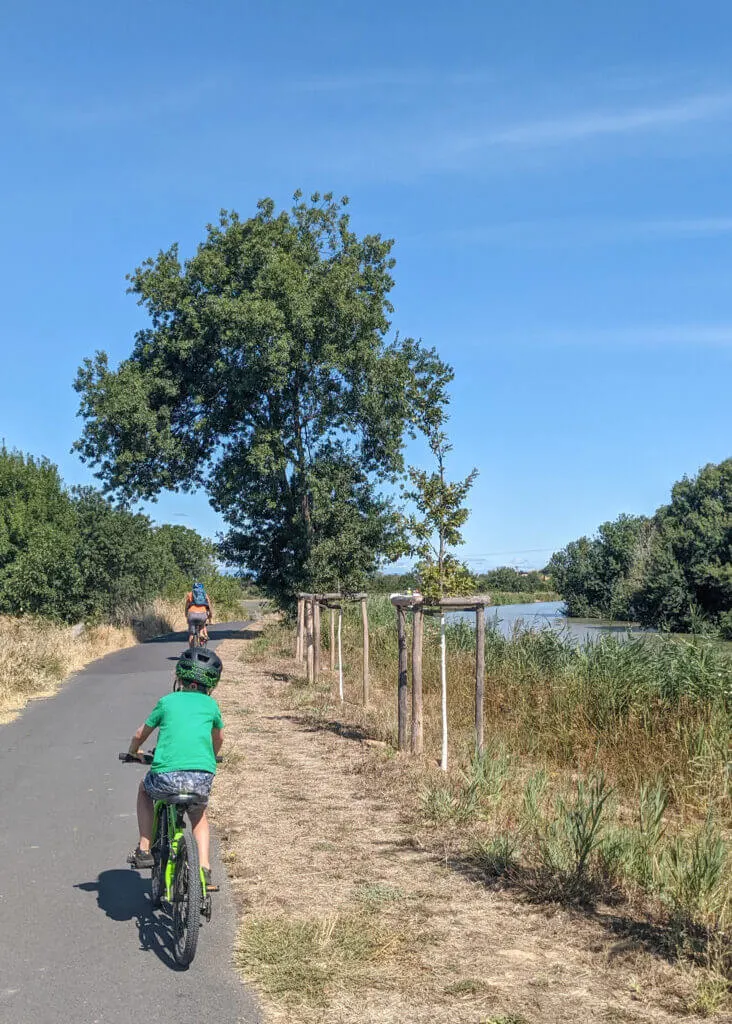 Once you're on the canal path, take a left and it's 3.5km to the quiet village of Portiragnes. Kids will love watching the boats move along the lock at the bridge to Portigragnes. In the village itself, there isn't much to do, we only found a small bar (only serving plat du jour) and a boulangerie, but it's a very pretty village and remarkably quiet. The medieval church in the centre is worth a quick visit.
10km further along the canal from Portiragnes is the city of Béziers. As you approach the city, follow the signs away from the canal and in to the city. We then had to get Google Maps out to find our way to the cathedral. The cobbled streets and al fresco dining around the cathedral are charming, and the view from the other side, impressive.
And if you're in need of more waterpark fun, head to Aqualand Cap d'Agde; although we didn't visit, as we felt the onsite facilities were enough.
Final thoughts on Sunelia Les Sablons
This was a very different campsite to our previous campsite in the Alps on our 2021 France road trip, which was much smaller and laid back. Whilst these bigger sites aren't usually our style, it was a nice change of pace. We especially appreciated not needing to leave the site to find a supermarket, as the well stocked SPAR just by the gates had everything we needed. And the boys absolutely loved the waterpark and beach, and the private washblock was super handy. It really was a fantastic week! And when your standard day consists of fresh croissants from the onsite bakery, whizzing down the slides at the swimming pool in the morning, and swimming in the Med in the afternoon, you're definitely onto a good thing.
Having a bike or scooters with you is very handy for getting around the site as it is so large. But the roads around the site always seemed busy with other cyclists, scooters and ambling families, that we never felt like we could switch off getting around as all road rules were out the window; people rarely move out of the way at the sound of a bell and cyclists don't stop at junctions.
Our pitch and surrounding campers were very chilled, but elsewhere it always felt busy. We learnt early on to visit the pool earlier in the day; 3-6pm was always the busiest time.
Les Sablons is a great option if you have older kids, especially teenagers. If you have very young kids, it may seem a little too busy and you may be better off with a smaller site. If you're looking for a smaller site in this region, we recommend looking at Le Haras, near Perpignan, which we've camped at before (although this was pre-Bongo times, in a tent).
---
You may also like to read:
Best family campsites in France
All about our Mazda Bongo 4×4 camper
Bongo packing checklist